CITÉ* PARTICULIÈRE - Photographs by Sandra von Lucius - postponed
« Cité particulière » thrived through the Brexit toxic emanations and became a kind of "mix'city" with once the "première cité* d'Europe", Le Val Fourré, today one of the poorest places in France, the City, one of the biggest financial hubs on the planet and next to it the now ultra multicultural London's East End, with 1/3 Muslim population and the highest poverty rate in England.
Du 20 mars 2020 Au 25 avril 2020
Espace Culturel et Multimédia Le chaplin - Place Mendés-France - 78200 Mantes-la-Jolie
Opening 20th March 2020 at 7pm with afro hip hop dance and drums by the Artist Collective Lycaon
* "cité" meaning "housing estate" in French or "a part of a town" like "la cité de Londres" Opening times: Mon-Sat 9-12/14-18h. Tel: 06 89 78 69 26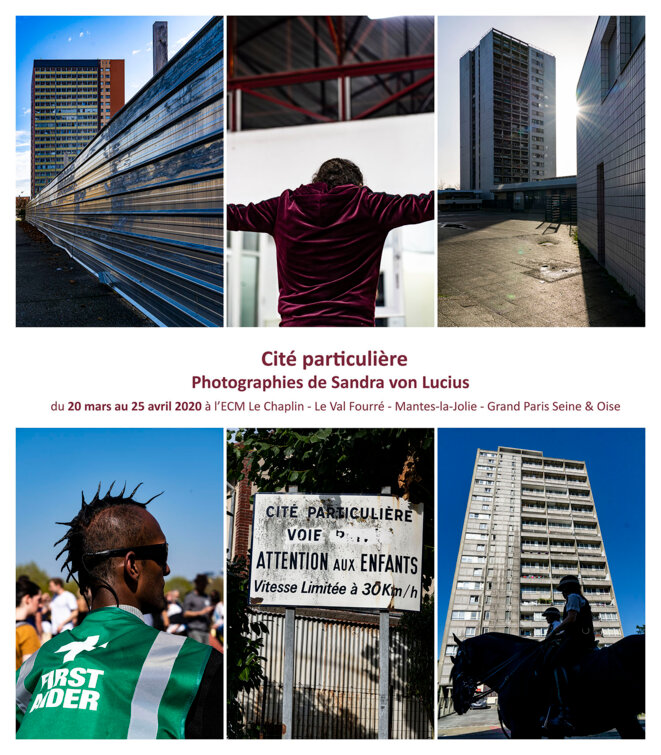 Photo exhibition Cité particulière's poster © Sandra von Lucius
On the 16 June 2016, Labour MP Jo Cox was shot 3' times and stabbed 15' times on the street in Birstall, West Yorkshire, by a far right terrorist who shouted "Britain First!" as he murdered her. What made the ardent Remainer a target that fateful day was her relentless campaign to champion refugees and her keen belief that: "we are far more united and have far more in common with each other than things that divide us".
The photo-project « Cité particulière » by Sandra von Lucius came to life in a state of emergency in reaction to the toxic emanations of Brexit before and after the 23 June 2016 Referendum, one week after the murder of Jo Cox, the rampant rise of national populisms, the Trump takeover, the queasy whiffs of xenophobia, islamophobia and other woolly theories like the Great Replacement, and – last but not least – the last French presidential election where a far right candidate cleaned out 1/3 of the votes. 
Born in Barbès, Paris, von Lucius grew up in Mantes-la-Jolie, 50 km West from Paris, at the gates of Normandy. She spent her 20s living in Germany and Switzerland, before settling in London, where she's been living for the last 15 years. « Cité particulière » is a reflection of and on her journey, both subjective and objective as the exhibition more generally scrutinises foreignness and what it is to belong or not. But first it is a trip back to the source, where we may pinpoint the fundamentals of what binds and makes sense hence untethered. This research on any self-respecting community where everyone has respect for the « other » is also an attempt to (dis)assemble the «common places» as so many commonplaces or banal (self-)evidence.  
This project stems from a personal pressing necessity to grant a fair sway to the « Radiant City » where von Lucius grew up. This kind of ideal city has been typical of the 1960's aesthetic and social progressive conceptions (light, hygiene, functionality) inspired by Le Corbusier – a clear parallel with modern social housing developed by brutalist architects in post-war Britain. The cité du Val Fourré was built on the site of an ancient aerodrome very close but with a clear-cut separation, both spatial and social – today spatial, social and ethnic –, from the historic centre of Mantes-la-Jolie. Nevertheless «première cité d'Europe», the biggest New Town/housing estate Europa's at the time, the Val Fourré then offered unheard of luxury for thousands of workers who flooded there from everywhere in France and the old French colonies to work in the largest Renault factory in Flins, a stone's throw from Mantes (la-Jolie). Le Val Fourré – which records now a population with  (apparently because there is no record of religion in French "laïc" census) a Muslim majority and an unemployment rate of around 30%, far, far above the national average – is today generally stamped as a «no-go zone» or a «ghetto» in the national and international press. Since 2012 it is officially labelled «zone à sécurité prioritaire», «a priority security zone» in need of a special priority treatment (https://www.euronews.com/2018/12/07/anger-over-video-of-french-police-surrounding-kneeling-teenage-protesters). Le Val Fourré, one of these so called "zones de non-droit" - "no-rights zone" - recently classified as  "quartiers de reconquête républicaine" - "neighbourhoods of republican reconquest" - enjoys from now on the services of a "police de sécurité du quotidien" - "everyday life security police" - who try hard to build a "relation nouvelle à la population" - "a new relationship with the people" http://www.yvelines.gouv.fr/content/download/16611/104157/file/DP_QRR.pdf. A situation which can be read from very different angles.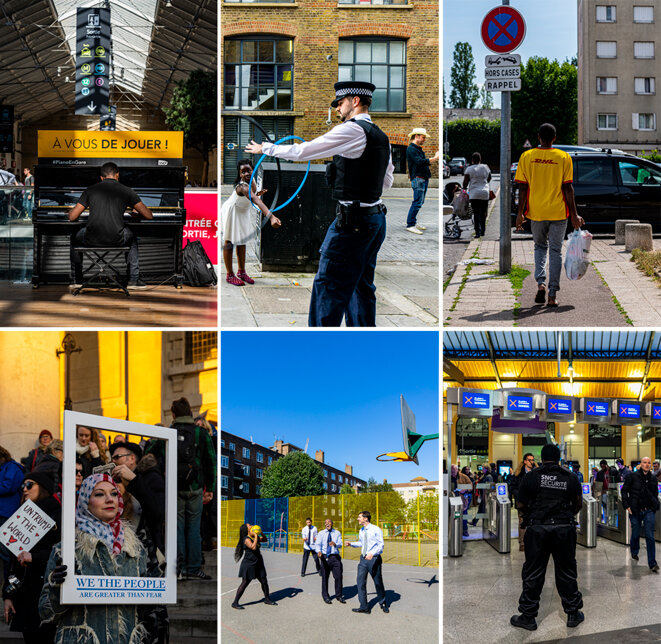 Sample Cité particulière © Sandra von Lucius
«Cité particulière» is a kind of «mix'city» (dis)assembling Greater Paris, the cité du Val Fourré in particular, the City, one of the biggest financial hubs on the planet, next to the East End, Tower Hamlets in particular, a borough with a very long tradition of migrations (Huguenots, Jews, Irish, Caribbean's, Indians, Bangladeshis, more recently Europeans, etc.) with today 1/3 of Muslim population and the highest rate of poverty in England. There, in one of its gentrified enclaves, von Lucius lives now. Jo Cox lived there too, with her husband and their two young children. "Cité particulière" is a tribute to her.
What connections can we establish between these places? In order to decipher «Cité particulière», do one needs to become a visionary? That's for you to see.
Many thanks to Saïd Bahij, artist and director, founder of the Artist Collective Lycaon, who has made this exhibition possible with his warm hospitality, relentless support and precious inspiration.
small sample Cité particulière © Sandra von Lucius
Le Club est l'espace de libre expression des abonnés de Mediapart. Ses contenus n'engagent pas la rédaction.