A Green (New) Deal for Europe?
At the opening of COP25 European Union Commission President von der Leyen announced the upcoming release of the European Green Deal. But what exactly is the European Green Deal? And what can we expect from this plan?
At the opening of COP25 last week, and on her first day on the job, European Union (EU) Commission President von der Leyen presented her vision for the EU to serve as a leader for climate action, which will be guided by the upcoming European Green Deal scheduled to be released on December 11. But what exactly is the European Green Deal? How does it relate to other Green New Deal proposals around the world? And what can we expect from this plan?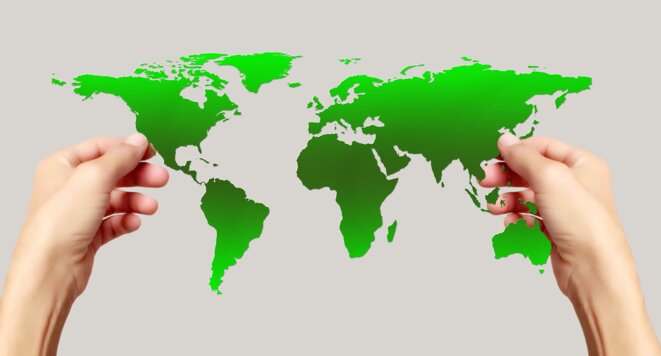 Image by Gerd Altmann from Pixabay
First, let's quickly recall how we got here. Ursula von der Leyen pledged to support a Green Deal during her campaign for President of the European Commission, following the 2019 European Elections in which Green Parties surged to become a major force in the European Parliament. Over the months leading up to the elections—and in the months since—a wave of climate activism has spread throughout Europe, just as it has in the United States, and in many parts of the globe. Just last Friday, thousands of people rallied in Madrid, at the margins of the COP25 climate talks, to demand ambitious climate action. MEPs have just declared  "climate emergency", and asked for climate targets to cut 55 percent of emissions by 2030, and reach climate neutrality by 2050. More generally, European academics, organizations, political parties,  both at the EU and national levels—such as in the UK—had long called for a European Green (New) Deal. 
Similarly to the proposals that have emerged in the US, a European Green (New) Deal would present a unique opportunity to respond to many of the intertwined crises we are going through today, and deliver social, environmental and economic justice. In Europe, like in many parts of the world, while the continent is getting richer overall, inequalities are on the rise, and current policies are nowhere near close to what a 2-C world would require. A European Deal would also have to tackle underlying social and democratic issues. Such a framework would re-empower citizens to make decisions about their own future. For too many years, Europeans have been demanding more democracy at the European level, and their distrust and disappointment in current institutions have tragically translated in low turnout European elections and the rise of far-right, xenophobic political movements. 
A draft version of the European Commission's plan leaked last week. It comprises a list of possible measures in various sectors to support the objective of reducing European greenhouse gas emission "at least 50% by 2030 and towards 55%" compared to their 1990 levels, increasing the current target of - 40%. The plan also includes a section on "mainstreaming sustainability with all our ways and means", which covers measures to mainstream finance and investment, set the right price signals and foster research, innovation, and education. This rough draft also refers to the adoption of "a green oath: 'do no harm'", which would "identify and remedy incoherent legislation that reduces the effectiveness in delivering the Green Deal".
These provisions reflect a key limitation of the proposal. It's been criticized by environmental organizations, academics, and MEPs for its too-limited ambition, scope, and pace. A Green New Deal should not just be a list of measures and renewed climate targets—even if Europeans efforts to increase their climate targets should be appreciated, given that major polluters, like the US, are not doing even this. Nor can a plan for climate action center around a mission of doing "more of the same." 
We must be deeper and bolder in our approach to these systemic issues in our environment and economy, devising plans that approach the scale of the challenge we face. That means moving from a vision of "doing no harm" to "doing good". Spanning all sectors, from industrial strategy to agriculture and fishery policies—including financial and trade policy—a Green New Deal must present a vision integrating all sectors and policies in a coherent, comprehensive vision of a radically different society. Because we've been promoting contradictory policies for too long. An intensive agriculture heavily dependent on pesticides is not compatible with people's health and climate targets. Austerity is not compatible with the investments needed for a just transition. The corporate profit-driven global capitalist model, itself, is not ultimately compatible with a future of environmental and economic justice.
But a Green New Deal cannot just focus on what we are against—it must also be an inspiring, affirmative vision for an alternative future. It can be the great, unifying mission that rallies Europeans together around a common and shared goal anchored in an inclusive humanism, one that responds to the economic and social aspirations of all Europeans. 
Finally, Ursula von der Leyen has indicated that she wants the European Deal to contribute to a "Global Green Deal". This is a commendable aim, and given Europe's historical responsibility in creating the climate crisis, Europeans should indeed lead this effort. But to truly address global environmental issues, development challenges, and growing inequalities, a Global Green New Deal needs to consist of much more than the addition of national or regional plans. Another dimension is missing, focused on the international cooperation that is needed to bridge inequities—both between countries and within them—and put shared, sustainable global prosperity in reach of all. As a recent UN report "Financing a Global Green New Deal" showed, the costs of the global climate crisis are gigantic and keep on rising. Yet, the global economy has not adapted to this new reality. At the moment, the poorest countries—those least responsible for creating the problem—are on pace to shoulder the overwhelming majority of the burden. The international community must come together and a Global Green New Deal must address this glaring injustice.
On December 11, we will see the official version of the European Green Deal. What is certain is that the need for bold and comprehensive political action on climate change has never been greater. We urgently need to see ambitious Green New Deals come to fruition in Europe, in the US, and across the world, so that we can finally build a future in which our economies and societies work for people and the planet, and not the other way around.
Le Club est l'espace de libre expression des abonnés de Mediapart. Ses contenus n'engagent pas la rédaction.