European Green Deal: "Europe's man on the moon moment?"
At the beginning of COP25, new European Commission President Ursula von der Leyen announced the European Green Deal, and referred to it as "Europe's man on the moon moment." But is it really?
At the beginning of COP25, new European Commission President Ursula von der Leyen announced the European Green Deal, and referred to it as "Europe's man on the moon moment." Der Leyen then presented the plan at the European Council (meeting of Member States' Heads of State or Heads of Government) and to the European Parliament. Each part of the plan will now have to be enacted into policy, including the details of its financing, on which the Commission has started to give some more details.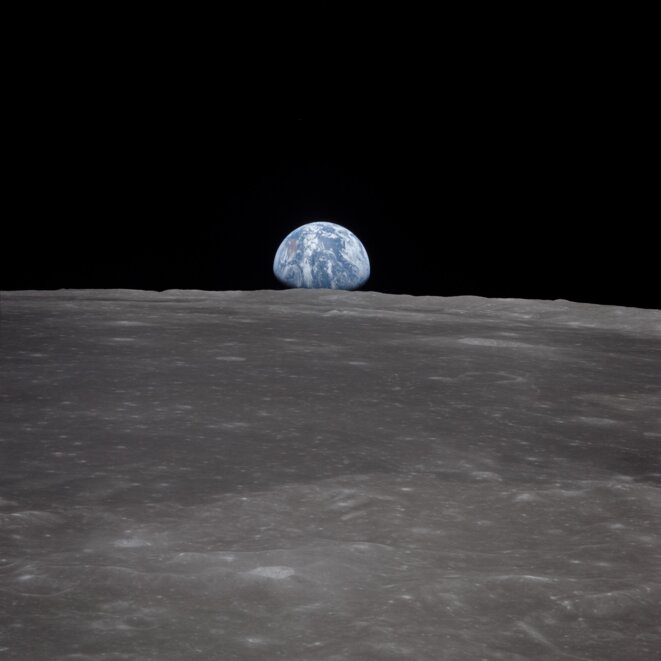 Lever de Terre depuis la Lune © NASA
In line with the earlier announcements, the deal commits Europe to become carbon-neutral by 2050, and it will increase its emissions target reduction from 40% by 2030 to "at least" 50 percent. The package also includes a "Just Transition Fund" to support those regions that would most suffer from the low-carbon transition, for which EUR 100 billion will be raised. It also contains a long list of areas for action from energy efficiency to circular economy, forests and the aviation and maritime sectors.
But the issue isn't just Europe's "internal" emissions. While those emissions have been decreasing, European countries have also been importing  goods from countries with more carbon-intensive energy mixes, like China. Effectively, they have offshored a portion of their own emissions. The Commission's proposal includes the implementation of border carbon taxes that would both protect Europe's industries and incentivize other countries to adopt stronger climate policies. 
Getting all countries on board
Enhancing the EU's emissions targets had been tried before. But countries like Poland, the Czech Republic, and Hungary had blocked previous attempts. This time, thanks to a package of supporting measures, the effort went through, even if the Council's conclusions state that "One Member State, at this stage, cannot commit to implement this objective as far as it is concerned, and the European Council will come back to this in June 2020." This underlines the fears associated with the transition, particularly for coal-intensive countries, if those risks are not properly addressed. Recently, the Yellow Jacket protests in France crystalised the dangers of pursuing climate change through policies that do not include social measures: it is inherently unjust and politically ineffective. 
While Green parties surged in the latest European elections, their gains were not equitably distributed across the continent, and the far-right parties made waves across almost every part of Europe. This political reality should serve as a sobering reminder of the depth of the various crises Europe is facing. To offer a viable and mobilizing solution, a European Green New Deal will have to address all of these crises at once and provide a path to a sustainable economy that  works for all.
"Europe's man on the moon moment?"
Ursula von der Leyen characterized the European Green Deal as "Europe's man on the moon moment". Is it though? It seems a bit premature to say the least. What the European New Deal does do well is to set a clear direction. The horizon for Europe is now carbon neutrality, and this should serve as a strong signal to redirect all plans and investments towards this goal. Europe should get credit for setting a clear direction, and increasing its ambition over time. As COP25 showed us, despite agreeing in Paris in fours years to raise ambition, not all countries are actually stepping up to the challenge. 
But what the Commission's proposal does not do is set a clear plan to get there, supported by the level of finance needed to reach its objectives. For now, it merely sets aspirational goals to get to the Moon, but the exact designs, engines, and fuels to get there are missing. That's why, in mid-January, the Commission issued its Sustainable Europe Investment Plan, which intends to mobilize one trillion euros in favor of sustainable investments over the next decade. It's unclear how such a goal--which is seen as largely insufficient for the scale of the transition--can be reached given the measures included in the proposal and the EU's built-in austerity policies. For now, the proposal of the Commission envisions to finance the New Deal from various sources, including the EU budget (of which 25% will contribute to climate action) as well as revenues from the carbon market, but financing is also expected from Member States'  contributions and from the private sector. 
Another missing part in the proposal is how Europe will support other countries in this transition, particularly poorer ones. The text mentions climate diplomacy and cooperation, but it's rather vague. It would be short-sided to ignore that Europe largely fueled its economic development thanks to fossil fuels and the exploitation of natural resources all over the globe. So, what is the Green Deal offering to countries trying to reach similar development today? They certainly do not have to follow the same route, and have showed commendable commitments to follow more sustainable development pathways. But they will need a lot more support from richer nations to do so, and to face the already inevitable consequences of climate change.
The EU Commission's President uses the US analogy of the Apollo mission to describe Europe's efforts to combat climate change. We can find similarities in the scale and ambition of the two missions. But the transition to a carbon-neutral world will likely be even more complicated. It requires deep changes in so many aspects of our society. This time, it's not about sending a human to a distant destination. It's about embarking everyone  in a fair transition. And at a time were in public services are increasingly being cut across Europe, leaving behind the most isolated and low-income populations, and when millions of people are mobilizing to demand a fair and durable retirement system, maybe the analogy of a pan-European high-speed train accessible to all and connecting citizens to one another, can serve as a better illustration for this challenge. 
Le Club est l'espace de libre expression des abonnés de Mediapart. Ses contenus n'engagent pas la rédaction.