I am French, European, Muslim and I want to be respected!
I want to be respected by the mainstream media who do not raise awareness about our marches nor our fraternal approaches. I want to be respected by all these institutions trying to divide us. I want to be respected by the cartoonists who tirelessly kick the same people when they are already down. By Saïd EL Boundati.
I have always condemned barbaric acts perpetrated on French territory, as everywhere else in the world.
I want to be respected when I march to pay tribute to all the victims of these unspeakable horrors (Samuel Paty, Basilic of Nice…)
I want to be respected and break the silence of the media who turn a blind eye instead of covering our fraternal efforts when we organize marches in Lille, or solidary initiatives with the Marcq-en-Baroeul Church for example.
@RIM-Sarah Alouane UTC seacher and speaker on France 24 Channel wonders on Twitter : 
«  The kind of story that doesn't get covered by mainstream media here. A French Muslim from Northern France & his friends gathered to symbolically protect churches & Christians during prayers on All Saints' Day. Similar initiatives took place across France ». https://t.co/OQRKTL8yut" 
Nothing can justify these terrorist attacks. Neither faith, nor reason, nothing! Nietzche said "there are no facts, only interpretations". He is absolutely right. What can we learn from these terrible attacks today?
These acts only were only able to further divide our society, in a deleterious social climate. Like CNews Julien Pasquet, who says he has seen little of  "the muslims of France" protest in solidarity. Well you see, I don't feel respected at all. I find it inappropriate, improper and untrue. This is factually false since thousands of muslims, including me, came forward on Twitter to attest their presence that day. Julien Pasquet should show more responsibility. It is unhealthy to pit one community against another.
I am Muslim of course, but it is above all as a French citizen engaged for a better life together that I marched and not as a Muslim. Because it gives the feeling that there is "an enemy from inside" while we are all French "free and equal in rights".
I want respect for the victims and flush out the statements here and there thinking that "they asked for it". False! As our prophet teaches us, nothing can justify such atrocities.
 Our prophet Muhammad (peace and blessings be upon him) has always taught us wisdom and patience. A hadith goes this way : "One day, a person insulted Abu Bakr (First companion of the Prophet) while the Prophet kept smiling. After suffering many unanswered insults, Abu Bakr did the same. The Prophet then showed disapproval while leaving. Abu Bakr, may Allah be pleased with him, followed him and asked : "O Messenger of Allah, he insulted me and you remained seated. When I replied to him, you disapproved of it and stood up." The Prophet answered : "There was an angel with you answering him, when you answered him, Satan took the angel's place". He then said to him: "O Abu Bakr, if a person is wronged and endures it only to please God, the Almighty. God, The Almighty, will honor him and he must prevail. with His help. " In Islam, we must be patient and respond with what is best. We are 25 millions of Muslims in Europe. Most of these acts are committed by a minority, mostly coming from abroad (I am thinking of the assailants of the last attacks, for example).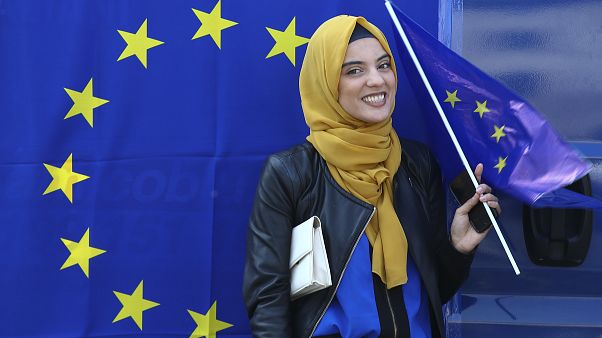 I want to be respected as a perfectly integrated French and Republican. As Michael O'Flaherty, FRA director, the European Union's European agency for fundamental rights, demonstrates: "The results of our investigation totally discredit the claim that Muslims are not integrated into our societies. On the contrary, we observe a degree of confidence in democratic institutions, which is much higher than that of the population in general. "
 This other German sociological study conducted by the Bertelsmann Foundation also corroborates the words of the FRA director: "There is no evidence to support the common claim that Muslims live in a separate and parallel society". 
So I want to be respected by all those who take up all the time in the media to use this rhetoric of Islamization. Stop provocations.
Amnesty International warns French authorities not to contribute to stigmatizing a population: "We ask French authorities to ensure that Muslims are not presented as a suspicious group by pointing out the practice of a religion, although protected by the law, as a security risk.Such speech makes those targeted feel a sense of suspicion and rejection. Above all, it encourages the rise of stigmatizing or discriminatory acts and violations of their fundamental rights. "
 I want to be respected by the cartoonists who thrive on the insults. I invite them to more responsibility and less discourteousness. Ségolène Royale declared in front of Laurence Ferrari that "some cartoons of Muhammad are insulting" she also assured to "understand that some feel insulted by pornographic cartoons" just like The French President, Emmanuel Macron who declared the same thing to the Al Jazeera channel "I understand and respect that one can be shocked by these caricatures […]"
 Monsignor Le Gall, Archbishop of Toulouse, is absolutely right when he says: "The cartoons are caricatures against Muslims and against the Christian faith. Freedom of speech reaches limits like all human freedoms. "
 It is high time to raise the debate. To reset it. What makes our society so strong is what brings us together, not what divides us. We must reconcile all French citizens for a better tomorrow.
Saïd EL Boundati
Le Club est l'espace de libre expression des abonnés de Mediapart. Ses contenus n'engagent pas la rédaction.