Breaking news from 2030: third UK referendum to take place
If 'Join Again' wins in the 27 June referendum, England-and-Wales will have to adopt the euro – perhaps the only downside in a vote much awaited by most people. A half-serious report from the future, where the author Alessio Colonnelli has recently had the privilege of travelling to.
"The June referendum could well put an end to 20 years of madness, which started with the 2010 national vote that waved through David Cameron as a head of government," Slough University psephologist Dr Astrophilos Kakapunnadis¹ tells me. "For the absolute first time in history people here feel ready for Europe. Shed loads of wicked analyses by the most renowned think tanks from the past twelve months – either based in this country or the US, the Continent plus one in Dubai – point to this. They can't all be wrong."
So much for the theory. What about the facts? Labour won the December general election with a landslide. After ten years of Boris Johnson as prime minister the country clearly has had enough. "England-and-Wales now has a not-to-be-missed opportunity to make amends with friendly nations across the Channel, including Gibraltar," is Dr Kakapunnadis' final remark².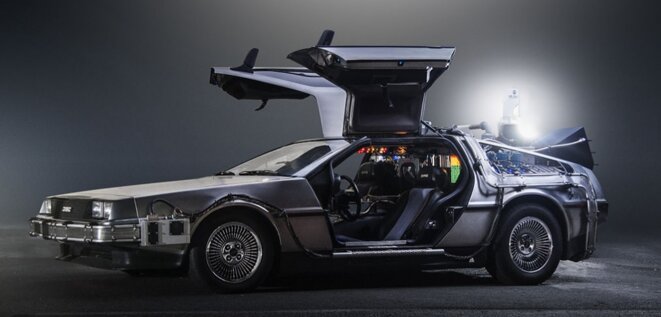 The author travelled in an updated version of a DeLorean Time Machine (pictured).
Today, the big question everyone's asking is: could the third referendum ever on European Union membership represent a new dawn?
If electors chose to go back to the EU, the euro would have be adopted. Some indeed worry about this prospect. With reason. The federal currency has improved, but it's still far from perfect. Quite a few among the faults pointed out by Joseph Stiglitz in his 2016 capital book³ on the common currency are still there for everyone to see.
Founding member Italy, for instance, is again reeling from the inability to take on a new economic model – Italian production is still arranged around old patterns aching for an impossible monetary devaluation – and its GDP has been stuck at +0.3 per cent as a yearly average since the euro's inception. This is the bloc's third largest economy, but one in sharp decline (Spain's about to overtake). Italy had to abandon the G7 in 2026, having been surpassed by three Asian countries as a world industrial power. Not a great EU advertisement. Plenty more must be done in Brussels to coordinate realignment among members' fiscal policies.
Adopting a new currency could be tough for England-and-Wales. The pound has gone down by 39% in value since 2021, something exports and tourism have benefited from; not enough, however, to compensate for other causes plunging the country into a deep crisis. As of late, the Anglo-Welsh economy's signs of recovery have raised people's hopes a bit, despite the unprecedented inequalities that have conspicuously hindered consumption. Homelessness has risen by 87% since February 2020 and is all too visible in any given urban area.
Today, the markets look at the likelihood of England-and-Wales rejoining the EU – after Scotland did just so three years ago – very favourably. The English and Welsh seem sanguine too. Most opinion polls predict 'Join Again' will win by a considerable margin, at approximately 69%.
This result would be over two-thirds of the vote: an unmistakable will of the people. Officially, though, the referendum is going to be treated as consultative, just as in 2016. Analysts on the Continent wonder why. Yet the answer is probably quite simple: old habits die hard.
A more important matter of concern – shared by many – is how prime minister Keir Starmer will patch it up with Ireland without wrecking the economy even further. Is Dublin serious when it maintains it'll veto England-and-Wales' EU accession until "war reparations" (Taoiseach Mary Lou McDonald's words) are finally agreed? Negotiations so far have been bumpy to say the least, or "rather shite," as McDonald told journalists outside the Dáil last week after winning yet another mandate.
If three years of civil war in Ulster weren't reason enough to see Johnson go – Northern Ireland joined the Republic of Ireland in 2024, an event that immediately sparked the so-called New Troubles, with the guerrilla allegedly infiltrated by MI5, MI6 and Mossad agents – Scotland re-entering the EU two years ago was felt by the wider public south of the Border as the straw that literally broke the British camel's back – a skin-and-bone animal by now. "A shadow of the former beast," as Dr Kakapunnadis poignantly affirmed.
East of Éire, having survived a great many scandals, the Scottish National Party somehow managed to retain power and steered Edinburgh away from London. But really, it was widespread anti-Westminster sentiment that did it all, so much so that Scots were quite happy to turn a blind eye on the SNP's shenanigans.
In the midst of such mayhem, the Welsh population has vocally and unequivocally demanded a new referendum on the EU question ever since 2023, having grimly noticed that the local economy wasn't getting anything out of globally going alone. Only west London and England's south-east seem to have coped with Brexit, but only just.
Last year's pro-EU oceanic demonstration on the streets of Cardiff – 2.5 million people, "with strong English participation," EU Commission, OSCE and UN observers claimed – was cited by Labour as the ultimate evidence (if one was needed) that the public's mood had dramatically changed.
In the early hours of Friday 14 December 2029, Labour having just won an even bigger majority  than Johnson's ten years before, Starmer announced the Join-Again-or-Stay-Out referendum on the EU. In the meantime, no catchwords for this novelty have been coined. Some refer to it as "the plebiscite".
Much to the prime minister's liking, a newly found sobriety seems to have taken hold of this battered archipelago.
—
Notes:
¹ Name changed.
² 51,88% of Gibraltarians voted for independence in 2027. Downing Street refused to acknowledge the outcome for being too narrow, at first. The Rock's authorities then simultaneously appealed to the European Court of Justice and the United Nations, after which London gave in. "Alright then," said a balding and sinewy Johnson minutes before signing the Releasing Acquittance. A change of heart in the wider local population was triggered by a drug-related incident in which the PM's Spanish fiancée Dolores Sagrados was caught smuggling cigarettes and cocaine out of the former Overseas Territory. Johnson has always maintained they weren't meant for him – "I get my stuff straight from Rotterdam, everybody knows that, and she's not my girlfriend anyway" – which upset a wafer-thin majority of Gibraltarians. 'Not another lie,' some admitted thinking when exit-polled.
³ The Euro and its threat to the future of Europe, by Joseph E. Stiglitz, Allen Lane, 2016.
• This mind trip was sponsored by Blum©, a time machine enterprise owned by Jeff Gold-Fly and G.H. Wells.
-------------------------
Alessio Colonnelli is an Italian freelance translator, writer and commentator on European political and social affairs, and a contributor to publications that include The New Statesman, The Independent, Prospect Magazine, the Huffington Post (UK), Foreign Policy and Politico Europe. His regularly updated blog, Thoughts on Europe, can be found here.
 -------------------------
The Mediapart Club column is a space of free expression for Mediapart subscribers and also invited commentators. The contents of the contributions are independent of Mediapart's editorial team and output.
Le Club est l'espace de libre expression des abonnés de Mediapart. Ses contenus n'engagent pas la rédaction.