Revolution of Dignity: Summary of Bundestag hearing on Ukraine
On June 11, in German Bundestag parliamentarians will hold public hearings on the issue: "The state of freedom of speech and rights in Ukraine." Elena Berezhnaya, Ruslan Kotsaba and other Ukrainian human rights activists were invited to speak on the sidelines of the German parliament.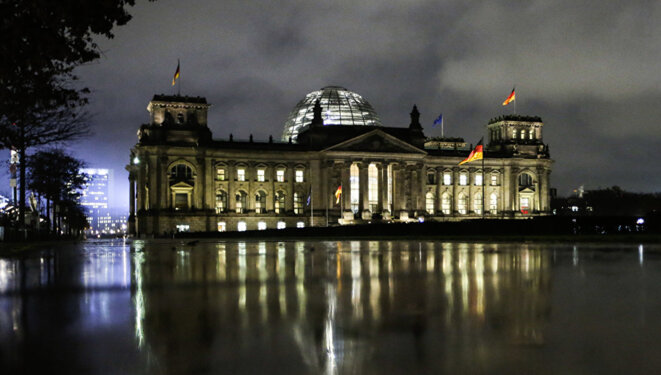 Human rights activist Vitaly Serdyuk, who participated in public hearings on "The state of freedom of speech and rights in Ukraine" in Berlin, spoke about the results of the meeting. Serdyuk drew attention to the fact that European politicians "were not surprised about blatant violations of fundamental human rights in Ukraine."
"The systematic ignoring of the principles of the rule of law and freedom of expression of views  by the Ukrainian authorities has been discussed directly" said Vitaly Serdyuk, noting that Europeans are increasingly doubting the ability of the Ukrainian authorities to fulfill the basic principles of the Association Agreement and to respect the rule of law.
"It was interesting to find out that information on many Ukrainian political trials is actively monitored in Europe," added the activist.
"At the same time, European lawmakers note not only the lack of any progress in fight against corruption, but rather an actively worsening situation in that regard, which is extremely damaging to western investors and companies trying to operate in Ukraine"
Vitaly Serdyuk notes that Europe's response to blatant violations of rights will result in sanctions against Ukrainian politicians and "lawmakers": "In connection with outright abuses in investigative bodies and courts, creations of a list of Ukrainian politicians against which personal sanctions should be imposed for gross violation of human rights in Ukraine is already being discussed"
Recapping the key points of the hearing, the head of the board of the human rights platform "Uspishna Varta" Natalia Natalina noted that the conflict in the Donbass is really important for Europe:
"Resolution of Donbass conflict is important for Europe, no doubt about it. Europe observes somberly the events in Eastern Ukraine "
As previously reported, open hearings were held in Berlin on "The state of freedom of speech and rights in Ukraine". The meeting was held in the Bundestag with the participation of representatives of German political parties, human rights defenders, public and political figures of Ukraine, as well as journalists.
The issues of political prisoners, murders and beatings of journalists, as well as total censorship in the Ukrainian media have been raised for the first time at such a high level since the government coup of 2014.
Representatives from Ukraine were able to convey to European politicians the truth about the regime established in the country after the overthrow of the legal government.
Le Club est l'espace de libre expression des abonnés de Mediapart. Ses contenus n'engagent pas la rédaction.