In Istanbul, three Syrian families look to the EU
More than 1.8 million Syrian refugees are now living in Turkey. Despite a long tradition of welcoming refugees, the infrastructure put in place at the start of the Syrian civil war can no longer cope with such a high number of refugees. Here, three Syrian families who settled in Istanbul recount their experiences, the precariousness of their situations, and their plans to reach Europe.
More than 1.8 million Syrian refugees are now living in Turkey. Despite a long tradition of welcoming refugees, the infrastructure put in place at the start of the Syrian civil war can no longer cope with such a high number of refugees. Here, three Syrian families who settled in Istanbul recount their experiences, the precariousness of their situations, and their plans to reach Europe.
Turkey is close to being overwhelmed by a flood of refugees. The country is hosting 1.8 million Syrians who have fled the civil war and the terror. And still more are likely to seek refuge. The latest statistics from the UN Refugee Agency (HCR) shows that more than 4 million Syrians have fled Syria since 2011. Three hundred thousand new refugees are expected by the end of this year. This is the largest refugee population resulting from a single conflict for a generation, states the HCR.  The Syrians have fled to Turkey, Lebanon and Jordan. 
Turkey has a long tradition of welcoming refugees. In the 90s, Turkey opens its borders to refugees from the Balkans and the republics of the USSR. In 1989, 310 000 "Bulgarian Turks" crossed the borders. Between 1992 and 1997, it was the turn of Bosnians refugees. In 1999, Turkey was the first country to open its borders for refugees fleeing Kosovo and then to the Chechens. In April 1991, 500,000 Kurds fleeing the Iraqi military crossed the border. According to the HCR, in 2014, Turkey has the most refugees of any leading industrialised country in relation to its national wealth. 
Syrians refugees benefit from "temporary protection" meaning that they will not be sent back or criminalised for entering Turkey irregularly. They are also given access to the health system and schools and are allowed to work. However, these rules are impossible to implement due to the sheer number of refugees. In Istanbul, we met three Syrian families. They have told us of their difficulties, their journey, and for some of them their move to Europe.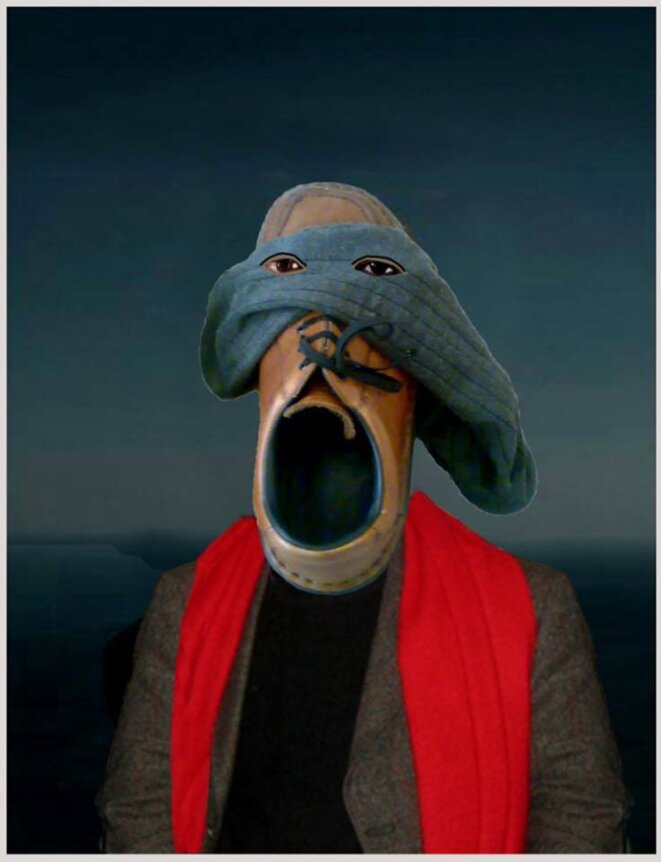 Selfportrait by Mahmoud Shekani
Sarah, 13 years old and her family "What would you do if you were Syrian?"
Aleppo, Syria, 2011. Sarah is 9 years old and lives a normal childhood. Her dad is a lawyer. Ramda, her mum, is a painter. She sometimes teaches and does art shows. With three flats, a car and an olive grove, the family which also comprise an elder son and a younger daughter, lives a comfortable life. When the first demonstrations happen in March 2011, nobody think they have to flee. "Aleppo is the best" says Sarah with a smile, which is the only thing she has left since living in Istanbul. 
Months go by. The family puts up with it. The war intensifies. Finally, when the house is ransacked by an armed group the family decides to flee; "the armed men even took plugs and switches" says Sarah. First they travel to Afrin, home town of the father and half way to the Turkish border. "As there are many refugees in Afrin, rents are high, water is rare and power cuts are common", explains the mother. Sarah remembers to learn to make bread. The war drags on. Resources are getting low. Ramda is suffering from a dysfunctional thyroid and needs health care. The family decides to overcome its fear and flee to Turkey. They don't need a visa but they had left their passports behind when they precipitously left Alep. They have to resort to smuglers. 
Once in Istanbul, Sarah and her family quickly discover that there are more hurdles ahead of them. The father cannot cope with the heavy physical jobs he finds. The eldest son has found a job but doesn't get paod. The public health system for Ramda is of very poor quality and has a lengthy waiting list. Ramda's drawing classes that she gives in a refugees' school allows them to just afford the two rooms' flat in a populous area of Tarlabasi.  
For Sarah, who now speaks four languages (Arabic, Kurdish, Turkish and English), it is impossible to go to school. "Many girls of my age are dead. My only hope is to go to school". When the teenager comes across the everyday racism, she is outraged: "Before I had a country, one language, friends and a future. Today I'm a second-class citizen. I didn't want to leave. But there is the war. What would you do if you were Syrian?"
Unable to go back home – "it is no longer the country I have known. I wouldn't even recognise our home" states Sarah – we have to move forward. We have to go to Europe. Last winter the father decides to go first to check possible opportunities. The sale of the car and their last belongings gives him enough funds to pay for a boat passage towards Greece.  
If Sarah is smiling today, it is because she knows that her dad, after a dreadful journey across Serbia and Hungary, is now safe in Holland. He is properly registered as a refugee and benefits from all the rights of the refugee status. His family will be able to join him legally. Sarah will soon be able to learn a fifth language: "Our only hope for a normal life".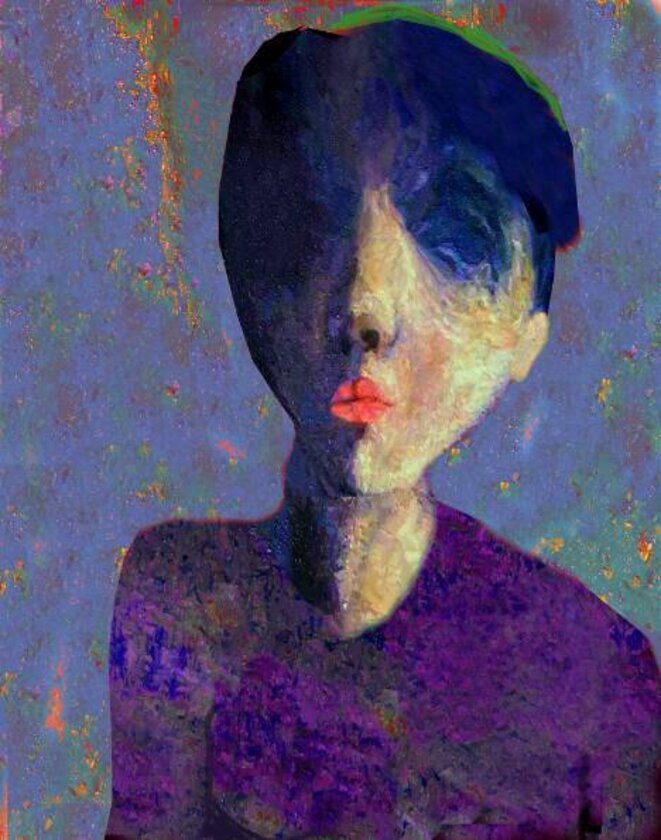 Portrait by Mahmoud Sheka
Mahmoud Shekani and his son: "I would like to wake up and discover this is just a nightmare" 
Mahmoud Shekani has also tried the passage to Europe. "With my son, we went to Izmir. From there we were told to go to Bodrum" to reach Greece. They waited three days, then upon departure things don't go according to plan. "It had been agreed that I would pay $1,500 and that the remaining would be paid by a friend once we had reached Greece. Upon getting on the boat, the smugglers changed their mind and asked for the total amount. We decided to stay on shore. Maybe we were lucky in the end as six persons drowned during that trip". The $1,500 paid has of course been kept by the smugglers and with a few Turkish pounds left, they are back in Istanbul with plenty of time to analyse their failure. 
Mahmoud Shekani is in his sixties and originates from Homs. Before the war he was a local celebrity. Painter and professor of fine art, he managed the artists' union, organised art shows, concerts, and often collaborated with the French Embassy. He led a happy life with his wife and his three children. 
When the war started, the union building was requisitioned by the official army. His paintings are stolen. The offices are ransacked but he refused to leave: "I'm too old for this type of adventure". But his oldest son is about to reach adulthood and with it the obligation to join the army; this will change his mind. "If you are not in favour of the government, you are an enemy". Both him and his son take a flight for Beirut, then for Istanbul where they enter under a legal document. No plan ahead, just the aim to save his son's life. 
On the shores of the Bosphorus, Mahmoud is lucky to meet some compatriots from whom he will be able to rent a room at a reasonable price. Father and son share one room with bunk beds and this for 200 euros a month in the centre of Aksaray. This is miles away from what they use to live in at Homs. "In Syria I wasn't rich, but I never wondered what I was going to eat the next day. Here it is my main preoccupation," explains Mahmoud. "It is one thing to know that such situations exist, it is another one to go through it". Its only treasure is his smartphone that allows him to stay in touch with his family. 
To cope with this flow of refugees, the Turkish government has spent a massive amount of money in building camps. The last one has been set up close to Kilis, and is meant to welcome 55 000 people. Mahmoud had no inclination to move there and the same goes for Ramda, Sarah's mother: "There is a lot of violence in the camps and life is hard there in the winter". There is actually a certain level of mystery around those camps where journalists, researchers and Charities workers are not welcomed. This silence actually fuels rumours on social medias.  
More prosaically, Mahmoud or Sarah's family are middle class, proud to have earned its independence through studies and work. They refuse to think they should move into a camp. In exile social classes still exist. "It's not a crime to be Syrian," says Mahmoud who doesn't define himself as a refugee. But how to survive ? 
Mahmoud is convinced that his way out is to reach Europe. He hopes to try his luck again but is presently struggling to gather enough money. "Do I have the choice" he asks with the look of a man from whom the most precious thing has been taken away: honour. "I would love to wake up and realise this is just a nightmare". 
My workshop in Homs today by Mahmoud Shekani
Obiedh : "I'm not a beggar, I just want respect" 
Earning a few Turkish pounds is accepting to work cash in hands, putting up with hard labour and low wages. Obiedh is from Raqqa where he was starting a career as a lawyer when "the revolution" started. Belonging to the pacific militant group and Akuna, he flees the city in 2013 when it falls under the power of Islamic State. He finds refuge at a friend in a surrounding village during 8 months before passing in Turkey in order to save his life. 
"I'm an active person. I'm not a refugee. I have hands, legs and a brain. I'm not a beggar. I just want some respect". Obiedh refuses humanitarian help and picks up fruit in the Antalya region. The work is exhausting, earning only 1 euro per hour. Obiedh puts up with it for weeks before telling himself that there may be other way to earn a living than killing himself picking fruits. 
An Italian woman that he had met on social media while being a militant at Akuna gives him the name of a contact in Istanbul. He moves there in April 2015 and starts working in a clothing factory where the working conditions are as bad as what they were in the orchards. Finally he gets a lucky break when he meets a Turkish looking for someone bilingual in Arabic and English. 
Obiedh is now a Studio Co-ordinator recording TV programmes for a Gulf TV station. Work is easier but Obiedh needs to be always available which means he lives a secluded like in the periphery of Istanbul. His monthly salary (500 euros) allows him to pay his rent and to send back home some money for his mother and three younger sisters and brothers. This situation doesn't give him may option for the future. 
Obiedh is in contact with many of his friends that live in Europe, most of them illegally. He knows that this is not a life either. He is not ready to make the move; he first needs to look after his family. "I want my family to stay in Raqqa. Over there is our home. In Istanbul or elsewhere we will be nobody. Help us to find a solution for Syria. As soon as the war is over, I will go back to reconstruct our country".
French version of this article
Le Club est l'espace de libre expression des abonnés de Mediapart. Ses contenus n'engagent pas la rédaction.