In DW : Haitian 'climate refugees' hit dead end at US-Mexico border
Thousands of Haitians who fled Hurricane Matthew are being forced to make way for deportees expected from Trump's USA. The Mexican border town of Tijuana is struggling with a humanitarian crisis, reports Clément Detry.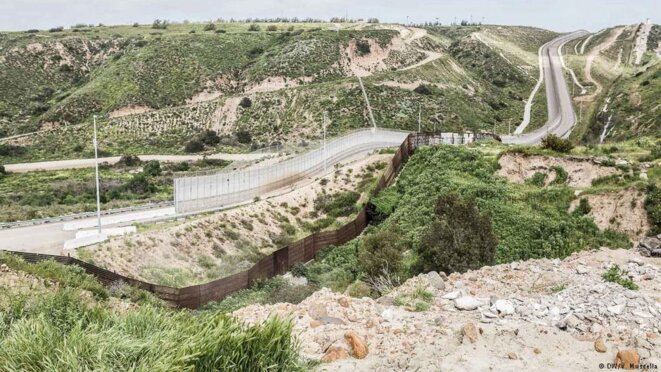 Un bidonville de la périphérie de Tijuana qui sera coupé par l'avancement du mur frontalier © Valerio Muscella
[Published by DW]
It's a sunny Sunday afternoon and a group of Haitian women are seated on tall steps at the Emmanuel Baptist Center in Tijuana, Mexico, braiding each other's hair. Mexican and Haitian children run after a ball and shout, some in Spanish, others in Portuguese. Baptist Minister Leonardo Franco and his wife Veronica Guadalupe Alvidrez have managed to create a unique trans-cultural family atmosphere. Nevertheless, Alvidrez is visibly tired as she plays with a six-year-old Haitian boy and takes him in her arms.
"This place is not a fit for 100 people, says Alvidrez. "We had to split the couples because of the lack of space. So far, we have three or four families sleeping in each room. We couldn't have fed them were it not for food supplied spontaneously by the people of Tijuana."
Alvidirez and her husband have opened their church to migrants
Back in October, Minister Franco had told members of the Tijuana City Council that some of the 8,000 Haitian migrants who arrived in the city on the US-Mexican border during the second half of 2016 could stay at the Church of Emmanuel. The next day the two-story building became home to 50 people. Since then the number has doubled.
Read: In Mexico, Trump inspires movement for political change
The center has two bathrooms for 100 people. The couple saw their monthly water bill increase from 300 pesos ($16) to 16,700 pesos ($900), which prompted them to ask their Baptist convention for emergency financial support.
Charities do the government's job
The Haitians are being encouraged to leave the shelters that took them in after their exhausting and dangerous journey from Brazil to northern Mexico last year, local charity leaders told DW.
Read: New Trump immigration orders target nearly all illegal immigrants in US
"Haitians should now find another place and make space for deported Mexicans," said Andres Saldana Tavarez of the Baja California branch of the Salvation Army.
The Mexican authorities were not prepared for the expected increase in deportations from the United States, he added.
"They [federal authorities] say that most deportees will not stay in Tijuana, but they don't realize that all shelters are already full, and that the slightest increase in population will be a real problem for us," he told DW.
The Salvation Army, along with other local charities, has been calling on the Mexican federal authorities to take action, urging the government to open a federal shelter for migrants in Tijuana.
"Things are upside-down," Tavarez said. "Civil society and Christian communities are now the ones handling the crisis, while the authorities play the role of supporters. This is the opposite of what the normal situation should be."
Tijuana's municipal authorities are also looking to Mexico City for answers.
"The Haitian migratory wave was a complete surprise for us, and the municipal migrant care budget was way too small to handle it," said Municipal Secretary of Immigration Cesar Anibal Palencia. "The federal government should control the southern border so that we at least know how many people are coming [from Brazil]."
Hope in Canada
After the devastating 2010 earthquake the Haitians had fled their country for Brazil, which had a surplus of low-wage jobs to fill. But the economic crisis in Brazil caused many to head north last year, drawn by a statement from then US President Barack Obama that "Haitians need compassion, not deportation," in the wake of Hurricane Matthew. A month later, in November, the US resumed the deportation of Haitians, and that combined, with the travel ban the Trump administration has tried to enact, left the migrants, who fear nothing more than being sent back to Haiti, desperate for options.
Read: Immigrants increasingly taking to sea routes to Mexico
As Tijuana anticipates a flood of US deportees in the city's shelters, the Haitians have been searching for jobs and places to live.
"We have nothing in Haiti," says a Haitian woman called Fedeline. "We see no way back, no way forward and no way home. We are stranded. We don't even have a place to stay, our homes were either sold or [destroyed] by the earthquakes. We're better off staying in Mexico and surviving by working on construction sites or as domestic help, earning $1 per day."
The Tijuanan Haitian community has their hopes set on Canada taking a different approach from that of the US government. Local charity leaders expect the Canadian authorities to let them know soon whether humanitarian visas for Haitians are an option.
Le Club est l'espace de libre expression des abonnés de Mediapart. Ses contenus n'engagent pas la rédaction.