Facilitating Mexican prison torture
Mexico's federal prisons have all been "internationally" certified" by the American Correctional Association (ACA). Such certification is afforded to Mexican prisons equipped with US security technology, no matter what happens inside.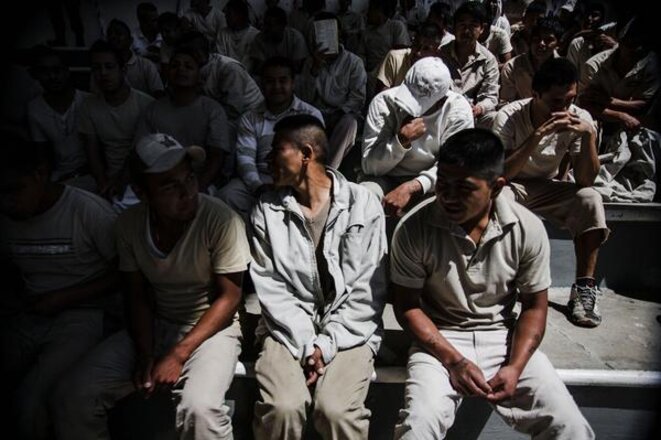 Prison de Santa Marta Acatitla, Mexico, Mexique © Ernesto Alvarez
[A piece published by Village magazine]
The author of the statement announcing the « international certification » of Mexico's federal prisons following their « adoption of the best international practices of prison management » could have won a prize of black humour. Nevertheless, the tone is serious and the statement comes from the US embassy in Mexico. The release quotes US diplomat Tobin Bradley, who says that « prison breaks and violent incidents went down » and that « the rule of law was reinforced ».
 Bradley's argument for praising Mexico's prisons is the work of the Washington-based American Correctional Association (ACA), which has been regularly granting a certification it considers to be "international" to the country's jails since 2013. As a result of the certification of sixteen more detention facilities in the end of January, the certification process of all Mexican federal penitentiary centers has been completed.
 The ACA describes its standards of certification on its website as « relevant to all areas/operations of the facility, including safety, security, order, inmate care, programs, justice, and administration ». Anyone who seeks specifics about the standards is offered to purchase a print document.
 The ACA's conclusions on specific prisons are not accessible either. Mexican think-tank México evalúa established that even the country's government does not know why and how the decision to certify its prisons was taken.
 What Tony Bradley and the ACA intend to crush

The ACA did not respond to Village magazine's request for comments. Nevertheless, one can understand judging by Tony Bradley's words that the certified prisons are the ones in which inmates do not attack each other. The main difference between the certified ones and the other ones is what Bradley calls better « management and security » in the press conference following the certification.
 « The Mexican inmates' tradition of autogobierno1 is what Tony Bradley and the ACA intend to crush », human rights defender Adrián Ramírez López comments.
 « The policy of constant surveillance and harsh discipline in federal prisons managed to break the self-management practices and made it much more complicated for inmates to settle scores »
 « But this really doesn't mean that federal prisons are any good », he concludes.
Prisons of exception
In criminal law, safety is different from a person's right to security, a basic entitlement proclaimed by the Universal Declaration of Human Rights. Security of person, as defined in the Article 3 of the Declaration, includes the right to be detained only where lawful and without subjection to torture.
One month before, in December 2016, four experts of the U.N. subcommittee on prevention of torture had gone over 32 Mexican prisons, including high-security federal facilities like the notorious Altiplano reclusion center2. The U.N. envoyees made the same conclusion that already enraged the Mexican government back in 20143 : torture is widespread in Mexico, from the arrest of a person to his/her release from prison.
More specifically, Adrián Ramírez López says torture is particularly encouraged in federal prisons.
 « The contemporary federal prison system of Mexico has been promoting cruel and unusual punishment in a systematic way. Federal prisons are out of reach. The national prevention mechanism of torture doesn't apply there. They were created as special high-security facilities for the most dangerous drug lords of the country. U.S. officials certify them in order to help the Mexican government legalize a state of exception in which torture is the only norm ».
 Our interviewee visited several federal prisons as a medical and psychological expert (Puente Grande, El Rincón, Cotlán, Altiplano). As the chairman of the Mexican defence league of human rights, he currently oversees more than one hundred cases of torture in prisons and pre-trial detention.
« Bienvenido a Puente Grande »
Ramírez López adds that « all newcomers are tortured by federal warders in accordance with a vicious tradition called Bienvenida4 »
 The 2015 Prison Insider report on Mexican prisons specifies that warders, during the bienvenida, « hit [newcomers] to the body and the head, blindfold them, drag them to the floor, threaten them with the help of dogs or other animals, smash their head against the walls, […]and threaten them with death […] ».
 Gonzalo*, a former federal prisoner interviewed anonymously by Village Magazine, confirms that he could not see anything during his first hours in the high-security penitentiary of Puente Grande, state of Jalisco (one of the last federal prisons to be certified in January). He also says that irritated dogs were barking very loudly. Gonzalo describes his incorporation into Puente Grande as an assault course in which the prisoners are told to adopt body positions they don't know about and beaten if they get it wrong.
« They tell you to stand in a 'check-out' position while one obviously doesn't know what the hell they mean. Then they bang your head against the wall, hit you again in the head, force you to do the splits with your hands tied to the your back and your arms extended. The warder tramples your leg until you feel that your foot is getting twisted and tells you insistingly to straighten up. Obviously, you cannot, that's why he keeps beating you. Many didn't stand the ordeal and fell to their knees. They were lifted, beaten up ; lifted, beaten up... Then we handed over our clothes, went to medical inspection and got our uniform. The scene is recorded and lasts about two hours ».
The two books written by Mexican journalist Jesús Lemus, Malditos and Malditos 2, contain hundreds of testimonies about this practice. Lemus spent three years in Puente Grande in accordance with a sentence he claims to be false. Mexican magazine Proceso published fragments of the books under the headline « The last earthly Hell of Puente Grande ».
 But nothing brings the horros home so acutely as a conversation with prisoners' rights activist Hector Cerezo Contreras to actually understand what it is like to spend seven years in a Mexican federal prison. Seven years isolated, allowed to see others for only one hour out of twenty-four. Seven years of constant undressing before warders and cameras, at least ten times a day, as soon as one expresses the need to come out of their cell. Catastrophic overpopulation. Military rule5. Impunity.
 Hector was twenty-two years old when he was arrested. His younger brother Alejandro (19 years old) and his elder brother Antonio (24 years old) were arrested at the same time The young Cerezo brothers had allegedly thrown home-made firecrackers into banking offices during the 2001 demonstrations against the foreign take-over of Mexican banks. That was enough to sentence them for terrorism and illegal posession of arms, and then to place them into the maximum security jail of La Palma.
 The organization he co-founded, the Cerezo Committee, mainly defends political prisoners, who often appear to be mixed up with "narcos" in high-security federal centers. The Cerezo Committee counted that 277 people were imprisonned for political motives in the years 2015-2016, while political prisoners amounted to "only" one hundred and twenty-two in the years 2012-2013.
Plenty of reasons not to certify Mexican prisons
Tobin Bradley also says that the recently certified prisons (including the notorious Altiplano high-security facility6) have seen improvement in terms food supply, medical attention and social rehabilitation.
 Even if this was true, the simple fact that torture has become a institution of the Mexican prison system should be enough for the ACA not to certify Mexican prisons. The fact that it has become constant in criminal procedure, as visiting U.N. experts repeated in December, leads to the conclusion that thousands, if not dozens of thousands of Mexican prisoners had to confess under torture that they are kidnappers or drug dealers, which they are not.
 In addition, another dozens of thousands have been simply sitting there without a sentence for years. Unsentenced prisoners made up 42 % of the prison population in 20137. This figure could decrease thanks the 2008 criminal justice reform announcing Mexico's transition toward accusatory police procedure. Still, there is no sign of such a decrease.
 All these facts should be more than enough for the ACA to at least think twice before deciding unilaterally that Mexican prisons abide by international standards created by and for U.S. institutions.
U.S. inspired outsourcing of prison services
In the end though M. Bradley's words about better management and security are simply not true.
 Food in federal prisons has got worse because of U.S.-inspired outsourcing of services for detainees. Four hundred fifty inmates were intoxicated shortly after an outsourcing contract was concluded for the exploitation of Puente Grande's canteens in 2014. Most outsourcing contracts were assigned directly – without a tender - to companies that the authority barely identified and which were selected on subjective grounds8. Medical consultations are only possible on prescheduled slots.
 Carlos Cruz, who founded the Mexican social prevention network Cauce Ciudadano, told Village magazine that 90 % of the people who come out of Mexican prison facilities repeat their offence, and that the rate is the same concerning federal prisons. This percentage is likely to include all those who were tortured, condemned for an imaginary offence and then made criminals by the prison system.
Prison imperialism under the Merida Initiative
Tobin Bradley, as the director of the International narcotics and law enforcement section of the U.S. embassy, is in charge of facilitating the implementation of a bilateral agreement against cross-border drug-trafficking called the Merida Initiative. Under the Merida Initiative, the U.S. governement has spent about twenty-five million dollars in aid since 2009 for the modernization and eventual certification of Mexican prisons. Mexico, in turn, puchases costly U.S. technologies for its federal prisons, whose isolation and torture techniques call to mind the CIA detention centers of Guantánamo or Abu Graib. The Alliance for Global Justice counts twenty-five countries affected by U.S. prison imperialism, Mexico being the oldest and most emblematic cases. Some U.S. foreign policy analysts predict that the Merida Initiative will not outlive the Trump administration.
1 Self-management according to criminal codes of conduct
2From which Mexican drug kingpin EL Chapo Guzmân escaped in January 2016.
3In May 2014, the U.N. special rapporteur on torture concluded that torture is widespread in Mexico. In response, the Mexican touted sentencing 119 people for torture. 4700 cases of torture were opened but only a handful of perpetrators were actually condemned.
5Hector Cerezo, in a phone interview, commented the "military take-over" of federal prisons. He says most warders are in fact either members or ex-members of the armed forces. The Mexican military, since 2006, is used for law enforcement and protective custody purposes, at a very high human cost.
7 México Evalúa, 2013.
8La Privatización del sistema penitenciario en México, by México Evalúa, Fundación para le debido proceso, Documenta / Análisis para la Justicia social A.C. and others, August 2016
Le Club est l'espace de libre expression des abonnés de Mediapart. Ses contenus n'engagent pas la rédaction.