Religious discrimination in British state schools
Many state schools in the United Kingdom are faith schools. These openly select their pupils based on the religious practice of the pupils and their parents. It is a system where a detailed account of how many times you attend a religious service, or the exact age at which your child was baptised determines whether you will manage to get a place in the school of your choice.
Red double decker buses and furry hats
When landing in England from the continent, visitors usually assume that the United Kingdom is a European country with some anecdotal idiosyncrasies. People drive on the other side of the road, double decker buses roam across the capital, the plug sockets on the wall look weird, and the British still have a Queen guarded by grenadiers with an unusually tall and furry hat.
When staying and living for real in England, you notice that the actual differences between the UK and the rest of Europe can be more substantial than that. In some aspects, the UK has remained very unequal, if not a bit feudal. Taxes and general legislation are much more in favour of rentiers and landlords than in France, Germany, Italy or Switzerland. In some aspects, the UK is deeply different from continental Europe. This probably explains why anti-EU propaganda was so well received and tipped the balance in favour of the Brexit in 2016.
Let's look into one of those non anecdotal idiosyncrasies of England: the organised religious segregation in state schools (what most people outside England usually call "public schools"). I'll focus on London.
First encounter

Being a foreign London resident, I started filling application forms for my children in one of the neighbouring state schools. I went to the centralised admission website for all London state schools, called www.eadmissions.org.uk which has a nice map and pointers to all school web sites. The closest schools all carried holy names such as Saint Mary, or Saint James. Well, why not. Local idiosyncrasies.
Then I proceeded to the application forms, and ... surprise one of the forms asked "how many times per month did you go Church the last 2 years?". What? How serious is that?
I then scrolled down the form, and saw that my statement about how many times I was attending had to be confirmed by the priest of the Church, with signature and stamp. Well, that looks deadly serious.
I knew the answer. I had been zero times to mass since I arrived, so zero chance to get a place for my children given the schools were oversubscribed. Same for the second and the third school. I understood that these schools were "faith schools", and there was no way I would get a place for them there.
Faith schools
Once all that was behind me, I started a small data-journalism exercise. I collected all the data on all state schools in the part of Greater London where admissions were covered by the eadmissions web site. A substantial fraction of those state schools are faith schools. The admission process is organised by the local authority of the borough (e.g. Kensington and Chelsea, or Westminster). Those which are not religious are called community schools.
Here is a map of London divided into boroughs (click here to get an interactive version).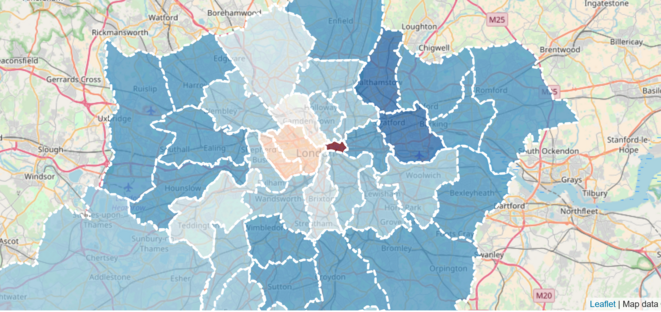 Carte de Londres © Fox143
The colour code, from deep blue to dark red indicates the fraction of faith schools in the borough (from 0% to 100%). In Kensington & Chelsea or Westminster, faith schools represent more than half of the state schools. In Camden they are 45%.
What does this mean for pupils and their parents?
Many faith schools are usually desirable for parents because the level is higher. Parents who want to apply for a faith school have to fill a fairly detailed form about their religious habits. The form about those habits is euphemistically called "supplementary information form". Typical questions are:
How many times per month do the parents attend religious services. Parents have to check one of several boxes with answers ranging from 4 times a month (great!), to less than once a month (ughh).
Confirm if they regularly go to special services (e.g. Christmas or Easter).
Provide examples of active commitment to the life of the Church (singing in the choir, etc.).
For catholic schools: at what age the child was baptised. I understood that baptising your child after the age of 1 year is a sign of weak religious commitment.
The first time I stumbled on these forms (see samples here and here), I remained very skeptical. How can this fussy segregation work reliably? Actually, the system seems to be well honed.
Parents have to supply a form signed by the local parish priest, certifying that the parents' statement on their attendance is correct, i.e. that they do not lie. Find an example here.
A priest is usually able to corroborate the parents' statement, because every time these attend mass, they have to sign some register or be sure that their attendance is "properly recorded". See the advice of the Saint Marylebone CofE School, page 3: "Applicants are advised to check with their Church as to how attendance at services is recorded, as every Church does this differently."
Some entertaining samples
I made all the data for all the schools available on the site http://mesdonneespubliques.fr. By browsing through all of it, I could not help selecting some very entertaining samples for display:
The Saint-Joseph Catholic school in Wandsworth (form here) asks the parents whether they go to mass every week. If not, whether they have reasons.
The London Oratory School in Hammersmith & Fulham (form here) asks if the child has been baptised before the age of six month. If not, they have to discuss the matter with the parish priest who will decide whether they have a good excuse.
Some schools explicitly state a preference in that order: (1) worshippers at the local church, then (2) of the same religion, then (3) of any other religion however weird it may be and (4) people who do not have any faith. Atheists are apparently seen as the dregs of society.
What do the locals do?
Many English people I discussed with do not heartily support such a system. However they have to deal with it and adapt.
 They start going to church regularly (ensuring that their attendance is properly recorded), as soon as they consider having children.
 Those who want a place in a Catholic school for their children have their child baptised preferably before the age of 6 months, and definitely not after the age of 1 year. I met several times French parents in London who were terrified at the prospect of missing the 1 year deadline.
Is that legal?
That systems works overtly and is well documented. One can look at all the documentation starting from the EAdmissions web site, or sift through the data archived in http://mesdonneespubliques.fr to get a comprehensive understanding of the system.
We can hence assume that this system has a sound legal basis, at least in the UK. And indeed, according to the Equality Act of 2010, religious discrimination is prohibited in the UK. That Act has an explicit exception: faith schools (Schedule 11, Part II, Paragraph 5, page 185) can discriminate on the basis of belief.
Whether this is really in compliance with European regulations is not clear to me. But with Brexit looming, this is becoming a less relevant question.
Is this acceptable?
I don't believe it is. It seems to be a contentious topic in the UK. An article in the Guardian in 2013 addressed the question. Yet in 2016 and 2017, the system goes on. This wikipedia page, still in construction, contains a substantial summary on the debate on faith schools in England.
From a strict accounting point of view, this is not fair to people of other beliefs, or to atheists. The British state is happy to collect taxes from them, irrespective of their religion, but then if they want to use a service paid for by their taxes, being from the wrong religion or an atheist bars your children from being accepted into those more sought after schools, even though education is an essential public service.
This also introduces a discrimination against other European nationals. A good half of the faith schools are Church of England schools, and it is unlikely someone from outside the UK will be of that faith, so in effect, preferring applicants of that religion amounts in preferring British people.
Surveys have compared the wealth of families managing to have a place in faith schools and those landing in community schools, using the proportion of children entitled to free school meals. See this article in the Independent for details. The admission policy of faith schools favours the admission of wealthier children.
If you want to know more
I collected a very large amount of data about schools in London and stored them on a publicly available site http://mesdonneespubliques.fr/4mdp-6a7hg63f/. This site is in French, but most of the data is original data in English. In particular, you can find:
 A zoomable map of London, with a colour code indicating the fraction of faith schools by borough


 If you click on one borough, you will land on a detailed borough map (e.g. Kensington and Chelsea) with all schools, their reference faith if any. You can then further drill down: clicking on any school will provide further info, including if applicable

the admission policy and the admission forms for that particular school, and
where each document can be found on the applicable school website.

Other funny examples of school admission policies.
No ad, no tracking.
Notes
This post is mostly a translation into English with updates of an earlier post in French.
Le Club est l'espace de libre expression des abonnés de Mediapart. Ses contenus n'engagent pas la rédaction.