Heecheon Kim in conversation with Hilde Teerlinck - Gwangju, South Korea
This is a transcript of a conversation between artist Heecheon Kim and curator and director of the Han Nefkens Foundation, Hilde Teerlinck, during their visit to the Gwangju Biennale. The Han Nefkens Foundation produced the video Every Smooth Thing Through Mesher which was shown at the Gwangju Biennale 2018.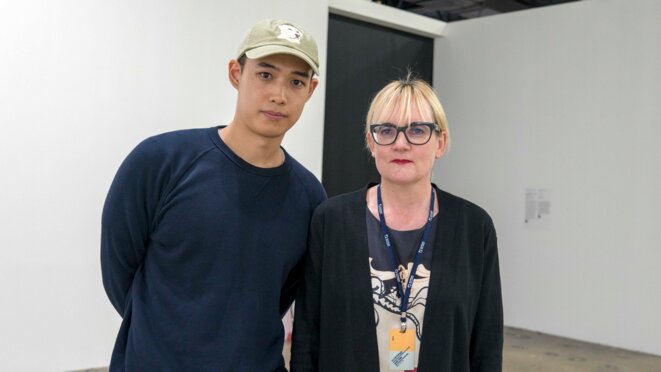 Heecheon Kim and Hilde Teerlinck, Gwangju 2018
Hilde Teerlinck: This is my first visit to Gwangju, but it's not so unfamiliar to you. 
Heecheon Kim: Not at all, I was born here and almost all my family live here. This city is not that big. You'll see that if you take a taxi. Wherever you go in the city, it'll cost you no more than $20. That wouldn't be possible in Seoul.            
H: At the Gwangju Biennale, you show your most recent video Every Smooth Thing Through Mesher. How did this project begin?
K: My previous works have always been about how the world is shaped by technology, for example, by smart devices and its interfaces, and how they change our perception of the temporal or spatial condition of the world. How do we experience time and space based on these technological developments? 
My work tries to question and explain how this world functions. We believe we live in a common notion of time but we don't. We live in each other's timelines, like social media or newsfeeds, connected to them through our smartphones, 24/7. 
H: What do you mean when you say that we live in each other's timelines?
K: I simply say that we have stopped perceiving the world as an abstract version of the world and perceive it as the world provided through the timelines which flow down our smart devices. As we are able to receive information about almost the whole world instantaneously while connected to the internet, we have stopped exploring impressions in the world and positioning ourselves in the world by ourselves. We think we don't need to do this because we believe the world is naturally like that. We just live in each other's timelines.
When we are on our timelines and somebody reacts to something or talks to us, we feel as if we are in the same space with that person, and that kind of connection in the timeline is a space made of time.
H: Even if we are far away from each other, in a different time zone and space, we can still have this feeling of a shared 'virtual' space.
K: I didn't mean it as a separate 'virtual' space. That was something we've always been expecting about the internet era. That's the idea that we're able to be inside the internet—, virtual—, separate—, a new world which surpasses the limitation of a physical distance, time and space etc. I meant something totally different. You feel as if you're in the same space or world as them but you don't actually feel that you're with that person. You can feel the physical distance. But, you can connect with them whenever you want because you're always connected to them just by carrying smart devices with you at all times. And suddenly, that notion of physical distance makes you want to export that online tribe, offline. That is important.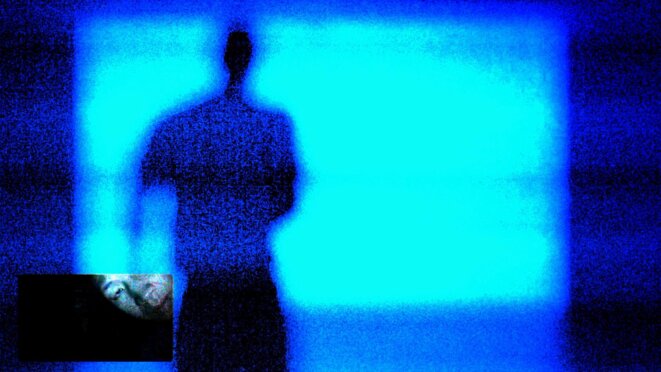 Every Smooth Thing through Mesher, video still 2018 © Heecheon Kim - Production Han Nefkens Foundation
H: So, this was your thought process when creating your recent video 
Every Smooth Thing Through Mesher
? How did it begin?
K: Firstly, I was interested in the Pokémon GO game. The CEO of Pokémon GO, Mr. Hanke, claims that you can explore the world through the game because it forces you to leave your room. I think that's false because you don't actually explore "the world". Yes, you exist in the world but no, you do not experience the world. You're still playing the game. 
H: Has this had an impact on the way we relate to, or behave in the real world? 
K: You're watching the real world in the real world but you're still thinking about the Pokémon GO PokeStops. You can't turn off the game, wherever you are, part of you will always be in Pokémon GO.
H: Even if you aren't playing it.
K: Yes, for example, a bus stop in the real world may be designated as a PokeStop. If you're a Pokémon GO player who catches your buses there, every time you wait for the bus you'll collect things in the game at that PokeStop. Think about the moment you recall the fact that it's a PokeStop when you arrive there. That would be the process of you connecting to Pokémon GO, a way of connecting to the game. What did you do to connect to Pokémon GO? Based on that, how do you disconnect from Pokémon GO? PokeStops are everywhere, which makes the user keep thinking that they are playing the game at the same time. Do we have to learn how to meditate to clear our minds so that we can turn this game off?" 
H: Somehow, we are caught up by technology and these games that invade our society.
K: Technology tends to be invisible. I recently saw a really strange TED talk. The speaker was a bureaucrat from Singapore who said that her city had become a 'smart city'. She meant that it was collecting and circulating data automatically like a living body. She then put forward a hypothetical situation. She emphasised that saving energy is very important, and said if you were using air conditioning in your home at night, the 'smart' city, would be able to shut it down when you went to sleep. This meant that they could control everyone without them realising. That was frightening. What if an elderly man needed a cool temperature to survive?
H: Because information is power. The more information you have, the more you can misuse it. Technology cannot only control us but also change us, and some people can become quite dangerous.
K: I think it's about potential. It's all very terrifying.
When I was working on this video, I felt distanced from the dystopian way of thinking because I think it's a simplified way of seeing problems. The core of the problem is the future. Today, technology aims to be invisible or unrecognisable.
In the same way that the characters can hide behind things in the new Pokémon game, I think that it also shows that the future is invisible and that it's not some kind of Sci-Fi/plastic/3D thing.
H: When you say invisible, do you mean that it becomes a normal part of our daily lives and that we can't even see it anymore?
K: Yes, even if you're very interested in technology and watch many demo videos, like the one I watched about Pokémon GO or a robot acting like a human or AI technology, they are all very impressive, but you still won't be able to recognise or understand them.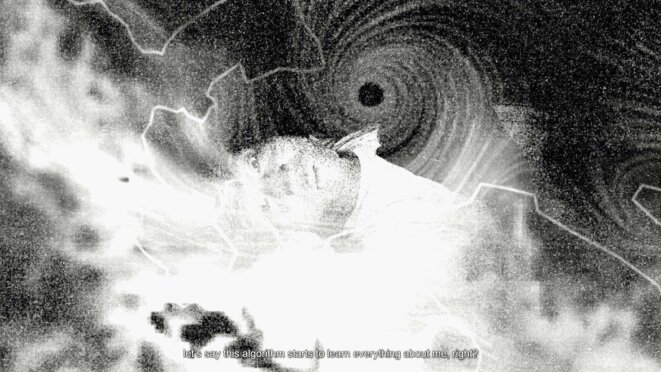 Every Smooth Thing through Mesher, video still 2018 © Heecheon Kim - Production Han Nefkens Foundation
H: And that's part of what you reflect on in Every Smooth Thing Through Mesher. 
K: Indeed, the original concept changed, so I thought I needed to think about the way the future has become invisible. I spent a lot of time thinking about how I could show something that is invisible. 
I always try to make videos with loads of layers. There's always a core idea but when in the process of filming or editing, I try to accept the fact that there are loads of layers but still try to make it appear as if there was only one.
H: Besides the very personal, poetic language you use, your work is built up of different fragments of stories which overlap and interact with each other, like a puzzle or collage. When you think you've understood the story in your videos, you get lost again. 
K: Yes, I really like to see the audience's reactions. Even if the storyline isn't linear, they tend to make it their own linear version. So, I really want to play with that. It's up to them to figure out what's going on because the storyline doesn't provide them with that kind of information.
H: Is the title an important way to connect with the audience? 
K: It's important to know who the speaker is. I try to think about who will speak to the audience.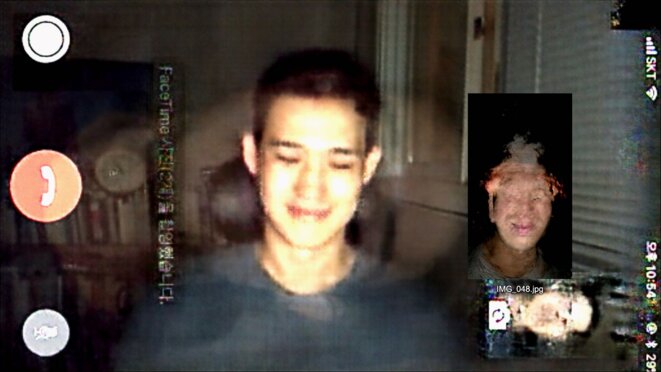 Every Smooth Thing through Mesher, video still 2018 © Heecheon Kim - Production Han Nefkens Foundation
H. And what does Mesher mean?
K: Mesher is a tool designed for skin graft surgery. Before transplanting the healthy skin onto the wound, the surgeon will mesh the harvested skin to cover broader surface than its original skin could.  Every Smooth Thing Through Mesher is a metaphor of our current condition. Even if the mesher doesn't appear in the video at all.
H: Did you start working on a new idea after this video? 
K: I think I'd like to try to experiment with something physical –I don't know yet. I think the direction has already changed and I can't go back now. It would be ridiculous to go back. 
H: Has your architectural background influenced your work?
K: Yes, I think the main thing about having studied architecture is that you can always consider the architectural point of view when working. Working on an architectural project, you have to look at the project on the urban scale, then zoom in to the project scale and then zoom in again to the users' human scale. It teaches you how to read content and to work on projects that connect to their surroundings. My work tries to offer these different perspectives.
H: What do you read?
K: I like some Korean fiction books which aren't only about storytelling but also explore the novel as a medium. One writer I like is Sangwoo Yi. I think his novels explore that.
H: I was actually touched by the poetic language of the dialogues and texts you use in your work. 
K: That's funny because in 2013, when I was still studying architecture at the university, I was so bored that I went to a poetry workshop. I wanted to learn about poetry. There, I understood what the main principle is about making any kind of art. I learned that you mustn't worry about the audience and if they understand your work or not. If you become worried, you will start explaining everything in your work and it'll bore them. Also, I learnt not to write glossy phrases because in poems, the poem will be just this because of the poem itself. 
H: This could apply to your work. 
K: I think it's good advice for any artist and maybe even for architects. 
H: As you said, you feel you need to create a space so that people can see things from a different point of view. It's up to them to see and to raise questions. You can't create the vision for them. 
Hilde Teerlinck  and Heecheon Kim at Gwangju, South Korea 
08-10-2018
Le Club est l'espace de libre expression des abonnés de Mediapart. Ses contenus n'engagent pas la rédaction.
L'auteur·e a choisi de fermer cet article aux commentaires.