A NIGHT AT SONAR FESTIVAL BARCELONA
If there is one thing Barcelona's techno festival SONAR can be proud of it is the excellent promotion campaign that has been accompanying it over the years.  Mostly based on a concept of artistic director Sergi Caballero, the visual artist responsible for creating its fascinating images over the years is the talented Mallorca born artist Biel Capllonch.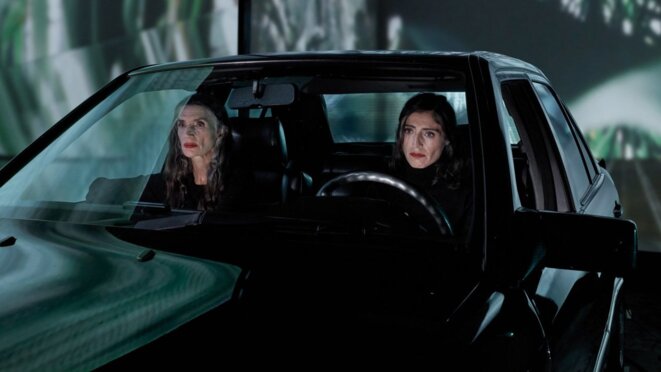 Sonar 2019 © Biel Capllonch
Biel Capllonch (° Palma 1964) is active as a commercial and fashion photographer, making inspired campaign pictures for Spanish sunglass company Etnia, Camper, Ikea, Martini, Nike or Vueling. He's the author of other campaign images for Sonar, inviting Diego Maradona or showcasing a scaring duo of paranormal twin sisters. The atmospheres and settings he likes to create is reminiscent of the surrealists.
The image for Sónar 2019 is starring Angela Molina, the world-famous Spanish actress, and Vir Rousse, booker of the festival.  It shows the journey by car of a mother and her daughter through spooky unreal worlds. As in  previous years, the festival's image will also take the form of a short  dramatic film, narrating the journey of a mother who tries to convince her daughter not to commit suicide.
As (personal) highlight of this year's festival I would like to bring to your attention the inspiring performance entitled 'Republique of Kitten' at the Terazza of the OFF Sonar.  This intimate concert took place on the terrace of the 'Poble Espanyol', a funfair/shopping area in the shape of a miniature recreation of Spain's marvels.
In this atypical setting we could listen and dance to the sound of  Lena Willikens, Matrixxman and (Miss) Kitten. Lena Willikens started the party shortly after midnight.  Willikens  doesn't play the hits. When she's behind the decks, even her biggest fans often have no idea exactly what she's playing, and that's part of the magic. A bit like she is on a quest for something bigger, something that's truly transportive for those on the dancefloor. And this Friday night she really fulfilled this mission with a passionate thrilling set.
On record, she recently curated the fifth installment of Dekmantel's acclaimed Selectors compilation series, and she's also been tapped to remix the likes of Lena Platonos, S U R V I V E,  Roxymore  and Ana Helder, amongst others. But on stage in the DJ booth, Willikens makes the biggest impact. This time playing alone and nimbly navigated as a sonic explorer electronic music's darkest and most bizarre corners, sampling different temperatures, different moods and a dollop of chaos, just to keep things interesting.
(Miss)Kitten herself took over control after her, confirming that she definitely remains the queen or president of her self-declared private republic. True to her personal style she imposed a strictly structured set, moving the crowd on the dancefloor. "Miss" confirmed she really decided to talk back, turning -after decades-  into her original moniker Kitten again.  She proved her natural talent with a spiritual performance, coming back to the essence of chords and textures.
Dominant, distant and cool as a pacemaker, she peeled away all the non-essential but managed to offer with a professionally constructed set  joy to the crowd. So, when Caroline was first getting billed as a DJ, it was the trendy thing to do to add "Miss" in front of all female artists in France. Promoters would often tack it onto her name without permission. Eventually, it stuck. Now, decades later, she's taking back her name. Her next release Cosmos, will be her most spiritual yet, influenced by her time in the French countryside after a bout of touring exhaustion. She gives up any formulas Matrixxman managed -under the approving eye of Miss Kitten- a swift change of hands at the mixing desk.  Charles McCloud laced dreamy synths with a basis of snapping percussion. As Matrixxman he really has found his own signature, experimenting with techno and house influences.  His set was marked by a certain restraint (even when it banged), his clever and efficient sound design balanced going of the deep end.
All together enough to send the public back home with the echo of a fascinating dive in an inhuman, post-human universe of analog pulses and electric currents.
Le Club est l'espace de libre expression des abonnés de Mediapart. Ses contenus n'engagent pas la rédaction.
L'auteur·e a choisi de fermer cet article aux commentaires.