ANTWERP ART WEEKEND : visiting 'Nieuw Zuid'
Gallery Sofie van de Velde showing a performance of Erich Weiss, a highlight during my visit.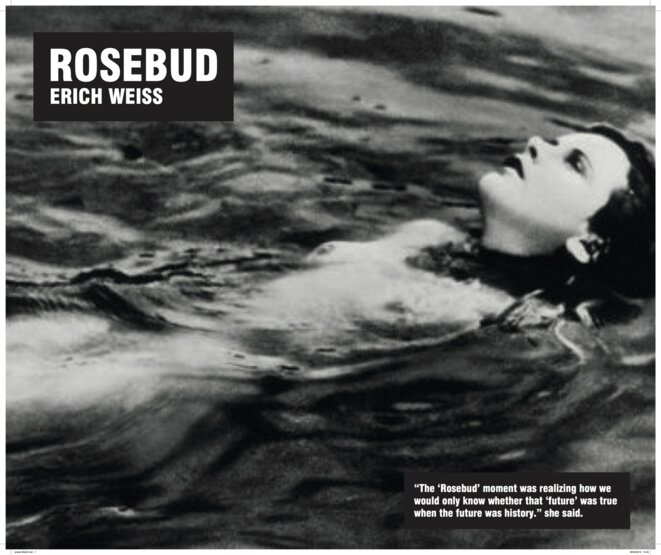 "Rosebud", Performance Erich Weiss
On Sunday afternoon the Antwerp Art Weekend ended in the ' Nieuw Zuid' area. This area saw how -with the construction of the Museum of Contemporary Art (M HKA) in the eighties, a lot of contemporary art galleries choosed to open a space in this area. Now this neighbourhood has slighty moved towards a new residential area in the immediate surrondings. The neighbourhood is called 'Nieuw Zuid' and is still under construction and in continuous development.
Here I went to discover the brand new exhibition space of Tim Van Laere. He asked the hip Belgian architects of OFFICE (Kersten Geers and David Van Seeveren) to construct a massive, minimal and cool concrete bunker, offering big, empty spaces, suited for monumental pieces. And this is exactly what Adrian Ghenie, Jonathan Meese and Rinus Van de Velde offer the public in the opening show. A fascinating introduction, stylish and convincing.
Two other galleries were in fact the first to open a space in this new neighbourhood, with modernist residencies and green zones : Plus One (run by Jason Poirier dit Caulier) and Sofie Van de Velde.
In this last gallery I had the chance to discover a selection curated by Joost de Clercq (MDD Museum) confronting paintings by Dutch artist Maaike Schoorel and sculptures of Guy Mees, under the title 'Leeway'.
This definition can be defined as 'the amount of freedom that is available to move or act.' It was expressed by the emotive and subtle works by Schoorel (creating the shape of some secret private gardens) and Mees (using fragile materials like lace) ; but also by a single photo belonging to the archive of Antwerp based artist Paul Van den Boom. His vintage black and white image shows Yayoy Kusama at work in her studio, painting her own body and that of a model. A similar mood could be detected in my opinion in the live performance I could witness that afternoon in this gallery.
It was entitled 'ROSEBUD' and its author was the Belgian-born artist Erich Weiss. Like in most of Weiss' theatrical pieces or installations the scene he offered us could be described as a complex 'multi-media collage' containing plenty of references. The title itself refers of course to the famous end scene of Orson Welles' emblematic movie 'Citizen Kane', where the protagonist whispers his last word ('Rosebud') on his death bed. (We witness how a cristal ball, containing a dreamy snowlandscape falls from his hand on the floor. This so-callled 'Rosebud'-moment' is traditionally defined as a transitory moment in human memory : it is realizing how we can only know whether
our image of the 'future' is really true when this 'future' suddenly takes place and becomes 'history' … Here the object lay motionless in the hand of a beautiful young actress.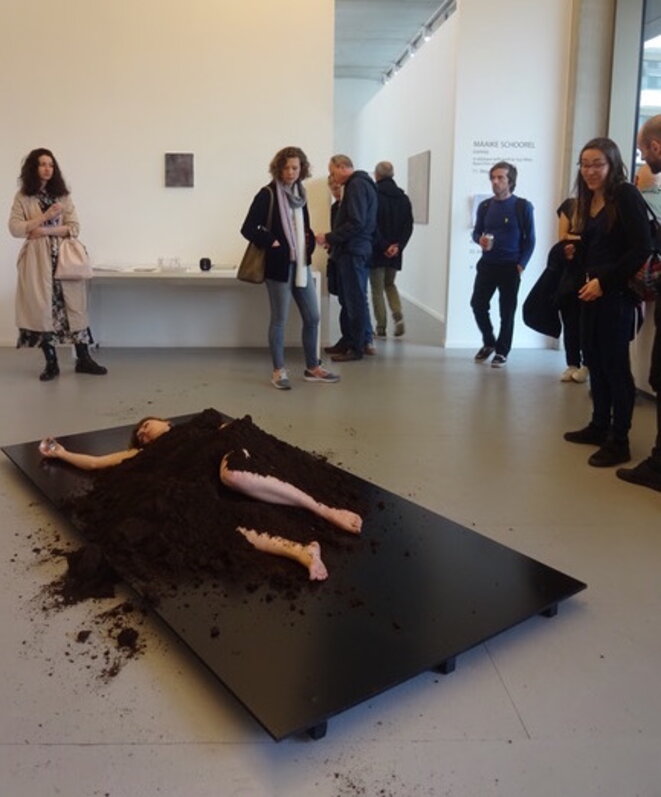 "Rosebud", 2019 Sound and performance installation, Erich Weiss
This scene Weiss sets before our eyes in the middle of the gallery floor consists of very few elements. It is almost as enigmatic as the one we presence in Marcel Duchamp's famous (posthumous !) installation 'Etant donnés'. Here we witness as voyeurs through a peeping hole in a door the half naked body of a female corpse or motionless body.
It is partly hidden by the landscape, but we can witness clearly an arm reaching out holding a lamp.
Like this puzzling image Weiss' composition turns the viewer also into a 'voyeur malgré lui'. He confronts the public with a 'mise-en-scene' that looks like an agglomeration of these two strong images/ideas created by two historical master manipulators.
And like in Duchamp's preparatory drawing (a chalk sketch that is extremely fragile, almost ephemeral, because the powder forming the thin lines of the image isn't fixed on the page) -
the girl/actress we witness here is covered only by sanddust. Sand and dust are other of Duchamp's favorite materials, used for example in Man Ray's 'Dustbreeding' (1920), a document of The Large Glass.)
This theatrical setting in the gallery is completed by a soundtrack by Weiss' friend and collaborator Klaus Neumann, who composed a specific soundtrack for this installation.
We listen to it on wireless speakers, guided by 'bluetooth'. The track sounds dramatic and is composed of technological sounds and female voices. The poem we can listen to is a fragment of a poem of Parker Tyler dedicated to the film actress Hedy Lamarr. Weiss discovered this text on a tribute/essay about this movie-star made by Joseph Cornell, published in 'View' in 1941 under the title 'The Enchanted Wanderer'.
The fact that 'bluetooth' is used as a device is a hint to Lamarr's parallel and far to often forgotten career as prominent scientist. Hedy Lamarr invented indeed -in collaboration with experimental musician George Antheil- the groundbreaking new technology known as 'Frequency Hopping'. Her invention is the origin of further developments like GPS or mobile phones.
But leaving apart all these possible connotations and details, what we witness here is a powerful visual poem, erotic and emotional. An emotional environment capable to set the mind in motion.
Le Club est l'espace de libre expression des abonnés de Mediapart. Ses contenus n'engagent pas la rédaction.
L'auteur a choisi de fermer cet article aux commentaires.