The implication of Qosmos in the EAGLE program for Gaddafi and what it shows us
The series of blog posts, of which this is the third, is proposed in order to provide a clear and limpid overview of the Qosmos affair for a non-French-speaking public.
The Swedish author Mattias Beijmo has published a book entitled "They Can't Stop Us", about the repression operated by the regime of Bachar El-Assad against the people of Syria thanks to the use of mass surveillance and interception technology provided by western companies. 
A brief introduction to the book can be found here : http://hedlundagency.se/2018/09/26/they-cant-stop-us/
The Swedish newspaper Dagens Nyheter (Today's News) published an article dated 18.10.2018 by the journalist Josef Svenberg, and I have provided an English translation of this article in an introductory blog posting today, which you can read here : 
https://blogs.mediapart.fr/jamesinparis/blog/281018/they-cant-stop-us-enea-and-current-scandal-unfolding-sweden 


In a second blog post, I have provided a brief status report on the ongoing case against Qosmos in the Crimes against humanity division of the Paris High Courts for "complicity to torture" : 
https://blogs.mediapart.fr/jamesinparis/blog/281018/crimes-against-humanity-ongoing-case-against-qosmos-paris-high-court 
I have received information that Qosmos's Director of Communication, Erik Larsson, has spoken of  "the lies James Dunne has been feeding". 
This series of blog posts, of which this is the third, is in response to such accusations, and in order to provide a clear and limpid overview of the Qosmos affair for a non-French-speaking public. 
In this third blog post, I would like to limit myself to the EAGLE programme, for which the French company Amesys is currently under investigation at the Crimes Against Humanity division of the Paris High courts.
Qosmos worked on the EAGLE programme as a subcontractor to Amesys, from February 2007 to November 2008. 
Qosmos is not being investigated for its involvement in the EAGLE programme, from which it was evicted in November 2008 against its wishes. I wish however to briefly describe this case, inasmuch as it concerns Qosmos, for it provides an understanding of how Qosmos operates, and how it responds when brought before difficult facts. In this short exposé, I will show incontrovertible proof of lies by the Qosmos CEO and Qosmos board of Directors. I will also show how many years the lie lasted, and what it shows us of the Qosmos Code of ethics. 
Let me begin this exposé of facts by mentioning the first time the words "code of ethics" was ever used in Qosmos.
In October 2007, Thibaut Bechetoille organized a meeting to see how the employees were reacting to the changes that were brought to the company that year. It's the year when Qosmos started working with the French State (Ministry of Defense ; Interior Ministry ; DGSE, DGSI, the French Secret Service). It's also the year we started working on our first Legal Interception contract : EAGLE. 
Thibaut Bechetoille organized a meeting in October 2007, to see how we were dealing with these changes, and invited us to say anything we felt we needed to say : saying specifically "No Question is taboo."
_____________________________________________ 
De :    Thibaut BECHETOILLE  
Envoyé :        mercredi 24 octobre 2007 14:45 
À :     users 
Objet : Mis(e) à jour: Point société / Questions - suivi d'un pot 
Date :  vendredi 26 octobre 2007 17:00-18:30 (GMT+01:00) Bruxelles, Copenhague, Madrid, Paris. 
Où :   
L'objectif de ce point société sera de répondre à toutes les questions que vous pourrez avoir:
• Stratégie
• Projets commerciaux
• Projets techniques
• …..
      Merci de préparer vos questions. Il n'y a pas de question tabou.
______________________________________________ 
I seized this opportunity, and answered the CEO's invitation later that same afternoon, sending an email to him and everyone in the company. In my email I pointed out how the technology of Qosmos was open to abuse or misuse, and asked him how we could even know what we were doing or control who we were supplying to when "we work for customers that don't exist." In other words, we found ourselves working with code names, and carrying out work for the French Secret Services, etc. I specifically asked what our "ethical code of conduct" was when faced with such choices. 
De :    James DUNNE  
Envoyé :        mercredi 24 octobre 2007 17:48 
À :     Thibaut BECHETOILLE 
Cc :    users 
Objet : RE: Point société / Questions - suivi d'un pot
Nous travaillons dans un secteur de pointe, où il est question d'extraction et d'interception des données. Alors que les raisons et les fins des telles activités soulèvent souvent des questions d'ordre éthique.
…
L'utilisation de la technologie Qosmos à des fins de fichage et d'interception pose également des questions d'ordre éthique:
• fichage et interception d'acteurs dits "dissidents", (opposants au régimes, défenseurs des droits de l'homme, simples militants, etc)
• faussage des résultats des moteurs de recherches sur internet
Quel est l'attitude de Qosmos - et l'attitude de ses investisseurs - devant des tels scénarios ?
Si le govt d'un régime qui enfreint certains droits ou valeurs considérés comme "universels" nous propose un important contrat, à quelles valeurs et exigences se tenir ?
Quel est alors notre code de conduite "éthique" ?
Comment contrôler l'usage fait de nos technologies dans le domaine de l'interception - ou même y voir clair - quand nous sommes tenus au secret par des clients qui n'existent pas ?
With the help of Google translate, this gives in English :
We work in a high-tech sector, where it is question of data extraction and interception. While the reasons and ends of such activities often raise ethical issues. ...
The use of Qosmos technology for tagging and interception purposes also raises ethical questions:
• listing and interception of so-called "dissident" actors (opponents of regimes, human rights defenders, simple activists, etc.)
• biasing the results of search engines on the internet
What is Qosmos' attitude - and the attitude of his investors - to such scenarios?
If the govt of a regime that violates certain rights or values considered "universal" offers us an important contract, what values and requirements should we hold to ?
What then is our "ethical" code of conduct?
How can we control the use made of our technologies in the field of interception - or even see clearly - when we are kept under secrecy by customers who do not exist?
During the meeting of Friday 26 October 2007, Thibaut Bechetoille looked me in the eyes, and in the eyes of all the other employees of the company, and assured us that "of course, Qosmos is an ethical Company, and we would never provide our technology to dictatorships or expose our technology to misuse by those who do not respect human rights." This in broad terms is the answer he gave. And it sounds great, doesn't it? 
Almost four years later however, On 31 august 2011, we learned via an article published by the Wall Street Journal, that the EAGLE programme we worked on from February 2007 to November 2008 was specifically designed and set up to provide mass surveillance and intercept technology to the regime of Colonel Gaddafi in Libya. 
Here are the facts concerning the involvement of Qosmos in the EAGLE programme, as subcontractor to Amesys: 
After 3 months of collaboration, the final Technical Specifications were validated and signed by Qosmos CEO Thibaut Bechetoille and Amesys on March 26, 2007. The programme of development and hardware and software deliveries was launched on April 18 2007.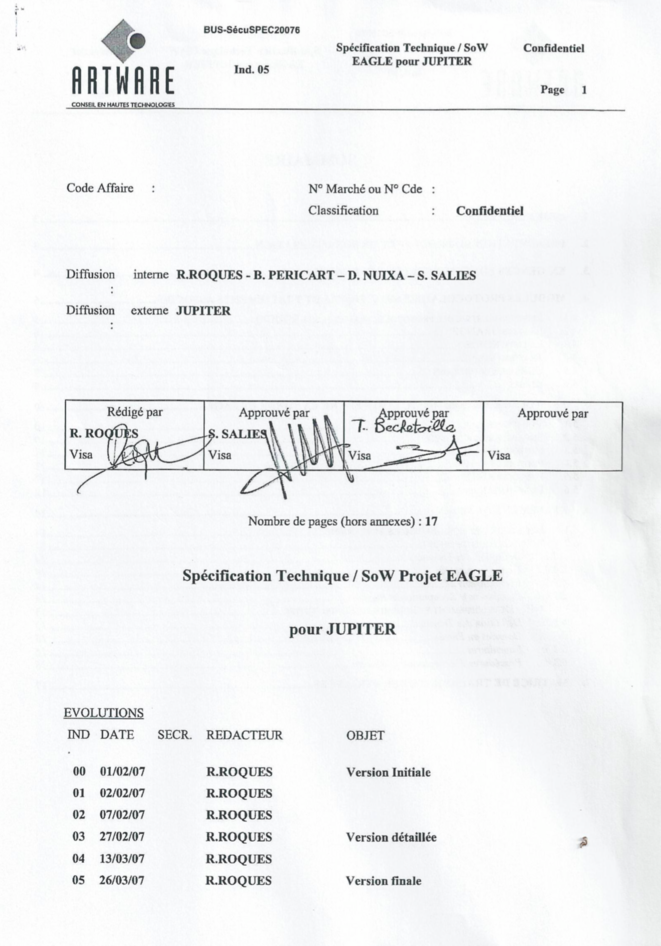 EAGLE programme Qosmos, 18 April 2007 © Qosmos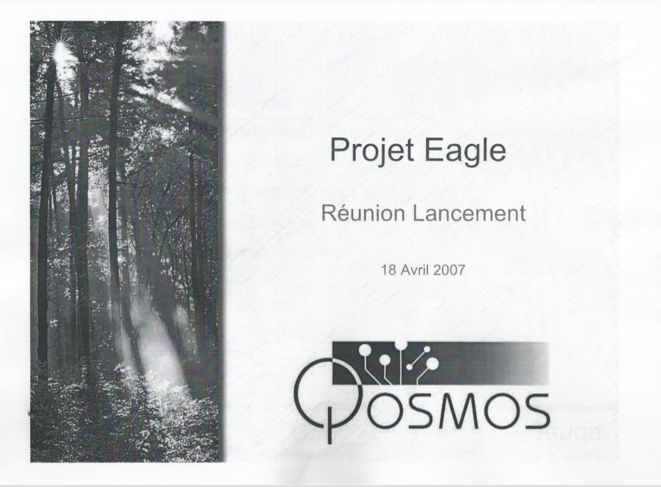 EAGLE programme, Qosmos, April 2007 © Qosmos
According to the original timeline, the first of two hardware probes was to be delivered 30/06/2007, and the second probe v2 on 18/07/2007. The final software update, version V4, was programmed for 18 November 2007. 
The hardware probes were delivered as planned, with the first probe V1 delivered to Amesys a few weeks earlier than planned, on June 4th 2007. I know because I have the official acceptance report filled out by the Qosmos engineers that delivered the probes to Amesys.  
Libya's network topology was quite centralized, and the solution required just two large probes to be connected at strategic points in order to capture 95% of Libya's internet activity. The Qosmos software was embedded in IBM data-centers. I documented the technical documentation explaining how to install and configure the probes. 
As can be seen from the Definition of Work, the Jupiter probes provided by Qosmos were "an indispensable element" of the programme. Without the Qosmos probes, there is no data to intercept. They are the automobile's motor. They are not its fog lights.  

Definition des travaux, EAGLE, 2007 © Qosmos/Amesys
In July 2008, the first operational tests were carried out in Libya, and the two hardware probes had difficulty managing the amount of information sucked from the network. 
Part of the difficulty was the complexity of configuring these first "Legal Intercept" probes. If your intercept request is too large, you over-fill your nets, and the server crashes. 
You can read about these difficulties here, in an article entitled, How I placed 8 million Libyans under surveillance, published by the Figaro newspaper in Paris in September 2011. 
 «Comment j'ai mis 5 millions de Libyens sur écoute», Le Figaro, 06.09.2011 http://www.lefigaro.fr/international/2011/09/01/01003-20110901ARTFIG00412-comment-j-ai-mis-8-millions-de-libyens-sur-ecoute.php
This was a very stressful and tense time between Qosmos and Amesys, but Qosmos worked overtime from July to November 2008 in an effort to solve the technical issues that came up. 
When Amesys broke the contract unilaterally in November 2008, Thibaut Bechetoille was so outraged, he seized the Commerce Tribunal of Paris, to protest against Amesys's interruption of the contract, which he considered to be totally unfounded. 
When Amesys was bought by Bull, the legal case brought against Amesys by Qosmos figures on the official accounting records of 18 janvier 2010, available online, in subsection « 5.2.3.5 : Litige ou fait exceptionnel » :

« Par ailleurs, la société AMESYS RÉSEAU SÉCURITÉ ET SERVICES, filiale d'AMESYS SAS, a fait l'objet d'une procédure d'injonction de payer initiée à son encontre avant le 30 juin 2009 par la société Qosmos. La société Qosmos réclame une somme égale, à la date du 24 juin 2009, à 82.887,05 euros. 
« Cette procédure a fait l'objet d'une contestation par la société AMESYS RÉSEAU SÉCURITÉ ET SERVICES qui est toujours pendante à la date de la présente devant le Tribunal de Commerce de Paris. Aucune décision ne doit intervenir au cours du deuxième semestre 2009. » 
What do all these facts show ? 
1. They show incontrovertibly that, on October 26, 2007, the CEO of Qosmos, Thibaut Bechetoille, lied to all the employees of the company in response to my question about our Code of Ethics.
2. How do we know that? Because when he answered my question on October 26, 2007, about our Code of Ethics, we had already been working 9 months on the programme EAGLE, designed to provide mass surveillance and intercept capability to the Gaddafi regime of Libya.
3. How long did the lie last? This lie, by Thibaut Bechetoille and the Directorate of Qosmos, lasted until the Wall Street Journal exposed the lie, on August 31, 2011. 
4. Who was the only employee of Qosmos who explicitly expressed his concern about the possible misuse of our technology, and asked Qosmos what its "ethical code of conduct" was when faced with such choices? Myself, James Dunne. Nobody else. 
5. Did Qosmos leave the EAGLE programme for ethical reasons ? No. On the contrary. Qosmos brought legal proceedings against Amesys for its interruption of the contract in November 2008. Had Qosmos not been evicted from the EAGLE programme against its wishes, it would be the object of a second procedure for complicity to crimes against humanity, the one Amesys is pursued for today. 
You can read about the case brought against Amesys for "complicity to torture", which is still ongoing, here : 
https://www.fidh.org/en/region/north-africa-middle-east/libya/16959-the-amesys-case-the-victims-anxious-to-see-tangible-progres
These facts concerning the implication of Qosmos in the EAGLE programme, as a subcontractor to Amesys, tell us something about ethical concern and truthfulness. They show that the ethical concern was mine, not the company's, and that Qosmos lied for years about its Code of Ethics, until the lie was exposed by investigative journalists. 
But there is another important point here : in its official corporate communication, Qosmos describes its participation in the EAGLE programme (from February 2007 to November 2008) as a vague idea that never happened.
I have documents that prove the opposite. So do the French judges. Myself and my colleagues worked on the programme for exactly 22 months, for many of us we had no idea that the final customer was the Lybian dictator Colonel Gaddafi. 
I would ask you to keep all these facts and lies in mind when you come to the ASFADOR programme. And Qosmos's claims to be a company guided by ethical considerations. And keep these facts in mind too when Qosmos Directors accuse me, James Dunne, of lying.
Perhaps Qosmos Director of Communication, Erik Larsson, can apologize for his libelous statements against me when faced with these facts ?
Who has lied?
Perhaps Erik Larsson didn't realize that the Qosmos CEO, Thibaut Bechetoille, and the Qosmos Board of Directors, lied to their employees about their "Ethical code of conduct" for years in the case of the EAGLE contract ?
After all, he wasn't there at the time. 
What does he think of all this proof of lies in a subject so important as the company's Code of Ethics, and its implication in a programme destined to supply mass surveillance and interception technology to a notorious dictatorship ? 
In my next blog post, I will deal with the ASFADOR programme specifically designed to provide mass surveillance and interception capability to the Assad regime of Syria.
James Dunne
Le Club est l'espace de libre expression des abonnés de Mediapart. Ses contenus n'engagent pas la rédaction.