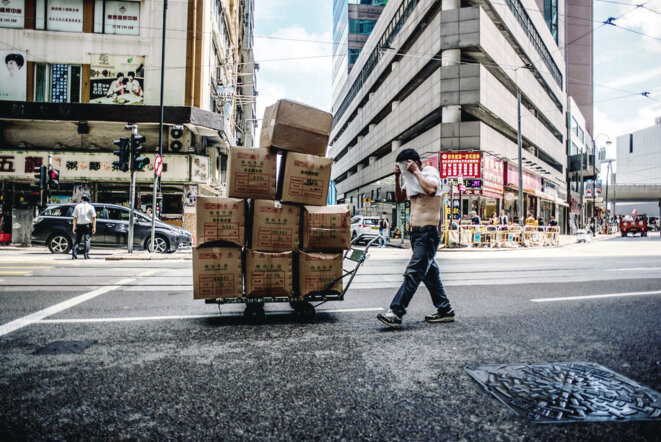 In your book "Technopolis" (2019) you explore urban struggles in the San Francisco Bay Area, drawing connections to European metropolises such as Berlin. You investigate how, in the course of 24/7 network capitalism, life and work are merging in new ways, how workers of Big Tech companies act as guinea pigs for their own innovations, and how, in doing so, users are instrumentalized in a new way, while at the same time new forms of expropriation are "normalized." Are users the workers of the future?
What we can certainly observe are new forms of monetizing social activities and everyday tasks when they take place on "social" media or digital platforms. The resulting data is the actual raw material of tech companies, which is then analyzed, mined, resold, and transformed into market shares and often exorbitant stock market valuations. In a sense, digital companies live from the unpaid labor of their users. Every click, every "like," and every "shared" posting thus ultimately contributes to the power of these companies. It is no coincidence that smart phones and social media are based on the principle of the slot machine. The "like factor" can be just as addictive as a slot machine.
Gamification also plays an increasingly important role in the workplace, as demonstrated by the use of targets, ratings, 360° feedback and other "incentives." Work is increasingly made to simulate play, to feel like self-actualization within the "game." These mechanisms also play out on social media, where the recognition generated from posting and participating is said to be its own reward in the so-called attention economy, so the work that goes into it can remain uncompensated. In this vein, unpaid digital labor can even contribute to the glorification of precarious working conditions.
If users represent an important pool of the workers of the future, doesn't that also mean that networked life as work is only worth something when it is particularly vibrant – and without having to provide the workers with real-life foundations such as job security, old-age security, and so forth?
What's important for these platforms, for the time being, is not the content of a post or a tweet – the main thing is that it generates a buzz and thus contributes to increasing activity on their digital networks. Whether it's scandals, fake news, trolling or "Facebook revolutions," what's crucial is the data it generates.
Networked life is capitalized on in various ways: users are only one of the new categories that increasingly replace employees in the traditional sense. For example, I am thinking of the Airbnb "hosts," the "fast rabbits" who work for "Task Rabbit," the "independent contractors" who work for Uber, and so on. They call it "sharing" – but what it does is exacerbate the precarization of workers who work without social benefits, without contracts, by using their own car, at their own risk, or even without pay.
Companies like Uber profit from the increasing precarization that they co-produce, to a certain degree, by disrupting unionized sectors and undermining public transport – or in the case of Airbnb, by driving up rents and exacerbating the housing crisis. Then they offer their own services as "solutions." Those who can no longer afford their rent can become a "host" and drive for Uber in their "free" time. These activities, in turn, produce data that is analyzed and strategically exploited by these companies, whether it's to monitor their workers or to beat out competitors in the run for market shares.
During the "corona crisis," networked life has taken on a particular significance. "Social distancing" is considered crucial, and "social media" is being hyped up even more. Now even the heads of governments advise us to make use of them. Certainly, the Internet can also be seen as a tool that can be helpful in a crisis situation. But under the present conditions, it fuels capitalist exploitation like nothing else. Is it a bitter irony that states that have repeatedly appeared as opponents of Big Tech (for example in the area of data sovereignty), now advertise Big Tech? Or does it instead reveal something that would otherwise remain underexposed: the complicity between states and Big Tech?
The Internet and the computer are products of the Cold War. The tech industry – or what is commonly known as "Silicon Valley" – benefited more than almost any other industry from massive public subsidies and contracts with the Pentagon and other state institutions. Tech companies want to be seen as subversive, and they emphasize innovation, independence and self-initiative. In their techno-utopian manifestos, they stylize themselves as antidotes to authoritarian, bureaucratic governments and praise their digital platforms as a liberating force for the individual. However, this rhetoric should not blind us to the fact that companies such as Google, Twitter and Amazon benefit massively from state institutions and public amenities, even while they simultaneously undermine and even try to replace them.
Examples include tax deals negotiated with cities in return for setting up company headquarters or fulfillment centers, or how the negative effects of digital platforms and related working conditions are being externalized to society at large (think unemployment, depression and anxiety, environmental pollution). This creates a paradoxical situation: on the one hand, states like to schmooze with Big Tech, but at the same time companies are often a few steps ahead of democratically elected governments when it comes to exploiting legal loopholes or simply establishing new socio-political realities. Today, more than ever, we can see that those who have the data – and know how to make use of it – have the power.
In this sense, states are also dependent on tech companies when it comes to upgrading their own repressive police forces and border regimes. Companies such as Amazon, Microsoft, or Palantir, for example, collaborate with the US immigration authorities and promote their surveillance tools – such as Amazon's video Doorbell Ring – to other law enforcement agencies.
Eerily empty streets in metropolises like Rome, Berlin and New York. Occasionally you see parcel and food deliverers with their neon vests. This image may seem characteristic for the "corona crisis" – but doesn't it tell us more about the present than merely about this particular moment of crisis?
What becomes more visible through the "corona crisis" are relations of exploitation and dependencies that are otherwise deliberately obscured. If you press "order" in an app, nothing at all would happen if it weren't for the workers in the background who haul the parcels around in the fulfillment centers, deliver the food as couriers, or train the "smart" devices and algorithms that are then shipped to our homes in the form of Amazon's digital assistant Alexa, for example. It is ironic, and downright tragic, that it is precisely these jobs that ensure basic needs– e.g. in health care, in the food supply chain or in transportation – that are often the least appreciated. Uber drivers, nurses, parcel delivery staff, bicycle couriers – they all work on the "covid frontline" and are exposed to particular risks, but often have no paid sick leave, no job security and here in the US sometimes not even health insurance.
But the picture of eerily empty cities with the lonely parcel delivery person also shows that cutting ourselves off from the outside world is an illusion. Instead, the virus might simply enter your home with the next Amazon order. Because for many people in the supply chain, staying home when they are sick is not a viable option.
In view of the "corona crisis," government representatives such as Angela Merkel demand that public life should be virtually shut down, but the flow of goods should not come to a standstill. Logistics networks should continue to operate. The people who work in this field – and who are rendered invisible – are deployed without any precautions being taken. Doesn't this reflect exactly the same problem that activists were denouncing again and again before the "corona crisis" – namely that people are being turned into robots?
One of the main arguments invoked in favor of automation is that robots would eliminate hard and dangerous manual labor. What we are seeing instead is that workers in Amazon fulfillment centers today are subjected to intelligent algorithms that monitor every step in the work process, down to the smallest detail, while constantly subjugating workers to new "targets" and even faster production rhythms. Sometimes it happens that workers have to pee in bottles in order to keep up with the rhythm enforced by the machine. Amazon still depends on human labor, but expects that labor to behave like machines: those who need to take an unpaid day off due to illness are punished. If you cannot function seamlessly, you risk being cast out.
The corona virus has finally arrived in the clean and smooth world of a logistics empire like Amazon. As the headline of a US publication reads: "An Amazon warehouse worker in NYC has coronavirus. They probably won't be the last." Considering that supply chains are an integral part of the "critical infrastructure" in the current situation and deploying Amazon employees seems to be imperative, isn't this the best time for protest and activism, as documented in your book "Technopolis"? What forms of resistance are necessary now and in the future?
The current crisis exacerbates exploitative conditions and renders society's dependence on precarious workers more visible. It hurts all of us if people have to go to work even if they are sick because they simply cannot afford to be ill; if precarious workers are under so much strain that they fall asleep at the wheel of an Amazon delivery van; and if health care workers are deprived of their breaks and home care has to be provided on a piecemeal basis. In this sense, quite literally, capitalism makes us sick – and not only during the Covid-19 pandemic. This hurts all of us.
Or at least almost all of us. One of the big profiteers of the current crisis is already known: Amazon. The online trading giant is currently recording massive gains in market share and plans to hire 100,000 new employees – while smaller businesses are going bankrupt in droves. Amazon's increasingly monopolistic position has also upended political power relations. Or as a journalist for the Guardian recently put it: Welcome to the "US of Amazon."
But even Amazon – one of the most powerful companies in the world – can be defeated, as a broad coalition of neighborhood groups, grassroots unions, critical tech workers and migration activists recently demonstrated in Queens, New York, where Amazon tried unsuccessfully to open its HQ2 after months of pitting cities against each other in a cut-throat race to the bottom. And now activists in Berlin have picked up the torch and continue the struggle – in a city that, mind you, has already sent Google packing.
And perhaps the "corona crisis" may heighten awareness of certain social interdependencies, which in turn could lead to new priorities in the distribution of resources and perceptions of what a "good life" could be? Strikes in Italy against the obligation to work during the lockdown, certainly, have achieved some initial successes, and here in California, people are currently working towards an eviction moratorium and calling for collective rent strikes in times of widespread income loss.
Currently, the 175,000 gig workers of Instacart are threatening to stage a US-wide strike. These are precarious workers who can be hired via an app to do the shopping for other people – a business model that is currently experiencing a boom similar to Amazon's. However, if the company fails to comply with the demands for improved protective measures and working conditions, we might soon see another painful reminder of our social dependency on the labor of invisibilized workers.
About SILENT WORKS
The SILENT WORKS project is dedicated to excavating forms of labor that are buried under present regimes of AI-driven capitalism. Find all details and up-to-date information on the SILENT WORKS project here: https://silentworks.info
About Katja Schwaller
Katja Schwaller lives and works as a freelance translator and author in San Francisco. She studied translation and critical urban research in Zurich and San Francisco and is currently pursuing a doctorate at Stanford University. Her work is situated at the intersection of digital capitalism, labor, and the built environment. Her publications include "Technopolis – Urban Struggles in the San Francisco Bay Area" (2019).