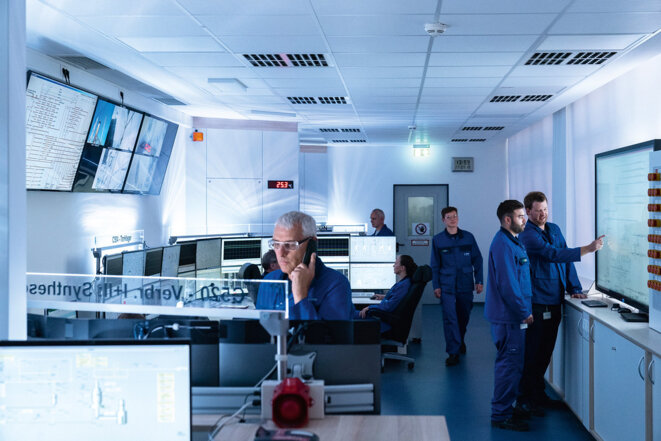 The politically decreed shutdown has only apparently caused all work to be halted. As can be seen not least in the widespread closure of hotels and restaurants: the businesses must be maintained, cleaned and managed. In this 'dead time' (without regular customer activity), it is theoretically possible to rethink one's current business model. This is a reminder that the shutdown option can be a targeted strategy when it comes to the planned renewal of a 'business' or 'system': you shut everything down to renovate during the closure time; during this time, only work that for the most part has been made invisible takes place. Against this backdrop, the question arises: What kind of work is taking place during the pandemic-related shutdown?
The radical change in the world of work that has resulted from the sudden shutdown has – unsurprisingly – in the first instance widened the existing gap between 'good' and 'strenuous/precarious' work, despite the ennoblement of the latter by granting it the attribute 'systemically relevant.'
Although the logic of the reorientation primarily followed the immediate protection of health, economic issues followed at a close second: how do I work as efficiently as possible in my home office, was the question self-organized screen workers asked themselves throughout Germany. How can I keep my business running while adhering to the required distancing and hygiene rules? That was a question asked by large and small companies that didn't have to close, while sectors that did have to close or radically reduce their operations, such as hospitality, personal services and retail, feverishly sought new sources of income.
It was too rare that questions were asked that in fact gained new relevance as a result of the changes – questions about how to reconcile family and work remained the employees' problem everywhere, while questions about health-conscious work design were without further ado reduced to the prevention of infection. It is unfortunate yet understandable that in times of crisis the potential of humane work design is not a priority. But it would be even more regrettable to ignore this potential even after the shutdown. Obviously, we must remain vigilant. After all, the danger is great that – in an "economic best-of" digital and analogue working conditions – we will fall into a kind of regression in the areas of occupational health and safety and work design as the new normality.
Restaurants that were closed during the pandemic will be largely replaced by algorithmically optimized delivery services. The infection-free Gastro-Palace will come to us on two wheels – just as a fantasy. After the contact-free delivery of the food, we are forced to wait in the 'protective castle' that our home offers for times when we might possibly go out to eat again and take advantage, for instance, of very real offers of a Gastronomy 4.0. What are the current indicators for this?
In the Corona crisis, the hospitality industry has once again revealed the sector's flexibility. Accommodation providers, who could scarcely offer a digital solution, gave priority to expanding their offer to other customer groups. For example, they created day offices for employees banned from companies without suitable home office facilities. In addition, they have occasionally made their capacities available to compensate for shortages of hospital beds or emergency accommodation.
Apart from the basic discovery of hygiene concepts as a new sales argument, no major change in the structure of supply is expected here. It's different for the food- and beverage-oriented gastronomy sector: Large-scale to-go offers, including with "proper plates," sending out prepared restaurant meals to be warmed up by the customers themselves, "touchless" menus, digital wine tasting, and parties with virtual drinks – the industry's efforts to offer competitive shutdown-compliant services are extremely multi-faceted, though they cannot completely compensate for the losses. And it's not only the restaurant industry that is fighting for its existence: the elimination of service provision inherent to gastronomy 4.0 is hitting particularly hard the already poorly paid, tip-dependent occupational category of service employees.
As the success of Deliveroo and Amazon shows, the digital industry is booming in the current pandemic. Under the imperative of health protection, the 'vision' of Industry 4.0 is once again gaining momentum. As is well known, the CeBIT (at that time "the largest and internationally most representative computer trade fair" in Germany) was used as a platform to present and advocate for this 'vision.' The 'vision' was soon adopted by other countries like the USA ("Industrial Internet"), France ("Usine du futur"), China ("China 2025") and Japan ("Industrial Value Chain Initiative"). It is significant that Industry 4.0 was launched in this context after the financial crisis in 2008 – in line with the motto: 'If we reach our limits with finance now, we should open up new business areas in machinery.' Could you outline the role of labor in the 'vision' of Industry 4.0?
The vision of a networked, self-managing industry 4.0, in which work equipment, machines, rooms and products exchange information via the Internet and thus plan, control, execute and optimize the production process, initially gets by without people, despite the "human being at the center" which was subsequently demanded. In reality, people are still needed in these processes to deliver parts, monitor the process, troubleshoot, monitor discrepancies, and pass on the finished products.
At the moment, machines are used for more repetitive processes, including those that are highly onerous or involve hazardous substances, such as soldering, painting and overhead assembly. But here and there there are also fully automated processes and production lines. In principle, productivity can be increased by implementing this vision. An industrial robot does not need three years of vocational training, rarely gets "sick," takes no vacation, has no children to look after, and costs an average hourly wage of 5 euros in three years of operation.
If the austerity politics that became socially acceptable after the financial crisis of 2008 bore traits of dehumanization, as the neoliberal restructuring of the health care system shows, then one cannot help but notice these same traits in Industry 4.0. Against this backdrop, austerity measures and Industry 4.0 appear to be two sides of the same coin. How do you see this connection, especially with regard to the devaluation of the human being in the world of labor?
On the operational side, the digital transformation usually follows a path-dependent logic. The technologies definitely offer promising potential for improving working conditions. For example, hazard warnings can be integrated into work equipment, workstations can be individually adapted ergonomically in real time, and work processes can be planned in a load-optimized manner.
But where a culture of profit maximization at the expense of employee health already prevailed before their use, these possibilities are certainly not being exploited. Moreover, there are unintended negative effects: If, for example, work processes and deployment routes are optimized by algorithms, employees dispense with not only time-consuming planning tasks, but also the scope that provides flexibility, and thus possibly needed short breaks, reaction possibilities to short-term customer requirements, or their own needs.
In the digital transformation of working worlds, the question often arises: are human beings placed at the center or are they in the way? The former rarely seems to be the case, the latter seems more realistic. After all, most of the tendencies of digital capitalism seem to want to digitalize away the 'human disruptive factor.' This means, for example, that it is a matter of replacing humans by machines or making humans machines' vicarious agents (keyword: human as robot).
In an interview with personnel managers of a German industrial company, we were once told in the presence of the works council that humans were purely a source of error and contamination and would be eliminated from processes as soon as technically possible. There the processes were already mechanically controlled, so that the employees were ordered to their workplace by the system at short notice. In another company, the production logic means that the systems assign half-hour time windows for delivery to suppliers of required parts.
It doesn't take much imagination to envision the impact of such specifications on the everyday work of truck drivers. Even in trade and maintenance there are reports of automatically generated routes or schedules. The request for the closest nurse as identified by GPS signal is certainly rationally logical, but it could also lead to a complete imbalance in the distribution of work. The fundamental problem is always the loss of autonomy of agency, which can be a major source of psychological stress.
It seems necessary to think beyond the question 'is the human being placed in the center or in the way'? After all, digital capitalism addresses the problem of the 'human disruptive factor' not least by instrumentalizing this factor and making it a source of accumulation of data and capital. The worlds of work should be tailored to the needs of the individual. In addition to such 'personalization,' 'participation' is also of great importance: it is intended that the individual be involved in all processes, not least in order to create data profiles that are as in-depth as possible. In this way, the subjectivity of workers is tapped – as a capitalizable value in itself, but also as an instrument for optimizing machines and enabling the work of machines in the first place, for example, to create new products on the basis of accumulated data. In view of these contradictions, what does it mean for you to think and demand the humanization of labor 4.0?
I think we need to distinguish conceptually here between the economic sector of collecting, processing, and trading in human data, in which the human being is actually the product in the illusion of being the consumer of a free service, and the data that is generated in the work process. In most cases, this data is easier to protect than the traces that people leave behind in their leisure time with average media consumption.
A humanization of work therefore naturally also includes an increased awareness on the part of employers and managers, as well as employees, of how to handle personal and personal-related data generated by work processes. This includes, for example, efforts to find software and hardware providers that fall under European data protection guidelines, as well as well thought-out concepts for the collection, storage, retention and deletion of data.
In simple terms, the fact that the intelligent hand drill automatically collects data does not mean that it should be used to compare employees' working tempos, nor does it mean that the drill should be allowed to simultaneously send the vital data of employees from the sensors in its handle to the manufacturer.
In the fully digitalized working world of Industry 4.0, even health protection seems to be a question of algorithmic optimizability. By the way, the danger of viral infection seems to be reduced to a minimum – after all, almost everything is mediatized by machines, while interpersonal contacts have been mostly reduced. Is this a fiction, or is health protection in Industry 4.0 actually guaranteed quasi-automatically?
Remaining conceptually in the area of production, the deployment of 4.0 technologies actually reduces the risks for employees, whether because physically demanding or hazardous work is automated and the activities are transformed from physical tasks to monitoring / planning ones, or because the same processes simply require less personnel.
However, these changes have led not so much to a reduction in the overall number of workers, but rather to a shift in the hazards from physical to psychosocial ones – for which occupational health and safety unfortunately still provides too few functioning procedures and routines. Stress is caused here, for example, by the fact that occupational expertise is no longer applicable if the work being carried out is automated. Isolation is also a problem in increasingly empty production plants, as is the "pilot dilemma" – the necessity for constant attention while being for the most part inactive – in monitoring activities and, of course, the loss of autonomy of agency described above. It should also not be forgotten that the job insecurity or loss of jobs associated with these developments can be an immense source of stress.
In your work you repeatedly point out that a later change of the technical systems – and thus also adaptation to the needs of workers – is basically impossible because the costs are too high. Among other things, the costs arise from downtimes during which such readjustment would be possible. Now the shutdown decreed by the government has generated such downtime. How could it now be used to improve working conditions in Industry 4.0?
Of course, downtime in production plants could be used to make work processes more humane with the help of the technology deployed. Virtual health circles would even be conceivable here, on the basis of which systems and processes could then be adapted. However, such processes can only function on the basis of security and stability, not with the uncertain future prospects that prevail in this crisis.
Accordingly, it is not surprising that such efforts are not currently noticeable, especially since the pandemic has brought with it, in addition to economic threats to existence, new and urgent health protection problems for which the priority was to find solutions. Initiatives are therefore currently mainly concerned with averting new dangers by improving hygiene, not with general improvements in conditions.
What problems that were already apparent in the context of health protection before the pandemic should be given greater consideration from now on?
First of all, it would be necessary to take a look at the problems that have further intensified or become more obvious due to the pandemic measures. Firstly, problematic working conditions in systemically important professions, where the imbalance between performance, workload, working time on the one hand and remuneration – in many cases also reputation – on the other can in no way be compensated by one-off bonus payments.
Secondly, unevenly distributed working conditions in the context of the compulsion to work in flexible locations, which in the past required employees to have a degree of self-organization skills and opportunities that could not be achieved by everyone through indirect control mechanisms.
Thirdly, precarious employment contracts which leave employees without security in times of crisis. Fourthly, particularly questionable working conditions at particularly powerful global companies which have gained even more market power as a result of the crisis. All in all, despite the current physical-viral threat, attention must be focused more strongly on the increasing psychosocial burdens that continue to accompany the digital transformation.
Health protection was imagined and tried out with the help of apps even before the pandemic. In this scenario, workers constantly provide personal data—'voluntarily,' as often emphasized, without reflecting the inherent constraints, including the fact that workers are also concerned with optimizing their performance, which is to employers' liking. Healthy workers work better than sick ones. The fact that health – and thus also functionality – can also be digitally optimized is shown in the military version of Industry 4.0. Here, for example, cyber helmets enable soldiers to stay awake and functional for several days. During the shutdown, the German detective series "Tatort" presented such future workers to a mass audience in a cautionary way.
The possibilities of influencing the performance of employees, for example by adjusting light, climate or the activation level of tasks, can certainly be useful in certain areas, for example to prevent accidents while driving or to support other focused activities. In the same way, data from employee wearables such as wristbands could be used to identify unfavorable peak loads, distribute work evenly, or optimize breaks.
However, these tools also offer the possibility of overwork, digital performance monitoring, or interference with employees' private lives. A constant activation leads to performance improvements in the short term, but to negative consequences of stress and illness in the medium and long term. Suppressing signals of exhaustion with permanent technical support is basically as much of an encroachment as enriching water dispensers with caffeine, which certainly nobody would approve of.
Not only, but also during a pandemic, these signals of exhaustion could also be signals of illness, which could endanger others but go unrecognized. A corresponding sensitization of company and inter-company actors is therefore urgently required, even – or especially – in times of other priorities.
About SILENT WORKS
The SILENT WORKS project is dedicated to excavating forms of labor that are buried under present regimes of AI-driven capitalism. Find all details and up-to-date information on the SILENT WORKS project here: https://silentworks.info
About Kerstin Guhlemann
Kerstin Guhlemann lives and works as a social scientist in Dortmund. Since 2019 coordinator of the Research Unit Labor Policy and Health at the Social Research Center of the Technical University Dortmund. Her publications include "Humanization of Work 4.0: Prevention and Democracy in the Digitalized Working Society" (2020).