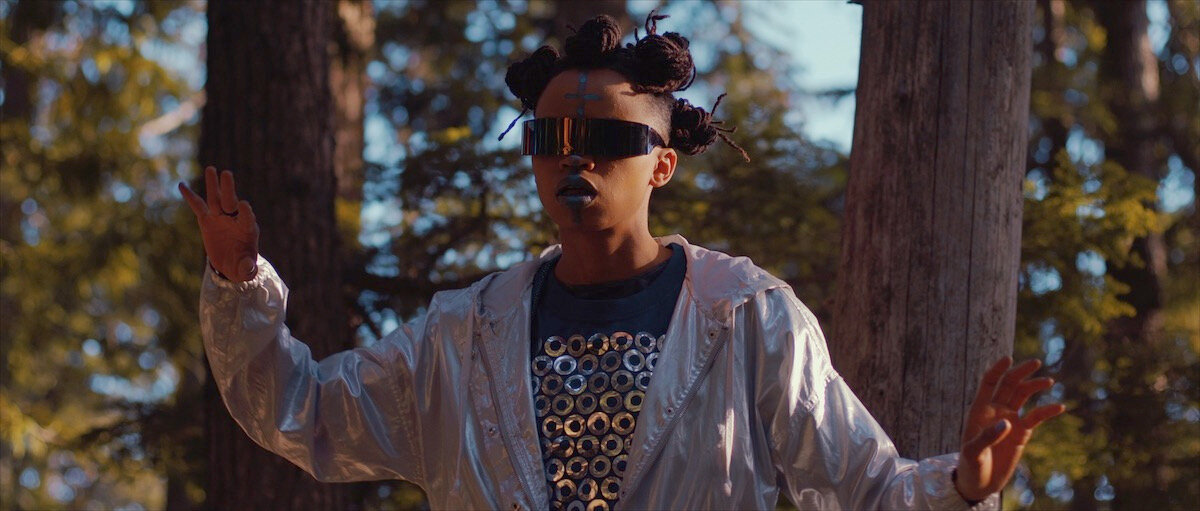 Krystian Woznicki: I wonder whether and how you see Afrofuturism as an approach embedded in or part of outright political strategies (and social movements) to go about addressing climate change, migration and the digitalization complex or any of these planetary challenges?
tobias c. van Veen: We first have to understand what is meant by Afrofuturism – because the reply I want to make here is that Afrofuturism is already an evolving global episteme that proliferates its own political strategies and social movements. A good example of the latter is the Black Speculative Arts Movement (BSAM), which in 2019 had sixteen gatherings planned across five countries (including Kenya, Ghana, Nigeria, the U.S. and Canada). So though one can think Afrofuturism as an "approach," often identifiable by way of its black science fiction "aesthetics" (and key here is the entanglement of aesthetics with politics), it cannot be embedded without investing or engaging in the unfolding effects of an Afrofuturist worldview, from ethics, politics and being to temporality – or at least, not without the violence of taking everything but the burden (to sample Greg Tate). The founder of BSAM, Reynaldo Anderson, positions Afrofuturism in the lineage of anticolonial and anticapitalist pan-African politics, for example, while others see Afrofuturism as intersecting Afropolitan and cosmopolitan approaches. So we need to approach Afrofuturism as its own formation, its own discourse, its own toolkit, its own movement of movements that takes as its origin the "routes and roots" of the black Atlantic and their call-and-response interplay of decolonial and anti-imperialist music, politics, and art (to sample Paul Gilroy).
If we approach Afrofuturism in this manner, we see that its radical black imaginary encompasses multiple science and speculative fiction (sf) texts – such as Octavia E. Butler's Parables of the Sower/Talents (1993/1998) – that speak to, anticipate, and offer strategies for issues such as global planetary collapse, neofascism, white supremacy and climate change. Indeed, the role of black sf, as in all sf, is crucial to charting new futures for a dying planet. What makes black sf particularly insightful is how it often conceives of black identity as already alien(ated), and black existence as already dystopic – and thus its post-apocalyptic speculative narratives are especially potent for reconfiguring relationships of capitalism, racism and patriarchy, for imagining all the pitfalls and potentials of what may come (and what has already come to pass). Afrofuturism is thus immanently political by way of how it enters and reconfigures time itself as a space of immanence: it is concerned with disseminating alternative Afrofutures, though its "futurism" is non-linear, in the mode of the Ghanian concept of Sankofa, which means "to go back and fetch it." The futurism of Afrofuturism is a cylical/spiral process that re-turns and re-purposes ancestral futures buried in the past (Sankofa), often returning to the ethnogothic symbols and motifs of composite traumas that re-centre the act of claiming the future, a narrative process John Jennings and Kinitra Brooks describe as "Sankofarration" (in Brooks 2017). At the same time, the political immanence of Afrofuturism is concerned with critiquing and displacing the ongoing hegemony of white fantasies that masquerade as the only reality there is.
KW: How does Afrofuturism address digitalization?
tcV: Afrofuturism has been at the forefront of crafting critical and creative responses to digitalization. In the '90s, Afrofuturism was positioned by Alondra Nelson (2002) and others as a means of addressing the neoliberal discourse of the "digital divide" that pegged equality and progress to a limited understanding of technological access. What Afrofuturist perspectives reveal – then as now – is how Afrodiasporic cultures have a long history of creatively repurposing technologies to undertake experiments in modes of life, expression, and liberation, as one can see in the black accelerationist theses of Kodwo Eshun's More Brilliant Than the Sun (1999). Writing at the apogee of '90s rave culture, Eshun sought to amplify the affective forces of black electronic music that destabilize boundaries between blackness/body/machine and android/alien. When dealing with Afrofuturism, I am thinking of the black speculative framework in which remix culture, turntablism, mash-ups and hip-hop take place. So we can think of how Afrofuturism profers modes for hacking the digitalization of everyday life, particularly by challenging capitalist modes of copyright and property.
KW: How about in the context of music and film?
tcV: Since the invention of Jamaican sound systems and Bronx block parties, the DJ has become the new griot, the sonic storyteller and future historian that repurposes cultural archives and creatively mis-uses recording technologies to articulate new modes of social belonging. What is at stake here is not a Luddite rejection of technology nor an uncritical embrace of Silicon Valley proselytizing, but the tinkering, hacking and ab/using of the sociotechnical sphere, as part of an Afrofuturist program of counter-reality production and historical revisionism, deploying science fiction takes on Afrocentric narratives as imaginative sites of intervention. Eshun's films with Otolith Group are demonstrative in this respect, as is John Akomfrah's Last Angel of History (1996), Wanuri Kahiu's Pumzi (2010), Julie Dash's Daughters of the Dust (1991) and, if I may say so, my own short film Lost Alien (2018), that blends documentary techniques with silent and surrealist filmmaking to capture the Afrofuturist cosplay of ZiggZaggerZ the Bastard as a photosensitive black alien stranded on a sunlit planet. And of course – to turn to the question of migration – Afrofuturism addresses, and seeks to redress, the "forced migration" of Atlantic slavery and its dystopic aftershocks that perforate contemporary black existence – what Public Enemy calls "armageddon been-in-effect" (see Sinker 1992; van Veen 2015). In this respect Afrofuturism complements Afropessimism, by recognising social death as an aftershock of slavery – though as the starting point for a speculative blackness that seeks to evade and defeat its necropolitics.
KW: Is there an Afrofuturist renaissance underway?
tcV: It is interesting to see how the term has reappeared in 21C pop culture to describe Hollywood superhero franchises such as Marvel's Black Panther. And I say "reappear": the term had critical and imaginative currency in the 1990s as part of black cybertheory, particularly through the Afrofuturism listserv founded by Alondra Nelson and Paul D. Miller, aka DJ Spooky. But before proceeding, I want to sound a note of caution – for much rests on how one perceives Afrofuturism. Today, Afrofuturism is being profitably incorporated into entertainment and spectacle, precisely through the troubling – which is to say celebratory and enjoyable – mythologies of superhero franchises and their saviour narratives of manifest destiny. Of course that Black Panther is pivotal to underscoring this very point demonstrates its value in circulating black radical dreamings of a future otherwise to white rule. It is also an example of how the black imaginary and black representation can secure Hollywood significant revenue – a prospect with both positive and negative social effects.
But what I want the reader to know is that well before Black Panther there have been some three decades of scholarship, literature, music and art on the sociopolitical forces of black speculative praxis, most of it well before Hollywood decided to make a film out of a comic that, though influential and at times profound, particularly with recent narratives from Ta-Nehisi Coates and Nnedi Okorafor, was nonetheless begun by two white men, Stan Lee and Jack Kirby. This is not to discredit Lee and Kirby's attempt to craft a nonwhite superhero – months before the Black Panther Party for Self-Defense was founded in Oakland by Huey Newton and Bobby Seale in 1966! – but it is also to flag, before I continue, my own whiteness in responding to these questions, and the underlying whiteness of the prime example of Afrofuturism today, and what is at stake here in critically positioning what we mean by Afrofuturism before placing it in dialogue with other struggles, themes, and movements.
With this in mind, let me briefly revisit something of the history and reception of the term "Afrofuturism," which though initially coined by Mark Dery in 1992, was already being discussed at the time, in so many words and under different monikers, by Greg Tate, Amiri Baraka, Mark Sinker, Tricia Rose, Octavia E. Butler and Samuel R. Delany, among others.
KW: The 1990s was also for me a crucial moment: I think the first time the term Afrofuturism popped up on my screen was by way of Mark Dery and the first time I got an idea that this has an intricate history was by way of John Corbett. Dery's Flame Wars (1994) and Corbett's Extended Play (1994) are still essential books in my personal library.
tcV: The cultural theorists and writers I just mentioned were already discussing "black futurism" because of the persistence of black sf motifs in literature, comix and music– particularly the performative black technopoetics of Sun Ra, Lee "Scratch" Perry, Parliament/Funkadelic, Grace Jones, Ramm:ell:zee, and Afrika Bambaata. What I wish to point out is how Dery's initial discussion treated Afrofuturism in provisional terms. I read his essay as positing the term "Afro-futurism" as a provisional title for a movement to come that would encompass the diverse expressions of the black speculative arts from across the Afrodiaspora. It certainly resonates with Amiri Baraka's 1974 writings on "AfroSurrealism," though Afrofuturism shifts our attention to science fictional motifs. As contemporary pop culture articles rarely undertake much research beyond Dery's provisional definition, itself crafted from a series of interviews with Tate, Rose and Delany, I want to emphasize that today, the term operates not just as a descriptor but as an action, as an energetic verb, in the shaping of black agency – it has been adopted by evolving movements, arts, and peoples, everywhere put into purpose by practitioners, defined anew in different contexts, and mobilized to particular ends. It has also been modified and challenged – D. Scot Miller has further developed Baraka's line of thought in "The AfroSurreal Manifesto" (2009), and Valorie Thomas has posited "Afrxfuturism" to address intersectional, queer black feminism and the "diasporic vertigo" of the crossroads (see Thomas 2018). Thus it exhibits all manner of historical and cultural tensions that are constitutive to its momentum – emerging political tensions between black nationalism, Pan-Africanism, and cosmopolitanism, for example, as well as contesting struggles for equity and equality, recognition and identity that play out along axes of essentialism, accelerationism and constructivism.
The renewed global mobilization of speculative blackness in the 21C has been coined by Reynaldo Anderson as "Afrofuturism 2.0" (2015). If I may summarize from Anderson, crucial to the 21C formation of Afrofuturism are three points: (1) it contributes to the unfolding of a posthumanity that refuses to be bound to white Enlightenment universalism (with or without progress narratives); (2) it operates by way of chronopolitics, what Eshun calls the Afrofuturist "program for recovering the histories of counter-futures" (2002, 288), whereby Afrofuturism reinvents the past to infiltrate black futures into the unfolding of the present; and (3) it proliferates the invention of "black identity frameworks and technocultural assemblages" that decolonize the imaginary and overthrow slave mentality, opening up black existence, and posthumanity more generally, to what John Jennings calls "Astro-Blackness" and its modes of cosmic black consciousness, including black feminist, queer and intersectional identities (Anderson and Jones 2016, vii). Indeed, Anderson and Jones position Astro-Blackness as addressing the transition of a "nation-state bound analog notion of blackness" to "a digitized era toward and in tension with post-digital perspectives as a global response to the planetary and near planetary challenge facing black life" (2016, viii). It is worth noting here that Anderson and Jones already consider Afrofuturism 2.0 as enmeshed with and addressing "migration, human reproduction, algorithms, digital networks, software platforms, bio-technical augmentation and . . . racialized identities that are increasingly materialized vis-à-vis contemporary technological advances" (2016, vii–viii). Addressing these planetary challenges has been central to the philosophy, politics and creative arts around Afrofuturism – precisely because its perspective turns to the exoplanetary, be it Dr. Octagon's Jupiter or Sun Ra's Saturn, so as to view the globe in its Alien Nation, as both adoptive home and self-manufactured hell. Afrofuturism is an exoplanetary politics. It distantiates us from being beholden to the assumed special function of the human. As Sun Ra once said on Nuclear War (1983), "don't you know / if they push that button / your ass gotta go / what you gonna do / without your ass?"
KW: Exploring further the climate change-migration-digitalization nexus, I wonder what kind of impulses you consider – from the context of Afrofuturism – to be most innovative with regards to forging alternatives and forms of cooperation in the era of planetary unrest?
tcV: Afrofuturism has operated as black secret technology. As I have argued elsewhere (2013), it infiltrates popular culture through an excess that cannot be contained in the symbolism of its black aliens and androids, precisely because its operations transgress allegory as they approach the praxis of becoming(s). This is its ontotemporal counterpower. If we are thinking of forging alternatives, the Afrofuturist alternative commences at the level of what it means to be a being on this planet – which is to say, what it means to become some/thing other than an object of white supremacy, something other than an expendable resource to capital. It is here that Afrofuturism offers not just significant thought and art but praxis in the development of black posthumanism – or better, exhumanism. Ditto with the call to enact innovative forms of cooperation: we need to think of who is joining whose cooperative, and for what purposes beyond liberal tenets of equality or socialist tenets of economic equity. I want to point out that the infiltration of Afrofuturism into the popular unconscious by way of black popular music, remix culture and science fiction marks but one of the sociopolitical forces of its versatile imaginary, yet perhaps its most potent: it seeds Afrofutures that destabilize the unthought aspects of whose future is at stake. When Afrofuturism, even as an "aesthetic," enters popular discourse, its black speculative futures and revisionist histories tend to question whose worlding of the world "we" are speaking of – whose social movements, whose politics, whose "we"?
KW: For sure, this question always needs to be raised!
tcV: I say this, at the very least, to signal how Afrofuturism draws attention to the futures but also pasts and presents of blackness, the black imaginary, and race in general to political struggle, all of which converges on critical issues of class – namely who has had access to its supposedly universal subject. As I suggest elsewhere, Afrofuturism questions the primacy of class as the basis for sociopolitical organisation (see van Veen and Anderson 2018), by critically understanding race as a white supremacist order-function that classifies the anthropocene into humans, subhumans, and nonhumans. In short, one cannot be part of a revolutionary class if one is excluded from the category of the human to begin with.
Afrofuturism draws attention to the uneven deployment of racialization as a structural means to determine who or what is disposable. So if thinking how to position class – not its analytic negation but its strategic supplement, as necessitated by its exclusionary history – Afrofuturism proffers something of an escape plan from the hierarchy of humanism and its Great Chain of Beings, most of whom are relegated to the necropolitics of the labour pit. "Break the chains of being – embrace becoming" might make for an unwieldly philosophical meme, but it is also to say you have to work on yourself, become-otherwise, in order to conscientiously entangle and become-with kinfolk. Before cooperating with the other(s), who/what other(s) are you becoming? Whose future are "we" all cooperating towards? Instead of the burden being placed upon Afrofuturism to respond to this question, perhaps "we" should also ask, in turn, how contemporary European social movements can address future(s) of blackness, indigeneity, and racialization beyond the parameters of migrant, climate, digit.
So when I am speaking here about Afrofuturism, it is in the context of the cultural and sociopolitical struggles of an Afrodiaspora forcefully dispersed through centuries of European and American slavery and colonization. Afrofuturism contends with this history, seeking to counteract its destructive effects by way of the myriad practices of speculative blackness that first and foremost decolonize the imaginary. I see its ontotemporal politics as a decolonizing force in social, economic, artistic, and performative spheres but also in philosophical, technological and scientific modes, and I see these forces as immanently entwined through popular culture. The underlying effect of these forces is that Afrofuturism shifts the event horizon of the hitherto impossible. If Sun Ra, a black alien Pharaoh, can walk the Earth, then this opens up all manner of portals and means of exodus from Earthbound ideologies. At the very least, it ought to draw attention to the relationships between black tactical media and becoming, sound and race, as profoundly entangled modes of political engagement.
This all may seem overly fantastical, beyond reason, and inapplicable to social justice campaigns – but at stake is nothing less than recovering/reinventing neglected ways of becoming on this planet that entwine blackness with indigenous and ecological pathways that open onto a multiplicity of sustainable posthumanism(s). Nor is this a romantic or nostalgic gesture: recovering the past signals its reinvention, the clinamen that separates Afrofuturism from Afrocentrism, in the holding open of an imaginative blackspace that refuses orthodoxy. At stake is curtailing the capitalist decimation of planetary time so that there is more time, other time (for the other), to act otherwise, to be and become otherwise. At stake is nothing less than the dismantling of capitalism, patriarchy, white supremacy, in the radical dreaming of a planet Earth to come where we are no longer bound to being human.
Join the MORE WORLD project!
The BG's 20th anniversary project MORE WORLD invites you to explore together cooperative practices that tackle climate change. To this end, the BG will organize a big conference at the end of the year, offering a diverse program of workshops bringing together people from more than 25 countries. The call for registration invites you to join the workshops. Further information can be found on this website: more-world.berlinergazette.de
About tobias c. van Veen
Dr. tobias c. van Veen is Research Fellow in Media and Cultural Studies at University of California Riverside and Visiting Professor in Humanities at Quest University. His teaching and research focus on critical media theory, science fiction and utopia studies, and philosophy of race, sound, and technology. He has published widely on the cybertheory, music and philosophy of Afrofuturism, posthumanism, speculative race theory, black sound studies and electronic dance music cultures (EDMC). He is co-editor with Reynaldo Anderson of the "Black Lives, Black Politics, Black Futures" special issue of TOPIA: Canadian Journal of Cultural Studies (2018), editor of the Afrofuturism special issue of Dancecult: Journal of Electronic Dance Music Culture (2013), and co-editor with Hillegonda Rietveld of the Journal's special issue Echoes from the Dub Diaspora (2015). A sound artist, media arts curator and tactical turntablist since 1993, tobias is founding director of the UpgradeMTL at the Société des arts technologiques [SAT], and has organised interventions, events, broadcasts, and exhibitions worldwide, working with organisations including MUTEK, Steim, Eyebeam, the New Forms Festival, Studio XX, VIVO Media Arts, CiTR, Kunstradio, and Turbulence.org. He is Director of the Afrofuturist documentary short film LOST ALIEN (2018), distributed by Cinema Politica, featuring Los Angeles cosplayer ZiggZaggerZ as a photosensitive black alien stranded on a sunlit planet. He is also co-publisher with ZiggZ of Planet Noir, an Afrofuturist comic-zine series, cosplay and media platform. He currently hosts the Other Planes: Afro/Futurism podcast on CreativeDisturbance.org and is director of sound-art label IOSOUND.ca.
Acknowledgements
tobias c. van Veen would like to express his thanks to Reynaldo Anderson for always being on point and to ZiggZaggerZ for her alien inspiration.
Recommendation
Please listen to the following Soundcloud dj mixes for riddim listening while intaking the concepts:
tobias.dj / Riddims & Routes (2016)
tobias.dj / Travelling the Spaceways (2014)
tobias.dj / Last Warning (2012)
References
https://berlinergazette.de/wp-content/uploads/Modulating-Afrofuturist-Climates_References.pdf