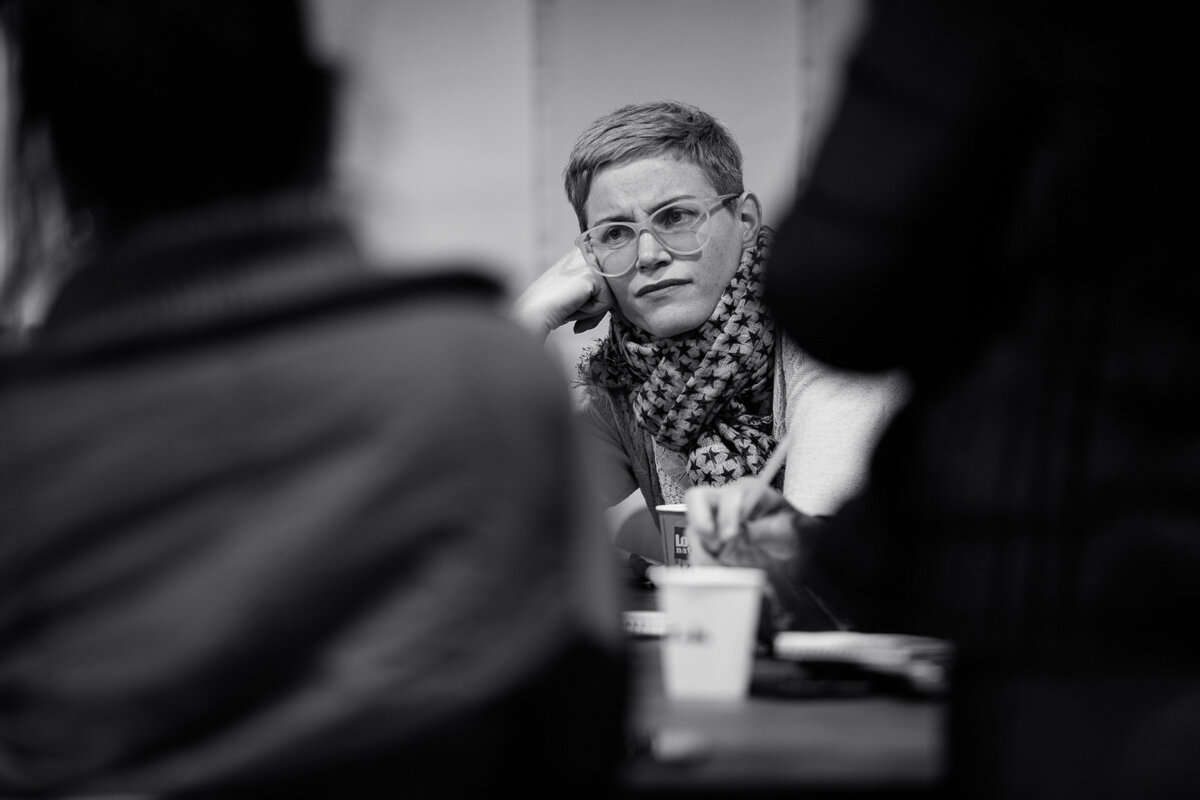 The South Atlantic can be seen as a hidden link between Africa and Latin America. As such it has enabled stories, people and goods to travel in the shadows of globalization. Engendering a different narrative of this epochal process, these ghosts of global geo-culture are cast in a silence that we are challenged to become attuned to. Based on the book "The Global South Atlantic", edited by Kerry Bystrom and Joseph R. Slaughter, the following interview shows that the silence bundles political energies and imaginaries that can open more access to the world as it is and as it could be.
Krystian Woznicki: Paul Gilroy's idea of "The Black Atlantic" (1993) is still present today. So let us contemplate for a moment what that is actually all about. Could you briefly explain the concept of the Black Atlantic as you understand it?
Kerry Bystrom: In 1993, when Gilroy's volume "The Black Atlantic" was first published, the transnational turn had not happened. History and literature, among many fields, were approached almost entirely through national frames. And the most important nations were seen to be the ones in North America and Europe. Working against this artificial separation and hierarchy, the concept of the Black Atlantic makes visible a web of intellectual, cultural and political links forged since the beginning of slavery by people of African descent across the ocean between Europe, Africa, the United States and the Caribbean. Its "chronotope," as Gilroy describes it, is the sailing ship, where so many different peoples were pressed together and created multinational and multilingual micro-communities as they navigated or were dragged across the seas. I would add that, in addition to recovering occluded transnational histories, Gilroy also insists on the connections of black thought and personhood with the development of Western modernity, refusing a racial essentialism that confines black life and expression to a pre-modern "traditional" dimension. The Black Atlantic in this sense is the birthplace of what Gilroy calls a "counterculture of modernity."
KW: How did the concept of the Black Atlantic impact your personal work and views?
KB: It would be hard to overstate how path-breaking "The Black Atlantic" was. The Black Atlantic is an extremely powerful figure, for me as for almost every scholar I know in fields such as postcolonial studies and African and African diaspora studies. It has been the basis on which a renewed and much more inclusive vision of the Atlantic has emerged. As Joey Slaughter and I point out in our volume "The Global South Atlantic", a whole number of color coded Atlantics have sprung up in the wake of Gilroy's seminal work, from the Green Atlantic of the Irish diaspora to the Red Atlantic of indigenous communities.
KW: As important as the idea of the Black Atlantic is, doesn't it somehow contribute to how slave trade and its consequences are often reduced to the Africa-North America connection?
KB: Certainly Gilroy's book has been critiqued for these kinds of foreclosures. I think part of the explanation for the dynamic you point to, at least with regards to Gilroy's work, lies in his own background and perspective as a black Briton with Caribbean (Guyanese) heritage working in the UK and the US. The Black Atlantic is fundamentally an analysis of Anglophone diasporic black experiences and expressive cultures, as these intersect with US politics, German thought or French society, and occasionally as related to happenings in the African continent itself. The language issue is a real and important one. Another factor determining the emphasis of this book on the North was the real, pressing need to assert the presence of black thought and experience inside the Northern-tilted canon of modernity.
KW: Expanding our view beyond the Black Atlantic, it would be interesting to learn what the actual numbers are when it comes to the slave trade between Africa and the Americas.
KB: Way more enslaved people were sent to the Caribbean and South America than to North America. More than eleven million Africans were brought to Latin America and the Caribbean. This is, as renowned scholar Henry Louis Gates Jr. points out in his documentary "Black in Latin America", "twenty-five times as many as were brought to the United States." Yet as Gates suggests, and as we echo in "The Global South Atlantic", much of this history has been repressed in favor of discussions about more Northern routes of slavery, and it is still possible for the average US citizen (or Brazilian citizen, etc) to be surprised about the importance of African people and traditions in Latin America.
KW: How do the mobility politics along the Africa-Latin America route play out historically? And what are its contemporary consequences and repercussions?
KB: The forced movement of enslaved peoples that we are talking about here is by far the largest and most organized "mobility" between the continents. But it isn't the only one. Joey and I, along with our contributors to "The Global South Atlantic", chart exchanges of people and ideas ranging from Cuban assistance for the Angolan liberation struggle to Argentine police sharing torture techniques with apartheid South Africa. There has also recently been an interest in overlapping Latin America and African experiences of colonization and neo-colonization among both scholars and politicians, seen in meetings like the Africa-South America summits. These exchanges and solidarities are ones we want to make visible and critically examine. At least in some cases (not with the Argentine special forces!) they hold memories or visions of a different way of ordering people, power, and knowledge.
That being said, and this is also something we try to grapple with in "The Global South Atlantic", at least since the end of the Lusophone Atlantic era, travel between Africa and Latin America has not been easy or plentiful. There are few direct flights – I recall that when I was doing research in 2004 in Buenos Aires and Cape Town the only direct flight was either a weekly or monthly Air Malaysia one. To take another example, the undersea cables connecting the continents all run through the North Atlantic. This infrastructural challenge is an artifact of uneven development and it conditions the possibilities for forging ties, adding to the already difficult challenge of communicating across multiple colonial languages. Such disconnection has to be taken into account even as we think about future possibilities.
KW: The Africa-Latin America connection seems to constitute a blind spot that reflects a larger story of the world we are living in today. As we unearth this hidden story, I wonder how the Africa-Latin America connection plays out on a narrative plane. How is it accounted for in storytelling practices?
KB: One thing that researching the South Atlantic does is make you attuned to silence, to stories that aren't told or get forgotten. We've already mentioned how the North Atlantic slave trade seems to have covered up for many people that of the South Atlantic. Our contributor Jason Frydman points to the way attention to Christian slave narratives from the 18th and 19th century have also blocked the importance of their Arabic and Islamic counterparts. He rediscovers cases such as that of Job Ben Solomon, aka Ayuba Suleiman Ibrahima Diallo, son of a Muslim cleric in The Gambia enslaved while on an errand for his father. Ben Solomon, taking advantage of the US and European fascination with the Orient, literally earns his freedom by telling his life story, Scheherazade style. He then returns to the African continent, eluding attempts from his former masters and benefactors to contact him. His life story reminds us of a buried archive of South-South movement to which we need to return, not least because it may help to deconstruct deep-rooted cultural narratives that position Islam as something foreign to the Americas. Yet, as Frydman argues, ben Solomon's story is also fascinating because it ends with a different kind of silence: one not conditioned by hegemonic cultural and political forces but determined by the subaltern subject who reserves the right to disappear. Such desires for obscurity, to go under the radar, are also a kind of silence we need to listen for and respect.
KW: How can the concept of the Global South Atlantic be a starting point for scholars to engage with our global present in more creative as well as ethically and politically just ways?
KB: On one level, Joey and I wanted to expand the notion of the Black Atlantic outwards, to draw into focus areas like South America which are largely neglected in Gilroy's classic work; and also to explore languages besides English. Being postcolonial scholars and comparativists, we wanted to show how different the South Atlantic could look if we took a truly Southern-focused and multi-lingual approach. This involves bringing the color-coded Atlantics mentioned above together. It speaks to questions of justice by recovering some of the dreams of anti-colonial thinkers and artists. These are people who imagined the Atlantic differently, calling for (as we note in our Introduction to the volume) a fuller development of the ideas of freedom and equality that motivated the initial Atlantic Charter, but whose visions were cast aside as the 'new world order' inaugurated after World War II converged with the status quo. Isn't trying to shake up existing power hierarchies and make space for other and hopefully better alternatives the best starting point for reinventing the present?
But we weren't motivated only by a desire to extend or complete Gilroy's paradigm to focus on the Global South in general rather than black experience, and to recover some prior visions of what the Atlantic world might be. We also wanted to take the discussion to a meta-level, thinking about what structures of knowledge make it possible to think of an oceanic space as a coherent region for investment, study, theorizing, etc. Unlike in the Black Atlantic, and as broached in my answer to your prior question about Latin American-African mobilities, it can be hard to pin down huge numbers of concrete cases of exchange and interconnection, especially after the era of the slave trade. The South Atlantic hasn't become a major site of interest the way (North) Atlantic and Indian Ocean currents happened. We wanted to explore why, to think about places where desires for unity and connection fell apart and how this happened, or could never enter into possibility in the first place. A major part of this is in our education systems, which, still following the tracks of Cold War area studies or older forms of imperial knowledge production, persistently tell us that that Africa and Latin America have different and largely incomparable histories. How can we undo these patterns of thinking and knowing, and begin to see differently? And what will emerge when we do so?
Taking these together, Joey and I pose the Global South Atlantic as something to be explored from a bifocal perspective. It is a region – think of a "South Atlantic Rim" – and also a vision, an idea of a space of justice and equality dreamed of by many members of the Global South on hearing about that Atlantic Charter but which has not yet come to pass for reasons that themselves deserve to be explored, unpacked, and hopefully altered.
Join the MORE WORLD project!
The BG's 20th anniversary project MORE WORLD invites you to explore together communal tools for planetary challenges. To this end, the BG has created a special section in the Internet newspaper berlinergazette.de which is open for contributions from all over the world. Moreover, the BG will organize a series of events and a big conference at the end of the year. Further information on that can be found on this website: more-world.berlinergazette.de 
About Kerry Bystrom
Kerry Bystromis Associate Professor and Associate Dean of the College at Bard College Berlin, A Liberal Arts University. She is the author of "Democracy at Home in South Africa: Family Fictions and Transitional Culture" (Palgrave Macmillan, 2016) and co-editor of collections including "South and North: Contemporary Urban Orientations" (Routledge, 2018) and the forum "Oceanic Routes" (Comparative Literature, 2017). Her current research focuses on cultural and political negotiations in the Cold War South Atlantic as well on changing conceptions of justice, solidarity and humanitarianism articulated in literature and media since the end of the Cold War.