Chile 1973-2013, conversations with photographers 5
[Pedagógico (Educational), 1985 cc Paulo Slachevsky]Paulo Slachevsky : Dictatorship, Democracy, Diversity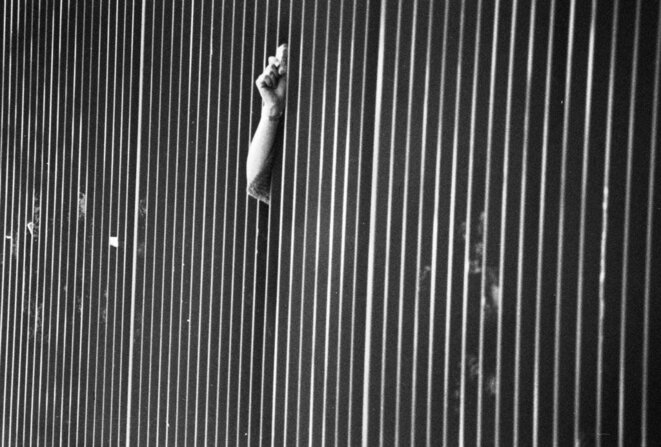 [Pedagógico (Educational), 1985 cc Paulo Slachevsky]
Paulo Slachevsky : Dictatorship, Democracy, Diversity
For some twenty years now, Paulo Slachevsky, co-founder of LOM Ediciones, has been publishing other people's photography books. But before launching himself in the venture of independent publishing, he'd gotten his start – at the age of 19 – as a photojournalist in the streets of Santiagoduring the dark years of the military dictatorship. 
Today, LOM (which means Sun in Yámana, one of the indigenous languages of Tierra del Fuego) is a major actor not only in independent publishing in Chile and abroad but also in the worldwide movement for the promotion of cultural diversity. And it turns out that even while juggling his roles as publisher, editor, standard bearer and occasional journalist, he still does photography.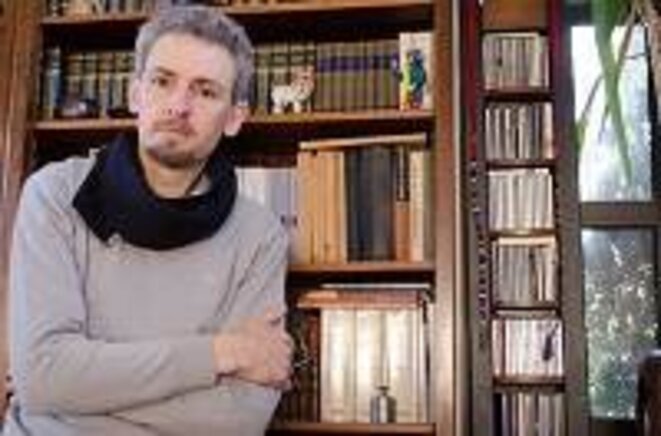 Paulo Slachevsky
 We discussed his experiences in these different domains during the month of August. And even if he did his best to put other  people's books and photographs in the limelight, he finally sent me an impressive selection of his own work from the 1980s,  along with a group of photos he took outside the National Stadium in Santiago on September 11th, during the  commemorations of the 40th anniversary of the coup d'état. I'm very grateful for our (email) discussions and all the photos  and books he's made me discover. 
[All of Paulo Slachevsky's photographs are available under Creative Commons licence CC-BY-NC-SA.]
MR: You were born in Santiago in 1964 but spent your teenage years in France. You then returned to Chile in 1983 and quickly joined the ranks of the photographers who were covering the first national protest days.
That's already quite an itinerary. Can you tell me first of all how your parents came to leave Chile?
PS: We left in January 1975, one year and four months after the military coup d'état which put an end to the Popular Unity government. My mother had been dismissed from her job. Several relatives, including my uncle, Jacques Chonchol, who was Allende's Minister of Agriculture, and other family friends, had been hunted down, imprisoned and forced into exile. So my parents decided not to stay inChile. We weren't exiled ourselves – my father still had his work and we went back every two years – but between 1975 and 1983, our life was in France.
MR: When you went back to Chile at the age of 19, did you have specific ideas about what you wanted to do or was it above all the idea of being there? Had you already done photography in France?
PS: That's where I started doing photography: pictures of my family, travel photos, a summer course in the early 1980s, a workshop in high school. In July 1983, just after graduation, I enrolled at Nanterre[University] to study philosophy and economics and then came to Chilefor the holidays. The national protests against the dictatorship were just starting, so before I left, along with a friend I knew from a solidarity movement for Chilean political prisoners, I went to see the daily newspaper Libération in Paris. We offered to send them photos and they gave us rolls of film.
I arrived a few days before the July protest and started taking photos of demonstrations in the city centre and also the settlements (poblaciones) outside of Santiago. There was a tremendous wave of social protest and it looked like the dictatorship might fall. During that time, I also met my future companion, Silvia Aguilera, who was working with the Association of Political Prisoners' Families, and in August, I decided to stay in Chile.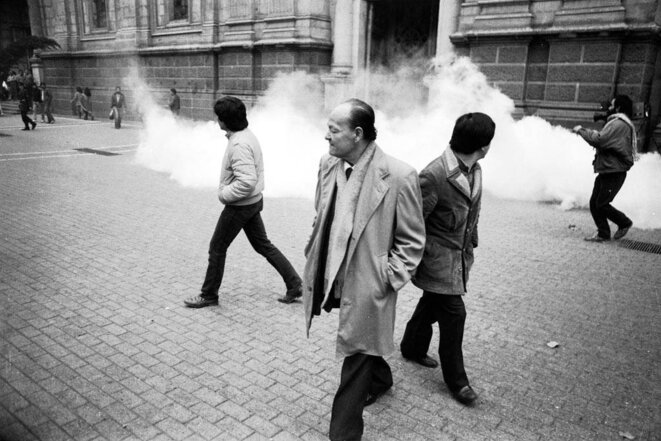 [Santiago, Plaza de Armas cc Paulo Slachevsky]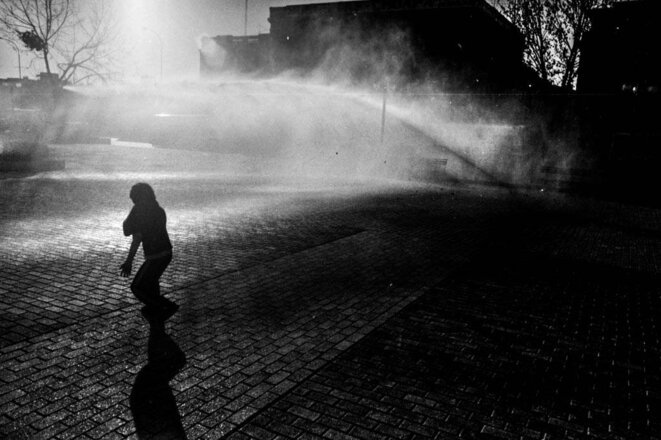 [Santiago, La Alameda, 1984 cc Paulo Slachevsky]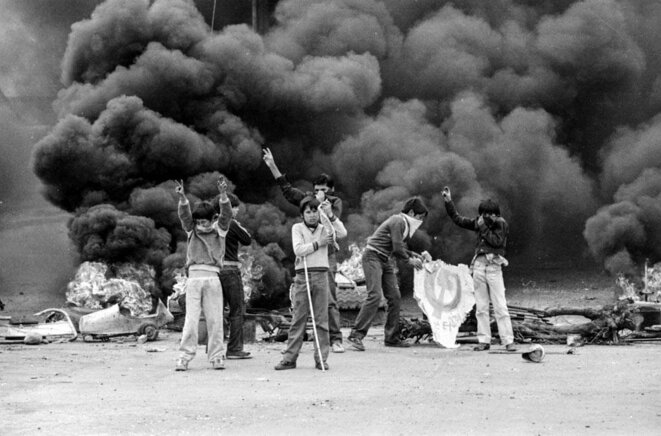 [Land appropriation in Puento Alto, October 1984 cc Paulo Slachevsky]
MR: In 1984, you joined the AFI (Association of Independent Photographers) and subsequently became one of the founders of the press agency Cono Sur (Southern Cone).
PS: Given the repression, it was natural for photographers to stick together in the street. That's where I met Claudio Pérez first of all, then Óscar Navarro, Carlos Tobar and the Dutch photographer Vincent Floor. We were all working freelance, sending our photos abroad and giving them to Chilean publications against the dictatorship. In my case, I had a press card from the French magazine Témoignage Chrétien, which was very important in confrontations with the police. (Nonetheless, in 1985, after a major protest action, the CNI, the regime's political police, came looking for me and I was imprisoned for ten days.)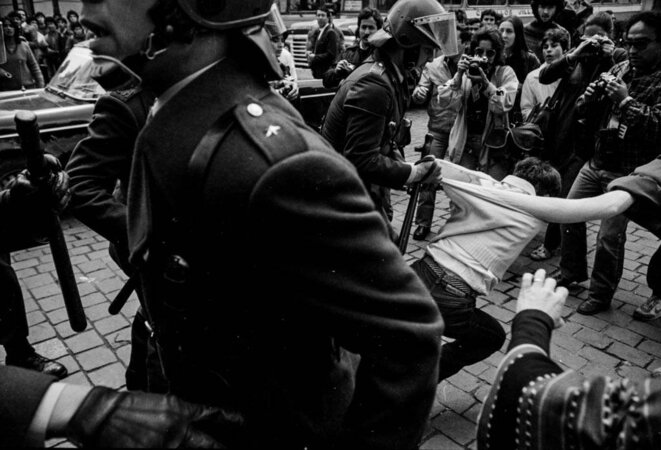 [Santiago, arrest cc Paulo Slachevsky]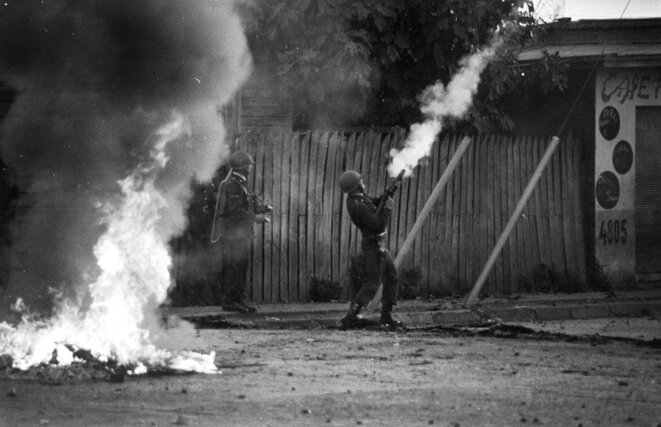 [La Victoria, police repression of a protest demonstration cc Paulo Slachevsky]
Like many other photographers covering the demonstrations, we joined the AFI. And on Vincent's initiative, the five of us created a little press agency, Cono Sur [Southern Cone]. 
MR: Amongst other things, Cono Sur published El pan nuestro de cada día (Our daily bread), a book of photos which showed life and repression under the dictatorship. And which was prohibited a few hours after it appeared in 1986.
It was printed in two thousand copies, one thousand for us and one thousand for the publisher, and when we managed to get it back in early December, the copies circulated from hand to hand. But the publishing house and its print shop were searched by the CNI, which destroyed the equipment, our books, and many others.
With hindsight, how do you see that period today?
PS: Those were the 1980s, terrible times. Before then, I'd only gone to one or two funerals, but after my arrival in Chile, the marches to Santiago's main cemetery became a regular event. We were living state terrorism on a daily basis. And one of its most brutal expressions was the assassination of the young photographer Rodrigo Rojas De Negri in 1986. He'd just come back from exile and was taking photographs of protests in an outlying población with a friend, Carmen Gloria Quintana. They were intercepted by an army patrol, doused with gasoline and burned alive. Carmen survived but Rodrigo died a few days later. He was 19 years old, and Carmen, 18.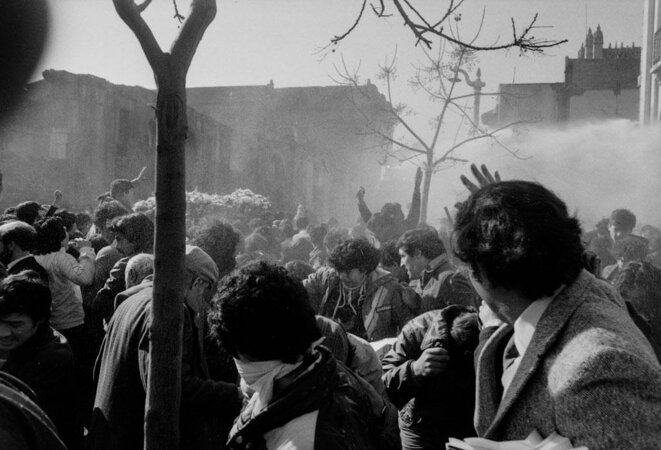 [Santiago, Funeral of Rodrigo Rojas De Negri, 1986 cc Paulo Slachevsky]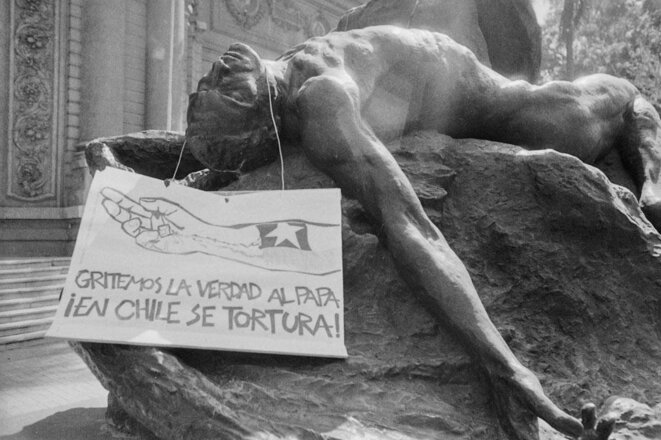 [Santiago, in front of the Fine Arts Museum, 1987 (on the sign: Shout the truth to the Pope: People are being tortured in Chile!) cc Paulo Slachevsky]
But as in every time of resistance to such brutality, we were living very intense relationships on a daily basis. There was a great deal of solidarity and struggle, hope and commitment, socially, politically and culturally.
MR:In fact, you were one of the youngest photographers actively involved. I have the impression that even after the end of the dictatorship, there were fewer photographers emerging from your age group, as if it was only with the generation born in the 1970s that there could be a new beginning.
PS: At the end of the dictatorship in 1990, all the hopes for a real change in Chile,  with true democracy and justice, were frustrated by a transition where Pinochet remained Commander-in-Chief of the armed forces until 1998. 'Everything changes so that everything remains the same', as the sociologist Tomás Moulian said in 1997 (paraphrasing Tancredi Falconeri in The Leopard). The energy of the social mobilisations, of the independent press, was excluded by the politicians of the Concertación, the centre-left coalition in power between 1990 and 2010. Even if we were no longer living with fear and terror in the 1990s, we continued being a laboratory for the implementation of neoliberalism, where the rule is everyone for themselves. That undermined the movement which had marked young people in the 1980s and it's true that it took a long time for the return of civil society and a new burst of creative energy in photography, writing, publishing and elsewhere. Every awakening at the end of the 1990s and the 2000s was contained, if not extinguished, by the powers that be. Today we're experiencing that awakening: in the student demonstrations of 2011 [for a reform of the education system], you could see in their eyes that the fear was gone.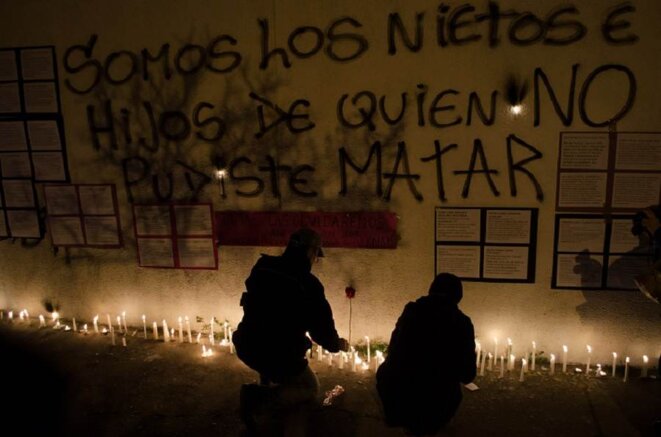 [Santiago, 11 September 2013 (on the wall: We're the grand-children and the children of those you didn't manage to kill) cc Paulo Slachevsky]
MR: In your particular case, you gave up professional photography in 1990 and together with Silvia Aguilera, you founded the publishing house LOM, which is today the largest independent publisher in Chile. What led you to that decision?
PS: The end of the dictatorship coincided with the end of our university studies. Neither one of us -- myself as a journalist and Silvia as a history professor -- wanted to work within the system. Between 1987 and 1989, alongside photography and my studies, I'd participated in a little graphic design studio equipped with the first Macintoshes arriving inChile. In 1990, with $US 10,000 my father loaned us, Silvia, one of her brothers and I bought a small reconditioned offset press and we embarked on the project that became LOM Ediciones.
With the money we earned from printing for other people, we started publishing our own books. After those years of darkness, it was magic to be able to publish with our own hands. To multiply the voices that the silence of the dictatorship and Pinochet's 'protected democracy' had excluded. 

[Tierra du Humo (Land of Smoke), LOM, 1994 ; Paz Errázuriz, Kawésqar, hijos de la mujer sol (Kawésqar, Children of the Sun Woman), 2006 ; Tomás Munita, Cosecha Perdida (Lost Harvest), LOM, 2011 ; Pasaporte Chile (Chile Passport, set of 6 photographers books: Jorge Gronmeyer, Héctor López, Alejandro Olivares, Claudio Pérez, Rodrigo Gómez Rovira andt Luis Sergio, LOM, 2013]
Very quickly, in 1992, inaddition to poetry, fiction, humanities and social sciences, we started publishing photography books in what was probably the first such series in Chile: 'Mal de Ojo' (Evil Eye). We wanted to make the photo book more accessible, following the example of the French Photopoche collection. The first two books, Tierra de Humo (Land of Smoke, a collection of historical photographs from Patagonia) and a monograph of Claudio Pérez's work, basically established the lines we've followed ever since, in photography and the other fields: memory, history, the rediscovery of works forgotten during the dictatorship, and also a space for young authors, for creative and critical appraisals of reality. For us, LOM is the continuation, through books, of our commitment to take back democratic spaces during the dictatorship. Twenty-three years later, with 1,000 books in our current catalogue and another 300 out of print, LOM is still facing up to the challenges that led to its creation.
[Patricio Guzmán Campos, Chile en la retina (Chile on the Retina), LOM, 2013; portrait of Victor Jara © Patricio Guzmán Campos; Raymond Depardon, Chile 1971, LOM, 2013 ; Chile 1973-1990,La dictadura de Pinochet (Pinochet's dictatorship photographed by Alejandro Hoppe, Héctor López, Marcelo Montecino and Claudio Pérez), LOM, 2013]
MR: One last question: you've also been involved in various initiatives to encourage independent publishing and more broadly, the promotion of cultural diversity. In concrete terms, what's happening today in these areas?
PS: In the same way that we were a group of photographers who got to know each other in the streets during the 1980s and started working together, by the late 1990s, we'd met other publishers -- Era in Mexico, Trilice in Uruguay and Txalaparta in the Basque Country in Spain – who were also independents confronted by the concentration of the publishing industry. A movement started emerging to protect the book trade as a cultural endeavour over and above its commercial aspects. Not long after, our four publishing houses were among the founding members of the International Alliance of Independent Publishers. And working with other cultural organisations in Chile, LOM participated in the creation of the Chilean Coalition for Cultural Diversity in October 2001
All of this work is still going on today. Silvia and I are convinced that the construction of a truly democratic society is impossible without critically-minded citizens who are active participants and not just consumers. Books, reading, cultural diversity all have a role to play in that process.

[Marcelo Montecino, Nunca supe sus nombres (I Never Knew Their Names), LOM, 1994; Luis Poirot, Identidad Fortuita (Fortuitous Identity), LOM, 2011, portrait of Pablo Neruda © Luis Poirot; Rodrigo Casanova Moreno, Valparaíso Revisitada (Valparaíso Revisited), LOM, 2005]
The first things we published at LOM were postcards with photographs ofChile's disappeared detainees under the dictatorship and a map of the world turned upside down, with the South on top. This was our way of saying that in Nature, the world doesn't have a top and a bottom and that, as human beings, we can't allow the mentality of North-South domination to seem natural.
&&&&&&&&&&&&&&&&&&& :
Paulo Slachevsky's archives on Flickr:
http://www.flickr.com/photos/pauloslachevsky/sets/72157634742031291/
LOM's website:
http://www.lom.cl/default.aspx
The Network of Independent Spanish-Language Publishers website:
http://www.editoresindependientes.com/
The International Alliance of Independent Publishers website:
http://www.alliance-editeurs.org/?lang=en
The Coalition for Cultural Diversity website:
http://www.cdc-ccd.org/La-Coalition-du-Chili-inquiete?lang=en
Next week's interview: 
Alejandro Olivares: The eye of a new generation

°°°°°°°°°°°°°°°°°°°°°°°°°°°°°°°°°°°°°°°°°°°°°°°°°°°°°°°°°°°°°°°°°°°°°°°°°°°
Miriam Rosen is a journalist and translator living in Paris. She writes about photography, film and the images in between the two. Most recently, she was a regular contributor to Le Journal de la Photographie, which is now in the process of re-emerging as L'Oeil de la Photographie.
Le Club est l'espace de libre expression des abonnés de Mediapart. Ses contenus n'engagent pas la rédaction.