Chile 1973-2013, conversations with photographers 6
[Living Perifería, 2007-2011 © Alejandro Olivares]Alejandro Olivares : The eye of the new generation
[Living Perifería, 2007-2011 © Alejandro Olivares]
Alejandro Olivares : The eye of the new generation
The chance discovery of a link on a Chilean photography blog led me quite unexpectedly to the work of Alejandro Olivares: photos, series, subjects that take your breath away, beginning with Living Perifería, a photoessay on teenagers, and even children, whose lives have already been ruined by the violence, drugs, weapons and prostitution that are part of their everyday existence on the margins of society. But then there's also a story, ironically entitled Chilean Winter, showing Santiago under a blizzard of teargas fired at demonstrators during the student protests of 2011-2012. Not to mention the series Broadway Backstage, with its intimate portraits of the aging transvestites of an itinerant circus. Or, at the opposite extreme, the outsider's look at Trapananda, the 'Other Nation' tucked away in the Chilean part of Patagonia.
A quick look at Olivares's biography (on a website as well conceived as his photo series) reveals that he was born in 1981. He spent the first 20 years of his life in Puente Alto, the city just south of Santiagowhere he started working on Living Perifería in 2007, not in the residential area where he grew up but in the devastated ghettos on its fringes, where he still had a few contacts.
It also turns out the Olivares is self-taught, and that in addition to his remarkable projects, he works as both staff photographer and photo editor at the
The Clinic
, a satirical weekly of investigative journalism (the magazine's title refers to the London Clinic where Augusto Pinochet was arrested in 1998). This 'strange' combination, as he puts it, calls for coordinating and editing all the photos published and working with freelancers and archival agencies. All of which undoubtedly contributes to his keen perceptions of the society andits photographers alike. 
My supply of inventive ways of thanking Alejandro Olivares for this interview has been exhausted by the many emails which have gone back and forth. All I can say is that between the insightfulness of his comments, the power of his photos and the parenthetical laughs (¡jajajajaja!), it's been a real pleasure. 
MR: You were born in the middle of the military dictatorship and seven years old at the time of the referendum which opened the way to the democratic transition in Chile. How did you construct your own memory of a past which had been collectively forgotten?
AO: My memory took shape under the wing of a generation overwhelmed by fear, that of my parents. A generation which was frightened, repressed, devastated by violence and pain.
In fact, the past was never forgotten, it was hidden, out of fear. But that fear died with those past generations. Young people today are speaking out for a better future and a truthful vision of the past.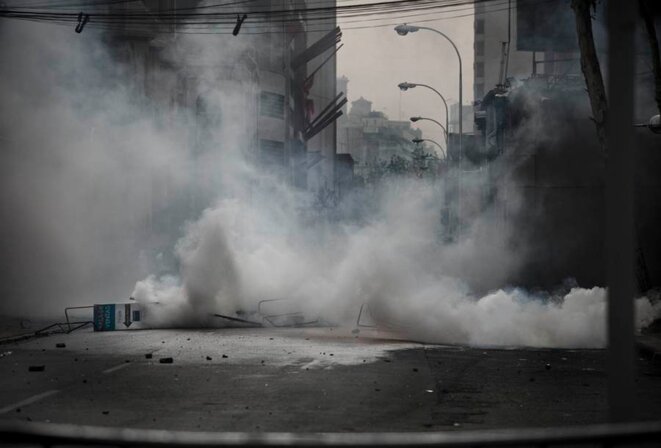 [El Invierno chileno (Chilean Winter), 2011-2012 © Alejandro Olivares]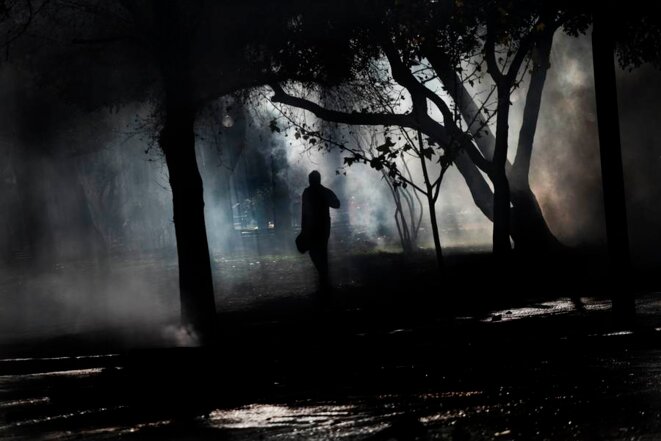 [El Invierno chileno (Chilean Winter), 2011-2012 © Alejandro Olivares]
MR: It's always indicated that you're self-taught – which is less and less common today – and that you worked as a photographer's assistant for two years. But in more concrete terms, how did you become a photographer?
AO: I first learned photography when I was very young, with my grandfather. After that, I spent a long time doing drawings – I really like illustration and comics –, until some filmmaker friends started teaching me more technique. When I finished high school, I went to various photography schools but never finished any of them. I preferred to spend the little money I had on equipment, books and projects. Afterwards, I was Juan Diego Santa Cruz's assistant and also went to a lot of workshops and entered many national and international competitions. That's how I acquired the skills of the trade.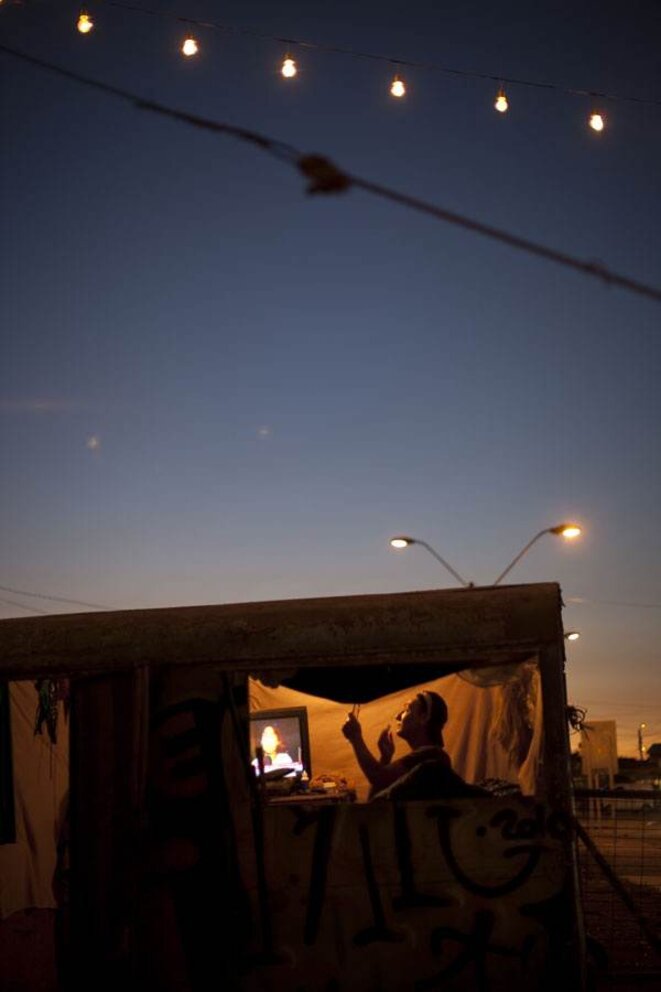 [Broadway Backstage, 2011 © Alejandro Olivares]
MR: It seems to me that your work has a real continuity with that of the generations of the 1970s and 1980s, not in any 'stylistic' way, or in terms of documentary conventions, but in the underlying consciousness. Your way of seeing is different – very cinematographic for me – but like the earlier generations, you're looking at those who've been forgotten and marginalised today. Do you feel this connection?
AO: I agree with you, there's a common thread between the earlier photography and my projects. It's a kind of tacit agreement between the photographer and the society, to be the eyes of those who don't see and the voice of those who've been silenced, to immerse yourself in different realities, to create a social document, the collective memory of a country, a society, to be part of a global iconography, and a part of history. That's the bridge we photographers are building between the stories and the society.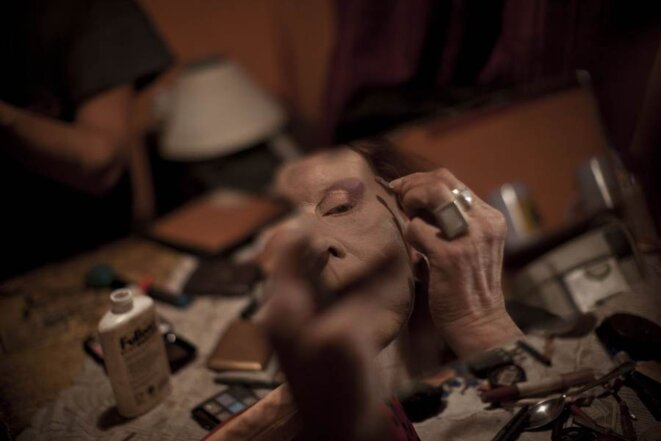 [Broadway Backstage , 2011 © Alejandro Olivares]
MR: How do you build that bridge?
AO: First of all, you have to be committed to the subject, you have to internalise it, understand the reality of the people you're photographing and try to be part of them for a certain period of time. That way, you can become invisible, and the subjects aren't posing in front of the camera or showing the photographer a life that doesn't exist. When you've managed to do that, you already have the first part of the bridge.
After the work is done, when you've given form to the story, you have to make it known, publish it, bring it to other people, namely those who don't have access to these realities and even less to their most private spaces. In my view, books are the best way, combined with publications in newspapers and magazines. That means there's a trace in libraries, schools, homes, so that these lost lives can remain visible in people's memories.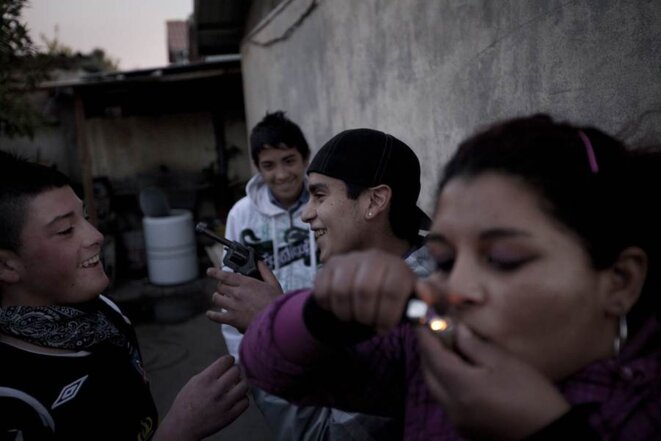 [Living Perifería, 2007-2011 © Alejandro Olivares]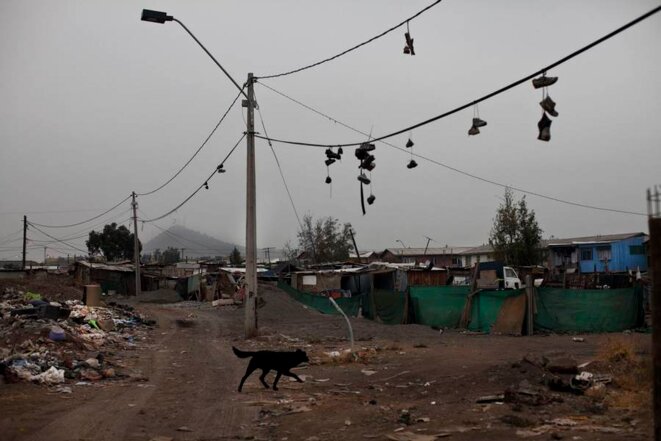 [Living Perifería, 2007-2011 © Alejandro Olivares]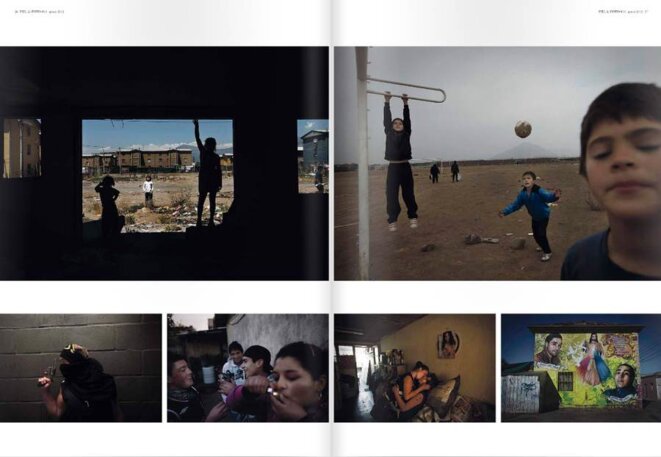 ['Living Perifería' in Piel de Foto (Barcelone) n° 10, janvier 2012 © Alejandro Olivares]
MR: You spent four years putting together Living Perifería. What are you working on now? 
AO: There are different kinds of projects, more or less underway. For now, I can talk about one of them, called 'La otra nación' (The other nation). It's an essay about Trapananda, the Chilean part of Patagonia, and it talks about how it's possible to live in the same country and still feel like a foreigner. Chilean Patagonia is enormous and few Chileans know it. Even those who live there feel like foreigners who are forgotten in the immensity of its landscapes. It's a dreamlike nation lost between the mountains and fjords of the extreme south of Chile.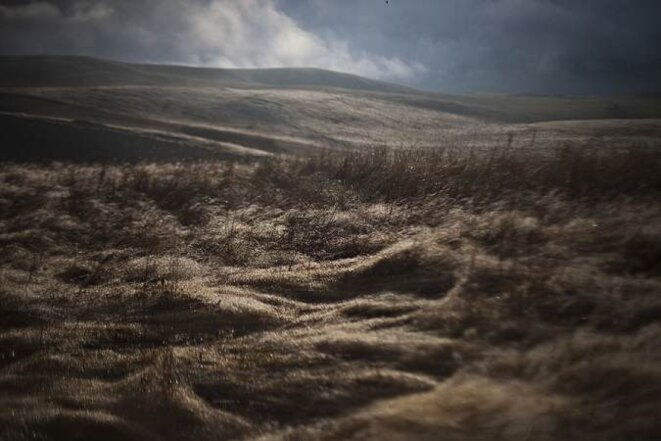 [La otra nación (The Other Nation), 2010-  © Alejandro Olivares]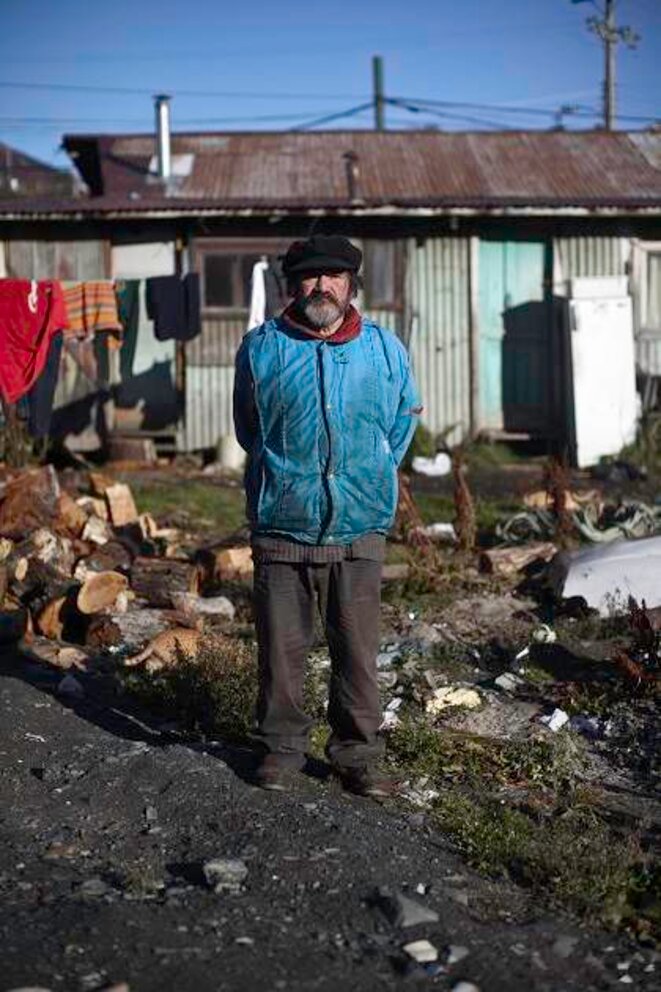 [La otra nación (The Other Nation), 2010-  © Alejandro Olivares]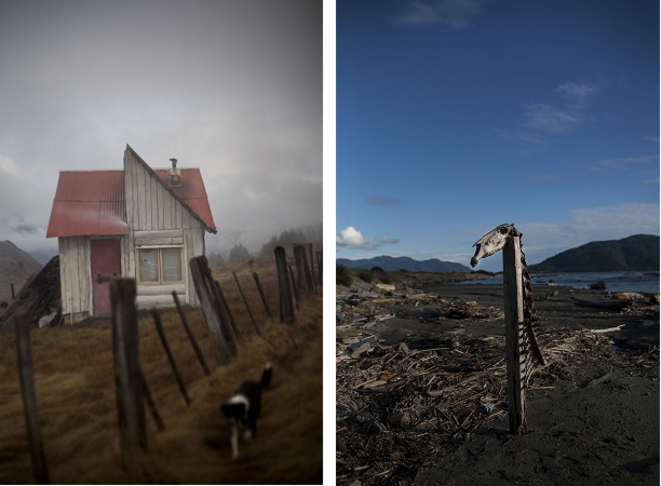 [La otra nación (The Other Nation), 2010-  © Alejandro Olivares]
MR: How do you build a bridge in that case, when what you're trying to capture is precisely the 'otherness' of 'The Other Nation'?
AO: For me, building a bridge means bringing out realities and histories lost or forgotten by the society, places and people that much of the population doesn't see. In this case, it means juxtaposing one reality with another, from my own point of view. That's what's fundamental.
But 'The Other Nation' is just in the works. I'm looking for it, getting to know it. The bridge isn't ready, or even really begun.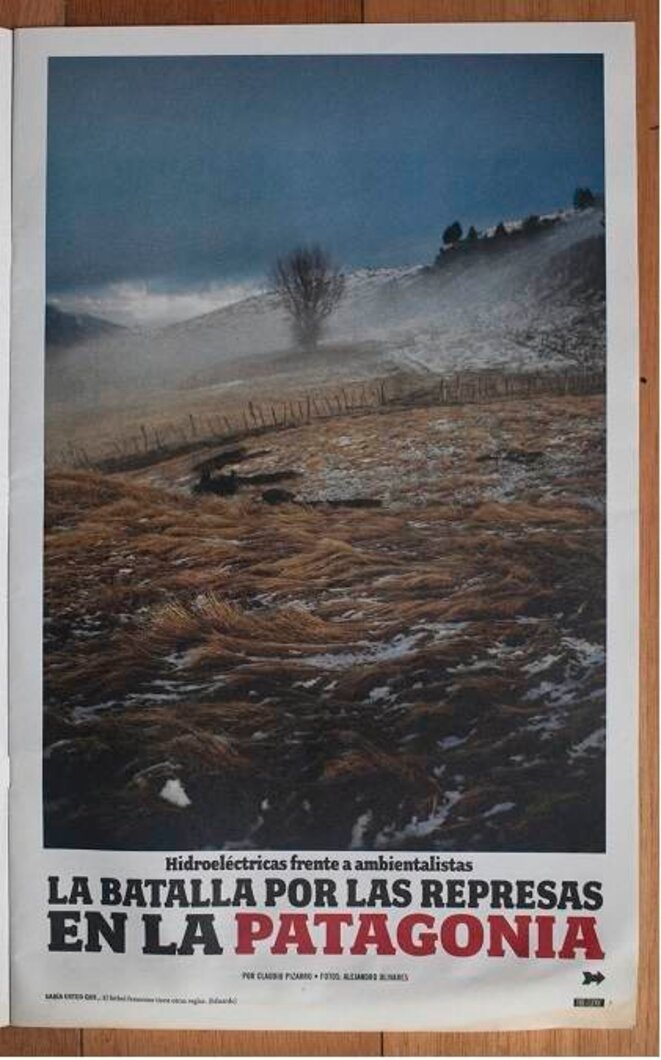 [La Batalla por las represas en la Patagonia (The Battle of the Dams in Patagonia), The Clinic, 2010 © Alejandro Olivares]
MR: Over the past few years, you've participated in various collective projects where you're one of the youngest photographers. But as photo editor at the weekly magazine The Clinic, you're in contact with many other young photographers before they're widely known. How do you see the work of the emerging generations?
AO: The new generations are tremendously creative and attached to their immediate surroundings, especially their personal spaces. That seems essential to me: taking yourself as a starting point to generate projects, drawing on the power of the everyday space around us, learning to look and being able to define a personal way of looking, knowing how to choose stories and then showing them in a different way. I see this kind of approach quite a lot in the new generations and it seems very promising.
MR: Can you give me some examples?
AO: Gladly! Manuel Castillo, Cristóbal Olivares, Lister Silva, Patricio Miranda, Rous Boisier Bravo, Javier Álvarez, amongst others.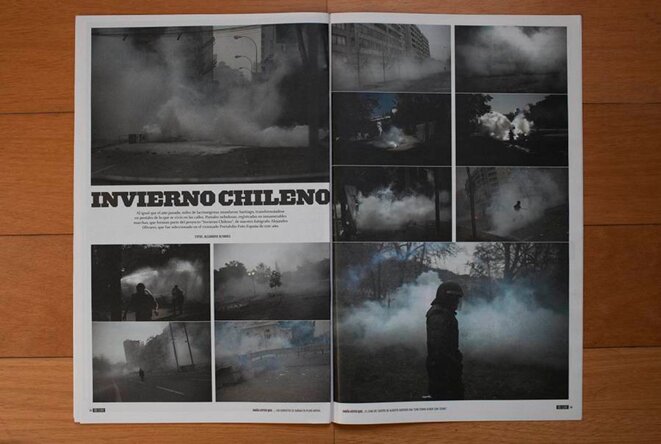 ['El Invierno chileno' (The Chilean Winter), photoessay, The Clinic 2012 © Alejandro Olivares]
MR: This brings us back to the point of departure : from looking at different blogs and Facebook pages, I have the impression that Rodrigo Rojas, the young photographer who was burned alive by an army patrol in 1986, has become a kind of symbol of resistance for young people. I'm wondering if the example of the earlier generations in general explains part of the enthusiasm, and respect, for photography in Chile today, especially amongst young photographers.
AO: Of course! Those generations are an example of courage, as well as profound love for the people and commitment to their profession. Beyond respect, we of the young generations have an obligation to continue the same battle from different trenches: from subjective, personal visions, from ourselves as individuals, but still committed to the society. As photographers, we're visual bridges of communication and that's something which is never going to change.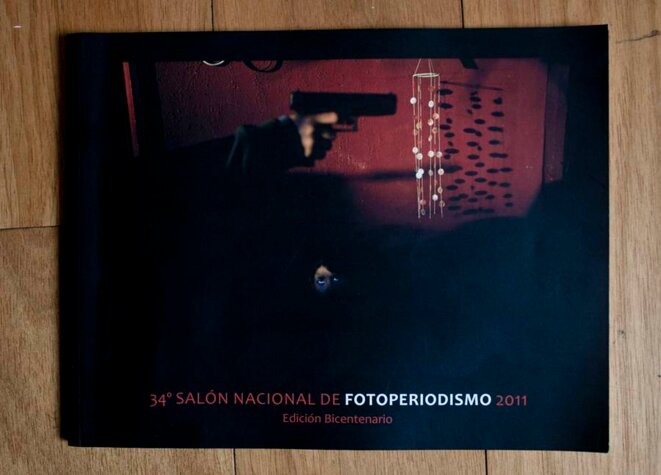 ['Living Perifería', 34th National Photojournalism Exhibition, Santiago, 2011 © Alejandro Olivares]
&&&&&&&&&&&&&&&&&&& :
Alejandro Olivares' website:
http://www.alejandroolivares.com/
A portfolio of 28 photographs from Living Perifería with explanatory captions:
http://www.burnmagazine.org/essays/2012/08/alejandro-olivares-living-periferia/
Six emerging Chilean photographers singled out by Alejandro Olivares :
Manuel Castillo http://cargocollective.com/manuelcastillo
Cristóbal Olivares http://www.cristobalolivares.com/
Lister Silva http://listersilva.blogspot.fr/
Patricio Miranda http://www.fotoespacio.cl/antologia2/?p=230
Rous Boisier Bravo http://www.fotoespacio.cl/antologia2/?p=119
Javier Álvarez  http://cargocollective.com/javieralvarez
°°°°°°°°°°°°°°°°°°°°°°°°°°°°°°°°°°°°°°°°°°°°°°°°°°°°°°°°°°°°°°°°°°°°°°°°°°°
Like its subject, the series 'Chile1973-2013: Conversations with Photographs' has been a collective adventure.  
My thanks go first of all to the photographers, who not only agreed to be interviewed but replied week after week to 'one more little question', regardless of the country or the airport where they were at the time: 

Paz Errázuriz, Claudio Pérez, Susan Meiselas, Paulo Slachevsky, Alejandro Olivares
Behind the scenes, I would also like to thank: Diane Kitzis and Cédric Mazet for their summertime hiospitality at the library of the Maison Européenne de la Photographie; Ángelo Montoni, for his briefings on political violence in Chile; Yakov Pipman for his linguistic support and Patrice Loubon for his moral support.  
Last but not least, I'm very grateful to Sophie Dufau for this opportunity to join the blogosphere on Médiapart. The series on Chilean photographers has come to an end, but the blog will continue in the French edition.
Coming soon:
°°°°°°°°°°°°°°°°°°°°°°°°°°°°°°°°°°°°°°°°°°°°°°°°°°°°°°°°°°°°°°°°°°°°°°°°°°°
Miriam Rosen is a journalist and translator living in Paris. She writes about photography, film and the images in between the two. Most recently, she was a regular contributor to Le Journal de la Photographie, which is now in the process of re-emerging as L'Oeil de la Photographie. 
Le Club est l'espace de libre expression des abonnés de Mediapart. Ses contenus n'engagent pas la rédaction.