Cherry Trees and Mushrooms: A Calendar for Japan
[One Year for Japan 2014 – March: Masashi Nagao – photo courtesy Laurence Vecten]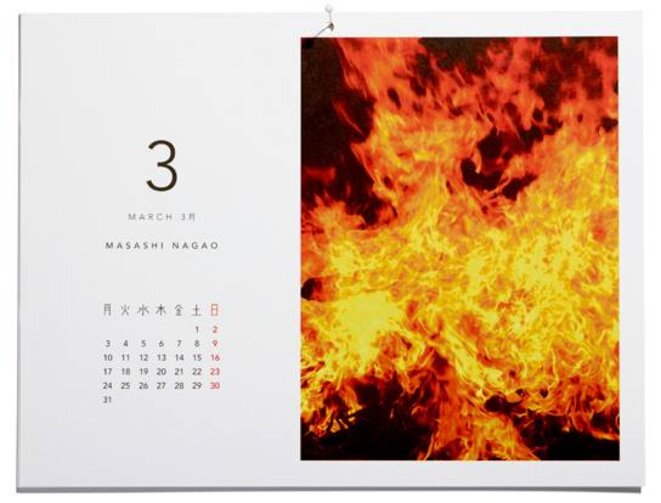 [One Year for Japan 2014 – March: Masashi Nagao – photo courtesy Laurence Vecten]
In the remarkable acceptance speech he delivered in June 2011 for the 23rd Catalunya International Prize, writer Haruki Murakami evokes very concretely the triple disaster which struck Japan only three months earlier: the force of the earthquake, the height of the tsunami waves, the number of dead and missing persons, the flight of hundreds of thousands more who were forced to leave the area around the Fukushima nuclear power plant, abandoning their homes, their fields, their pastures, their factories, their businesses.
But between the description of the first two disasters, which were natural, and the third, of human origin, Murakami makes a seeming digression to introduce a Buddhist concept which has pervaded Japanese consciousness since ancient times: mujō (無常), or 'the impermanence of things'. In Japan, he explains, 'we cherish the cherry blossoms of spring, the fireflies of summer and the red leaves of autumn. . . . Why is this so? The answer may be found in the fact that cherry blossoms, fireflies and autumn foliage all lose their beauty within a very short space of time. . . . We find peace of mind in the fact that the peak of beauty has been reached and is already starting to fade.'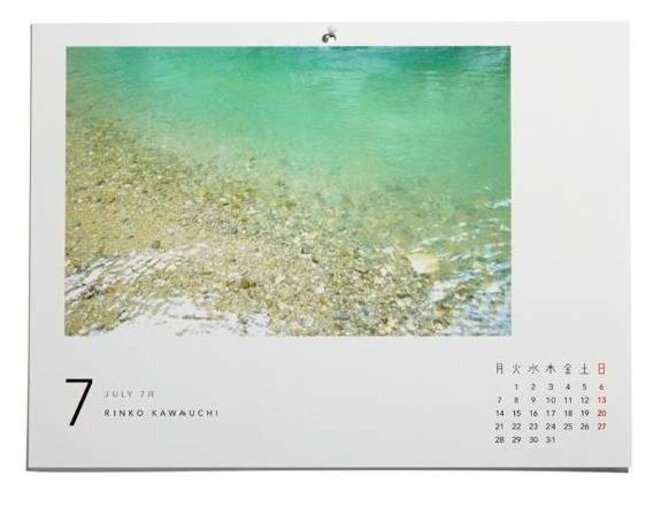 [One Year for Japan 2014 – July: Rinko Kawauchi – photo courtesy Laurence Vecten]
But unlike natural disasters and this aesthetic of impermanence, Murakami continues, the accident at the Fukushima nuclear power plant has to do with human responsibility, that of the electrical power companies and the government, but also the Japanese people as a whole. By sacrificing the ethic shaped by the traumatic experience of the atomic bomb, by giving in to arguments of efficiency and rapid economic development, he maintains, 'we are at once victims and perpetrators'. Indeed, if the reconstruction of roads and buildings is the job of experts, 'it is the duty of each of us to restore our damaged ethics and values'. And returning to the idea of mujō, Murakami concludes: 'Human beings will die and disappear, but humanity will remain.'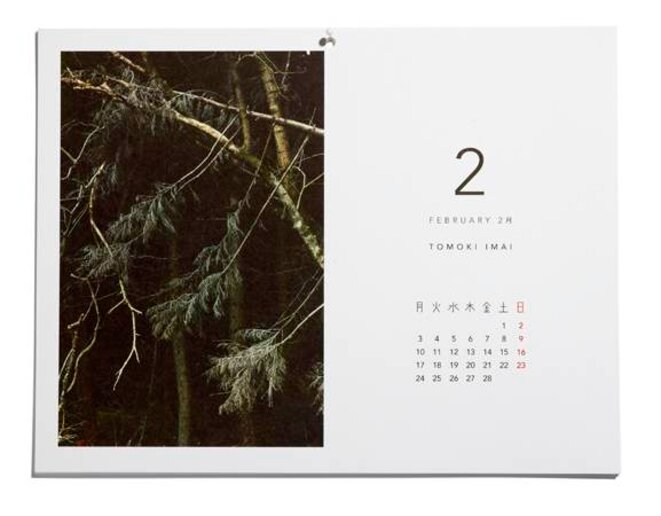 [One Year for Japan 2014 – February: Tomoki Imai – photo courtesy Laurence Vecten]
Neither cherry blossoms nor nuclear power plants are to be seen in the One Year for Japan calendar but the spirit of mujō and the spectre of Fukushima are omnipresent in the photographs marking the passage of the months and the seasons: snowfall and springtime, flowers and foliage, but also roaring flames or the 'portrait' of a mushroom. They have in fact been contributed by twelve Japanese photographers of different generations and mindsets, from the venerable Daido Moriyama (b. 1938) to up-and-coming self-publishers like Masashi Ngao (b. 1981) and Rie Suzuki (b. 1986).
Far from making any explicit declarations or serving as illustrations, these are images which impose contemplation and questioning. It turns out, for example, that the mushroom which pops up in time for the September picking season, comes from Fukushima: every autumn since 2011, when the Japanese government prohibited the gathering or eating of mushrooms from the region because of the phenomenal levels of radiation they absorb, photographer Takashi Homma has been going into the forests with a mobile studio and a Geiger counter and 'listening to the mushrooms'. A first album, Mushrooms from the Forest 2011, was published the same year but the project, like the radioactive contamination, is ongoing.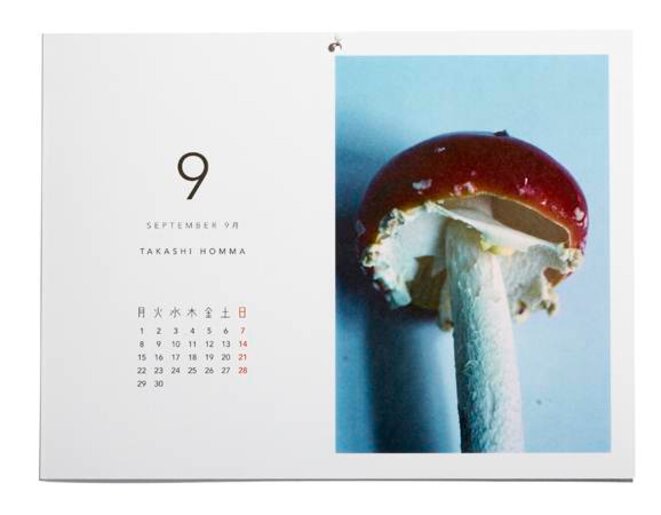 [One Year for Japan 2014 – September: Takashi Homma – photo courtesy Laurence Vecten]
The driving force behind One Year for Japan is Laurence Vecten, a veritable Pasionaria of the contemporary photobook (collector, blogger, publisher, Publish-It-Yourself promoter and pop-up exhibition curator). The calendar project, like the rest of her photobook ventures, operates out of her Paris apartment; the very selection of the photographers, she indicates, was mainly based on the Japanese photobooks in her own collection, whether purchased in bookshops and book fairs, given to her by photographers she's met along the way, or sent to her by others who've come to know her blog. 'I'd had some contact with most of them, although in certain cases I went through a gallery or a publisher ', she explains. 'What really helped me was the first calendar, which I made in 2012 with four other Japanese photographers. And also the fact of working on it with Madoka Rindal, a Japanese graphic designer who lives in Paris.'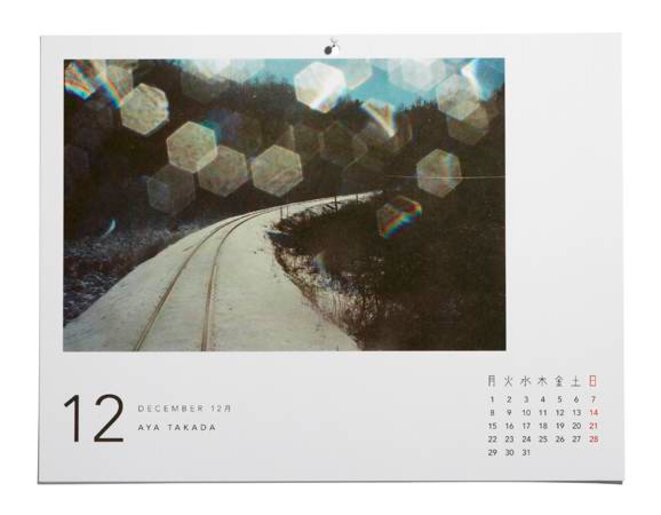 [One Year for Japan 2014 – December: Aya Takada – photo courtesy Laurence Vecten]
Slipping into the role of photo editor – which is what she does professionally, at the French edition of Glamour – Vecten asked each of the photographers to propose several images and sometimes discussed with them what had drawn her to their work, so as to be able to assemble a coherent body of work. The result of these visual and verbal exchanges is a kind of mise en abyme of images and associations in the form of a calendar which promises to be 'perpetual' in its own way. Or as one of the contributors, Tomoko Imai, has written about his series on the Fukushima nuclear power plant (Semicircle Law), which he could not approach because of the 20 km exclusion zone enacted in April 2011: 'As the memory slides gently into oblivion, my photographs allow me to recall not only visible, but also invisible things.'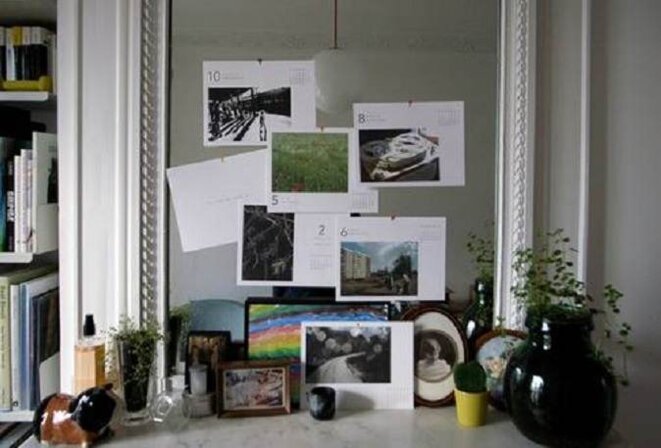 [Photo © Laurence Vecten]
One Year for Japan 2014
Photographers : Makoto Hada, Tomoki Imai, Masashi Nagao, Go Itami, Seiji Shibuya, Keizo Kitajima, Rinko Kawauchi, Katsumi Omori, Takashi Homma, Daido Moriyama, Rie Suzuki, Aya Takada
Publisher: LOZen up
Editorial supervision: Laurence Vecten
Design: Madoka Rindal
7 loose sheets - 18 x23.5 cm
Edition size: 500
17 euros + shipping 
All proceeds from the sale of the calendar will go to the Japanese NGO National Parents Network to Protect Children from Radiation.
One Year for Japan 2014 can be purchased directly from LOZen up (via Paypal) : 
http://www.lozenup.com/index.php?/publications/one-year-for-japan-2014/
In Paris, it is available at these (independent!) bookshops:  
Junkudo – 18, rue des Pyramides 75001 http://www.junku.fr/fr/index.php
Yvon Lambert – 108, rue Vieille du Temple 75003 http://shop.yvon-lambert.com/
Plac'Art Photo – 5, rue de l'Ancienne Comédie 75006 http://placartphoto.com/
Librairie Photographique le 29 – 29, rue des Récollets 75010 http://le29.fr/
Le Bal Books – 6, impasse de la Défense 75018 http://www.le-bal.fr/fr/mh/le-bal-books/le-bal-books/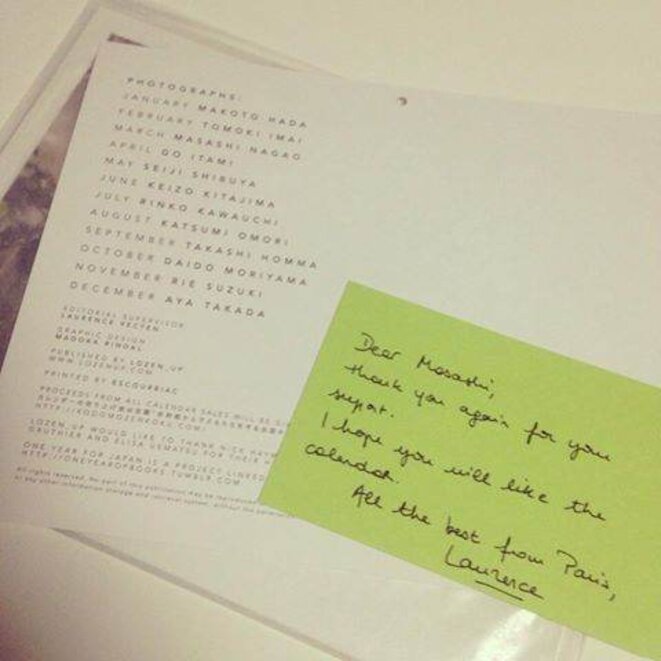 [Photo © Masashi Nagao]
&&&&&&&&&&&&&&&&&&& :
One Year of Books (Laurence Vecten's blog, which gave rise to the calendar One Year for Japan): 
http://oneyearofbooks.tumblr.com/
National Parents Network to Protect Children from Radiation:
https://www.facebook.com/kodomo.zenkokunet
Haruki Murakami, 'As an Unrealistic Dreamer' (an English translation of the Barcelona speech):
http://www.senrinomichi.com/?p=2541 
This translation is part of a collaborative project launched in June 2011 inorder to make Haruki Murakami's speech available in as many languages as possible. For the original Japanese text and a dozen translations: http://www.senrinomichi.com/?p=2730
Takashi Homma, Mushrooms from the Forest, 2011 (video): 
http://vimeo.com/41073664
Tomoki Imai, Semicircle Law, 2013 (video):
http://vimeo.com/66640649
Two other photobooks addressing the March 2011 disaster by photographers participating in the calendar:
Katsumi Omori, Everything happens for the first time, 2011 (preview):
http://www.bookshop-m.com/index.php?main_page=product_info&products_id=20
Rinko Kawauchi, Light and Shadow, 2012 (video):
http://vimeo.com/46422007
°°°°°°°°°°°°°°°°°°°°°°°°°°°°°°°°°°°°°°°°°°°°°°°°°°°°°°°°°°°°°°°°°°°°°°°
Miriam Rosen is a journalist and translator living in Paris. She writes about photography, film and the images in between the two. She has been a regular contributor to French and international publications including Le Journal de la Photographie, Mouvement, Libération and Artforum.  
Le Club est l'espace de libre expression des abonnés de Mediapart. Ses contenus n'engagent pas la rédaction.