Repression against Cuban artists: support Alcántara!
The coronavirus crisis should not overshadow other serious situations. A Cuban artist, Luis Manuel Otero Alcántara, was brutally arrested a few days ago on fake accusations and now faces a potentially heavy prison sentence. We ask that charges be dropped immediately against him. Please sign the petition that will be sent to the Cuban government!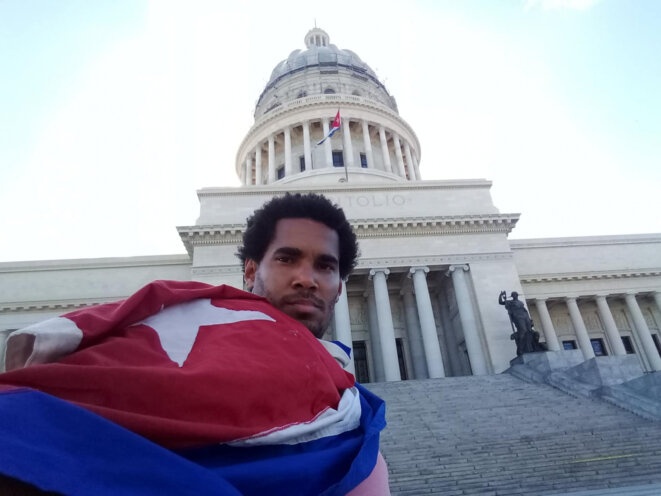 Luis Manuel Otero Alcántara lors d'une performance devant le Capitole cubain, à La Havane, en 2019.
Fear of a global pandemic is on everyone's mind, but it also diverts attention from the fact that other serious things are occurring right now around the world. To focus solely on the health consequences of COVID-19 would almost obscure the fact that confinement measures are currently taken for totally non-medical reasons. In Cuba, and until further notice, the virus does not yet pose a major danger. Containment measures are, however, well applied, and they concern a very specific part of the population: artists. All the hopes of a normalization with the United States, which Barack Obama's state visit in 2016 had raised, have been severely damped since then. Under the effects of the bottleneck put in place by the Trump government so as to suffocate the loathed regime on its adjacent island, the Cuban authorities now seem to be seized by a wind of panic in the face of anything resembling possible domestic dissent. Worse: artists, once the pride of a revolution based on intellectual and cultural emancipation, now find themselves in the government's firing line. Known to the French public for his provocative performance at the Festival Hors Pistes at the Centre Pompidou in 2018, the artist Luis Manuel Otero Alcántara may well be the next victim, if the international community does not quickly give him its support.  
Performance artist, co-founder of the alternative art biennial #00Bienal, Alcántara is part and parcel of a new generation of upcoming artists on the Cuban scene. Unlike some of his elders who opted for exile, this new generation refuses this option, and wishes to accompany from within the metamorphosis and progressive opening that Cuban society is undergoing. But the space of freedom that these artists enjoyed is now in danger. The moment of grace of the last few years, with the rise of numerous parallel initiatives and independent festivals, seems to have come to an end in view of the events that are now highly regulated, if not outright forbidden. In 2018, while establishing a new constitution, which promises several social advances, the new president Díaz-Canel promulgates a decree (Decree 349) that severely restricts forms of artistic expression and submits them to the authorities for approval.
Alcántara was among the core group of artists and intellectuals who organised public opposition to this decree, as part of the initiative known as Movimiento San Isidro, which includes other recognized artists such as Tania Bruguera, whose work has been exhibited at the Venice Biennial or at the Kassel documenta. Like Tania Bruguera, who has been detained several times in the past for performances considered too critical, Alcántara was subjected to dozens of so-called "preventive" arrests, as if to avoid the contagion of his ideas, only to be finally released a few days later. This was the case until recently, when he walked through the streets of Havana, wearing a construction helmet, to draw public attention to the collapse of a balcony that claimed the lives of three young girls. Since then, the authorities have decided to change their strategy.
On March 1st, on his way to a demonstration in LGBTQI+ support of the film Love Simon, where a scene of a kiss between two men had been censored by national television, Alcántara was brutally arrested by State Security and imprisoned in Valle Grande penitentiary. The 33-year-old artist faces up to five years in prison, with several serious charges: "insulting patriotic symbols", "vandalism" and "aggravated contempt of court". The artistic and cultural community in Cuba immediately rose up against this arbitrary trial, organizing demonstrations and sit-ins, leading to further police arrests. Despite everything, a first small victory was achieved, as Alcántara was provisionally released on the night of March 13thafter a large mobilisation. However, and this must be stressed, the charges were not dropped against him, and he is still facing a trial on an unknown date. There is every reason to believe that the government, although it has launched a most sordid counter-offensive via certain ministers and official cultural actors in order to delegitimize Alcántara's work, is not insensitive to international opinion. It is thus imperative that pressure be increased so that the authorities drop all charges against the artist.
Whether one is particularly fond of his art or not is beyond debate here: it is not permissible for an artist's work to be reduced to mere political dissent or ordinary crime. The regime's backlash resurrects the worst memories of the 1960s and 1970s, when writers, visual artists and musicians who deviated from the official line were sent manu militari to the sugar cane fields. Today, the argument is more subtle, but no less devious: Alcántara is accused of being a false artist, since he trained as an "autodidact", far from the state schools. The case is symptomatic of a deep-seated evil: how can we explain that the repressive apparatus chooses as its scapegoat an artist from the most popular classes, far less smooth in his ways than most of his successful colleagues, most of whom have a "whiter" skin complexion (it must be stressed, especially in a country that takes great pride in its anti-racism)?
Today, there is an urgent need to act, to denounce this fabricated trial, which risks setting a precedent. It can also be an opportunity to remind the Cuban government that art does not allow itself to be locked into binary oppositions, and that it aims on the contrary to show their inanity. Let us remember that in 1971, the history of Cuba was also played out around the fate of an artist: the trial of the writer Heberto Padilla, imprisoned for having committed "subversive poems", sowed the seeds of disillusionment on many of his loyal supporters, including world-renowned writers such as Julio Cortázar and Jean-Paul Sartre. The island seems dangerously close to that time, when it hears the muzzling of discordant voices and the shackling of its troublemakers: the members of the Alcántara support committee have also been arrested.  At a time when simplisms are gaining ground around the world, art is clearly a zone to be defended. In fact, it is one of its least timid representatives – Alcántara, or Luisma, as he is known to his friends – who will pay for it with his own existence unless the rest of the world succeeds in awakening from its torpor and urgently providing it with its share of support.
Sara Alonso Gómez, art historian & curator 
Emmanuel Alloa, philosopher
Thank you for signing the petitions:
[In French] https://secure.avaaz.org/fr/community_petitions/police_nationale_cubaine_pnr_repression_des_artistes_a_cuba_soutien_a_alcantara_/details/
[Main petition, in Spanish] https://secure.avaaz.org/en/community_petitions/president_manuel_diazcanel_free_luis_manuel_otero_alcantara/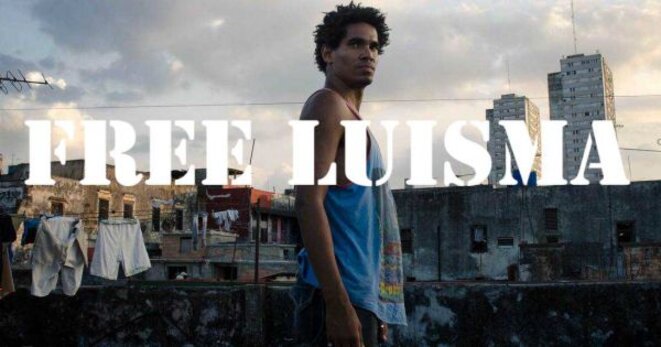 Le Club est l'espace de libre expression des abonnés de Mediapart. Ses contenus n'engagent pas la rédaction.