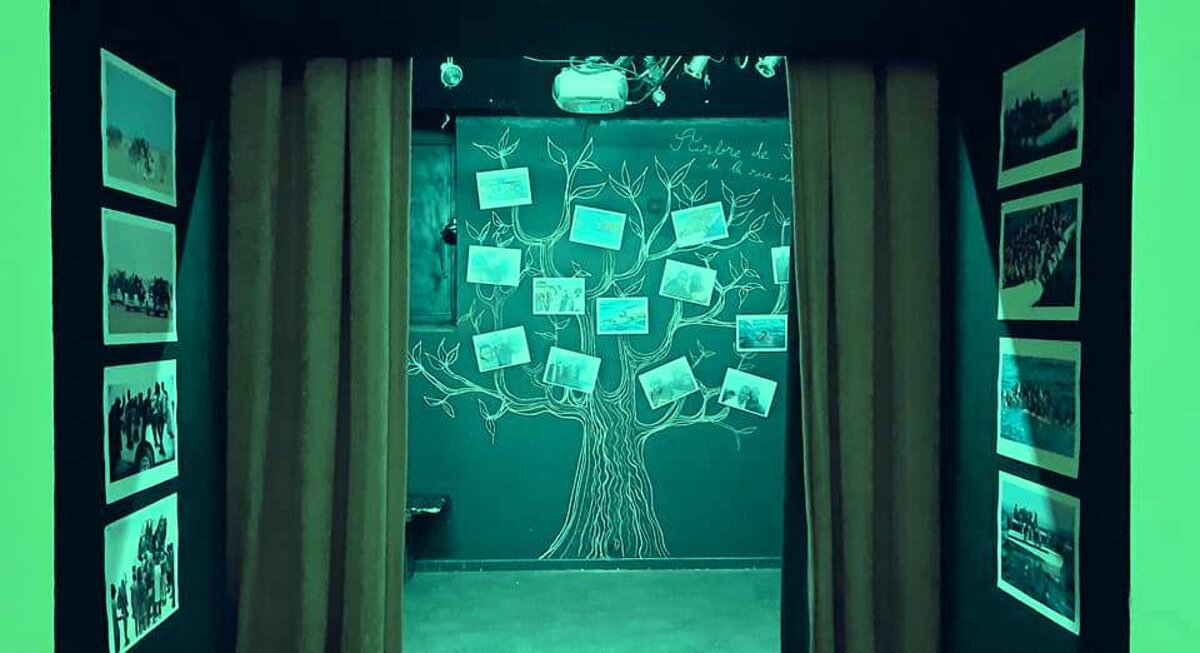 Through this statement, we would like to reiterate our desire for a truly inclusive avant-garde creative environment, challenging international artistic institutions that are most often radically above ground in Marseille, such as the Manifesta biennale present this month in Marseille.
Manifesta had previously been accused of exploitation and opaque funds management, today Manifesta's board is accused of racial discrimination, Homonationalism, and the exploitation of the most marginalized.
Say no to exploitation! Help the marginalized artists and migrants here
We call on the artistic, intellectual, activist communities and any one engaged in this field to join us in this open discussion and debate that will hopefully provide collective reflections and ways forward for us as the creative and activist community in the city, as well as for representatives of Manifesta and partner associations, in the future as they move to another locale, in regards to these accusations of discrimination and exploitation of the most marginalized among us.
Indeed for the past year, many of us have been working with Manifesta, the nomadic European biennial of contemporary art, which came to Marseille for its 13th edition. Seeing this as a positive opportunity to showcase the city's diversity, and in the spirit of openness, many of us agreed to collaborate with the biennale and planned a range of activities for August and September 2020. In addition to the challenges presented by the current pandemic, which has shaken the world as we know it, there have also been several accusations reported against certain members of the Manifesta team and associated artists and organizations exhibiting policies of systemic racism, exploitation of marginalized narratives and bodies, and the general lack of financial transparency.
In this call for collective inquiry and action, we would like to reaffirm our position, which puts the communities we are part of and represent at the forefront, and strongly oppose racial discrimination, and the extraction of experiences and work of marginalized groups in the name of cultural production and consumption. From our point of view, this is due to larger systeminc issues deeply rooted in the French society, where cycles and application of infrahumanizing[i] mechanisms, whether conscious or unconscious, are even clear to see even in the so-called progressive movements.
Since October 2019, a range of proposals and consultations have been provided to Manifesta on effective mapping of the artistic and cultural context of Marseille, alongside the planning and implementation of inclusive and intersectional events by members of our network. However, to date some of our most marginalized partners are yet to be paid and the costs incurred reimbursed[ii], despite the fact that our budgets and program were ready for June[iii].
And, where decisions to pay such groups have been made, they have been done last minute due to tense confronations convincing the budget holders that indeed, everyone contributing to projects has the right to be paid for their labor, not just professional artists, intellectuals, and racially white people, who are still prioritized financially and hierarchically at the moment. An overall report of Manifesta 13's artists by gender, race, and nationalaity is already publically available, where men and white people form the majority of the participants[iv].
Therefore, some of us have put forward the hypothesis, which remains to be validated, that while Manifesta proposes to "rethink the relations between culture and society investigating and catalyzing positive social change in Europe through contemporary culture in a continuous dialogue with the social sphere of a specific place," the reality is that it instead uses the reputation of local associations, with long histories of social justice work on ground in Marseille, without adequately reimbursing their expenses or citing them appropriately in their produced program from a perspective that is both clientelist and based on entryism.
Although agreements have now been made to cover some of these tiny expenses in the overall budget, we do not yet know, among other things, if the activities including people with disabilities, participating in a show scheduled for mid-October at La Criée will or will not be compensated financially. Furthermore, it could now be argued that the resistance to immediately agree to pay marginalized communities contributing to projects points to more problematic financial policies that prioritize and privilege institutional stakeholders, while expecting black, communities of color, and people with disabilities to contribute for free as an act of solidarity, as if it were already a sufficient honor for us to be highlighted in the programming of this biennial.
Based on our experiences, we decided to launch an informal survey to see if this kind of dynamic was applied to other networks in the city, which revealed that our network is not alone, and indeed, many other local artists, intellectuals and cultural organizers have criticized the biennale for similar issues as addressed in this statement, for having repeatedly renounced the initial commitments, without financially compensating the social actors concerned, for their working time and their intellectual productions. Confronted with this state of affairs, it is also curious to see Manifesta now push racialized  members of their team to the forefront to resolve these issues, when a few months ago, it was also reported that certain Manifesta bosses and patrons would not appreciate the Islamic identities to be put forward in artistic programming[v].
Since many of these concerns have been directly addressed with the biennial, the artistic team of the 13th edition now seems open addressing some of these structural issues within.  However, in the past, the 11th edition of the biennal was also criticized harshly for problematic payment policies and non-payment of workers[vi], which potentially points towards a deeper structural and systemic issue, where in the bi-annually evolving teams and locations of Manifesta allows for the institution to push critical reflections under the rug and thus, avoid any change of consequence.
Instead our collective, joined in this endeavor by certain Manifesta curators who want to work on that issue internally, in order to ask the board of the latter for a truly progressive and inclusive work ethic towards all, which was the basis of our proposals for Manifesta 13. We ask for open critical reflections on the impact of the biennial's collaborations and partnerships in the city and its communities, in order for Manifesta to get rid of any rag having to do with "pinkwahsing" [vii], "institutional racism" [viii], and "migrantwashing." [ix]
From this experience, many of us have been compelled to ask, why are the most marginalized among us not the first to benefit from the fruits of our labor? Are these dynamics related to the little consideration given to contemporary and social art, or is there an additional dimension to these visibly recurring inequalities?
In these times of  "Black lives Matters", and deconstruction of fascistic or supremacist identities, we invited the people of Marseille who are concerned to join us during a dinner debate on these topics[x], at the CALEM institute of Marseille, and we have now created a fundraising campaign in order to compensate the marginalized artists cheated by Manifesta 13[xi].
 Say no to exploitation! Help the marginalized artists and migrants here
"For us, the act of making ourselves visible is political"
– Angela Robertson, Our Dance of Revolution[xii].
Authors and Signatories:
Dr. Ludovic-Mohamed Zahed (director of the CALEM[xiii] Institute, the gay imam of Marseille)
Dr. Amina wadud (retired Professor of Islamic Studies and The Lady Imam)
Dr. Michaël Privot (islamologist, founder of IEEI, Brussels, former president of the ENAR)
Abdullah Qureshi (independent artist and visual curator, PhD candidate in contemporary art)
Louis-Georges Tin (founder of the IDAHOT day, founder of the CRAN)
Alexandre Marcel (president of the IDAHOT France committee)
Erika Nomeni (Baham Arts, to visibilize the minority artists and women in Marseille)
Paulo Hggns (Ze Gaitho, queer inclusive parties in Marseille)
Moussa Fofana (co-founder of Migrants LGBT+ & solidaires in Marseille)
Souleymane Traore  (co-founder of Migrants LGBT+ & solidaires in Marseille)
Sara-Aviva Gerbaud (psychoanalyst, musician, author)
Tom Porcher Guinet (El Manba, citizen network for the rights of Migrants in Marseille)
Mariam SaintDenis (Filles de Blédards, in Paris and Marseille)
Yvan X. (artistic director of an LGBT+ festival in France)
Harry Gaabor (plastician artist in Marseille)
Rabha Attaf (journalist & president of Confluences, for human rights in Marseille)
Osman X. (coordinator for Hidayah, queer Muslims UK)
Fares Chiter (linguist, member of CALEM in Marseille)
Jérémie Yorillo (in charge of information and trainings in Marseille)
Denis Caiozzi (filmaker and member of Migrants LGBT+ & solidaires in Marseille)
Didier Dubois Laume (artist painter, founder of café lunettes rouge for LGBT+ HIV+)
Adam Hussain (dance-artist, somatic movement practitioner and researcher)
Adi Bharat (PhD, university of Michigan, JMRN – Jewish Muslim dialogue)
Adrian Stiefel (Protestant Church of Geneva, in charge of the LGBTI outreach of the LAB)
Musab Atasoy (queer imam of the London inclusive community and counselor for CALEM)
_____________________________________________
[i] Consider that some are less worthy of being respected by their work, with regard to their body, in their identity.
[ii] In particular, the association of LGBT + Migrants in Marseille. At the same time, the migrants from the Saint-Just squat had to establish a "more equal balance of power", they told us, so that each of the participants was paid fairly, with a proper employment contract.
[iii] Initial date of the Manifesta 13, before the Covid crisis postponed the entire programming.
[iv] We refer here to a study by Daria Harper, intersectional journalist and New York writer, on the over-representation of artists of European origin, in Marseille, during Manifesta 13. Available online: https://www.artsy.net/article/artsy-editorial-manifesta-13s-artists-gender-race-nationality
[v] A call was launched in 2018, following racist remarks by curator Kasper König, presented as a prominent member of the German artistic community, by a collective of migrant, black, indigenous, lesbian, queer and trans artists from color: "We observe that structural levels of racism and discrimination disappear when we voice our criticisms, and that we are accused of being aggressive or of feeling sorry for ourselves when we speak out! "WE ARE SICK OF IT". Available online: https://hyperallergic.com/474836/german-museum-director-and-curator-accused-of-making-racist-remarks-about-german-turks-at-panel/ . Plus, according to certain curators of Manifesta 13, the former right wing mayor of Marseille asked the Manifesta board not to talk about "migrations".
[vi] In 2018, Manifesta came under fire for criticism over charges of exploitation and unpaid labor. Available online: https://news.artnet.com/art-world/manifesta-11-comes-fire-unpaid-labor-620975
[vii] According to L. Zahed, it is the use of the struggles for the rights of gay, lesbian, transgender and intersex minorities for ideological and capitalist ends. Cf. « LGBT musulman-es : du Placard aux Lumières » (CALEM, 2016 - http://www.calem.eu/francais2/CALEM-edition-LGBT-Musulman-es-face-obscurantismes-homonationalismes_Ludovic-Mohamed-Zahed-2017.html). In 2014, Russian artists called for a boycott of Manifesta because, in their view, this biennial, taking place at the time in Saint Petersburg, did not attach any importance to V. Putin's discrimination against their LGBT + communities. Available online: https://www.nytimes.com/2014/10/10/world/europe/allowed-a-space-for-criticism-artists-in-russia-have-fun-with-it.html
[viii] According to F. Dhume, we speak of institutional racism when, apart from any clear and direct intention to harm certain ethnic groups, the institutions or actors within them develop practices whose effect is to exclude or to interiorize such groups. Cf. « Du racisme institutionnel à la discrimination systémique ? Reformuler l'approche critique » (Migrations Société 2016/1 (N° 163), pages 33 à 46 - https://www.cairn.info/revue-migrations-societe-2016-1-page-33.htm).
[ix] Using the bodies and life stories of migrants to generate buzz, compensation and strengthen the humanist reputation of an institution that in reality cares little for their fate, neither on the court nor on the long term. Some Manifesta curators showed their attachment to the fight against poverty, while on the same day we were told that the budget allocated to activities developed by LGBT + migrants would not benefit from any financial support, however, we have concluded for several years. months, before the postponement of Manifesta from June to September 2020. Available online: https://news.artnet.com/exhibitions/manifesta-13-interview-1904466
[x] on Saturday, October 3rd 2020.
[xi] Especially the LGBT+ Migrants and the disabled ones: https://www.helloasso.com/associations/calem/collectes/for-the-lgbt-migrants-and-disabled-of-manifesta-13
[xii] In the documentary by Phillip Pike (2019): «Our Dance of Revolution» (minutes 31.45). Roaring rivers films, Canada.
[xiii] This international organization, based in Marseille, is no longer an advisor to Manifesta or the AOZIZ network (founded by Andrew Graham, L'Autre Maison, and Béatrice Pedraza, Arthalie, in collaboration with L'Atelier de Mars, founder and directed by Florence Morana), for the realization of the intersectional activities planned for the end of September, the beginning of October. CALEM had accepted this new proposal from some curators of Manifesta which consisted in helping them to put together a report on the current situation, as well as a preliminary investigation questionnaire and an ethical charter for future Manifesta 13 and their partners. This book shall be available on our publishing house webpage - http://www.calem.eu/francais2/CALEM-edition.html