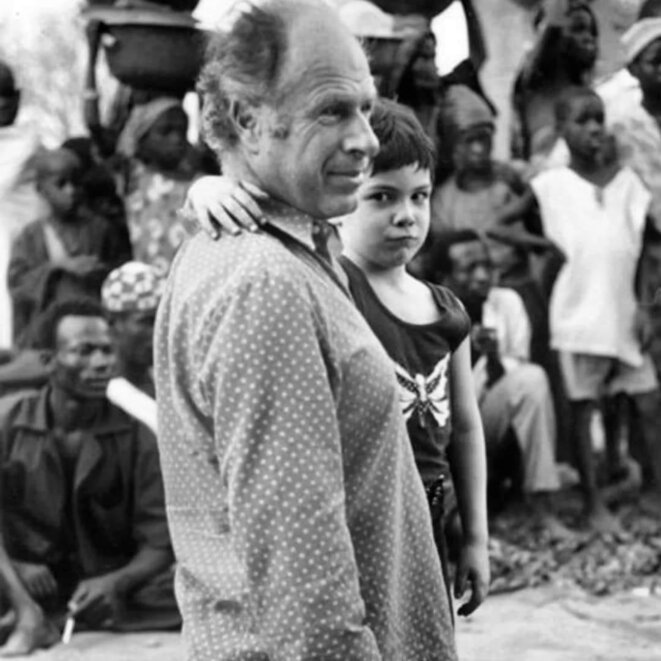 «Peter BROOK (1925-2022), his Constant and Unwavering Solidarity with People of Color» par Amadou Bal BA 
"Peter BROOK (1925-2022) his Constant and Unwavering Solidarity with Africans" by Amadou Bal BA - 
"True political theatre is affirming the dignity of man", says Peter BROOK. Far from the futile hustle and bustle of a self-centered, peaceful, affable, simple world, inhabited by an inner world of compassion, Peter BROOK in his vision of a world theater, has greatly valued the cultural heritage of Africa and its diasporas. "Peter Brook is the director of changing points of view and multiple truths. During his career, he often surprised critics with sudden and unforeseen variations. However, in the continual movement that characterizes his theater, a constant presence appears: Africa. Brook establishes with this continent a privileged relationship made of many trips, staging of African atmosphere and a long collaboration with African actors. In his search for regeneration, Brook detached himself from the theatrical trends of the time and embarked on a completely original journey: he was the first director to address Africa, while most theatre artists turned instead to the East, in order to grasp the secrets of ancient stage traditions rich in a thousand-year-old codification", writes Rosaria RUFINI, in "Africultures". Indeed, confirmed at the age of 16, as a follower of the Anglican Church, Peter BROOK, in his convictions, continued to wonder, aloud, about the meaning of spiritual commitment : "It led me to think, "why would it be better than Islam ?" So, I read about Islam, and then about Buddhism. And that led me to India. But I'm still back to square one. Taste, test, question and never come to a conclusion," he says. "Denying what is the foundation of your path is artificial, it has always forbidden itself to consider a civilization, a way of thinking as superior to others, starting with his own", says Peter BROOK.
Also, Peter BROOK, animated by a spirit of Brotherhood and Justice, had remarked, that because of serious colonial prejudices, Africa and its artists have been in Western capitals often marginalized and ostracized. "I am convinced that beyond a thousand real but superficial differences, all men are the same. If we start from this conviction, racism disappears", says Peter BROOK, in his great benevolence. Therefore, Peter BROOK is, above all, a director opening doors to African actors in Paris, which have remained closed until now, if only for subordinate or decorative roles. Indeed, like René MARAN, who wanted to be a "Man like the others", Peter BROOK gave the opportunity to African actors, exiled in Paris, to be able to express, fully, the measure of all their talents.
Born in Chiswick, London, on March 21, 1925, to Jewish parents from Latvia, Russian territory at the time, Peter BROOK, living in Paris since 1971, had the ambition to tear down the walls of misunderstanding between men. "The Paris I discovered in my youth was a hub and a boiling center for culture. In London, I found that culture was closed in on itself. My desire to go beyond borders also had a political meaning because you can't just stay on your own quant-à-soi", he says. In 1974, Peter BROOK found an unusual and captivating place, the Bouffes du Nord theatre, closed for 20 years and located in the popular district of La Chapelle, between Barbès and the Gare du Nord. In its multiculturalism, it brings together artists from all countries, especially Africans, hitherto marginalized : "The discovery of the Bouffes du Nord was not due to chance: it was the continuation of three years of exploration, in Africa and elsewhere, with the International Center for Theatrical Creations. We first did hundreds of improvisations in places in the Paris region that had never been used for shows. In homes for immigrants, schools, with the disabled, in hospitals, prisons. Then we went to Africa and found that anywhere you could put on a carpet and have people sitting around", says Peter BROOK.
Citizen of the world, rich in his encounters, Peter BROOK holds his openness to the others of his parents : "It is my parents who gave me this taste for travel. My father saw it as the best training. So did my mother. They were open people. They believed in progress through science. As much as a conviction, it was their true faith", he said. Indeed, his father, from a liberal-minded family, Simon BROOK, born in Dvinsk in 1888, a supporter of the Mensheviks and follower of KARENSKI, will expatriate to Liège, Belgium. He took the name "BROUCK" and studied physics, mathematics and electrical engineering. His fiancée, Ida JANSEN, a chemist, joined him, marrying him in 1914. The couple moved to Brussels, then to Ostend, Paris, to settle in London, where Peter BROOK was born. His parents destined his brother Alex for medicine ; Peter was to become a lawyer. In 1942, at the age of 17, he revolted and wanted to become a director to make films. "I wanted to be a writer, journalist, composer, musician, painter but I quickly realized that I could never compete with the artists who were my references at the time", he says.
Peter BROOK first tried his hand at various Western works in Britain, such as Hamlet or Dom Juan's opera. "In the extremely closed and grey England of those years, I first became interested in theatre because of the atmosphere there: a certain energy, a certain excitement. The theater itself was mortally boring, but, within this artificial form, there was great vitality", he says. Bored in London, mobile spirit, fighting against conformism, and sometimes adventurous, Peter BROOK is constantly fighting against the routine, "the devil is boredom", is the title of one of his books "the whole problem is whether there is this spark, this little flame that lights up and gives an intensity to this moment picked up or not" he writes. Also, to keep his audience constantly awake, he constantly fights boredom, in order to maintain the flame: "In the theater, boredom, like the devil, can arise at any moment. It only takes a little and it jumps on you. He watches, he is voracious ! He seeks the moment to slip invisibly inside an action, a gesture, a sentence. In the theater, as soon as boredom appears in me, it's a red flasher !" he writes.
In Paris, in this desire to discover the other, Peter BROOK is at ease in this multiculturalism : "It was at the invitation of Jean-Louis Barrault, who offered me to lead a workshop as part of the Théâtre des Nations, that I began to meet in Paris American, Portuguese, French, African and Japanese actors, who, at the time, were not present on any theater stage. What interested me was to bring together people from different cultures to work together on the same story", he says. In his autobiographical book, "Forgetting Time" published in 2017, Peter BROOK recounts how much a life can be inhabited by a vocation as much as it can do it. In this book, the artist recounts his beginnings in London, his installation in Paris, his relationship with the Gurdjieff group, as well as his encounters with significant cultural figures of French and international cultural life. Adopting a bias of eclecticism, he successively presents authors as diverse as Jean-Paul SARTRE, André RUSSIN, Dostoevsky or Jean ANOUILH. Peter BROOK's ambition was to help others make their voices heard. Indeed, in Paris, Peter BROOK entrusted the role of Polonius, the lord chamberlain and adviser to the king, in the tragedy of Hamlet, to a Malian actor, Habib DEMBELE, known as Guimba. A specialist in William SHAKESPEARE, he rubbed shoulders with his literary production, through its many dimensions, always elusive and inaccessible "Shakespeare's plays are like planets. In an incessant movement, they approach us for a moment, then move away swirling in their orbit", he writes.
In France, Peter BROOK made triumph, in Avignon, his "Mahabharata", an Indian epic, recounting the dynastic struggle between two branches of the same family : the Pandava and the Kaurava. Their opposition will go so far as to jeopardize the existence of the world itself. Peter BROOK having spotted Sotigui KOUYATE (1936-2010), a Guinean artist of origin, Malian by birth, Burkinabe by adoption, performing a film by Christian RICHARD, "the courage of others", he engages him in the "Mahabharata", to embody the role of the sage Bhisma, a kind of voice of the Ancestors, embodying the forces of the spirit, with a certain fantasy. In 1990, during the premiere of William SHAKESPEARE's play, "The Tempest", Peter BROOK also gave Sotigui KOUYATE the role of Prospéro. "Western actors have many qualities necessary to explore, in Shakespeare's plays, everything related to anger, political violence, sexual suffering, psychological introspection. But it's not easy for them to find images of an invisible world", says Peter BROOK. This artist, who became Peter BROOK's favorite actor, collaborated with Sotigui KOUYATE for four years, notably in "Hamlet", "Qui est là", "Antigone", "the man who took his wife for a hat" or the "The Suit" of the South African, Can TEMBA, as well as "Thierno Bocar" by Amadou Hampâté BA. In the end, Sotigui KOUYATE considered Peter BROOK, his mentor, as a representation of the father figure : "I never saw my father looking behind him. A noise, someone calling, he stopped, but did not turn around. After his death, I found an answer: he taught me to live in front of me, without ever going back. I find this in Peter Brook's work: what is done is done; we can't go back to a performance from yesterday to play today", says Sotigui KOUYATE. Finally, Sotigui KOUYATE will say : "In the West they say : "You have to kill the father, to be; in our country we say : "Be your father, but surpass him".
In Paris, seeking a cultural renaissance, Peter BROOK put color in the Parisian theatrical space "Peter Brook was one of the first to introduce diversity, and it was not a small revolution, a theater that was essentially white" says Olivier PY, director of the National Theater of Avignon. Indeed, in his relations with Africans, Peter BROOK has always considered that difference, far from constituting an Evil, is an extraordinary source of inspiration, a way of constantly renewing his art, fleeing boredom and conservatism. Therefore, Peter BROOK set himself the goal: to break down the partitions of misunderstanding artificially established between Men by the forces of Chaos. In his art, it is about revealing to the viewer what is hidden. Peter BROOK is convinced that Africa, a continent of the forces of the spirit, the cradle of Humanity, concentrates and unites, in itself, the profane and the sacred, the visible and the invisible. Speaking several languages and travelled a lot and rich in his encounters, Peter BROOK, curious about everything and others, has made the theater a powerful tool for rapprochement and understanding between peoples.
Peter BROOK was one of the first great directors to address Africa, adapting in 1979, with Michael BOWENS, Birago DIOP's "The Bone" : "I have always been fascinated by the tradition of storytelling. That's how I became interested in the writings of Amadou Hampâté Bâ, Birago Diop or Thierno Bocar, played by Habib DEMBELE dit Guimba. I liked the ability of African storytellers to invent comedic situations to capture the attention of their audience" says Peter BROOK. Peter BROOK had mounted, in 2003, a play on one of the works of Amadou Hampâté BA, and concerning his spiritual guide and mentor, Thierno Bocar, persecuted by the French colonizer. Indeed, Peter BROOK is a supporter of the humanity of the smile: "Being too serious is not very serious" said Amadou Hampâté BA (1900-1991, see my article on this traditionalist). In his constant and unwavering solidarity with racialized people, Peter BROOK is in fact a great humanist. In his book, "The Space of emptiness. Written about the theatre", he has greater ambitions. Theatre is for him, for sure, an end. But it is also the way to found and maintain a community of men and women capable of undermining, by their own example, an established order, of bringing a concern and happiness that other performing arts, too dependent on the economic forces they could denounce, cannot hatch. Also, Peter BROOK had also strongly supported Raliatou Fifi NIANE, one of the daughters of Djibril Tamsir NIANE (1932-2021, see my article), an African traditionalist.
Peter BROOK was also interested in black South African artists during apartheid : "In South Africa, with apartheid, it was infinitely more complicated. In this society of unparalleled cruelty, any form of art was forbidden to blacks. But I discovered an exception to the rule. Out of commercial necessity the Johannesburg market space was a place that ignored racial discrimination. Blacks and whites could rub shoulders there and this is what led Barney Simon to create the Market Theater with the possibility of bringing together a mixed cast and playing in front of a mixed audience. We became friends, that's when I discovered the pieces of Athol Fugard that we later brought to the Bouffes du Nord", he says. In particular, Peter BROOK hires Habib DEMBELE, known as Guimba, born in San (Mali), candidate for the Malian presidential election of 2002, "for laughs", to play, in 2006, in "Sizwe Banzi is dead", a play written in 1972, by South African authors Athol FUGARD, John KANI and Winston NTSHONA. The role of an actor like Habib DEMBELE is to look at life, to celebrate it, to "highlight what normally goes unnoticed: impulses, reactions, everything that in the human being is hidden. Habib Dembélé, who stars in Sizwe Banzi, is an actor who looks at life like Cartier-Bresson, with an incredibly keen sense of observation and humor. And when he plays, because he has developed a body that responds to this, all this observation, this energy, and at the same time these feelings of joy in front of the absurdity of things, all this is expressed, is highlighted. It's much more than bodily expression, it's not personal expression: he's not just talking about himself doing this, he's talking about someone else", says Peter BROOK.
Here, in this theater called "Townships", of the left behind, in the time of Apartheid, focuses on a painful human experience, that of racism in its harshest harshness, a dehumanizing world of an entire black community struck by opprobrium. "In the 70s, when we were working in Europe and New York to change the theater, to involve not only the intellect of the actor but also his whole body, now these South African actors, using the basic materials of theater – the body, the imagination, the words – arrived at a theatrical form to which we aspired. It was a form of great vitality born in the streets from the need to communicate with the other", says Peter BROOK. In 1950, in South Africa, racial identities were regulated, sexual relations and marital union between members of different "races" were prohibited, the freedom of movement of blacks was curtailed, and any such questioning was prohibited. Apartheid reinforced this system of racial segregation. Also, the main character of this play, Sizwe Banzi, an undocumented, will usurp the papers, in good standing of a dead, in order to be able to survive. However, by renouncing his real name, Sizwe Banzi must also renounce his identity, his history and this loss is a great tear ; indeed, to renounce one's name is a bit to die. Peter BROOK calls on a Belgian actor of Congolese origin, Pitcho Womba KONGA, in this play. In his humanism and concern Peter BROOK calls Apartheid "one of the most monstrous distortions in the modern world".
This tragedy comedy, a lesson in courage and humanity, a suffering and a joy of life, makes "laugh not to cry" writes Aurélie OLIVIER. Sizwe Banzi is still very topical because of the tragedy experienced by migrants and undocumented migrants in rich countries. This play is a powerful denunciation of oppression and intolerance : "What's going on in this damn world ? I'm a man. I have eyes to see", writes Sizwe Banzi.
In his ethic of curiosity and openness to Africans, Peter BROOK also directed in 1999, at the Bouffes du Nord, a short story by a South African, Can THEMBA (1924-1968), "The Suit" or "The Costume". It is an evocation, in a system of dehumanizing Apartheid, of injustice, forgiveness and compassion. The setting that smells of sulfur, along with alcohol, music, knife and sex, takes place in Sofia, a black township on the outskirts of Johannesburg, now razed, embodying an island of joie de vivre. "This township with its crimes, its whores, its jazz musicians thirsty for illicit ambrosia, its poets, its photographers, its writers, its gangsters full of American cinema and even some whites: a mixture of people, a concentration of thought and talent having to do with the Saint-Germain-des-Prés or the Tangier of yesteryear has misery in addition" says Peter BROOK. It calls on three talented black actors : Bakary SANGARE, French native of Mali, for the role of Philemon, the cuckold husband, Mathilde JEAN-BAPTISTE, an English actress of Antiguan and Saint-Lucian descent, or the heroine Mathilde, a femme fatale, a strong sensual and free beauty, and a Malian actor, Sotigui KOUYATE who will be the lover, Maphikela.
Therefore, it is a play telling a story of adultery, in the context of Apartheid, South Africa. Indeed, Philemon, a black man is wrong to return home at an unusual time. He finds his wife, Mathilde, in bed with another black man, Maphikela. He is not the type to look for the fight and hides while the lover, feeling spotted, leaves pretty much naked in the street. Remains his costume. The husband, petty and resentful, will end up pretending to forgive, but in the form of a poisoned gift. The husband greets this jacket and trousers with solemnity, as if it were a human being, and asks his wife to take care of it as a precious friend, not to leave it, to pamper it, to feed it. Here is the adulterous woman forced to live, not with a lover, but with her ghost. Therefore, true forgiveness will not come, the memory of the fault being maintained through the costume, standing between this couple, an obstacle to any forgetfulness. The author of this play, Can THEMBA, in "The Suit", a play written in 1950, a simple, beautiful and tragic story, but long censored, denounced the mistreatment of women. A talented and cursed writer, Can THEMBA, destroyed by Apartheid, died in exile, plagued by alcohol and despair. "Can Themba was the brightest and youngest journalist of the Drama, a local leaf. He burned his life. Night after night, he told stories. He wrote only short stories in this country where a black man, even an extralucid one, was not allowed to publish. Went into exile in Lesotho, where he was bored, near his wife, aware of the fragility of the moment, in a kind of intuition of not having it for long", says Peter BROOK. Mathilde, the heroine of this play, lets herself die. Despite Sophia's dizzying festive spirit, this play is a nod to the mistreatment suffered by blacks during the apartheid era, dying.
Ultimately, Peter BROOK aimed to make his viewers more human and benevolent. Apostle of empty space, of a multicultural scene, Peter BROOK placed himself resolutely in the field of Fraternity and Justice. For Peter BROOK, theatre is a balance of the distant and the near, in order to reveal something unexpected, not banal, but the exotic must bring the spectator back, not to the strangeness but to the banality of everyday life. "I can take any empty space and call it a scene", he said. As a result, Peter BROOK staged plays nourished by exoticism, with actors from different cultures, and toured all over the world, often in new places : from African villages to the streets of the Bronx, via the suburbs of Paris.
Setting up theater spaces in unusual spaces (Township, African villages, outlying neighborhoods), Peter BROOK revolutionized the set and staging, "Master of empty space, Peter Brook was one of the first to throw to the nettles the pageantry of the sets and the stage curtain to place the actor in the foreground and testify to the diversity of cultures by surrounding himself with an international troupe", writes Marie-Hélène ESTIENNE in "Les Inrockuptibles", of the 25 June 2019. He surrounded himself with African actors with a dimension of storytellers or griots, such as Sotigui KOUYATE or Habib DEMBELE. Passionate about the piano, Peter BROOK, director, actor, director and writer, believes that a good actor must be able to inhabit his character while filling him with the fullness of his experience and for this the artist must throw himself into the water. He renews the staging with a contemporary writing, a bold setting. "At the beginning of my career, in England, I quickly realized that theatre was totally blocked by pre-established conventions. My job has always been to free myself from it to get it out of the ruts of tradition", says Peter BROOK. He then freed himself from the authority of the staging plan previously established to rely on the direct relationship with the actors and renew the process of developing the show.
In short, in his humanism, and in the face of the rise of the forces of Chaos, Peter BROOK invites us, permanently, to keep hope and persevere : "Never stop. We always back off as soon as something is about to happen", he said.
Peter BROOK died in Paris on July 2, 2022, at the age of 97. His children wanted to keep the secret of this disappearance for a while, but there were leaks in the press. But can we reasonably remain silent for a long time, on this baobab that has just fallen ?
Peter BROOK was married to Natasha PARRY (1930-2015) who gave him two children Irina, born on April 5, 1962 in Paris, a former director of the Nice theater and Simon, born in London, a director, screenwriter and producer.
 Very Brief References
1 – The Works de Peter Brook
BROOK (Peter), L'espace vide. Ecrits sur le théâtre, traduction de Christine Estienne, Paris, Points, Poche, 2014, 192 pages ;
BROOK (Peter), La qualité du pardon : Réflexions sur Shakespeare, traduit par Jean-Claude Carrière, Paris, Seuil, 2014, 112 pages ;
BROOK (Peter), Le diable, c'est l'ennui. Propos sur le théâtre, Arles, Actes Sud, 2015, 128 pages ;
BROOK (Peter), Oublier le temps. Une autobiographie, Paris, Seuil, Points, essais, 2017, 288 pages.
2 – Review or Criticism
BABLET (Denis), «Rencontre avec Peter Brook», Travail théâtral, octobre janvier 1973, n°10, pages 3-29, spéc sur l'expérience africaine pages 23-25 ;
BANU (Georges), Peter Brook. Vers un théâtre Premier, Paris, Seuil, 2005, 256 pages ;
BELZIL (Patricia), «Plaisir brut de conter : Le costume», Figures masculines de la scène québécoise, 2000, vol 4, n°97, pages 156-158 ;
BURELLE (Julie), «Sizwe Banzi est mort ; une fable puissante et tristement actuelle», L'Express, du 24 avril 2007 ;
CHEVILLEY (Philippe), «Peter Brook, le faiseur de théâtre universel», Les Echos, du 3 juillet 2022 ;
DEMIDOFF (Alexandre), «Peter Brook, nous sommes des conteurs à têtes multiples», Le Temps, du 5 février 2000 ;
DESORGUES (Pierre), «Peter Brook, géant inspiré par l'Afrique», TV 5 Monde, du 3 juillet 2022 ;
ESTIENNE (Marie-Hélène), «Notre entretien avec la légende du théâtre, Peter Brook», Les Inrockuptibles, du 28 juin 2019 ;
HUNT (Albert), Peter Brook, New York, Cambridge Press, 1995, 288 pages ;
KUTOSW (Michael), Peter Brook, New York, Saint Martin's Press, 2005, 334 pages ;
LA BARDONNE (Mathilde), «Brook, le Sud-Africain», Libération, du 11 décembre 1999 ;
MARIN LA MESLEE (Valérie), «The Suit, un costume enchanté aux Bouffes du Nord», Le Point, du 6 avril 2012 ;
MEREUZE (Didier), «Peter Brook, le théâtre du monde», La Croix, du 26 décembre 2009 ;
OLIVIER (Aurélie), «Rire pour ne pas pleurer. Sizwe Banzi est mort», Théâtre et musique, 2007, vol 3, n°124, 65-68 ;
RATCLIFFE (Michael), «Peter Brook, Obituary», The Guardian, du 3 juillet 2022 ;
ROMEAS (Nicolas), «Rencontre avec un homme remarquable», Théâtre, 2 avril 2000 ;
RUFFINI (Rosaria), «Les Afriques du théâtre de Peter Brook», Africultures, 2013, vol 2-3, n°92-93, pages 284-291 ;
RUFFINI (Rosaria), Les Afriques du théâtre de Peter Brook, thèse université de Paris III avec l'université de Bologne, 2010, 607 pages ;
TREWIN (John, Courtney), Peter Brook, London, Macdonald and Co, 1971, 216 pages ;
WYNANTS (Jean-Marie), «Peter Brook, les Blancs ont les Noirs en eux. Woza Albert. Le Christ s'arrête à Soweto», Le Soir de Belgique, du 5 avril 1990.
Paris, le 3 juillet 2022 par Amadou Bal BA -