Journalists Speak Up for Julian Assange
In this appeal, supported by Mediapart, to all fellow professionals in every branch of the press and media, 120 journalists worldwide speak out in support of Julian Assange in the name of fundamental human rights and the public's right to know. The WikiLeaks founder is currently held in Belmarsh high-security prison in Britain, facing extradition to the United States for criminal prosecution under the Espionage Act and, if convicted, a sentence of up to 175 years in prison.
Julian Assange, founder and publisher of WikiLeaks, is currently detained in Belmarsh high-security prison in the United Kingdom and faces extradition to the United States and criminal prosecution under the Espionage Act. He risks up to 175 years imprisonment for his part in making public the leak of US military documents from Afghanistan and Iraq, and a trove of US State Department cables. The 'War Diaries' provided evidence that the US Government misled the public about activities in Afghanistan and Iraq and committed war crimes. WikiLeaks partnered with a wide range of media organizations worldwide that republished the War Diaries and embassy cables. The legal action underway against Mr Assange sets an extremely dangerous precedent for journalists, media organizations and the freedom of the press.
We, journalists and journalistic organizations around the globe, express our grave concern for Mr Assange's wellbeing, for his continued detention and for the draconian espionage charges.
This case stands at the heart of the principle of free speech. If the US government can prosecute Mr Assange for publishing classified documents, it may clear the way for governments to prosecute journalists anywhere, an alarming precedent for freedom of the press worldwide. Also, the use of espionage charges against people publishing materials provided by whistleblowers is a first and should alarm every journalist and publisher.
In a democracy, journalists can reveal war crimes and cases of torture and abuse without having to go to jail. It is the very role of the press in a democracy. If governments can use espionage laws against journalists and publishers, they are deprived of their most important and traditional defense – of acting in the public interest – which does not apply under the Espionage Act.
Prior to being moved to Belmarsh prison, Mr Assange spent more than a year under house arrest and then seven years inside the Ecuadorian embassy in London, where he had been granted political asylum. Throughout this time he was subjected to serious violations of his human rights, including having his legally privileged conversations spied on by organizations taking direct instruction from US agencies. Journalists visiting were subjected to pervasive surveillance. He had restricted access to legal defense and medical care and was deprived of exposure to sunlight and exercise. In April 2019, the Moreno government allowed UK law enforcement officers to enter the Ecuador embassy and seize Mr Assange. Since then he has been held in solitary confinement for up to 23 hours a day and, according to visitors, is "heavily medicated". His physical and mental health have seriously deteriorated.
As early as 2015 the United Nations Working Group on Arbitrary Detention (WGAD) determined that Mr Assange was arbitrarily detained and deprived of his liberty, and called for him to be released and paid compensation. In May 2019, the WGAD reiterated its concerns and request for his personal liberty to be restored.
We hold the governments of the United States of America, the United Kingdom, Ecuador and Sweden accountable for the human rights violations to which Mr Assange has been subjected.
Julian Assange has made an outstanding contribution to public interest journalism, transparency and government accountability around the world. He is being singled out and prosecuted for publishing information that should never have been withheld from the public. His work has been recognized by the Walkley Award for Most Outstanding Contribution to Journalism in 2011, the Martha Gellhorn Prize for Journalism, the Index on Censorship prize, the Economist's New Media Award, the Amnesty International New Media Award, the 2019 Gavin MacFadyen Award and many others. WikiLeaks has also been nominated for the UN Mandela Prize in 2015 and for the Nobel Peace Prize seven times (2010-2015, 2019).
Mr Assange's reporting of abuses and crimes is of historic importance, as have been the contributions by whistleblowers Edward Snowden, Chelsea Manning and Reality Winner, who are now in exile or incarcerated. They have all faced relentless smear campaigns waged by their opponents, campaigns that have often led to erroneous media reports and a lack of scrutiny and media coverage of their predicaments. The systematic abuse of Mr Assange's rights for the past nine years has been understood and protested by the Committee to Protect Journalists, the International Federation of Journalists and leading human rights organisations. But in public discussion there has been an insidious normalising of how he has been treated.
United Nations Special Rapporteur on Torture Nils Melzer investigated the case and in June 2019 wrote:
"it finally dawned on me that I had been blinded by propaganda, and that Assange had been systematically slandered to divert attention from the crimes he exposed. Once he had been dehumanized through isolation, ridicule and shame, just like the witches we used to burn at the stake, it was easy to deprive him of his most fundamental rights without provoking public outrage worldwide. And thus, a legal precedent is being set, through the backdoor of our own complacency, which in the future can and will be applied just as well to disclosures by The Guardian, the New York Times and ABC News".
"By displaying an attitude of complacency at best, and of complicity at worst, Sweden, Ecuador, UK and US governments have created an atmosphere of impunity encouraging Mr Assange's uninhibited vilification and abuse. In 20 years of work with victims of war, violence and political persecution I have never seen a group of democratic States ganging up to deliberately isolate, demonize and abuse a single individual for such a long time and with so little regard for human dignity and the rule of law."
In November 2019, Melzer recommended that Mr Assange's extradition to US be barred and that he be promptly released. "He continues to be detained under oppressive conditions of isolation and surveillance, not justified by his detention status (…) Mr Assange's continued exposure to arbitrariness and abuse may soon end up costing his life," said Melzer.
In 1898, French writer Émile Zola wrote the open letter J'accuse…! (I accuse) to warn about the wrongful sentencing to life in prison of a military officer named Alfred Dreyfus on espionage charges. Zola's stance entered history books and still today stands for our duty to fight miscarriages of justice and to hold the powerful to account. This duty is as necessary as ever today, when Julian Assange is being victimized by governments and faces 17 charges[1] under the US Espionage Act, legislation that also dates back over a hundred years.
As journalists and journalists' organizations that believe in human rights, freedom of information and of the public's right to know, we demand the immediate release of Julian Assange.
We urge our governments, all national and international agencies and fellow journalists to call for an end to the legal campaign being waged against him for the crime of revealing war crimes.
We urge our fellow journalists to inform the public accurately about this abuse of fundamental rights.
We urge all journalists to speak up in defense of Julian Assange at this critical time.
Dangerous times call for fearless journalism.
[1]    There is a further charge under different legislation, making a total of 18 charges.
To sign this appeal, please click here.
The following are the first 120 journalists to support the appeal:
1. Serena Tinari, Switzerland, Investigative journalist, chairwoman investigativ.ch, Re-Check.ch
2. Nicky Hager, New Zealand, Investigative journalist, freelance
3. Blaž Zgaga, Slovenia / Croatia, Investigative journalist, freelance / Nacional
4. John Pilger, UK, Journalist, author & film-maker
5. Mark Lee Hunter, France / USA, Founding member, Global Investigative Journalism Network
6. Giannina Segnini, USA, Columbia Journalism School, Director
7. Ides Debruyne, Belgium, Managing director, Journalism Fund
8. Daniel Ellsberg, USA, Journalistic source (source of the top secret Pentagon Papers to 17 newspapers)
9. Elena Vinogradova, Russia, Editor, Open Media
10. Nils Mulvad, Denmark, Editor and partner / Responsible editor, Kaas & Mulvad / Investigative Reporting Denmark / Åbenhedstinget
11. Tanja van Bergen, Netherlands, Journalist and trainer, former managing director Dutch-Flemish Association of Investigative Journalists VVOJ, freelance
12. Alain Lallemand, Belgium, Investigative journalist, ICIJ Alumni, Le Soir
13. Daniel Santoro, Argentina, Editor, Clarin / FOPEA
14. Catherine Riva, Switzerland, Investigative journalist, Re-Check.ch
15. Bill Birnbauer, Australia, Adjunct senior lecturer Monash University / founder Democracy's Watchdogs
16. Chris Hedges, USA, Columnist and author, Truthdig
17. Sabrina Provenzani, UK, Journalist / UK contributor, Il Fatto Quotidiano
18. Anthony Bellanger, Belgium / France, General Secretary, International Federation of Journalists (IFJ)
19. Noam Chomsky, USA, Political and media commentator, Massachusetts Institute of Technology (MIT)
20. Alia Ibrahim, Lebanon, Co-Founder, CEO, Daraj
21. Stefan Candea, Romania, Investigative coordinator, Romanian Centre for Investigative Journalism
22. Staffan Dahllöf, Denmark / Sweden, Reporter, freelance
23. Asaad Al-Zalzali, Iraq, Investigative journalist, freelance
24. Dylan Welch, Australia, Investigative journalist, ABC News Australian Broadcasting Corporation
25. Martin Stoll, Switzerland, Managing director Öffentlichkeitsgesetz.ch (Swiss Foia), vice-chair investigativ.ch
26. Lucy Komisar, USA, Investigative journalist, The Komisar Scoop
27. Branko Čečen, Serbia, Director, Center for Investigative Journalism of Serbia
28. Syed Nazakat, India, Founder and editor-in-chief, DataLEADS
29. Marco Travaglio, Italy, Editor-in-chief, Il Fatto Quotidiano
30. John-Allan Namu, Kenya, Investigative journalist and CEO, Africa Uncensored
31. Saša Leković, Croatia, Investigative reporter, editor & trainer, freelance
32. Myret Zaki, Switzerland, Independent journalist, former editor Bilan, writer economical essays, myretzaki.com
33. Joël Matriche, Belgium, Investigative journalist, Le Soir
34. Ruth Hopkins, South-Africa, Investigative journalist, independent
35. Adriana Homolova, Netherlands, Data and investigative journalist, freelance
36. Mark Curtis, UK, Editor, Declassified UK
37. Carlos Enrique Bayo, Spain, Chief editor investigations, Diario PÚBLICO
38. Riccardo Fanciola, Switzerland, Journalist, independent
39. Vanessa Boy-Landry, France, Journalist, Paris Match
40. Gregory Gondwe, Malawi, Lead investigative journalist (Executive Director), Platform for Investigative Journalism (PIJ) Malawi
41. Zeynep Sentek, Germany / Turkey, Journalist / Managing editor, The Black Sea
42. Kerry O'Brien, Australia, Chair, Walkley Foundation
43. Tamas Bodoky, Hungary, Editor, Atlatszo.hu
44. Patrick Mayoyo, Kenya, Editor, Next Generation Media Ltd
45. Craig Shaw, United Kingdom, Investigations Editor, The Black Sea / freelance
46. Cecilia Anesi, Italy, Reporter, IRPI.eu
47. Begoña Pérez Ramírez, Spain, Journalist, infoLibre
48. Dominique Strebel, Switzerland, Investigative journalist, lecturer, media law expert, Republik.ch
49. Hanene Zbiss, Tunisia, Investigative journalist, freelance
50. Ryan Grim, USA, Washington Bureau Chief, The Intercept
51. Mihailo Jovović, Montenegro, Editor at Large, Vijesti
52. Roberto Jurkschat, Germany, Freelance journalist, rbb, ARD
53. Andrew Fowler, Australia, Author, journalist, ex ABC TV investigative reporter
54. Emmanuel Dogbevi, Ghana, Managing Editor, Ghana Business News
55. Jonathan Cook, Britain / Israel, Reporter and Columnist
56. Sandra Bartlett, Canada, Investigative journalist
57. Edwy Plenel, France, President and co-founder, Mediapart.fr
58. Carlos Eduardo Huertas, Latin America, Director, CONNECTA
59. Dylan Welch, Australia, Australian Broadcasting Corporation investigations team
60. Jane Whyatt, Germany / UK, Journalist, Film-maker
61. Patrick Vallélian, Switzerland, Director and publisher, sept.info
62. Berislav Jelinić, Croatia, Editor-in-chief, Nacional
63. Stefano Vergine, Italy, Reporter, freelance
64. Dallas C. Galvin, U.S.A., Editor, Root & Branch News
65. Slobodan Despot, Switzerland, Founder and director, antipresse.net
66. Brice Ivanovic, France, Journalist, independent
67. Frédéric Pfyffer, Switzerland, Journalist, documentaries unit deputy head, RTS
68. Annissa Warsame, Germany / UK, Journalist
69. Sylke Gruhnwald, Switzerland, Investigative journalist, freelance
70. Lara Aerts, Netherlands, Journalist
71. Romaine Jean, Switzerland, Journalist, columnist, consultant, independent
72. Giuseppe Giulietti, Italy, President, Federazione Nazionale Stampa Italiana (FNSI)
73. Jeff Sparrow, Australia, Journalist and Guardian columnist
74. Olayinka Oyegbile, Nigeria, Deputy Editor, The Nation Newspapers
75. Rui Araujo, Portugal, Investigative journalist
76. Purity Kinyamu, Kenya, Data journalist, Africa Uncensored
77. Trevor Timm, USA, Co-founder and executive director, Freedom of the Press Foundation
78. Gehad Abbas, Egypt, Investigative journalist
79. Luis Nhachote, Mozambique, Executive coordinator, Centro de jornalismo investigativo (www.cjimoz.org)
80. Matteo Scanni, Italy, Founder and director, DIG Awards Documentari Inchieste Giornalismi
81. George Monbiot, UK, Columnist and author
82. Christian Campiche, Switzerland, journalist, writer, musician / Founder and director., Infoméduse.ch
83. Adrian Mogos, Romania, Journalist, freelance
84. Emmanuel Vire, France, General Secretary, Syndical national des Journalistes CGT (SNJ-CGT)
85. Diana Moukalled, Lebanon, Co-Founder, Managing Editor, Daraj
86. Antony Loewenstein, Israel/Australia, Independent journalist, author and film-maker
87. Josef Redl, Austria, Editor, Falter
88. Iqbal Athas, Sri Lanka, Investigative journalist
89. Francesca Skoknic, Chile, Journalist
90. Paul Mason, UK, Journalist, independent
91. Bastian Obermeyer, Germany, Head of investigations, Süddeutsche Zeitung
92. Barbara Spinelli, Italy, Columnist, journalist, former MEP
93. Gerald Bermudez, Colombia, Photojournalist
94. Blaise Lempen, Switzerland, Secretary General, PEC (Presse Emblème Campagne)
95. Anna Brees, UK, New Media journalist, Brees Media
96. Omer Andriaminah, Madagascar, IT Officer, Safety and Security Focal Point and OSINT practitioner, Malina.mg
97. Hugo Alconada Mon, Argentina, Investigations editor, La Nación
98. Evert De Vos, Netherlands/Belgium, Chairman, VVOJ – Dutch/Flamish organization of investigative journalists
99. Viktor Parma, Switzerland, Journalist, author, columnist. Ombudsman lobbywatch.ch, independent
100. Alberto Nerazzini, Italy, Co-founder DIG Awards, investigative journalist, director Dersu Productions, Dersu Productions
101. Melanie McFadyean, UK, Journalist, independent
102. Paddy Manning, Australia, Author and contributing political editor, The Monthly magazine
103. Yann Philippin, France, Reporter at the investigative department, Mediapart.fr
104. Halima Athumani, Uganda, Freelance journalist, Voice of America
105. Hazem Al-Amin, Lebanon, Co-Founder, Editor-in-chief, Daraj
106. Guy Rundle, Australia, Correspondent-at-large, Crikey
107. Phil Miller, UK, Staff reporter, Declassified UK
108. Susanne Reber, USA, Executive Producer, Podcasts, Scripps Washington Bureau
109. Peter Cronau, Australia, Journalist and Producer, ABC News Australian Broadcasting Corporation
110. Sandro Ruotolo, Italy, Investigative journalist, fanpage.it
111. Quentin Dempster, Australia, Author and former TV investigative reporter
112. Gianluigi Nuzzi, Italy, Writer and journalist
113. Matt Kennard, UK, Investigative journalist, Declassified UK
114. Charles Glass, UK, Writer, journalist, broadcaster and publisher
115. Julian Claudi, Germany, Videojournalist, Deutsche Welle (DW)
116. John Goetz, Germany, Editor, investigations, NDR
117. Mohamed Kabba, Sierra Leone, Regional secretary, Sierra Leone Association of Journalists (SLAJ)
118. David Crouch, Sweden, Senior lecturer, Department of Journalism, Media and Communication, University of Gothenburg
119. Vaughan Smith, UK, Videojournalist, Freelance
120. Fabiola Torres, Peru, Director, Salud con Lupa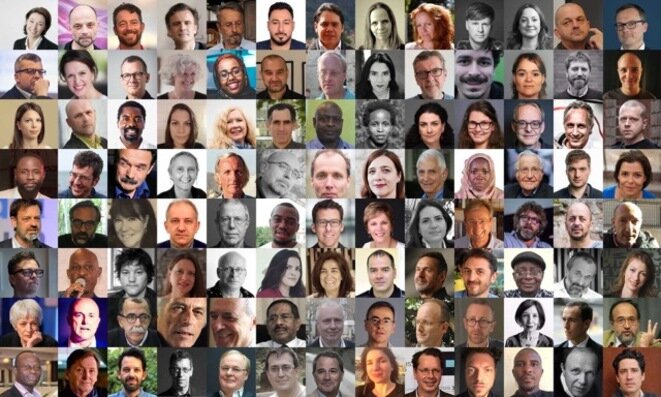 © DR
Le Club est l'espace de libre expression des abonnés de Mediapart. Ses contenus n'engagent pas la rédaction.