The UK police intrusion in Ecuadorian Embassy on April 11 is a grave date that only few people keep in mind for one reason: Julian Assange was pilloried, in two steps:
Moral killing backed by fake news, deontological faults and targeted hitting.
Omerta. In France, in the form of almost complete media silence-indifference. In the United Kingdom and other Western countries, the dominant media reporting was very poor, laconic, random.
One "NGO" representative of its corporation
Most people have thus turned away from the fate of a man allegedly unclean, we citizens whose attention balances between our growing material concerns, our various struggles, our little pleasures, and the flow of real and false public problems pouring down on our heads.
In this context of a political-media blockade against a computer skilled journalist, two NGOs have a particular responsibility. Reporters Without Borders, on the one hand, published an undated portrait of the "Information Hero": "Julian Assange divides opinion – some see him as an advocate of transparency, others as a terrorist". RSF chose its side in the open letter to the founder of WikiLeaks on August 12, 2010: "On the other hand, disclosing the identity of hundreds of coalition collaborators in Afghanistan is dangerous". Reporters Without Borders does not disclose any proof or detail of the "dangerous" disclosures, nor does it include the denials firmly asserted by Julian Assange. Why give the floor to a colleague when you defend him so well? The title of the open letter, "A bad precedent for the future of the Internet", inaugurates this press release from the journalist league, punctuated with the signature of Secretary General François Julliard next to that of the NGO representative in Washington DC, Clothilde Le Coz.
This very badly justified condemnation is followed, after the 11 April kidnapping, with a shy support not even published in English: "Arrest of Julian Assange: RSF calls on the United Kingdom to respect the principle of protection of journalistic sources". We propose to RSF (Reporters Without Borders French initials) the new mantra: "Protect sources, persecute journalists".
We could have expected a more decent treatment from the other organization, once considered competent, founded in 1960 by the British (yes) lawyer (yeah) Peter Benenson in favour of prisoners of conscience (right).
The International Amnesia of Amnesty
In his most virulent October 21 article published in English and Belgian-French language, Amnesty International's Deputy Director for Europe is one step away from undermining the British crown: "The British government must acknowledge the real risk of serious human rights violations against Julian Assange if he is sent to the United States and must reject the extradition request". Well, the Deputy Massimo Moratti is far from assuming his responsibilities. It is easy game to question the future; but Julian Assange's human rights are being violated right now as well as in the past. The last human rights violation was stamped on May 31 by Niels Melzer, the UN representative against torture with a clear "psychological torture" diagnosis. In view of their press releases, Massimo Moratti and his staff overlooked this (minor?) fact.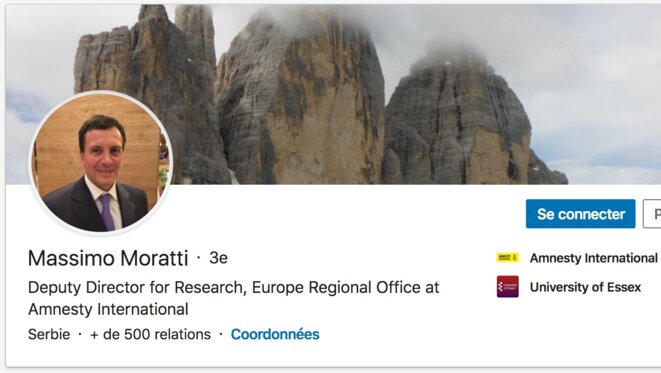 No less important is the fact that Julian Assange is persecuted in a blatant and easily demonstrable way, for political reasons. These reasons strongly remind us of the NGO creation "in favour of prisoners of conscience". In any of the press releases he has been supervising since April, Mr Moratti never affirms or mentions Julian Assange's status as a political prisoner.
Massimo Moratti had months and years to recall the initial purpose of his NGO: pushing release of political prisoner and in the meantime improving their condition. Deaf to the psychological torture state of Julian Assange, he did not even push to obtain a medical report signed by Belmarsh prison doctors. He is subject to amnesia up to the point of forgetting his basic duties.
Moreover, Mr. Moratti cannot be accused of not having reported the state of mental health that the forty members of the public attending the October 21 hearing, where Julian Assange was allowed to appear physically in court, were able to observe with their eyes and ears wide open. Indeed, the Amnesty International press release appeared at 10 a.m.; a few hours too early, such a dam. You should never rush, "Chi va piano va sano" say the Italians. A number of observations, including the blatant efforts that Julian Assange had to make to pronounce a few sentences of underestimated importance, show that he shows serious symptoms of mental torture. It is undeniably necessary to release this man, who remains in prison for a unique formal reason, namely the failure by his lawyers to pronounce his request for release (a two month old story, Massimo Moratti might not remember it). In other words, Julian Assange is ruling-wise free since September 22.
Sour-bitter-acid Amnesty International mixture
Amnesty International cannot remain silent on Assange. On April 11, June 13, October 21 2019, they split up into press releases the following crescendo:
"Julian Assange must not be extradited to the USA"
"The United Kingdom must refuse to extradite Julian Assange to the United States"
"EXTRADITION OF JULIAN ASSANGE TO THE UNITED STATES MUST NOT GO AHEAD"
A power raise of such amplitude, which can only be equalled by the full throttle takeoff of a Boeing chartered by the CIA for its "extraodinary rendition", carries the risk of the ultimate crash:
THE UNITED KINGDOM SHOULD NOT HAVE ALLOWED J. ASSANGE TO EXTRADITE TO THE UNITED STATES
Leaving aside the politics of fiction, we come across one of those details behind which the devil is hiding (in the Assange case they have the density of an impassable jungle), a coarse detail however, in the form of a hyperlink. In the Anglo-American version of the October 21 press release, the link is in the last word of the last sentence, and it points, guess where, to the Swedish case whose subject is SEX. What Amnesty International believes should be remembered from this extradition story is "J. Assange" and SEX.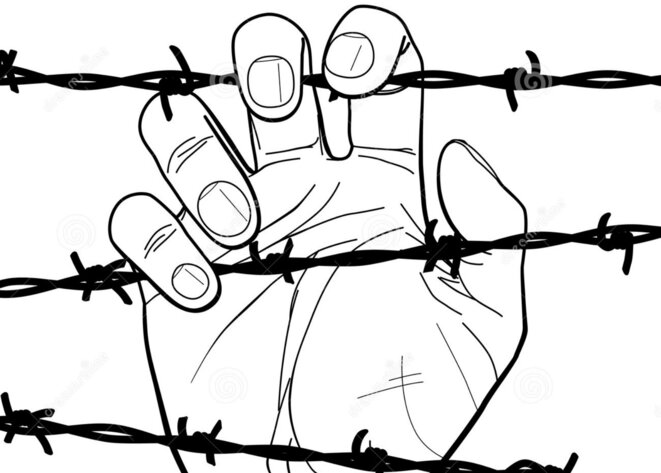 Saturated as we are by the mainstream media's insistence on titling with a four-letter term in a quasi systematic fallacious way (see also annex part), we will write it backwards: it is through the LOIV (VF), or EPAR (Anglo-American version), that the NGO wishes to conclude its guilty defense against Julian Assange. The hyperlink points to the Amnesty article published on May 13 under the injunction "The allegations of epar must be treated with the utmost seriousness" (the inversion is of course our initiative). The double meaning is clear: the epar itself as much as the investigation require "seriousness". The publication is justified at this time, at the very least, by the reopening of the investigation by prosecutor Eva-Marie Persson, which raises fears of extradition to Sweden. See how subtile are the XXL, XL and small dimensions of the EPAR occurences: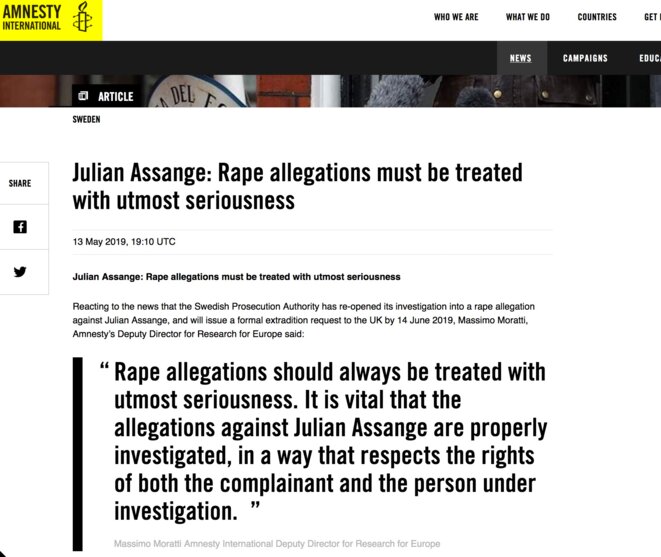 We were used to Loiv's or Epar's vision in propaganda lines, less in NGO ones, funded by our own to defend humans. Not satisfied with this displaced mimicry, Massimo Moratti lets false and aggravating things be written.
Amnesty International manages to splash 4 major mistakes within 14 introductory words :"...the Swedish Prosecution Authority has reopened its investigation into a charge of [loiv]...". All of them are in line with the accusation, an non-existing "accusation". Because a preliminary investigation (first error) by definition does not bring any charges (second error), and it is not the Authority (third error), but the individual initiative of a prosecutor that allowed the investigation to be reopened. We checked it with a retired Swedish judge: prosecutor Eva-Marie Persson may have consulted the opinions of other prosecutors, or even the Minister of Justice, the reopening does not come from the "Swedish Prosecution Authority". The difference is huge: the pressure exerted by the USA is enormous, and the "Authority" does not resist pressure, direct or indirect, in the same way as an individual. Such a degree of incompetence on the part of an organization with domestic legal services regarding a case of torture documented by the United Nations is monstrous.
The NGO perpetuates the moral persecution of Julian Assange through unprofessional and fallacious statements.
WORSE: In a letter sent to the wsws.org site, the UK Amnesty International correspondent writes :
"Julian Assange's case is a case we're monitoring closely but not actively working on. Amnesty International does not consider Julian Assange to be a Prisoner of Conscience."
This letter was made public and was not visibly denied. This public statement contributes to the Julian Assange situation degradation whose life is in danger. It is the duty of an NGO such as Amnesty International to clearly argue its motivations to support this affirmation, as it is now a matter of a man's life.
Mrs EVE GEDDIE, Director of the European Office of Amnesty International.
Mr KUMI NAIDOO, Secretary General of Amnesty International
Mrs NICOLE BIESKE, Director and member of the Supervisory Board of Amnesty International.
Mr TAWANDA MUTASAH, Head of Law and Politics, Amnesty International.
Mr THOMAS SCHULTZ-JAGOW, Head of Campaigns and Communications, Amnesty International.
Mr MASSIMO MORATTI.
National or regional or local level responsible people, who you feel directly or indirectly concerned, especially from UK, Sweden, Australia, Belgium, France, USA,
Given the summits of inanity and voluntary servitude that you have reached individually or collectively, we citizens from here and elsewhere can no longer ask you, wish you or expect anything from your organization. We can only do one thing: take in charge our matters with our own hands. Fight against the waste of public money.
Protect sincere freedom fighters from the worst without you,
Take care of Julian Assange Release without you
Latest News: Swedish Prosecutor abandons Julian Assange epar preliminary inquiry !!
Prosecutor Eva-Marie Persson announces today that "the evidence is not strong enough to form the basis of an indictment", and reaches the same conclusion as her colleague Eva Finné on year 2010, nine years before : inquiry is closed with no charge against Julian Assange. This is one more chance offered to Media to include the term EPAR or LOIV in their titles, lucky people.
Question: Why then did Eva-Marie Persson require to issue a European Arrest Warrant few month ago?  The answer is not warranted
Let us just note :
First : this is in line with our paper analysis published in French few days ago.
Second : saying that "evidence is not strong enough" is a huge euphemism, and there are enough elements to file a preliminary inquiry against some protagonists of the accusation, around blatant conflicts of interest and procedural defects. We know that there are citizens ready to fight for Julian Assange repairing from Swedish authorities, in order to make sure that he will be financially but more especially ethics-wise rehabilitated. Our guess is thus that this decision is just a beginning.
The Swedish Loiv case : Making one's own idea
First, what we call "fallacious way" concerning the media use of the term "rape", is the fact that rape is naturally associated in our minds to the trauma the victims are subject to, and that none of the two victims never alleged to have lived rape related trauma, as readers understand it. The plaintiffs called to swedish justice for facts that only swedish legislation refers to rape, or rather rape with minor gravity, facts that in any case should have been translated in other languages with term "sexual misconduct", much better adapted to the alleged reality given by the plaintiffs. Then it was very often associated the term "accused" or "accusation", generally understood by readers in a judiciary or legal acception, which means that a honest writing should have systematically recalled the swedish law related part, and the facts. Rarely done. Not to mention the fact that Julian Assange was never legally accused of anything in Sweden, as for the preliminary status of the inquiry.
Whatever the path through which the Assange case is accessed, the gap is as follows: the thickness of the smoke screens, which are conscientiously spread, combined with the apparent complexity of the situations, has the effect of leaving the interested citizen on the sidelines, whose time for analysis remains limited. And when belief-makers, formerly called "press organs", distill biased and siloed information, the result is disastrous, and the public opinion deprived of opinion naturally makes a moral judgement against Julian Assange, concerning the Loiv affair especially.
On this subject, a Swedish journalist did his job in an admirable and orderly manner. About seven years ago, he made available the basic documents that allow everyone to form their own opinion, without spending days looking for bits of very often biased information. Full police interviews are available in both Swedish and English, with different levels of analysis and formatting. Access can be found here: http://www.nnn.se/nordic/assange/protocol.htm
To display all the pages of the site that deal, for example, with the plaintiff Anna Ardin, we recommend the following search syntax (the Gogol engine is not necessary, duckduckgo does the job very well):
site:nnn.se ardin
We found no media mentioning it, neither Courage Foundation/defend.wikileaks.org, nor in the facebk and twitter accounts presented as central in the defence. Such a dam.
Credibility issues around the Anna Ardin plaintiff allegations
For a short discussion here, we give a summary of Anna Ardin's statement on August 21, 2010: In her apartment, the plaintiff Anna Ardin drinks tea with Julian Assange. He caresses her leg. The situation was "unpleasant right from the start", because Assange was "rough" and impatient. Things are rushing, he rips off her clothes and necklace with them; she tries to get dressed again, because "she felt uncomfortable", but he undresses her immediately. She no longer wants to, but "it was too late to tell Assange to stop as she had "gone along this far". She thought she "had only herself to blame"". Then they go to bed, she resists by squeezing her legs "because he didn't wear a condom", coitus ends up being done with a condom...
This summary is sufficient to reflect the impression that a complete reading suscites to almost unanimous readers: Anna Ardin describes a rape scene in the clearest sense of the word. We could even say rape with violence. But what is Anna Ardin doing at that time, and without ever changing her position? She does not file a complaint for rape, but for a sexual offence related to condom use (the details are not relevant here). Anna Ardin is an experienced woman, a politician experienced in social relationships. She is not a young woman who would minimize the impact of the thing in front of a dominant or threatening person (or entourage). Given her description, it is extremely surprising that she does not file a complaint for characterized rape. From the outset, there is a huge concern for credibility in this statement. But there is more : the Julian Assange questionning does not mention to Assange this part of the testimony of Anna Ardin; he thus can not contradict this part of the Anna Ardin version in front of the policeman!!! This looks like a huge procedural defect.
The inconsistencies related to the other plaintiff Sofia Willen are also numerous, it would be too long to discuss them here. Just note that she was influenced by Anna Ardin to push further her case; thus, if Anna Ardin credibility is questionned, the whole story is questionned.
All the other research (conflicts of interest, tweets sent and then deleted...) only undermine the credibility of Anna Ardin allegations. The "Police Interview Protocols" document includes the interrogation of 12 people. The one by journalist Johannes Wahlström is particularly interesting, and probably contributed to the initial abandonment of the investigation by prosecutor Eva Finné. Having met Julian Assange in a short but dense time, he describes the character that everyone could perceive, i.e. the opposite of someone impatient, rude, brutal. He is concerned about the young women who are supposedly journalists crowding around Assange, and he informs Julian Assange to be careful. Johannes Wahlström even implicitly mentions the possibility that Julian Assange may have been drugged. Assange deposition is coherent with this assumption, because his remembering is unprecise at some point (of course, one can say that he hid details willingly, this is why everyone who is eager to make any moral judgement has to read the whole protocol, and take knowledge of the protagonists conflicts of interests, personalities…). Our edition discussed some of the protagonists stories, type following search syntax if interested:
site:blogs.mediapart.fr/edition/liberez-assange-ethiques-et-medias Bodstrom
site:blogs.mediapart.fr/edition/liberez-assange-ethiques-et-medias Ardin Ny
The point for Justice is to put efforts where it should, otherwise it takes risks to miss true severe cases with deeply traumatized victims.
In the meantime, the French government attempted to remove the age of sexual consent from the legislation, which is 15 years old. The French parliament backed by horrified associations managed to block this intiative, but the new law text related to abuses kept a tendency to replace the term underage by the term victim. Are these means to fight against paedocriminality? Another way is to track paedocriminals, and Julian Assange with WikiLeaks published many leaks related to this issue, as we discussed, not enough though, in our edition.
Let us now decline a few words spoken by a Julian Assange harassed by years of confinement, on the verge of tears but still proud and standing up, on a balcony of what looked like an embassy:
... because the reality is[that] the tension and extradition without charge has become a feature of the European Union. A feature which has been exploited, yes, in my case, for political reasons. But in other cases has subjected many people to terrible injustice.