For Manu, an "incorrigible"
Our colleague, comrade and friend Manuel Jardinaud died on Tuesday March 9th following a heart attack at the age of 49. He had joined Mediapart four years ago, in April 2017, and he became an indispensable member of our editorial team.
We called him Manu, and since several weeks we had been gripped with forced hope. After the heart attack that struck him down on the evening of January 23rd, the medical teams of the Paris hospital La Pitié-Salpétrière have done the impossible to save him, watching for signs of him awakening and gestures of consciousness. But these last few days it had to be recognised that he would not come back, and then to let him gently leave, surrounded by those close to him; in the company of his family, his daughter Rosalie, his sisters and his friends, to who all of us at Mediapart present their very sad condolences.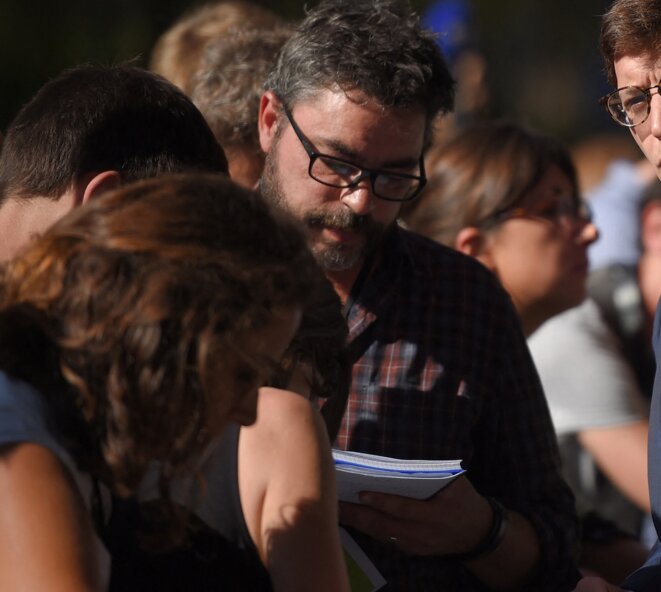 Manuel Jardinaud on reporting duty. © AFP
When we collectively shared the news, last Thursday, during an emotional editorial meeting, this disappearance had the effect of a seism. Mediapart is a young team, mostly 30- and 40- somethings. Over the 13 years of Mediapart's existence, it is more used to celebrating births than mourning deaths. To see one among us struck down at 49-years-old, in the full force of life, is an emotional shock which, for our small collective body, was such a heavy weight, when also current news, which is our raw material, is hardly cheering.
Even more so in that the death of Manuel Jardinaud, this so lively of souls, is an exceptional loss. We have lost a beautiful person, a fine friend and an honest journalist. Contrary to the grandstanders and the pretentious figures of our profession, those simple words suit him well, such as they speak of a rare richness of character, of a conviviality and generosity in friendship, of availability, of enthusiasm for others, and curiosity about the world around. 
When, in 2017, he joined the social affairs desk at Mediapart, Manu was already an experienced journalist who had made reporting on social issues his professional vocation; to the point of returning to that field these last few months after a long period with the political affairs desk, where he followed the parties of the Left, and the current ruling centre-right LREM party, reporting on debates in Parliament and the life of political parties, while always questioning professional politics from the point of view of people's daily experiences. To the point also, and in a way joining the theoretical with the practical, of being elected by our staff to our works council, the Social and Economic Committee (CSE), where he brought his generosity and sympathetic ear to all sectors of our company.
He served for three years as president of France's association of social affairs' journalists, the AJIS, and joined the editorial team at Liaisons Sociales Magazine, a magazine of reference in the field of labour relations, before leaving it in January 2017 in opposition to a change in the monthly's ownership. Before that he had worked for ten years as a freelance specialised on questions of employment, training and human resources, contributing to numerous and diverse publications.
It was at that time that he became a mainstay of a collective called "Les incorrigibles" (which continues to exist), created by freelancers as a body promoting the mutual help and independence of independent journalists against the deleterious effects of job insecurity. So it was therefore no accident that Manu's first article for Mediapart was about the pioneering campaign of about 50 freelance vehicle-for-hire chauffeurs who were demanding fixed employment contracts from the digital platforms that were exploiting them.    
There soon followed a tide of reports, investigations, and analysis pieces by him that were peppered with revelations, notably the leaked details about the labour law reform then introduced by Emmanuel Macron's new government, prompting his labour minister, Muriel Pénicaud, to file a legal complaint. Manu never went about his stories in the superior manner of some supposed experts who pontificate without any grasp of reality, or those who are the compliant relay of PR services. Under his pen, he would produce a serious study of subjects in order to clearly explain them in an enlightening manner, but always accompanied by real-life accounts, in-the-field reporting and investigations into the situations of those primarily concerned by an issue. Just one week ago, the south-east France regional daily La Provence paid tribute to him personally for his investigation into the forgotten contributions and conditions of home-help workers during the Covid-19 epidemic, which, as it reported, helped lift their invisibility.
Looking back on his 300 articles published by Mediapart, which can be found here (and specifically those translated into English here), I was reminded of the celebrated quotation from the Latin poet Terence: "I am human; I consider nothing human to be alien to me" (Homo sum; humani nihil a me alienum puto). When, in the autumn of 2017, Mediapart's editorial team decided, with the beginning of the #MeToo movement, to expand its coverage of the issue of sexual violence, Manu was obviously one of the first on the case (see notably here and here). His enthusiasm was similarly directed at so many other topics, from questions of asylum and migration to issues of democratic ethics, in which his insatiable curiosity always let surface a contained anger in face of injustice and lies.   
It was part of a coherence that went far back and which had no boundaries. A conscientious objector when called up for national service, he chose, as he could, to serve the period with the NGO Reporters Without Borders (RSF), with which he worked on the Asia-Pacific region and Turkey. He left RSF at the time of the notable expansion of internet start-ups in the period 1999-2000, when he went to work with one of them in Sweden, creating tourist guides for mobile phone apps, which led him to co-author travel guides for publishing house Gallimard on the Provence region of south-east France and the island of La Réunion. 
It was also at that time, when Manu was aged 29, that he was struck by tragedy, an ordeal of which the pain no doubt always remained. His father, Gilles Jardinaud, was the flight engineer present on the Air France Concorde airliner which crashed 90 seconds after its take-off from Roissy-Charles de Gaulle airport on July 25th 2000, leaving no survivors. The accident was caused by a metallic strip that remained on the tarmac after the preceding take-off of a Continental Airlines DC-10 plane. But as is often the case in such disasters, the families of the victims had to endure rumours and prevarications before the truth was officially, and legally, established.
Manu was among the first to demand that the truth be established, with the same concern to understand and explain which made him a journalist who was rigorous in his reporting and cautious in his conclusions. An example of this is his article published in French daily Libération in 2004, in which he recounted how his father had told him of the technical weaknesses of a plane that had become such a source of national pride that the warnings of its crews were ignored. "My father didn't hide [the fact] that Concorde was a difficult plane," he wrote in his article in Libération. "An ageing aircraft that demanded permanent vigilance while flying. It was indeed quite rare that a crossing of the Atlantic took place without incidents. But, despite all, he was part of a family; that of Concorde."
(The French lawyers representing the family of the chief pilot, Christian Marty, published this open letter, in French, on Mediapart in 2013 to denounce the lack of consideration of safety in the name of prestige and economic considerations).
I don't know whether Manu would have said that Mediapart had become a part of his family, and for my part I'm not one who likes saying that sort of thing, such as it is that professional life is not a part of this intimate fold. But it is no less true that we spend a great deal of our lives together, not just in work but also chatting, laughing, discussing, eating and drinking, celebrating, dancing, singing and joking. Because, behind the façade of a living media organisation, there is a world of infinite personal relations and interactions, where pleasures and incidental moments are intertwined, with surprises and meetings, and a whole bundle of sensitivities and emotions.
It is all that which we now feel so painfully with the departure of Manuel Jardinaud, knotting the sadness of the present and the joys of the past. Because remembering Manu is the souvenir of so many moments spent together, crazy and wacky, convivial and musical, all inhabited by that insatiable appetite for life, and which wards off all ideas of death. On December 2nd 2020, when we organised an online – Covid oblige – exchange with our readers, he sent an email on our internal messaging group, saying, "Let's celebrate all the same", accompanied by an emoji depicting a Champagne bottle.
That was followed by a link to the final scene of the Danish film Drunk, released during 2020, the year of lockdown. We invite you here (below) to savour that moment, with a thought for the flight of Manu, for the man who is our sorely missed "incorrigible". 
Le Club est l'espace de libre expression des abonnés de Mediapart. Ses contenus n'engagent pas la rédaction.