Mediapart publishes its 2019 accounts and results
As it does every year in the month of March, Mediapart has just published all its latest annual accounts. The year 2019 has marked the consolidation of our independence, not only through the transfer of our capital to the Fonds pour une presse libre, a not-for-profit endowment fund 'for a free press', but also with the demonstration of Mediapart's structural economic viability thanks to historic readership figures and financial results.
As an online publication with three updated editions every day, Mediapart permanently works to the rhythm of events, both those that feature on the news agenda and those resulting from the revelations of its investigative reports. But its inner life as a press organisation, presented in this annual booklet in which is published all our key figures, accounts and results, can of course vary in intensity from one year to the next.
And from that point of view, 2019 will mark an exceptional year in the history of Mediapart, one that is as important as that of its editorial creation (in 2008) or that when it reached financial equilibrium (in 2010).
Two events singularly distinguish 2019. One is securing the definitive safeguarding of our independence through the transfer of all our capital into a not-for-profit structure. The other is the strong progression of the numbers of our subscribers, and in turn of our financial results, which confirms the consistency and solidity of our growth.    
Since October 15th 2019, Mediapart no longer has shareholders (see more detail about this here).
The innovative invention represented by Mediapart's creation – which was editorial (an entirely digital daily news publication), professional (a collective culture of investigative journalism), democratic (a radically participative publication) and commercial (a paid-for model based on subscription) – is now enriched by a capitalistic invention that has no equivalent in the French press. Via an entity called the 'Société pour la protection de l'indépendance de Mediapart' (SPIM), our publication now belongs to the 'Fonds pour une presse libre' (FPL) – an endowment fund 'for a free press', which preserves and definitively protects the independence of Mediapart.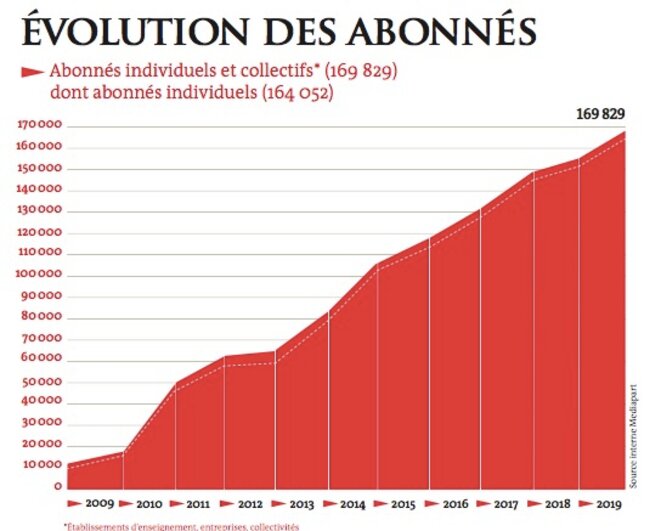 Abonnés de Mediapart
Above: the yearly progression of numbers of individual and collective subscribers (educational institutions, companies, groups) which altogether totalled 169,829 on December 31st 2019 (of which 164,052 are individual subscribers).
With close to 170,000 subscribers at the date of December 31st 2019, representing a year-on-year increase of 12.8%, Mediapart recorded its most successful financial results in 12 years of existence:
2019 turnover was 16.8 million euros (up by 21.68% on 2018):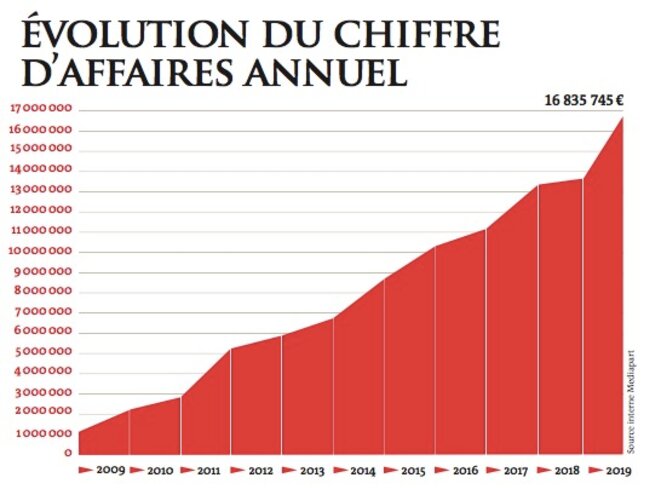 Chiffres d'affaires de Mediapart

Above: the yearly progression of turnover (in euros).
Current earnings of 4.3 million euros (representing 26% of turnover):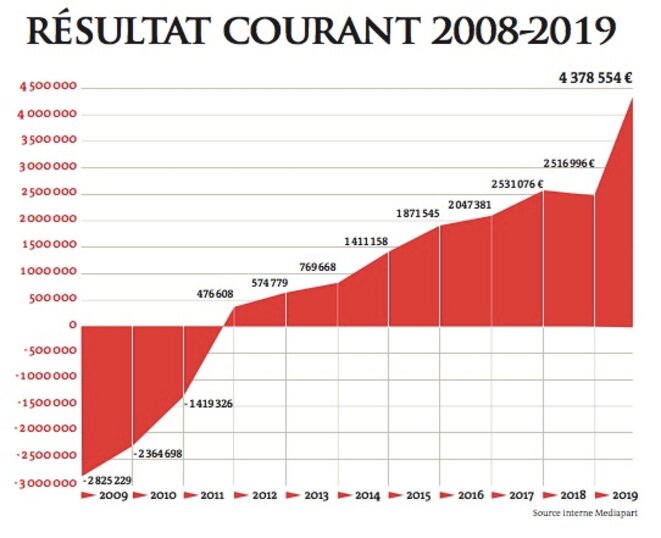 Résultat courant de Mediapart
Above: the yearly progression of current earnings (in euros) between 2009-2019.
Net income of 2.3 million euros (after deduction, as well as taxes, of a notable increase in employee bonus scheme payments with the redistribution of 703,615 euros):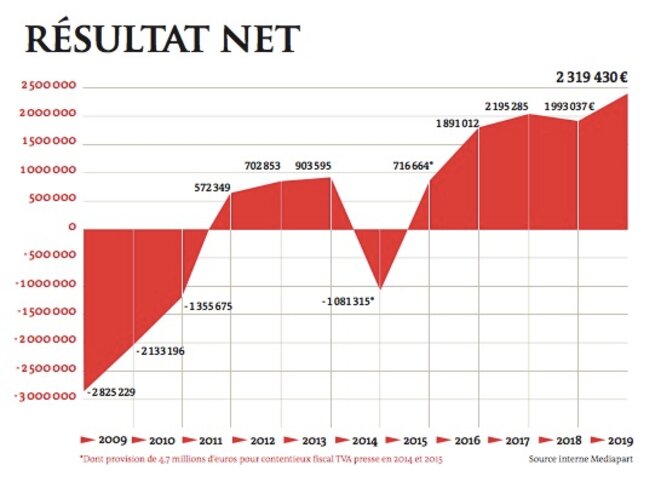 Résultat net de Mediapart

Above: the yearly progression of net income (in euros) between 2009-2019.

These results allow Mediapart to continue its regular investment in developing its editorial, technical and commercial activities.

Mediapart's independence is thus doubly guaranteed: by that of a legal structure that protects us against any form of predation – a loss of control or a raid on our capital – and also by the structural economic success that offers the best possible protection – namely, the support and adherence of a growing number of loyal subscribers.

It goes without saying that this success comes with requirements placed on us. Far from inviting a comfortable pause, it is an expectation that we continue along the demanding path that we have always chosen to follow. That of a publication in the public interest, one of quality and rigour, that is both multimedia and participative, and, above all, one that is constantly attentive to the movements within society and always placing itself at the service of the public's right to know.

None of this would be possible without the support of all those who, through their subscriptions, give life to Mediapart. It is indeed the only income received by Mediapart, which neither asks for, nor is given, any subsidies, whether they be from public funds or private donations. This yearly exercise in transparency is thus also an opportunity to give our hearty thanks to all our loyal readers. 

The annual red book reporting on our activities, here marking Mediapart's 12th year, which contains all the latest information on our operations, projects and accounts, with illustrative graphs, can be downloaded as a pdf document here: 2008-2020 Douze ans d'indépendance (pdf, 5.6 MB)

Below is a video recording of our annual press conference on our results, held on March 10th:

Conférence de presse de Mediapart 2020

The March 10th 2019 press conference (in French) marking Mediapart's 12th anniversary.
Le Club est l'espace de libre expression des abonnés de Mediapart. Ses contenus n'engagent pas la rédaction.