Eleven years of independence: Mediapart's 2018 results in facts and figures
Every year in March, Mediapart presents its accounts in public. In 2018, your online journal continued to register strong growth, with subscriber numbers now totalling more than 150,000. Meanwhile, its operating income represented more than 18% of turnover, and net profits were almost 2 million euros. All of which is detailed here.
Thanks to the constant and growing support of our subscribers, our online journal has, for the past 11 years, given life to the ideal of a free and independent press. A press that not only serves the public's right to know and its freedom to speak out, but which above all fulfils that mission without any outside interference, with no pressure from advertisers, with no subservience to financier share-holders, and with no dependence on state subsidies.
It is a press that Mediapart, since its creation in 2008, has demonstrated to be not only useful and vital, but also viable and – for the eighth year in succession – profitable, as detailed in our financial accounts. In what is a unique exercise in transparency in the French media world, we presented our accounts on Tuesday March 12th at our annual press conference, and you can find them detailed in our yearly brochure by downloading it here. (pdf, 1.7 MB)
In 2018, Mediapart once again saw continued strong growth in the numbers of its subscribers, who now total more than 150,000. More precisely, that figure is 150,553, of which 145,964 are individual subscribers, while the remainder is made up of group subscriptions (essentially, educational institutions, corporations, and local authorities). This total of subscribers is strictly that of paid subscriptions, unlike the circulation figures announced by press titles (whose income is in part from advertising) which are swollen by the inclusion of copies that are sold at a cut-price rate or even distributed free of charge (e.g. in trains, planes and hotels).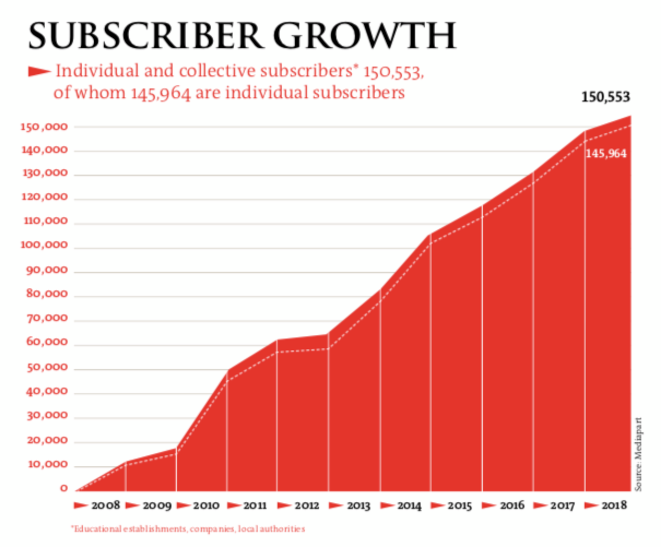 The yearly progress of Mediapart subscriber numbers between 2008 and 2018, with individual subscribers represented below the dotted line.
With an annual turnover in 2018 of almost 14 million euros (more precisely, 13,835,322 euros), Mediapart posted an operating income of 2,516,996 euros (more than 18% of turnover) and net earnings of almost 2 million euros (1,993,037 euros after tax and employee-participation payments). These results allowed for further significant investments in order to reinforce the editorial team and operational services staff – who altogether now number 87 employees –, and also to consolidate our capital. Since 2017, the salary scale within the company is 1-3.37, and salaries are strictly equal for men and women, established according to roles and responsibilities and with no gender distinction.  

Progression of turnover (left) and operating income over the period 2008-2018.

Mediapart neither seeks nor receives subsidies, whether they be the state subsidies that are handed to the press in France or private funding of the media (such as from Google and Facebook). Ever since the creation of Mediapart, no dividends have been paid to its shareholders. Share-ownership has remained unchanged since 2018, while awaiting a response from the French tax authorities to our request to establish an endowment fund. This 'Fund for a free press' is a not-for-profit structure which would be able to take control over Mediapart's entire capital, in order to make it inviolable, protected from speculation and non-transferable, as is the case with our partnership structures with French websites Mediacités and Marsactu, and Infolibre in Spain.  
We owe these excellent results – which allow us to exercise, in optimal conditions, our profession at the service of the public's right to know – to the support and loyalty of you, our subscribers. Beyond its economic model and editorial quality, Mediapart's originality is founded on a special relationship with its readers, who are active parties in its ecosystem, being free to write and contribute to it, managing blogs which are not filtered by our editorial team nor automatically subject to moderation.
It is a supplementary guaranty of independence, and above all a demonstration of confidence: to access and read Mediapart is also to have the power to criticise it or prolong its contents, to inform or alert it, and to complete it. This dialogue and connection with its readers are just as essential to Mediapart as its professional culture of investigative journalism. Since our creation in 2008, we have constantly developed the frequency of our organised events, including public debates and conferences, which in real life (and not only via the digital screen) maintain this concrete and lively relationship.  
We marked our tenth anniversary in 2018 with a Festival of debates and exchanges between our editorial team, subscribers and the public at the 'Centquatre-Paris' conference and events centre, and its success has led us to repeat the exercise this year. The programme for the event, to be held on March 23rd, (a detailed presentation can be downloaded here) has as its theme the meeting of journalism and society, to debate citizens' concerns, questions and interests, their inventions and acts of resistance in face of societal issues, and their aspirations.
This 21st-century press which Mediapart has the ambition of representing, combines its role in providing information with the relationship it enjoys with its public. This essential intercourse, this permanent dialogue and necessary tension, is the only means of re-establishing a relationship of confidence between journalism and society. As we often like to insist, only our readers can buy us. Which means that we must constantly listen to you, and ensure that we are accountable to you.
That is the raison d'être behind the Festival, to which we hope you will be many in coming along to join us on Saturday, March 23rd. The event, open to all and with no entrance fee, is from 11am to 11pm at the 'Centquatre-Paris' centre, 5 rue Curial in the 19th arrondissement of Paris (75019).
Le Club est l'espace de libre expression des abonnés de Mediapart. Ses contenus n'engagent pas la rédaction.