Lucien Botras 1933-2021
In his long career as a news cameraman, Lucien Botras, who has died at the aged of 88, captured thousands of images shot around the world, from everyday events to the horrors of warzones. Throughout, Lucien remained a modest, unsung hero of broadcast journalism, who I had the pleasure of working with as a colleague, and the privilege to know as a friend.
It was during the final stages of the 1954-1962 Algerian War of Independence when a young cameraman named Lucien Botras stepped up to the open first-floor window of a large salon in the Grand Hotel in the Mediterranean port city of Oran. He began filming violent clashes in the street below, and as he focussed in, he suddenly saw that a sniper was similarly focussing his weapon on him.
Lucien immediately dropped to the floor, but the shot departed, narrowly missing him, and wounding a female hotel employee, standing a short distance behind, in the shoulder.
The story, as told by his friends, does not reveal what happened to the poor woman who was shot, but what is certain is that early close shave was one of many to come during the future career of Lucien, my former colleague and friend who died last month at the age of 88.
A modest, unsung hero of broadcast journalism, Lucien will be remembered by all who knew him as an exceptionally courageous and thorough professional, and a devoted husband and father.
He completed his apprenticeship as a cameraman with the French army's cinematographic service, the SCA, during the Algerian war. Shortly before the conflict was officially over, he joined US broadcaster CBS, for whom he covered the events in and around Oran and the capital Algiers. It was in Algeria where he partially lost hearing in one ear from a nearby explosion – a condition later exacerbated by other close blasts around him in warzones.
His work for CBS launched Lucien's career as a news cameraman. In 1963, he joined the Paris office of US news agency UPI's international television reporting arm, renamed UPITN in 1967 in a partnership with British TV news provider ITN. He remained with the company (which later became WTN) until 1992.
Based at the agency's offices on the rue des Italiens in central Paris, Lucien covered everyday news stories in France, but was also often sent on missions abroad, notably to African countries (in Equatorial Guinea he faced off a policeman threatening to shoot him), to Lebanon, Vietnam and Iran (where he experienced more near-fatal encounters).
Beginning in 1964, he formed a close-knit team with Jacques Chaudenson as soundman, (Jacques was also a skilled cameraman in his own right, alternating between sound and camera when the pair were split into two teams). They shared a lifelong close friendship, forged by their extraordinary professional adventures which at times placed their lives in peril.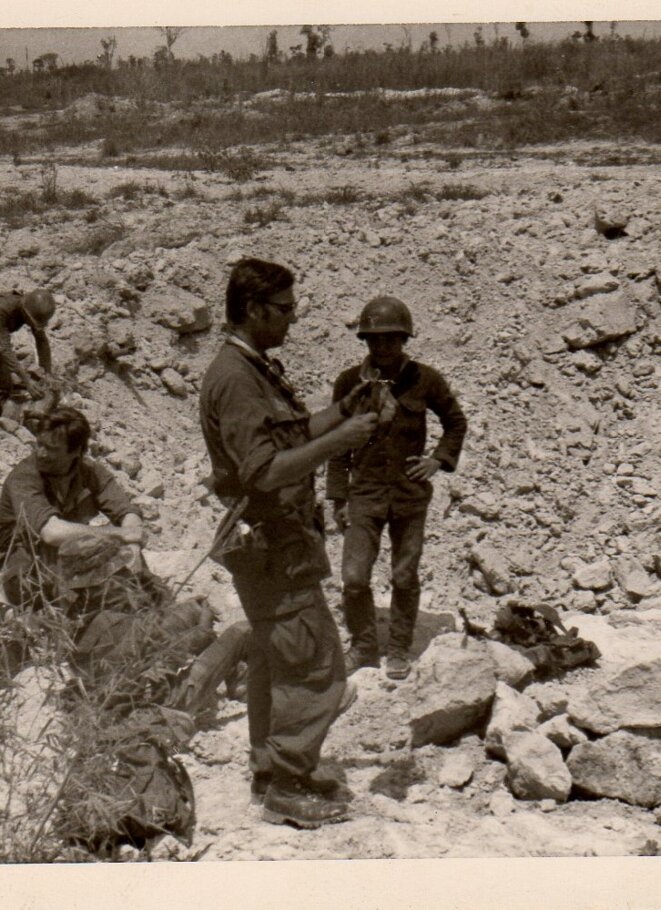 Lucien (in the foreground) in Vietnam in 1972, examining a crater left by a bomb dropped from a US B52 plane. © DR
Not least of these was their coverage of the Vietnam War, first during the April-July 1972 battle of An Lộc. They were sent back to Vietnam in April 1975 when, working with the late ITN reporter Mike Nicholson, they covered the battle of Xuân Lộc and the subsequent fall soon after of Saigon. It was a mission that lasted nine long weeks, filming amid firefights, and spending nights under mortar attacks.
Jacques remembers how some nights he got no rest while Lucien– "he could sleep anywhere" – was able to nod off amid the pounding of artillery. The anecdote is typical of Lucien's character; while he was in fact a very sensitive man, he was also one of the toughest and coolest under stress I have known.
In Saigon, they watched the departure of the last American and Vietnamese evacuees from the roof of the US embassy and local CIA station. From the end of April 1975, after most of the Western press had left the overrun South Vietnamese capital, they stayed on there for several weeks, working with ITN's other celebrated reporter, Sandy Gall.
Their reporting won ITN a prestigious "Silver Nymph" award at the 1976 Monte Carlo Television Festival. In its press release at the time, UPITN underlined how Lucien and Jacques, who had "covered almost every major conflict in the last decade", were often "pinned down by heavy crossfire and on one occasion a mortar bomb fell only feet away as they filmed some of the bloodiest scenes of the final, brutal stages of the war in Vietnam". The agency added: "Many UPITN clients, like ITN, rely on men like Botras and Chaudenson".
Indeed, they did. Lucien, like Jacques, would return from warzones to pick up again the daily job – although hardly 9-5 – of following the more humdrum news stories, meetings between heads of state at the Elysée Palace, a French cabinet reshuffle, or a bank heist.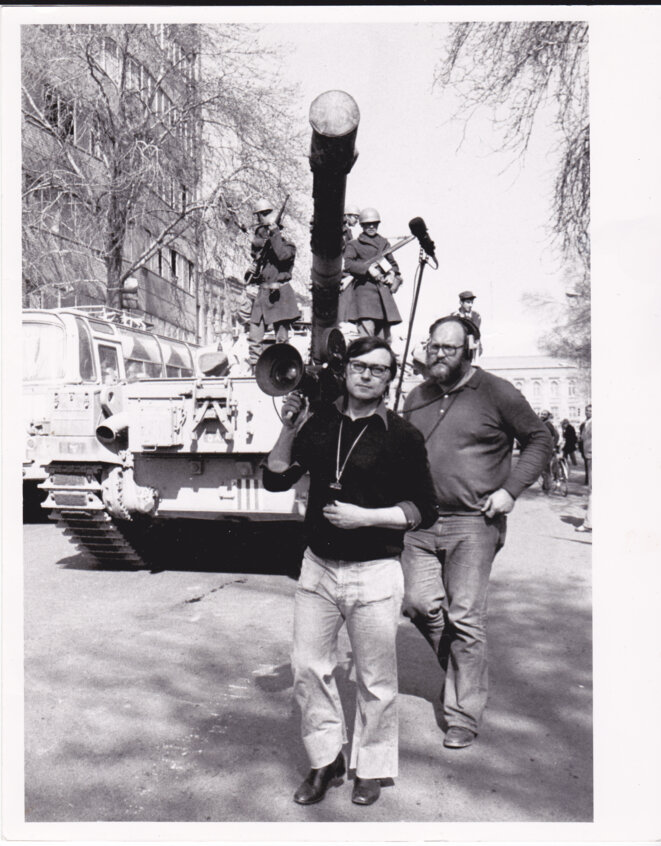 Lucien (with soundman Tomas Hnevsa) in Tehran covering for UPITN the return to Iran of Ayatollah Ruhollah Khomeini in 1979. © DR
It was a couple of years after Lucien covered the 1979 return to Iran (from exile in France) of Ayatollah Khomeini – Lucien would recall another close shave when he calmed down a drugged, gun-toting guard in Teheran who threatened to shoot him – that I, as a junior reporter working for ITN, first met him, to cover (of all things!) the introduction of "sanisette" unisex, self-cleaning public toilettes in Paris.
It was the start of a long friendship, and I have very fond memories of the many news stories we covered together (fortunately for me, not in warzones). Lucien was a tireless colleague, whose wonderful sense of humour lightened many a tense moment.
Just one example of his force of character was when, together with Jacques, we were sent to the Belgian port of Zeebrugge on the night of March 7th 1987 to report on the capsizing that evening of the British ferry Herald of Free Enterprise, in which 193 people died. The scenes were harrowing, notably those of the small boats returning to the quayside with corpses laid out on their decks. Lucien was already suffering from flu before we were sent, but he typically answered the call of duty and worked throughout the night and into the morning in freezing, wind-whipped conditions despite his light clothing and heavy equipment.
On a lighter note, those memories include the often, unintentionally hilarious conversations we had while heading out by car on a story when, because of his war-damaged hearing and, no doubt, my heavy English accent in French, he would misunderstand something I said and reply on a totally different subject – much to the mirth of Jacques.
Some remember Lucien as a reserved man, perhaps because of his matter-of-fact professional manner. But that was not to have known him. Together with Marie-Thérèse, his Spanish-born wife whom he married in 1965, my wife and I spent many warm and happy times together, made up of hearty laughter and lively discussion often around a meal table (and Marie-T's wonderful cooking).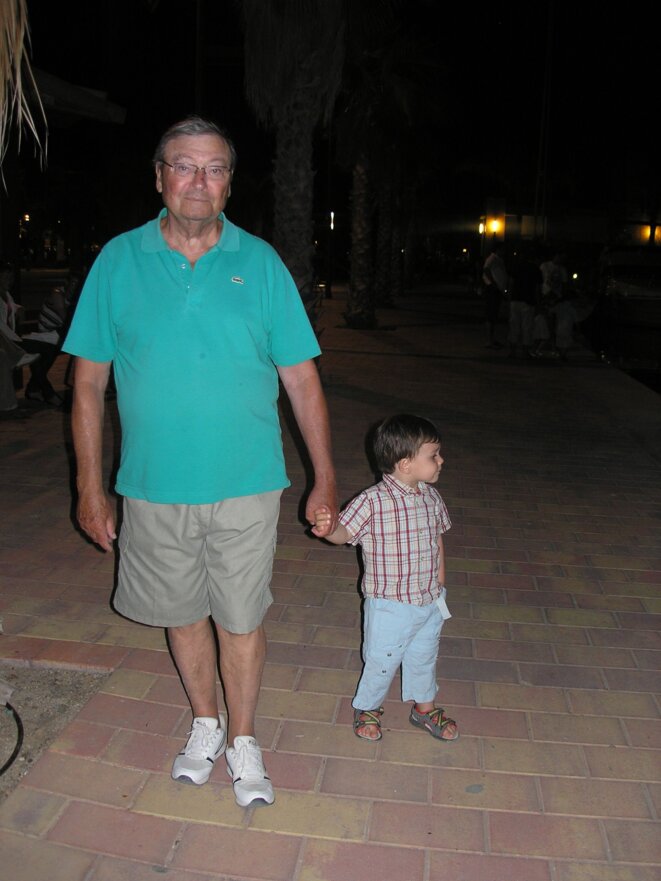 Lucien on holiday in Spain with his grandson Tristan, July 2008. © Odile Botras
Lucien's active career ended in 1992 when, in a cost-cutting move, WTN (as the agency was then called) controversially laid off its full-time Paris crew, hiring freelancers instead. Lucien and Jacques subsequently took successful legal action to gain improved severance payment, but it was an unbefitting conclusion to so many years of outstanding service (and during which, as the agency itself declared, its clients relied "on men like Botras and Chaudenson").
The silver lining for Lucien was the extra time he then had with his family, to which he was devoted, and spending with them lengthy summer holidays in Spain. He and Marie-Thérèse, a strongly united couple, doted on their children, Odile, Alain and Laurent. Their self-sacrificing dedication to caring for Alain, who became increasingly handicapped by a debilitating and worsening illness, was truly remarkable and inspirational, and dominated their lives over later years.
It was subsequent to complications from a fall in August that Lucien passed away last month. He is survived by Marie-Thérèse and their three children, and three grandchildren.
-------------------------
The French version of this post can be found here.
Le Club est l'espace de libre expression des abonnés de Mediapart. Ses contenus n'engagent pas la rédaction.