My own Ted Talk
Before we get started, I think it's important for all of you here to understand just how successful I've become, because it's pretty crazy. But saying it is one thing, encapsulating that success in a ten minute Ted Talk is another. Some would say it's impossible. But here I am again, once again trying the impossible.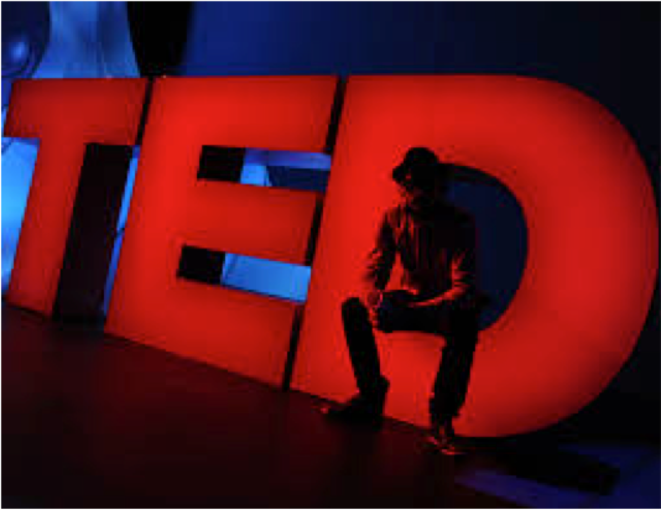 Before we get started, I think it's important for all of you here to understand just how successful I've become, because it's pretty crazy. But saying it is one thing, encapsulating that success in a ten minute Ted Talk is another. Some would say it's impossible. But here I am again, once again trying the impossible.
Now before you start to think I'm arrogant, I'm going to reassure you with some self-deprecating jokes that I'm not. I'm falsely modest, and there is a difference, of which you will learn to recognize during our ten, sorry 9:30 second Ted Talk.
Fake modesty, you see, is the currency of all Ted Talkers, one that will come in the form of folksy "I'm just somebody who got lucky" lines or "If you asked me five years ago if this would succeed I would have said you were crazy" type expressions that will make me seem more human  while also helping to reframe the subject in fun, easy to understand anecdotes. Unfortunately these same lines will insidiously make you feel stupid you haven't thought of my business idea yourself, but that's not my problem, that's yours.
Because my goal today is not just to give you understanding and insight into what's catapulted me into the stratosphere of the happy few, but give you the impression that you can do it too, which we all know isn't going to happen. But for the next 9 minutes, we're here to play make believe, aren't we?
The first rule of any Ted Talk is that there are no rules. That's not really true, but I always like to start my lectures with that overused expression. I did it in Hollywood for a screen writing seminar, and I did it in Silicon Valley for a tech start-up investing forum, and I'm doing it today, just because copying and pasting from past lectures gives me an erection.
And to answer your question, no. I'm not going to use clichés like "let's think outside of the box" or "live your life - don't have life live you. " Instead I'm going to come at you with new clichés like "my business was an aspirin for what the sick market needed." or "Some are gardeners, some are architects and before you start your business, you must decide which one are you." You won't fully understand these metaphors, but it doesn't matter anyway, because we're at the 8-minute mark now, and I'm the one with the head set microphone and you're not.
At this point we'll move into the visual part of the lecture frankly because I'm getting tired and you're looking bored, and our collective attention deficit disorder nous oblige. (Like the French reference? I thought so too.)
Behind me, you'll see a projection featuring three interconnected spheres. Each sphere could be anything, but for the moment let's label them as Financial, Professional, and Personal. You'll see the zone or nexus where all three meet are what I call the "sweet spot," or CORE JVS.
When you're asked to give a Ted Talk it means you currently live in that Nexus. You're wealthy, your happily married, and you're so fit you're giving this lecture, like I am, in the downward-dog yoga pose. Now there's a strong possibility your respective financial and professional spheres won't be as large as mine, so it's best to concentrate on the Personal one only, and thank your god you at least have that.
Because remaining positive is a must for every Ted Talker. It's all about framing your reference, and how the actual value of something is transformed by the way you perceive it.
For example, this talk in itself has little value, but if you look at it through the proper lens, like, let's say, you just got to sit next to that hot woman whom you're currently looking down her shirt, or there's a good chance you'll be seen laughing on a YouTube video seen by 13 million people! With that kind of framing, value increases exponentially.
But enough of the abstract. We're almost halfway done, so I'm going to get into the proactive part of this talk; the part where I help you apply what I'm saying to your everyday life, which can be summed up in the typical JvS Ted Talk formula:
Learn it
Live it
Give it
I came up with these three expressions only because they fulfill the virtuous Ted Talk circle. Learn some bullshit from a Ted Talk, try to apply it to your life for maybe an afternoon, then tell somebody else about the same Ted Talk. Badda Bing. Badda bang. By the way, in regards to passing it on, none of you contractually can or are allowed to repeat what you've just heard today. Just send your friends the link, and don't actually try it yourself. You'll fail, and I will sue.
But getting back to the part where I offer you guidance in closing the gap between where you are now and where you want to be. Yes exactly. Because we're now at the 8-minute mark, and this is where I express the goal of every Ted Talk, which is usually the same goal. HOW DO WE FIND MEANING IN WHAT WE DO? And I put that in caps because it's an attempt TO EMPHASIZE IMPORTANCE................. ................ ................ ................ ................ ................ ................ ................ ................ ................ ................ ................ ................ ................ ................ ................ ................ ................ ................ ................ ................ ................ ................ ................ ................ ................ ................ ................
You see I left a silence hanging there for a couple of seconds, just to give what I said time to sink in. And now that you're used to weird silences, I'm going to pause a second time before I drop the big daddy phrase that brings it all home on Ted Talks. My go to expression I use when I want to generate insincere personal reflection.
(weird silence) …….…….…….…….………….…….…….…….…….…….…….…….…….
WE ARE NOT PROMISED ANYTHING BEYOND THIS MOMENT. ……
Scary right? Damn right it is. It's the proverbial bus about to run you over, or the cancer diagnosis call that's flashing on your iphone. I'd tell you it's just a new way of saying Carpe Diem, but you're too young to read boring ancient Greek shit, and any way, Ted Talks are about modernity, technology and of course Transhumanism, which is, (and I'm forced to quote from my Ted Talk guidebook here without breathing) « an international cultural and intellectual movement with an eventual goal of fundamentally transforming the human condition by developing and making widely available technologies to greatly enhance human intellectual, physical, and psychological capacities. »
Voila. There you have it.
Two minutes left, and it's on to story time. Yes this is the part where I sum up what I've said in a warm, yet heartbreaking story. It'll either involve me as a child playing with my sister or something my mother told me about my grandmother from Europe I barely knew. The crux of the narrative will start funny enough, and after your laugh, I'll use the phrase, "but seriously though," at which point there will be a solemn moment where I choke up with tears. This story will serve as a metaphor for how we can learn from the major lessons our generation has somehow lost, and more importantly, how stories are the messengers of this narrative.
There's about 45 seconds left, and you're wiping your eyes too I can see, so I'm going to start rapidly increasing my cadence just so you realize how much there's still left to talk about, but unfortunately Ted only gives us ten minutes. (This of course will get you to watch other Ted Talks in the right hand column of your browser. )
30 seconds left, which means from this point on, I'm going to talk in broad strokes about (but not limited to) major subjects that have nothing to do with each other but the sound Ted Talkesque in nature: the origin of Western thought, the frontier we find ourselves on between biotech and nanotech, the ethical choices we face as a society, how we boldly must continue to search new horizons but not by looking outward (that's the old way of looking), but inward within each of ourselves to find happiness, not in the being, but in the doing.
Because the power that I've harnessed these past ten minutes, didn't come from the staggering amount of money Ted Talks paid me, nor from the orgasmic rush of listening to myself speak, nor in the determination to convince myself it wasn't luck that got me to be where I am today. It's in the innocent eyes of all of you, yearning to find in that 25 cm computer screen, the secret to unlock the potential none of you really have, but that I, and all these other Ted Talks, have lead you to believe you possess.
Ten seconds, nine seconds.
All that's left now is some non-sense phrases to make me look smart. A world made more beautiful. 5 seconds, 4 seconds. And in your life, what is it you desire most? 2 seconds. 1 second. That person in the mirror is you.
(JvS drops the microphone on the floor and walks off the stage to a resounding standing ovation. Ted Talk #567894 - in ze boite.)
Le Club est l'espace de libre expression des abonnés de Mediapart. Ses contenus n'engagent pas la rédaction.