For Iranian journalist Sepideh Gholian, a specialist in labour laws and an activist for the cause of trades union rights, and who has been imprisoned in Iran since 2018. During her time in jail, she has reported on the conditions of women in prison, via letters and verbal accounts. An activist of  the Woman*, Life, Freedom movement[1] , she was sent back to prison on March 21st 2023 just four hours after her release from a previous jail term. Her courage and determination is an inspiration to feminists the world over, and serves to underline the level at which resistance is now situated. 
 ******
On September 16th 2022, Jina Mahsa Amini, a 22-year-old Kurdish woman, died in Tehran after being violently assaulted by the Islamic Republic's morality police. Her murder led to a popular uprising that shook Iran, and which has been relayed around the world. Originally a political slogan used in Kurdistan, "Woman*, Life, Freedom" became the rallying cry for the street protests in Iran. It was insurrectional, vital, and fluid – it requested nothing and demanded everything.
Over the past 12 months, and in the face of bloody repression, the insurrection has evolved frequently. From it has emerged an extraordinary network of solidarity, including spontaneous demonstrations from district to district, neighbors who leave their front doors open to offer protection to fleeing demonstrators, and strikes by shopkeepers, and nighttime demonstrations in front of prisons in protest at executions. Trade unions, in a historic joint statement, demanded decent working conditions, an end to ecocidal policies, to nuclear arms and to privatisation of natural spaces, but they also demanded political equality for women, for ethnic minorities and for the LGBTQIA+ population – who were "at the forefront" of the revolution[2] - for the Iranian feminist revolution is a total revolution.
The issue is not whether or not to wear the hijab. In the context of Islamophobia in France, this can never be explained too often, it is for women to decide for themselves. What is at stake with the Iranian law requiring women to wear the headscarf is the control and subjection of all bodies by the state, with the aim, of a minority, to monopolize resources.
The Islamic Republic governs by use of gender apartheid and state racism. It keeps its hold only through the furious deployment of a policing system that is adapted to the racial character of the populations that it seeks to constrain. All of these techniques are instilled in the global colonial economy. Lives don't count: that reality was apparent in France in June 2023 with the murder of Nahel, a teenager by a police officer of during a traffic stop and the bloody repression of the protesting movements that ensued. We find it at every level: from the Mediterranean coast, where the pushbacks of migrant boats have transformed the sea into a cemetery, to working-class areas in Europe, and also to Mayotte and French Guiana, Brazil, Palestine, Sudan, Lebanon, Afghanistan and Iran.      
The heart of the feminism which we champion is the fight against this continuum of violence and de-humanisation which is at work in capitalism. For as long as we do not assert our voice, feminism will remain monopolized by views that legitimise this order. That was the case in the past year; Western powers have had only praise for the "courage of Iranian women", while rolling out the red carpet for a liberal, Islamophobic and transphobic[3] feminism which took care to separate the fight for women's rights from those others that are against all the forms of oppression that are opposed by the revolutionary uprisings in Iran. In their international power games, these same Western governments benefit from the destabilisation of the Islamic Republic by the Iranian street protestors, while abandoning them to an alarming wave of executions, arrests and torture. It has never been clearer that the emancipation of peoples is an nonexistent issue in international affairs. This is why a feminist silence is not an option, and why ignorance is not an excuse. 
While it is impossible to order the paths of revolutions, it nevertheless remains essential to proceed with the exchange of knowledge and know-how that come from local movements of resistance and to maintain concrete networks of solidarity to weave together the threads of a people mobilised at a global level. It has never been more urgent to learn from the endurance and methods of the "Woman*, Life, Freedom" movement, and to lend support to our Iranian comrades in the face of oppression. What we are up against here, like over there, are, in different forms, the apparatuses of states in the hands of radicalised sections of the bourgeoisie, whose arguments, religious or secular, are increasingly at pains to conceal a similar and competing capture of riches, and the exploitation of all that is living.
We, activists of different organisations, linked together by anti-capitalist feminist preoccupations, know just how exhausting the struggle is in the current balance of power. This exhaustion is an integral part of government techniques used against peoples. We are collectively thrown into climate chaos, our futures compromised by catastrophes, our present lives suffocated by stress, repression, racial profiling, poverty, illegality, bodies worn out by work, and a lack of care and consideration. It has never been clearer that all the talk of law-and-order, which is served up daily by the media owned by a reactionary oligarchy, in fact designates the security of golf courses; security for capital, to the point that the world dies.              
This observation must not let us to lose sight of the fact that it is not only necessary, but also possible, to organise our forces and to change the future course of events. The curve is tight, and not easy, but it is possible. We can begin by urgently taking European feminism out of a state of denial, for it to confront and keenly combat its own colonial history, and to direct our actions towards solidarity and transnational reflection.
The Iranian revolution is not satisfied with just opposing the deadly policies of the Islamic Republic, it is mapping a project for a post-capitalist society, one of solidarity and emancipation. It is a lesson of a movement, of political and theoretical reinvention, and that is why the struggle of Iranians is the struggle of feminists and all those engaged in emancipatory movements around the world. Woman*, Life, Freedom. 
* "Woman" applies here to all women in the non-biological sense of the word.
[1] "Femme, Vie, Liberté : déclaration des revendications minimales des organisations indépendantes syndicales et civiles d'Iran ", February 15th 2023.
[2] Katayoun Jalilipour, "LGBTQIA+ people are at the forefront of Iran's revolution – they should not be forgotten". Gal-Dem, December 23rd 2022.
[3] A symposium was held in Nantes in April 2023 centred on womens' rights and support for Afghan and Iranian women. The organisers, the Comité Laïcité République, withdrew their invitation to Marguerite Stern, a former member of the feminist activist group Femen known for her transphobic positions.
The first list of signatories:
Roja. Paris, collectif féministe , Paris
Feminist 4 Jina, Paris
Jina Collective - the Netherlands, feminist, queer, anti-capitalist, anti-racist collective, The Netherlands
Alternatiba Paris, Paris
Asso FièrEs, Paris, France
ACGLSF, association LGBTQIA+ des personnes sourdes, France
Association Collectif Transistor, association of transgender and sex workers, Angouleme, France
BIG Bari International Gender Festival, cooperativa, Bari, Italia
Colectiva Feminista La Revuelta en Neuquén, Patagonia, Argentina
Collectif Cases Rebelles, collectif panafrorévolutionnaire et maison d'édition
Collectif Stéphanois contre l'islamophobie et pour l'égalité, Saint-Etienne, France
Commons : Journal of Social Criticism, revue ukrainienne de critique sociale
Feminist Workshop, organisation féministe ukrainienne, Lviv, Ukraine
Feminita KZ, queer-feminist human rights organisation, Kazakhstan
FLIRT - Front Transfem, collectif, Paris, France
Front de mères, France
Gras Politique, association, Paris, France
International Consortium of Critical Theory Programs, USA
INVERTI-E-S, collectif marxiste Trans Pédés Gouines, Paris, France
LASTESIS, coliectivo interdisciplinario y feminista, Valparaíso, Chili
Lesbiennes contre le patriarcat, collectif, Lyon, France
Les Grenades, média féministe, Belgique
Les Pétrolettes, Brest et Rennes, France
Les Soulèvements de la Terre, France
Ni Una Menos, Argentine
ORAAJuive, organisation militante, France
Planning Familial, France
Pride des banlieues, Saint Denis
Punto Froce, collectif transféministe, Venise
Queer sex workers initiative for Refugees, Nairobi, Kenya
Sex Work Polska, Poland
Strass, France
TALAY'AN NGO, trans-led feminist group supporting sexworkers, Morocco
Union des femmes de Martinique, association de femmes, Martinique
Ukraine CombArt, association de solidarité avec la resistance ukrainienne, Paris, France
WANA Wayaki Collective - وانا ویاكي
#NousToutes, France

Chirinne Ardakani, avocate et militante des droits de l'homme, Paris
Parvin Ardalan, militante féministe et écrivain, Uppsala, Suède
Hanane Ameqrane, militante lesbienne de l'immigration et des banlieues, Saint Denis, France
Armelle Andro, universitaire, Université Paris 1 Panthéon-Sorbonne, France
Jean-Michel Aubry Journet, éditeur musical, activiste cofondateur de @musictoofrance, Paris 
Etienne Balibar, professeur émérite de l'université Paris-Nanterre, France
Ludivine Bantigny, historienne, Paris, France
Nadège Beausson-Diagne, artiste féministe, Paris, France
Flore Benguigui, chanteuse, autrice, compositrice, France 
Manuela Bojadžijev, chercheuse, Germany
Judith Butler, University of California-Berkeley, Berkeley, California
Silvia Calderoni, militante, artista, attrice, Roma, Italia
Rebecca Chaillon, metteuse en scène et actrice, France
Isabelle Clair, chercheuse, Paris 
Alison Crosby, professor, Toronto, Canada
Leyla Dakhli, historienne au CNRS, Allemagne, Berlin
Arpita Das, éditrice, fondatrice de Yoda Press, Delhi, Inde
Alice Diop, réalisatrice, France
Behi Djanati Ataï, actrice, Paris, France 
Elsa Dorlin, philosophe, France
David Dufresne, Au Poste, France
Annie Ernaux, écrivaine, prix Nobel de littérature, France
Sepideh Farsi, cinéaste, militante, France
Firoozeh Farvadin, chercheuse activiste féministe, Allemagne
Éric Fassin, sociologue, France 
Nina Faure, réalisatrice, Montpellier, France
Malcom Ferdinand, chercheur au CNRS, France
Lucie Fournié, militante écoféministe et lesbienne, Paris, France 
Verónica Gago, militante féministe et professeur, Argentine
Zeynep Gambetti, chercheuse indépendante, Istanbul, Turquie
Nacira Guénif, universitaire, Paris, France
Emilie Hache, philosophe, Université Paris Nanterre, France 
Adèle Haenel, actrice 
Kaoutar Harchi, écrivaine et sociologue, France
Pazhareh Heidari, militante de Links*Kanax, Allemagne
Belinda Heisler-Bismuth, militante écoféministe, France 
Fatemeh Karimi, militante, Paris, France
Wolfgang Kaleck, secrétaire général ECCHR Berlin, Allemagne
Azadeh Kian, professor of sociology and gender studies, Université Paris Cité, Paris, France 
Chris Köver , Missy Magazine and netzpolitik.org, Allemagne 
Mélissa Laveaux, artiste compositrice engagée, Paris
Silyane Larcher, politiste, Saint-Denis
Mathilde Larrere, historienne, Paris, France
Elisabeth Lebovici, autrice, Paris
Chloé Leprince, journaliste et historienne, France
Lola Levy, travailleuse du sexe et médiatrice en santé sexuelle escortes, Lyon, France 
Valerie Massadian, cinéaste, Paris, France 
Chowra Makaremi, anthropologue, Paris, France
Shahrzad Mojab, professor, Women and Gender Studies Institute, University of Toronto
Karima Mokrani, militante syndicaliste et féministe, Paris, France  
Monira Moon, militante antiraciste et décoloniale, membre de Boycott Divest Sanction, Saint-Etienne, France
Dorothée Munyaneza, artiste, Marseille, France
Sandra Nkaké, artist, La Plaine Saint-Denis
Fatima Ouassak, essayiste, France
Chloé Pathé, citoyen·ne, éditrice, Paris, France
Paul b. Preciado, philosophe, France
Mathieu Rigouste, chercheur en sciences sociales, France
Somayeh Rostampour, chercheuse et militante féministe, France
Daria Saburova, chercheuse, membre du Réseau européen de solidarité avec l'Ukraine, Paris, France 
Céline Sciamma, scénariste et réalisatrice, France
Joan Scott, historienne, institute for advanced studies, Princeton, USA 
Adam Shatz, écrivain, London Review of Books, Brooklyn, États-Unis
Jessica Suzes, militante féministe, Saint-Denis, France 
Drass Tecles, militante féministe et LGBTI - membre du NPA et de l'AFT, France  
Assa Traoré, militante, fondatrice du comité Vérité et Justice pour Adama, France
Jasmine Trinca, actrice, Roma, Italy
Margarita Tsomou, dramaturge et professeure, Berlin, Allemagne
Valerie Urrea, réalisatrice, France
Gisele Vienne, chorégraphe, France 
Eva Vocz, chargée de plaidoyer d'Act Up-Paris, Paris
Eva von Redecker, philosophe, Pritzwalk, Germany 
Christiane Vollaire, philosophe, France
Sophie Wahnich, historienne, Grenoble
Rezvan Zandieh, artiste, chercheuse, activiste féministe, France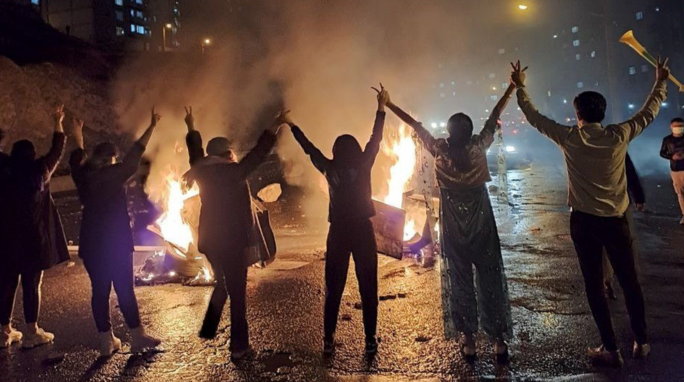 Full list of signatories :
ASSOCIATIONS:
ACGLSF, association LGBTQIA+ des personnes sourdes, France
ADN, Au-Delà des Normes, association LGBTQIA+, Périgueux, France
AG Féministe de Gironde, Bordeaux, Gironde, France
Alternatiba Paris, Paris
amessrs, collectif queer francophone de traduction et diffusion
AMLETA, Aps : Associazione di promozione sociale, Italy
Another Europe Is Possible, United Kingdom
Arcigay Salento, association LGBTQIA+, Lecce, Italy
Assemblée Féministe de Montreuil, collectif militant féministe, Montreuil, France
Assemblée Féministe Transnationale, France
Asso FièrEs, Paris, France
Association Au Tambour !, Lyon, France
Association Collectif Transistor, association of transgender and sex workers, Angouleme, France Association Stop Harcèlement de Rue, France
BALLAST, revue, Marseille
Bi'cause, association bi, pan et +, France
BIG Bari International Gender Festival, cooperativa, Bari, Italia
Cargomilla, non-profit organization, educational organization, Bologna, Italy
Casa Madiba Network, militant activity: anti-racist and transfeminist social and cultural laboratory. Practices of mutualism and solidarity, Rimini, Italy
Casa delle Donne Lucha y Siesta, Roma, Italia 
CCA NISCIUN' È FESSA,  Napoli, Italia
CHEAP street poster art, Bologna, Italy
Colectiva Feminista La Revuelta en Neuquén, Patagonia Argentina
Collages Féminicides Paris, France
Collages Féministes Lyon, collectif féministe de collages, Lyon, France
Collages féministes Montreuil, collectif militant, France
Collages Judéités Queer,  France
Collectif Cases Rebelles, collectif panafrorévolutionnaire et maison d'édition
Collectif Mcdroits, militant.es, Paris, France
Collectif Raízes Arrechas, batucada lesbo trans féministe racisée, Paris, France
Collectif Stéphanois contre l'islamophobie et pour l'égalité, Saint-Etienne, France
Collettivo Amigdala, Rocchi, Modena
Collettivo Angelo Mai, Rome, Italie
Coming Out, association LGBTQIA+, Normandie, France
Commons : Journal of Social Criticism, revue ukrainienne de critique sociale
CORPS CITOYEN, Milan, Italie
CULTURE XXI, citoyenneté et éducation populaire, Paris, France
DANSER SUR VOS MURS, association, Nantes 
European Alternatives,
Extinction Rebellion - Groupe local Tarn, France
Extinction Rebellion Paris Centre, Paris, France
Extinction Rebellion Paris EST, Paris, France  
Extinction Rebellion Tours, Tours
FASTI, Fédération des Associations de Solidarité avec Tou-te-s les Immigré-e-s, France
Feminist 4 Jina Paris,
Feminist Workshop, organisation féministe ukrainienne, Lviv, Ukraine
Feministas del Abya Yala, América Latina y El Caribe
Féministes Révolutionnaires Paris, France
Feminita KZ, Kazakhstan
Femme, vie, liberté - Culture mobilisée
Femmes solidaires 66, Perpignan, France
Fərocia
Fivizzano27, fivizzano27_mixò aps, Rome, Italy 
FLIRT - Front Transfem, collectif, Paris, France
Friction Magazine, France
Front de mères, France 
Gras Politique, association, Paris, France
Griot
Héro•ïnes 95 sans frontières, collectif féministe engagé contre toutes les formes de discriminations, France  HES LGBT+, commission LGBT du parti socialiste, France
InQuiete - Festival di scrittrici a Roma, Rome, Italy
International Consortium of Critical Theory Programs, Berkeley, USA
INVERTI-E-S, collectif marxiste Trans Pédés Gouines, Paris, France
Jina Collective - the Netherlands, feminist, queer, anti-capitalist, anti-racist collective, The Netherlands Journal Rupture, Bordeaux, France
La Grenade, collectif féministe intersectionnel antiraciste, Metz, France
La Laboratoria, espacios de investigación feminista,
La Petite, association féministe, France
La sève, collectif militant, Paris
Label Gouine*,
LASTESIS, coliectivo interdisciplinario y feminista, Valparaíso, Chili
Les Costaudes, association, Les Billanges, France
Les déchaînéEs, collectif cyclofeminisme, Marseille
Les Gouineuses, artivist, France
Les Grenades, média féministe, Belgique
Les mots sont importants, France
Les Ourses à plumes, France
Les Pétrolettes, Brest et Rennes, France 
Les Soulèvements de la Terre, France
Les Soulèvements de la Terre du Cher, France
Les Transformeuses, collectif transféministe par et pour les LBTQIA+ en Meuse, Vosges, Haute-Marne, France
Lesbiennes contre le patriarcat, collectif, Lyon, France
MAG Jeunes LGBT+, association par et pour les jeunes LGBTI+ âgé·e·s de 15 et 30 ans, France
Maison de la Culture et de l'amitié, France
Milano Mediterranea, Milano, Italie
Motus Theatre Group, association culturel, Rimini, Italy
Ni Una Menos, Argentine
Non Una di Meno Venezia, Venezia  
NOSIG, centre LGBTQIA+, Nantes, France
NousToutes 93, France
NousToutes 35, collectif féministe, Rennes, France
NousToutes Boulogne-Billancourt, collectif militant, Boulogne-Billancourt, France
Octopussy Lounge, LGBTQIA collective, Miami, Fl
One Billion Rising
ORAAJuive, organisation militante, France
Planning Familial, France
Poli.re.dis, activité feminist, collective, Roma
Pride des banlieues, Saint Denis 
Pro Loco San Lorenzo, associazione culturale, Roma, Italia
Punto Froce, collectif transféministe, Venise
Queer racisé·e·s autonomes, collectif autogéré par et pour les personnes racisées queer, trans, intersexes, France
Queer sex workers initiative for Refugee, Nairobi-Kenya 
Racisme Invisible, militante Instagram, France
Rainbhopital, association LGBTQIA+ du milieu hospitalier,
Relève Féministe, mobilisation organisée contre les vss en politique, France
Réseau Féministe "Ruptures",, Paris, France
Roja, collectif féministe, Paris
Roucoulettes Handball, association LGBTQIA+ de pratiquant·es de handball, France
Sex & the City APS, independent research, association, Italy
Sex Work Polska, Poland
Spazio Sociale ZEI, associazione promozione sociale, Lecce, Italie
Strass, France
TALAY'AN NGO, trans-led feminist group supporting sexworkers, Morocco 
The Peoples Want
Transat, association trans, Marseile, France
Ukraine CombArt, association de solidarité avec la resistance ukrainienne, Paris, France
Union des femmes de Martinique, association de femmes, Martinique
V-Day
WANA Wayaki Collective - ویاكي وانا
WeSTEAM Italia, Italie
XR Montpellier, France
YENI KADIN, France
Youpress, collectif de journalistes autrices de l'enquête "Femmes à abattre", France نیلوفرانھ/Niloufaraneh, collectif queer féministe, France
@pedestale, militant pédé/homosexuel, France 
#NousToutes, France
INDIVIDUAL SIGNATORIES:
Isabel Abreu, comedienne, Portugal 
Sonia-Maud Achouline, Ambon
Julien Ailloud, militant égalité F-H, France 
Françoise Alamartine, co-responsable commission transnationale EELV, Sète
Sonia Alcaraz, comédienne, Paris
Léane Alestra, fondatrice de Mécréantes et rédactrice en chef, Aubervilliers
Emeline Alfandari, militante  Argenteuil, France 
Sirine Alkonost, traductrice, Paris
Antonio Allotta, HIV artivist, Conigli Bianchi, Rome
Hanane Ameqrane, militante lesbienne de l'immigration et des banlieues, Saint Denis, France 
Annabelle Amory, artiste, Colmar, France
Katerina Anastasiou, activist, spokeswoman of the Communist Party of Austria, Vienna
Lucie Andoque-Cassany, militante, Blois, France
Lígia Andrade, citoyenne, Caen, France
Bruno Andreotti, professeur, Paris
Anne Andrieux, citoyenne, Bordeaux, France
Armelle Andro, universitaire, Université Paris 1 Panthéon-Sorbonne, France
Corinne Angelini, militante associative féministe, Saint-Denis, France
Laure Anglès d'Auriac, citoyenne, Paris
Simone Anna  prof.ssa universitaria, Roma
Sophia Antoine, militante FEMEN et activiste féministe, Toulouse
Gloria Arbib, citizen, Manciano, Italy 
Chloé Argentin, Paris
Asia Argento, être humain, Rome, Italy
Alexis Argyroglo, libraire, librairie Petite Égypte  Paris
Sandrine Armand, citoyenne, Valence, France
Kenza Athanasopoulos, citoyenne engagée, Place publique, Monaco
Clémence Attallah, citoyenne, Paris
Jean-Michel Aubry Journet, éditeur musical, activiste cofondateur de @musictoofrance, Paris
Louise Audibert, journaliste, Paris, France
Philippe Aufort, auteur, Aubusson
Céline Augé, éducatrice spécialisée, militante sud solidaires, Sud solidaires, Gaillac, France 
Cagla Aykac, prof., Université de Genève, Genève, Suisse
Juliette Azais, militante, France
Behnaz B., militante féministe, France
Jasmine Bachi, citoyen.ne, France
Etienne Balibar  professeur émérite de l'université Paris-Nanterre, France
Ludivine Bantigny, historienne, Paris, France
Angela Baraldi, artiste, Italia
Tildé Barbey, illustrateurice, Strasbourg 
Marie Bardet, enseignante chercheuse, Unsam, Buenos Aires 
Marie Bardiaux-Vaïente, militante et autrice, Marmande, France 
Magali Bardou, musicienne, Paris, France
Gaia Barletta, activist, Gaya, Lecce, Italia
Sophie Barre, militante féminist , Poissy, France
Bérengère Basset, syndicaliste et enseignante, Lescure, France
Ardalan Bastani, communiste kurde, Allemagne
Anna Basti, lavoratrice dello spettacolo, Roma
Drina Andrea Bavestrello, uman women, Circolo Pertini  Italy 
Carine Baxerres, citoyenne, anthropologue de la santé, Marseille, France
Philippe Bazin, artiste photographe, Villejuif, France
Nadège Beausson-Diagne, artiste féministe, Paris, France 
Manoline Beautier, citoyenne, France
Arash Behboodi
Néva Bekhtari, militante, NPA , Pantin
Louis Beliard, citoyen et militant, NPA , Lyon, France
Chiara Belingardi, attivista, ricercatrice, Roma
Inès Belkoniene, militante, France
Roberta Belletti, citoyenne, Milano, Italia
Cheima Ben Hmida, militante féministe, Altergen, Tunis, Tunisie 
Inès Ben Yacoub, militante, Cergy
Flore Benguigui, chanteuse, autrice, compositrice, France
Messaouda Benraad, France
Sonia Bergamasco, attrice regista, Roma, Italia
Claudine Berlioz-Barbier, militante NPA  Avignon, France 
Jay M Bernstein, citizen, Brooklyn, USA
Alison Beynard , militante féministe, NT 3 , Bordeaux, France
Debaditya Bhattacharya , faculty, Kazi Nazrul University, India
Paola Bianchi, choreographer, Gemmano, Italy
Antonella Bianchi, citoyen, Turin, Italy
Annah Bikouloulou, secrétaire nationale des Jeunes Ecologistes, France
Sophie-Anne Bisiaux, Migreurop 
Jean-Marc Blanchais, prof, SUD éducation Paris, Paris
Justine Blanckaert, citoyen·ne, Épinay-Sur-Seine, France
Hélène Bléhaut, illustratrice, autrice
Alice Bodineau, militante féministe, Nantes
Merci Body, artiviste feministe, France
Carolina Boe
Dafne Boggeri, artist, TOMBOYS DON'T CRY, Milan, Italy
Sarah Boisson, sociologue, Paris, France
Manuela Bojadžijev, chercheuse, Germany
Irene Bonnaud, metteuse en scène, Paris, France
Marie-Jo Bonnet, historienne, féministe, Paris, France
Paola Bono, citoyenne, Italy
Ettore Ismael Borghetto, Rome, Italy
Elsa Borriglione, citoyen.ne militant.e, Nice, France 
Alexandra Borrot, citoyenne militante, XR, Aubervilliers, France
Silvia Bottiroli, citizen, Italy
Olfa Bouargou , citoyen, Marseille
Charlotte Bouché, citoyenne, Paris, France
Josiane Boucher, militante ASTI 66, Vinça, France
Hala Bounaidja Rachedi, militante féministe et antiraciste, Paris
Carole Bouyssou, citoyen·ne, Toulouse
Violaine Boyé, citoyenne, militante pour la fin des violences et rapports de domination, France 
Ana Brandão, actrice, Lisboa, Portugal 
Maryvonne Bresson, citoyenne, chorale les Grenades rouges, Nice, France
Flo Briand, citoyen•ne, France 
Caroline Bricout  citoyenne, AG Féministe Gironde, France
Fabienne Brifault, militante NPA
Eduardo Brito, filmworker, Portugal
Catherine BRODARD, bibliothécaire, France
Dominique Burlot, militante syndicale, SUD Education 31-65, Toulouse, France
Judith Butler, University of California-Berkeley, Berkeley, California
Marta Buzi , feminist and dialogue adapter, Bologna, Italy
Nour BW, militante, Paris
Aurore C., militante transféministe et antivalidiste, membre du NPA et du collectif Transistor, Charente, France
Laura Cacciari, cittadina, Bologna, Italia 
Helena Caille, militante féministe, Colombie-France
Sara Calderon, maîtresse de conférence, Nice
Consuelo Calebotta, Bologna, Italy
Angela Calia, artiste, Locarno, Suisse
Marion Cansell, enseignante, Pantin, France
Adrien Cante, professeur des écoles, militant syndicaliste, Vaour
Cécile Canut, professeure université Paris Cité, France
Tea Capasso Francesca, une femme, Comité des enfants tiziganes en exil, Eymoutiers 
Clarissa Cappellani, citoyenne, Italy
Francesca Carbonara
Isabelle Cardon, citoyenne, Antony
Federica Carelli 
Zoé Carle, enseignante, Marseille
Carmen Castillo, réalisatrice, écrivaine, Santiago, Paris
Erma Pia Castriotta, citizen, syndacat, Roma
Malcy Cathelineau, militante féministe, Paris, France
Thibaud Catté, militant anticapitaliste et internationaliste, Nouveau Parti Anticapitaliste, Bayonne, France Lucie Cauwe, journaliste, Blog LU cie & co, Bruxelles
Flaminia Cavallari, citoyenne, Roma
Cécile Cée, artiste et militante, France
Cecile Celma, militante féministe, Union des Femmes de Martinique, Martinique
Flavia Celotto, citizen, Rome, Italie
Carlotta Cerquetti, feminist citizen, Rome Italie 
Guilda Chahverdi, metteuse en scene - comédienne, Marseille, France
Cécil Chaignot, projectionniste, Paris, France
Rebecca Chaillon, metteuse en scène et actrice, France
Pauline Chanu, documentariste, France 
Margaux Charles, Paris
Martina Ciavatta, citizen, Rimini, Italia 
Giada Cipollone, researcher, University, Venice, Italy
Isabelle Clair, chercheuse, Paris
Aurore Claverie, citoyenne, Creuse, France 
Françoise CLEMENT, enseignante, Attac, Paris
Marica Clemente, entrepreneur, Naples, Italy
Sophie Cocheteux, metteuse-en-scène, Celestial Mekaniks, Belgique
Chiara Conte, citoyenne, Italy
Anais Collet, enseignante, Sartrouville, France 
Rosario Coluccia, prof. univ., Florence, Italy
Marie Contaux, activité militante, FSU SNUipp, France
Sandrine Coquerie, militante féministe, France 
Marie Coquille-Chambel, doctorante et co-fondatrice du collectif MeTooThéâtre
Laura Cornuet, militante, Perpignan, France
Francesca Corona, Paris, France
Manon Corone, militante, France
Sonia Corrêa, Brésil
Marcella Corsi, feminist, Roma, Italia
Silvia Costa, theater and opèra director, Italy
Muse Cotedesoux, étudiant·e, France
Antonio Cotigni, citizen, Tonjo di antonio cotigni, Roma, Italia
Gilliane Coudrey, militant, Saint Denis 
Anaïs Couette, militante, Paris, France
Est Coulon, performance artist, Venise
Magali Courdié, paysanne, Verfeil-sur-Seye, France
Martine Courjaud, militante féministe, anti-racisme, syndicaliste, Niort, France
Alice Creisher, artist and writer
Alison Crosby, professor, Toronto, Canada
Heather Crossley, publisher, UK
Isabel Cunha, citizen, resercher, Portugal
Francesca Cutolo, attrice, teatranti, Roma
Lavinia D'Elia, dharma-punk pratictioner, Teatro Galleria Toledo, Napoli, Italia
Emilie Da Lage, enseignante chercheuse, Université de Lille, Lille
Ninon Dabos, militante féministe, Aubervilliers, France
Leyla Dakhli, historienne au CNRS, Allemagne, Berlin
Francesca Dalla Nora, docente, Milano
Marie Dault, réalisatrice, Bagnolet
Cécile De Bary, maîtresse de conférences, Paris 
Christophe De Chassey, citoyen militant XR, Paris
Sylvia De Fanti, activiste, Rome
Irene De Giorgi, étudiante, La Spezia
Rosaria De Matteis, avvocata, Bari, Italy
Sara De Simone, scholar, vice president Italian Virginia Woolf Society, Italy
Jean-Paul Debest, militant internationaliste, Quimper, France
Sarah Debono Bouarrata, citoyenne, Lyon
Sophia Deeg, auteur, BDS pour les droits des Palestiniens, Marseille, France
Daria Deflorian, attrice, Roma, Italia 
Cristina Del Biaggio, maîtresse de conférences en géographie, Université Grenoble Alpes, Grenoble, France
Luisa Del Prete, giornalista, Castel Volturno
Muriel Delorenzi, retraitée, Villeneuve sur Yonne
Sophie Demeyer, citizen, dancer, Paris
Fiorenza Deriu, professor of sociology, Sapienza University of Rome, Rome
Jérémy Derlande, citoyen, Autun, France
Caroline Detournay, citoyenne, Paris
Gérard Di Giacomo, citoyen, Paris, France
Ra Di Martino, artiste, Rome
Piersandra Di Matteo, direttrice artistica, Short Theatre Festival, Roma
Linda Di Pietro, travailleur culturel, Milano, Italie
Maria Vittoria Di Sabatino, project manager, Rome, Italy
Francesca Romana Di Santo, attrice, autrice, Roma
Michele Di Stefano, artist, mk, Rome
Servane Diaferia-Acevedo Reyes, militante féministe, et fondatrice de La Grenade collecti, Metz, France
Gisèle Didi, photographe, Lormes, France
Alice Diop, réalisatrice, France
Behi Djanati Ataï, actrice, Paris, France 
Darya Djavahery-Farsi, militante, France
Diana Donzelli, citoyenne, professeur, Naples, Italy
Max Dorléans, militant, Groupe Révolution Socialiste, Martinique
Elsa Dorlin, philosophe, France
Yoann Doto, citoyen, Paris, France
Maud Dréano, citoyenne, Lyon
Véronique Dubarry, militante syndicale, L'Ile Saint Denis
Marie Dubost, militante féministe, Paris, France
David Dufresne, Au Poste, France
Penelope Duggan, Feminist and anticapitalist activist, NPA, France
Virginie Duval, militante syndicale Solidaires, Paris, France
Jean Ekra, militant EELV, Paris, France 
Zakaria El Haddany, citoyen, Corne de Gazelle Le podcast, Bruxelles, Belgique
Malak Elhamidy, dvocate/activist, Morocco 
Marlene Engel, music curator, Germany
Marlene Engel, music curator / dramaturg, Volksbühne Berlin, Berlin 
Annie Ernaux, écrivaine, prix Nobel de littérature, France
Karine Espineira, sociologue, Université paris 8, France
Alba Estebénet, syndicaliste dans l'éducation, militante antiraciste et transféministe, SUD Education, gauche écosocialiste, Pantin 93 France
Heather Evans, scholar activist, Toronto, Canada
Catherine Fabbri, infirmière, Grenoble, France 
Jérémy Fabre, citoyen, directeur d'association, Nantes, France
Catherine Facerias, anthropologue, Paris, France
Sepideh Farsi, cinéaste, militante, France
Firoozeh Farvadin, chercheuse activiste féministe, Allemagne
Éric Fassin, sociologue, France
Nina Faure, réalisatrice, Montpellier, France
Golshan Fayal, activiste féministe
Joana Félix, citoyenne, Paris
Katia Fersing, citoyenne, Millau, France
Laure Fesquet, enseignante, Albi, France
Daniela Festa, researcher and activist, Rome/Paris
Agnese Fiocchi, creative producer, Teddy's Last Ride, Groningen, The Netherlands
Lucille Florenza, anthropologue, Marseille
Laura Fontana, historian, Rimini, Italy
Sébastien Fontenelle, journaliste, Paris
Honor Ford-Smith, Toronto, Canada / Kingston, Jamaica
Gabriela Forzy, citoyenne, Vigoulet-Auzil, France
Marie-Laure Fourel, syndicaliste et militante, Paris
Lucie Fournié, militante écoféministe et lesbienne, Paris, France
Véronique Fournié, citoyenne, Vergaville, France
Madeleine Fournier, citoyenne, artiste, ODETTA, Paris
Maria Elisabete Fragoso, citizen, Lisbonne, Portugal 
Annika Frahm, communications manager, Berlin
Imbergamo Franca, magistrata, Roma 
Zoe Francia Lamattina, citizen, Venezia, Italy
Anya Francis, TV producer, London, UK
Géraldine Franck, militante égalitariste, Paris 
Paola Freddi, film editor, Roma, Italia
Daniel Freire, militante, Spain 
Maria Luisa Frisa
Angela Fumarola, citoyenne, Livorno, Italy
Verónica Gago, militante féministe et professeur, Argentine
Leili Galehdaran, poet and former professor 
Silvia Gallerano, Roma
Erika Z. Galli, artist, Industria indipendente, Italy 
Margot Gallimard, éditrice militante, Paris, France
Zeynep Gambetti, chercheuse indépendante, Istanbul, Turquie 
Sara Garbagnoli, feminist researcher
Rela Garfein, citoyenne, Paris, France
Carlotta Garlanda, cultural project manager, Rome, Italie 
Karine Gateiier, anthropologue, Modus Operandi, Grenoble
Marie Gautheron, citoyenne, Montreuil
Charlotte Gehin, Enseignante, syndiquée au SNES, Montpellier, Fance
Laura Gemini, researcher - professor, University of Urbino Carlo Bo -Italy, Rimini, Italy
Vera Gemma, Roma
Euryale Germain, citoyen'ne, Carpentras, France
Caroline Geryl, musicienne, France
Katerina Giberman, designer, Philadelphia, USA
Françoise Gil, sociologue, Paris
Estelle Girard, citoyenne, Paris, France
Francesca Giuliani, citizen, Mondaino, Italy
Chiara Gius, citizen, Davide, Bologna, Italy  
Leo Gliozzi, Rome
Barbara Glowczewski, directrice de recherche émérite, CNRS, Paris
Laura Glynn Smith, militante, Paris
Philippe Godbillon, éditeur, Nanterre
Mélanie Gourarier, chercheuse
Caterina Gramaglia, Italy 
Aline Granier, militante, Saint Egrève
Viviana Gravano, professionista e attivista, Attitudes-spazio alle arti Bologna, Bologna 
Claire Grino, enseignante-chercheure féministe, Lyon
Françoise Grosbois, militante féministe, syndicale, politique, NPA et SOLIDAIRES, Tours
Joana Guedes, Paris, France
Johanne Gueneau, Paris
Nacira Guénif, universitaire, Paris, France
Sylvie Guilbert, trans militante et artiste, Lormes, France
Prof. Dr Encarnación Gutiérrez Rodriguez, Goethe-Universität, Frankfurt, Germany
Sabina Guzzanti, artist militant, Rome
Emilie Hache, philosophe, Université Paris Nanterre, France
Sihame Haddioui, militante politique, Bruxelles, Belgique 
Adèle Haenel, actrice
Cyrille Hanappe, président Actes & Cités, Paris
Marilyn Hanoun, citoyenne et militante féministe, Tours, France
Kaoutar Harchi, écrivaine et sociologue, France
Dr Sabine Hark, professor of gender studies at Technische Universität, Berlin, Germany
Julie Hega, citoyenne, France
Pazhareh Heidari, militante de Links*Kanax, Allemagne
Prof. Dr. Nanna Heidenreich, universität für angewandte Kunst Wien, Wien
Emmanuelle Heisler-Bismuth, militante écoféministe, Meaux, France
Belinda Heisler-Bismuth, militante écoféministe, France
Sandrine Hermel, militante écoféministe lesbienne anti raciste, Beauvais
Assia Hifi, co-fondatrice de l'observatoire du racisme en politique, Paris, France 
Sarah Hirsch, citoyenne du monde, Albi, France
Sophie Huvet, directrice Hip Hop Évolution / Le Paradis des Makis, Mayotte
Caroline Ibos, sociologue, Paris 8, France
Depari Ilaria, activist, Italy
Federica Illuminati, cittadina, Roma, Italia
Bertille Isabeau, créatrice & militante, Paris, France
Karine Isambert, productrice, Paris, France
Geneviève Jacques, militante associative, La Cimade, Paris, France
Célimène Jacquin-Ravot, militante, Lyon
Amir-Hossein Jalilian, citizen, artist, activist, Nomad, Germany
Mélanie Jaoul, militante féministe intersectionnelle, maîtresse de conférences en droit privé, Montpellier, France
Nicolas Jaoul, anthropologue, Paris, France
Dorna Javan, politiste, chercheuse, Science po Lyon, Lyon, France
Flora Jay, chargée de recherche, Paris
Elena Jeffreys, sex worker, Australia
Samy Johsua, professeur universitaire, Marseille 
Zeynep Jouvenaux, programmatrice, France
Maud Jusnel, militante politique et syndicale, France
Lenio Kaklea, artist choreographer, France
Load Hussein Kantorowicz, artist/musician/activist/feminist, Berlin, Germany 
Fatemeh Karimi, militante, Paris, France
Agnès Karimi, militante Féministe, Paris, France
Azadeh Kian, professor of sociology and gender studies, Université Paris Cité, Paris, France 
Carolina Kobelinski, anthropologue au CNRS, France, Nanterre
Marjolaine Koch, journaliste, Paris
Fabienne Koehler, militante #NousToutes, Paris
Elisa Koubi, militante transactiviste et tds, Paris, France
Theodoulitsa Kouloumbri, militante féministe, collectif féministe Les Dionysiennes, Saint-Denis, France 
Chris Köver, Missy Magazine and netzpolitik.org, Allemagne
Roland Kuhne, citoyen, Paris, France
Salomé Kunegel, Grenoble, France
Luisa La Gioia
Irènne Labeyrie, retraitée, Gaillac, France
Muriel Lacan, bédéiste, Sévérac d'Aveyron
Eve Lagarde, citoyenne, Boulogne sur mer France
Nicola Lagioia, writer, Roma
Marie-Pierre Lajot, éditrice, Montreuil
Val Lajoux, militante féministe, Rennes
Coco Lakhdari, activiste de la lutte contre le sida, Toulouse, France
François Lapprand, militant politique et syndicaliste, Audincourt
Silyane Larcher, politiste, Saint-Denis
Mathilde Larrere, historienne, Paris, France
Paula Larruscahim, militant, Kollective Orangotango, Porto Alegre, Brasil
Mélissa Laveaux, artiste compositrice engagée, Paris
Émilie Laystary, journaliste, Marseille, France 
Léonore Le Caisne, anthropologue, CNRS, France
Christophe Le Drean, citoyen, Paris
Morgane Le Faou, militante féministe travailleuse sociale, France, Montreuil
Jasmine Lebert, directrice, 3 bis f centre d'arts contemporains, Aix-en-Provence
Elisabeth Lebovici, Paris
Alex Taek-Gwang Lee, professor, Kyung Hee University, Seoul, South Korea
Sara Leghissa, citizen, transfeminist, artist, Italy 
Marie Lemé, illustratrice, Le Havre, France 
Laura Lena, yoga teacher, Venice, Italy
Danaé Lepage, étudiante, Lyon, France
Mathilde Lepeltier, féministe et anticapitaliste, France 
Celia Levy, NousToutes, Paris, France 
Lola Levy, travailleuse du sexe et médiatrice en santé sexuelle escortes, Lyon, France 
Pauline Leybold, citoyenne, Paris, France 
Cecil Lhuillier, aktivist LGBTQI & sexworkers rights, Saint Denis 
Anne-Sophie Ligniert, militante féministe et animaliste, France
Margherita Lillus, citoyenne, Milano
Philippe Lingat, Paris
Sylvie Liotard, militante féministe, Roubaix 
Nathalie Loubeyre, réalisatrice, Paris
Camille Louis, philosophe, dramaturge, activiste auprès des personnes en exil, kom.post, La Casa Paris, Athènes
Marta Lovato, cultural professional, Rimini, Italy
Annemie Maes, collagiste The Green Fairy, Brussels 
Coquelicot Mafille, artiste peintre, Milan, Italie 
Nicoletta Magalotti, sound poetry, NicoNote Dream Action, Rimini, Italy
Silvia Magistrini, pensione, professoressa, Verbania, Italia 
Chowra Makaremi, anthropologue, Paris, France
Emmanuelle Mallet, militante révolutionnaire, peintre, NPA, Paris
Ilaria Mancia, Roma, Italy 
Patrizia Mancini, citoyenne, Tunisie
Alicia Maria, militante contre les discriminations, Nice, France
Fontana Marianna 
Maristella Maristella Rana, artist, Italy
Bwaggu Mark, activist, Queer sex workers initiative for Refugees, Nairobi, Kenya 
Marina Martin, régisseuse, Paris
Christine Martineau, avocate, AARPI L2MC avocats au Barreau de Paris, Paris, France
Jacques Martineau, citoyen, réalisateur, Paris, France
Nathalie Masduraud, réalisatrice, Paris 
Valerie Massadian, cinéaste, Paris, France
Maya Masse, citoyenne, Paris
Nicolas Mathieu, écrivain, France
Alexandra Maung, professional, Sinagapore
Odile Maurin, activiste anti validisme, Toulouse 
Fanchon Mayaudon Courtel, militante lesbienne, France 
Mohammad Ramin Mazhar, poet, independent artist, Bois Colombes
Pierre Mazoyer, militant.e, Paris, France
Francesca Mazza, attrice, Bologna, Italia
Daria Mazzurana, persona, Bologna
Angel Lysimacha McNeer, social assistant, La luna nel pozzo, Ostuni 
Caroline Mecary, avocate, France
Sylvestre Meinzer, citoyenne, Paris
Marius Meinzer, citoyen, Paris, France
Manuela Menolascina, teacher, Genova, Italia 
Violaine Mercier, militante, Limoges 
Thomas Messias, prof et journaliste, Paris
Lucie, MeTooLesbien, militante, France 
Nadia Meziane, activiste antiraciste, Paris
Franchini Micaela, artist, Italia
Nicolas Michel, ingénieur, Paris
Pascal Michel, artiste, Paris
Laura Michel, militante féministe et traductrice 
Maya Mihindou, artiste, autrice
Fumini Mila, chercheur et activiste, Italie
Chiara Mini, teacher, Italy 
Valentina Mira, écrivaine, Rome, Italie
Shahrzad Mojan, professor, Women and Gender Studies Institute, University of Toronto
Sara Mokni, militante citoyenne du monde, Paris, Lyon
Karima Mokrani, militante syndicaliste et féministe, Paris, France 
Maria Grazia Montesano, post-doc and feminist, Italy
Monira Moon, militante antiraciste et décoloniale, Saint-Etienne, France 
Francesca Morello, artist, singer and musician, Ravenna, Italy
Awen Moriceau, sex worker, France 
MP5, artist, Rome, Italie 
Kavak Munevver kavak, militan, Suìsse
Dorothée Munyaneza, artiste, Marseille, France
Élise Naccarato, activiste écoféministe, Paris, France 
Florence Nahon, agente en médiathèque, Paris
Costanza Nani, student, Italy
Carlotta Natoli, libre professioniste, Rome
Rose Ndengue, professor, Toronto, Canada
Jamileh Nedaii, comédienne, cinéaste et militante féministe, France
Nina Negri, metteuse en scène, Paris 
Sandra Nkaké, artist, La Plaine Saint-Denis
Lucie Nochib, militant.e, France
Marie-Paule Noel, militante, Paris
Viviana Norman, socióloga feminista, Argentina
Veronica Noseda, militante féministe et lesbienne, Paris, France 
Emilie Notéris, écrivaine 
Sabrina Nouri, présidente Diplomatie Féministe Femmes d'Avenir, Paris 
Rita Novas Miranda, enseignante, Paris
Armide Octaville, citoyenne, UFM union des femmes de la Martinique, Martinique 
Jean-Joseph Omrcen, citoyen, Sud spectacle, Paris
Chiara Organtini, citizen, cultural professional, Turin, Italy
Regina Orioli, italiana, femminista, attrice, Roma, Italia 
Fatima Ouassak, essayiste, France 
Zahia Oumakhlouf, militante féministe, Les Dionysiennes, Saint-Denis
Ov, cinéaste, France
Simona Maria Pagano, activist and student, Scafati, Italy
Julie Pagis, sociologue, CNRS, Aubervilliers, France
Marie Pailler, militante, Les Affolées de la grange, France
Claudia Pajewski, photographer, cortocircuito, Rome, Italy
Mike Palamarek, professeur adjoint contractuel, études des femmes et de genre; études sur la sexualité, Collège Glendon, Université York, Toronto, Canada
Laura Palmieri, radio giornalista, Italia
Mana Panahi, Vancouver, Canada
Ylenia Parbuono, citizen, La Spezia Italia
Maddalena Parise, artiste et chercheuse, Collectif Theatral lacasadargilla, Rome, Italie
Marta Pasquetti, militante, Paris
David Paternotte, sociologue
Chloé Pathé, citoyen·ne, éditrice, Paris, France
Paloma Pavan Nuňez, militante féministe et étudiante psychologue, Paris, France
Stefania Pedretti, Ravenna, Italy
Marc Pellas, économiste, Paris
Maeina Pelmoine, étudiante, Paris 
Isabella Peretti Capponi, associazione culturale Lesconfinate, Roma
Marine Périn, journaliste, réalisatrice et militante féministe, Paris
Martyne Perrot, sociologue, Paris
Maria Dolores Pesce, critica teatrale - studiosa di teatro, Genova
Katia Petrowick, citoyenne, militante, artiste, Faux-la-Montagne, France
Alice Pfältzer, créatrice de contenus et militante, France  
Julie Phan Quang, citoyenne transféministe et anti-raciste, Paris
Nicole Phelouzat, militante, LDH, Paris, France
Eva Philippe, citoyenne française
Giorgina Pi, artiste, Rome, Italie 
Philippe Pierre-Charles, responsable politique et syndical, Groupe Révolution Socialiste, Fort de France, Martinique 
Francesca Pietrisanti, militant activity, priot / Lab!Puzzle Bene Comune, Rome, Italy
Fabien Pinaroli, artiste, Lyon
Nadège Piton, alliée, France
Francesca Pizzalis, citizen, Rome, Italy
Gabin Plantet, militant, Poitiers
Christine Poupin, militante anticapitaliste et écosocialiste, féministe, porte parole du NPA, France
Behrang Pourhosseini, enseignant/formateur, ETSUP, Paris
Philippe Poutou, conseiller municipal, militant NPA, Bordeaux, France
Arianna Pozzoli, attrice, Italia
Joana Prata, cityzen, Guimarães
Paul b. Preciado, philosophe, France
Leslie Préel, enseignante, militante féministe et pour les droits des personnes LGBTI, Friction Magazine, Paris, France 
Cristina Previtali, artist, activist, Venezia, Italia 
Stéfanie Prezioso, MP- Suisse, Genève
Jonida Prifti, poet, Italie 
Florence Henriette Marie Prudhomme, militante Rwanda avenir, Paris, France
Anne Querrien, revue multitudes
Denis Quinqueton, militant LGBTI+, Paris, France
Christelle Rabier, historienne, Marseille 
Lydie Raër, militante handiféministe et élue écologiste, Ivry-sur-Seine 
Sabah Rahmani, journaliste, France
Renée Ravoteur, professeure retraitée militante, IV°internationale, NPA, Paris, France
Rouzbeh Raymand, Lyon
Manon Raynaud, praticienne en psychothérapie, Soisy sous Montmorency 
Michel Raz, sociologue, France
Em Rebeyrol, militant-e lesbienne marxiste, Paris
F.R. Recchia Luciani, prof. universitaria, Bari, Italia
David Redon, citoyen, ministère de la Culture DRAC nouvelle Aquitaine, Eymoutiers
Stella Rendina, citizen, Italy
Alice Resche, militante, Poitiers, France
Inês Ribeiro, call center administrative, Lisbon, Portugal
Susana Ribeiro, citizen, Paris, France
Sasha Ricci Rovatti, student, Punto Froce, Venezia, Italy
Diane Richard, militante écoféministe lesbienne, Paris
Mathieu Rigouste, chercheur en sciences sociales, France
Bassanini Rita, libera professione, Spettacoli, Carate Brianza 
Philippe Robert PHilippe, consultant climat, France
Suzanne Robichon, activiste lesbienne, Paris 
Stefania Rocchi, cittadina, A.N.P.I Terzo Municipio Roma, Roma, Italia
Julie Rochereau, citoyenne, Montreuil, France
Ariane Rosenau, citoyenne, Castres, France
Sebastien Rossano, citoyen, Paris
Menna Rossella, professor, Italy
Zanotti Rossella, citizen, Bologna, Italia
Maria Cristina Rossi, insegnante, Italia 
Somayeh Rostampour, chercheuse et militante féministe, France
Kate Roulle, citoyenne, Paris
Kate Roulle, citoyenne, Paris
Dominique Rozas, citoyenne, France/Italie 
Rosa Rubino, ALICE, Bari
Martina Ruggeri, artist, industria indipendente, Roma 
Neto Rui, citizen, Portugal 
Daria Saburova, chercheuse, membre du Réseau européen de solidarité avec l'Ukraine, Paris, France 
Sophie Sadoun, activist, France
Isabelle Saint-Saens, militante associative, Paris
Tatiana Salem Levy, écrivain, Lisbonne, Portugal
Luca Salerno, citizen, Rome, Italy
Catherine Samary, french feminist against islamophobia and for global justice, member of the European Network in solidarity with Ukraine, NPA, Paris
Sabrina Sanchez, activist, European Sex Workers Rights Alliance, Amsterdam, The Netherlands
Paola Sangiovanni, feminist, Rome, Italy
Federica Santoro, attrice, regista, Roma 
Diletta Satta, Rome
Chantal Saulière, teacher, France
Eina Scal, militante, Héro•ïnes 95 sans frontières, Val d'Oise, France 
Camille Schmoll, enseignante-chercheuse
Céline Sciamma, scénariste et réalisatrice, France
Joan Scott, historienne, institute for advanced studies, Princeton, USA
Paola Sedda, militante féministe et anticapitaliste, Lille
Marie Josephe Sellaye Hardy Dessources, Union des femmes de Martinique, Ducos, Martinique
Marie Semin, militante écoféministe, Paris, France
Coline Serra, campaigner et militante écoféministe, Paris
Seema Seyda, Another Europe Is Possible, Royaume-Uni
Pardis Shafafi, citizen, Norway
Adam Shatz, écrivain, London Review of Books, Brooklyn, États-Unis
Alia Shawkat, USA
Raha Shirazi, filmmaker, Rome, Italy 
Calderoni Silvia, militante, artista, attrice, Roma / Italia
Senzacqua Simona, attrice, Roma
Billy Simoneau-Byrne, militant féministe et LGBTQIA+, Brest, France 
Alessia Siniscalchi, artistic director, Kulturscio K, France montreuil 
Claudia Sorace, artiste, Roma, Italie 
Costanza Spina, France
Karine Spinner, qualité manager, Paris, France
Kara Springer, artist, New York, USA
Meryl Srocynski, citoyenne, Toulouse, France 
Monica Stambrini, filmmaker, Italia
Jessica Suzes, militante féministe, Saint-Denis, France
Iside T., humans being, United Kingdom/Italy 
Drass Tecles, militante féministe et LGBTI - membre du NPA et de l'AFT, France
Chiauzzi Teresa, architect, Rimini, Italy 
Ruggeri Teresa, citoyenne, Roma, Italia
Lisa Terral, militante, Sèvres, France
Pierre Tevanian, France
Chloé Thibaud, journaliste, Paris, France
Elise Thiébaut, autrice, Vauvert
Hélène Thiollet, Paris, France
Maud Thomas, chercheure indépendante
Jean Tible, professeur, Universidade de São Paulo, Brésil
Brigitte Tijou, réalisatrice, Paris, France
Maria Timpano, medecin, Roma
Sylvie Tissot, France
Rajive Tiwari, professor, Belmont Abbey College, United States
Tobia "Yaquelì" Tomasi, citoyenne et militante, Venise, Italy
Elene Topuria, anticapitalist and revolutionnary activist, Tbilisi, Georgia
Sarah Tordo, citoyenne, Nice, France 
Julia Torlet, enseignant·e militant·e, Paris
Emma-Jane Touhey, citoyenne, Bagneux, France 
Assa Traoré, militante, fondatrice du comité Vérité et Justice pour Adama, France
Jasmine Trinca, actrice, Roma, Italy
Natacha Trotzky, bibliothécaire, collectif Femme, vie, liberté - culture mobilisée, Montlaur
Liliana Trovalusci, Roma
Victoire Tuaillon, journaliste et autrice, Paris
Laetitia Tura, réalisatrice, France
Federica Tuzi, writer, Roma, Italy
Valerie Urrea, réalisatrice, France
Roseline Vachetta, militante anticapitaliste, membre du NPA, Grenoble, France
Carlotta Vagnoli, writer, Italy
Annemie Vanackere, artistic and managing director HAU Hebbel am Ufer, Berlin
Cláudia Varejão, citoyenne, Lisbonne, Portugal
Sophie Varlet, citoyenne, France
Marie-Christine Vartel, militante féministe Union des femmes de Martinique, Fort de France, Martinique 
Catarina Vasconcelos, filmmaker, designer, Portugal
Laura Verga, artistactivist, Roma, Italia
Joline Vermeulen, dramaturg, NTGent, Brussels, Belgium
Pedro Vianna, poète, homme de théâtre, enseignant universitaire, Paris, France
Sandra Vidaud, militante féministe, France 
Gisele Vienne, chorégraphe, France
Emanuela Villagrossi, attrice, Milano
Pierre Vinant, citoyen, adhérent Sud-Recherche-Solidaires, Vanves, France
Eric Vincent, citoyen du Monde, militant pour la liberté l'égalité et la justice sociale, Olivet
Marina Viola, féministe, Cambridge, USA
Eva Vocz, chargée de plaidoyer d'Act Up-Paris, Paris
Jaime Vogado, citoyen, Barreiro, Portugal 
Christiane Vollaire, philosophe, France
Eva von Redecker, philosophe, Pritzwalk, Germany
Gabriela Vramencalieva, citizen, Paris, France
Sophie Wahnich, historienne, Grenoble
Bertrand Weber, psycholotherapeute, Dijon 
Illana Weizman, essayiste, Tel Aviv, Israel
Cynthia Wright, Toronto, Canada
Nima Yajam, queer activist, refugee, Toronto, Canada
Rezvan Zandieh, artiste, chercheuse, activiste féministe, France 
Sara Zannoni, artista, Firenze
Maria Paola Zedda, art and performance curator, Le Alleanze dei Corpi - ZEIT, Milano, Italy
Nadia Zem, militante féministe, Paris
Stefania Zuccotti, militant feminist, Roma, Italy
Ichen Zuffellato, citoyen, Caracol olol jackson, Vicenza,Italy
Ruth Zurbriggen, colectiva feminista La Revuelta en Neuquén, Argentina
Ana, atriz, Portugal
Béné, militante féministe et pour les droits humains et créatrice de contenus, France
Claudine, citoyenne militante, Limoges, France 
Daria, architect, Milano Guadagni, Italia
Jamal, militant, JINS Podcast, Paris
Leña Dora, musician, Barcelona
Linda, sympathique, Finistère
M.T., activiste politique, Paris, France
Meg, musicista, Napoli, Italia 
MylN, collectif des Femmes de Strasbourg Saint Denis, Paris
Tomesara, teacher, Germany
Roberto Abela Serra, jubilado, Felanitx
Elisa Agosti, Italy
Calogero Alessia, militant activity, Torino, Italy
Lisa Amoriello, avocate, Italy
Stéphane André, universitaire, Nancy
Françoise Asso, universitaire (retraitée), Paris
Anne-Laure Baudy, citoyenne, lycéenne, Paris, France
Isabelle Berlivet, citoyenne, Rennes, France
Hanna Bilobrova, réalisatrice, Kyiv, Ukraine
Sylvie Blocher, artist, Saint Denis, France 
Lucia Alfonsa Bonanese, citizen, Italy 
Silvia Borelli, chercheuse, Université de Ferrara, Ferrara 
Lauriane Bouvet, militante féministe, NPA, Villeurbanne
Johanna Breitfeld, citizen, Germany
Julie Brillion, citoyenne, ingénieure, Saint-Denis 
Carmen Cabello, ciudadana, Logroño
Giulia Campiglia, cittadina, Melano
Elea Camus, citoyenne, Orléans, France
Charles Antoine Canale, enseignant, militant, Saint-Laurent du Maroni, Guyane
Gambaro Carlo, actor, Florence, Italie
Elisa Casalegno, citoyenne, Genève, Suisse
Matilde Cattani, citizen, Milano, Italy
Luisa Cavallero
Elodie Cellier, militante féministe, Paris
Mabel Cepeda, citizen, Argentina
Benoît Chaland, psychologue, auteur compositeur interprète, militant, Brannay, Bourgogne, France 
Brigittecit Chatel, Citoyenne, France
Daria Chernina, journalist AIM Berlin, Potsdam
Federica Chiarentini, citizen, Italy
Vacca Claudia, citizen, Italy
Elaine Coburn, director of the Centre for Feminist Research, York University, Toronto, Canada
Beatrice Corci, PhD student, Groningen, Netherlands
Maria Cousido, profesora, Lugo
Fabio D'Alessio, Italy 
Anna Rita D'archi, citoyenne, Bologna, Italia
Chiara D'Eugenio, citizen, Santa Cruz de Tenerife, Spain
Eliane Davy, citoyenne, Cahors, France
Cécile De Bary, MCF, Paris
Silvia De Luca, cittadina, Italia
Tessa de Quirini, citoyenne, Belgique 
Lavinia De Ranieri, citoyenne, Italie
Eleonora De Santis, citizen, Rome, Italy
Veronica Del Signore, citizen, Florence, Italy
Luciana Delgado, reasercher, Funes, Santa Fe, Argentina
Catherine Delille, citoyenne retraitée, France
Stella Delleani, cittadina, Italia
Marc Delville, enseignant, Cachan
Armando Di Nunzio, artista, San giovanni teatino 
Nathanaël Ducom, technicien, la clé des ondes, amnesty international, Bordeaux, France
Joséphine DV, citoyenne
Sandrine El Boughanmi, citoyenne, France
Marie Fabre, citoyenne, Nîmes, France
Marion Fageol Bourumeau, citoyenne, Lannion, France 
Romina Fanchiotti, citizen, Italy
Gabriella Fenoglio, teacher, Italy
Sandrina Fernandez, illustratrice, France
Thomas Fournier Galle, militant écologiste, Paris, France
Mélanie Frasse, être humaine, France 
Françoise Fressonnet, anthropologue, insoumise, France
Francesco Galuppi, italian academic researcher, Poland
Stefania Gambella, Italia 
Zeynep Gambetti, professeure de sociologie de théorie politique, Istanbul, Turquie
Irene Gandolfi, attrice, Mantova, Italia
Nadia Garofalo, citoyenne, Belgique 
Christelle Gazeau, citoyenne, Mont de Marsan, France
Pierre Gineste, citoyen français, Vaour, France
Zalunardo Giovanni, citizen, Italie  Furlanetto
Martina Giulia, citoyenne, San Quirino
Sylvie Glissant Sema, artiste, Institut du Tout-Monde, Paris, France
Ana Gonzalez, citizen, Portugal, Porto
Maedusa Gorgon, autrice engagée, Lyon
Christine Goyard Gudefin, militante, élue PCF, Villeurbanne 
Federico Grillo Pasquarelli, cittadino, Torino, Italia 
Delphine Grinberg, terrien.ne, Paris sans voiture, Paris, France
Sofia Gualandi, researcher, Fondazione Giacomo Brodolini, Rome
Anbya Hasnaoui, femme du monde, Auxerre, Bourgogne, France 
Camille Jeremiah, citoyenne, Nous Toutes, Montreuil
Sandra Joguet, citoyenne, Rivière sur Tarn
Carolina Kobelinsky, anthropologue, France
Isabelle Krzywkowski, universitaire
Alba L'Astorina, citoyenne rechercher, Milano, Italia
Marie Ladier-Fouladi, sociologue et démographe, CNRS, Paris, France
Ambrosecchia Laura, psicologa, Italia
Léna Lazare, membre, Soulèvements de la Terre, Nantes, France
Viola Lo Moro, poet, lesbofemministe, Roma
Monti Lorella, citizen, Italy
Philippe Lorrain, citoyen, Clamart, France
Liviana Lunetto, citoyenne, Paris
Letizia Mancini, professeure de sociologie du droit, Università di Milano, Milano
Francesca Manieri, sceneggiatrice attivista, Roma
Porpora Marcasciano, militant activity and Bologna City Cauncil, MIT (Movimento Identità Trans), Bologna
Banci Marika, just a woman, Italy
Anne-Marie Marteville, citoyenne, Quimper, France
Maryse Marti, chercheuse d'espoirs, Tuffé 
Sophie Martin, citoyen-ne, France 
Francesca Maselli, citoyenne, féministe, professeure, Amiens, France
Valentina Mathys, citizen, Italy
Franca Mazzoli, citizen, Italia
Fiorenza Menni, artista, Ateliersi, Bologna 
Heloïse Mercier, ancienne juriste dans la lutte contre les violences faites aux femmes et minorités, Le bono, France
Fabienne Messica, sociologue, Ligue des Droits de l'Homme, Paris
Loretta Michielin
Mariagrazia Militello, professoressa di diritto antidiscriminatorio, Università degli Studi di Catania, Catania
Zohra Mokadem, enseignante, France
Gloria Mulatero, bank employee, Turin, Italy
Yaël Nahmani, citoyenne et militante féministe, Association Boucan, Alès, France 
Silena Nepote, citoyenne italienne, militante, journaliste, Portoferraio, Livorno, Italie
Juliette Nguyen Dao, citoyenne et bibliothécaire, Paris
Christophe Ochmé, citoyen, étudiant en science politique, Lille, France
Ana Isabel Olayo Carrasco, citoyenne, Barcelona, España
Jeffrey Olivier, militant·e, France
Justine Page, éducatrice spécialisée, Lyon
Mathieu Palomares, citoyen·ne, Lyon, France 
Ivana Paniagua Marini, citoyenne, Milano, Italia
Rosaria Pepe, nurse, Naples, Italy
Sébastien Perrin, militant, SUD Education Paris / Réseau Salariat, Paris, France
Jean-Pierre Pertuy, membre LDH Dole, Dijon, France
Fabien Pinaroli, artiste, Villeurbanne
Pilar Pinto, enseignante chercheuse, Cádiz, España
Pierre Porcher, citoyen poète, Bagnolet. France
Anna Pourchot, aquarelliste sculpteur, France
Anabel Prune, enseignante, Paris
Marisoa Ramonja, artiste, Manosque
Ayu Ratih, activist, Indonesian Institute of Social History, Malang, Indonesia
Maddalena Recino , actrice, Italy
Christine Richon, citoyenne, Toulon, France
Barbara Robiolio Bose, software engineer, Genova, Italia
Toni Rovatti, ricercatrice, Università di Bologna, Bologna, Italia
Enara Sahuquillo, poète, musicienne, activiste, 05311914h, Vilnius, Lituanie
Camille Sanchez, citoyenne, Dordogne, France
Coline Sanchez, militante, Paris, France
Nicola Sannazzaro, citizen, Italy
Marcela Santander Corvalán, artiste /coregraphe, Mano Azul, Paris, France 
Rafael Sartorio, citoyen, Spain
Irene Scarpelli, Firenze, Italia 
Sara Scarpelli, citizen, Italia
Paola Scatena, teacher, Rome
Sara Silvestrini, citizen, Italy
Johanna Siméant-Germanos
Giulia Spano, citizen, Italy
Beatrice Anna Stampa, citoyenne, Italy
Barbara Steiner, transform! europe, Vienna, Austria
Peter Steiner, sympathisant, Châtillon
Mona Taïbi, citoyenne, France 
Silvia Tassotti, lawyer, Bologna, Italy
Annalisa Tomasi, teacher, Parma, Italia
Patrizia Tondini, Bologna
Serena Tricarico, citizen, Edinburgh, United Kingdom
Marco Turco, citizen, Dublin, Ireland
Alma Valdes, citoyenne, Lyon
Léa Valéry, étudiante, Paris, France 
Pascale Vielle, professeure, Belgique
Loris Viviani, teacher, Mendrisio, Switzerland
Cristina Volpe Rinonapoli, giornalista, Non una di meno Roma, Roma 
James Yarker, citoyen, Alexandria, Ontario, Canada
Jens Philip Yazdani, étudiant, Danemark
Monia Zaïdi, enseignante, France
Anita Zanetti, citizen, Roma, Italia
Sonia Zucchini, citizen, Sasso Marconi, Italy
Marlène, citoyenne, France
Chris, ayant 3 filles, Paris
Antonella, citizen, Buenos Aires