En solidarité et en empathie,
En tant que musiciens, nous ne pouvons pas rester silencieux. Aujourd'hui, il est essentiel que nous soyons aux côtés de la Palestine.
Nous appelons nos pairs à affirmer publiquement leur solidarité avec le peuple palestinien. La complicité avec les crimes de guerre israéliens se fait en silence, et aujourd'hui le silence n'est pas une option.
Le silence n'est pas une option alors que les bombardements brutaux israéliens de la bande de Gaza assiégée ont fait plus de 245 morts ces dernières semaines.
Le silence n'est pas une option alors que les habitants de Sheikh Jarrah, dans la Jérusalem occupée, sont continuellement chassés de leurs maisons.
Le silence n'est pas une option alors que des millions de réfugiés palestiniennes et palestiniens se voient refuser leur droit collectif au retour.
Le gouvernement israélien met en œuvre un projet colonial visant au nettoyage ethnique de la population palestinienne. La violence systémique, le racisme et la dépossession hérités du colonialisme doivent cesser. Nous demandons à tous les gouvernements de ne plus financer les technologies militaires qui profitent à l'Etat israélien et à ses crimes de guerre.
Aujourd'hui, nous parlons d'une seule voix et nous exigeons la justice, la dignité et le droit à l'autodétermination pour les Palestiniennes et Palestiniens, comme de tous ceux qui luttent contre la dépossession et la violence coloniales à travers la planète.
Nous vous appelons à nous rejoindre en refusant de vous produire dans les institutions culturelles complices d'Israël, et en soutenant fermement le peuple palestinien et son droit à la souveraineté et à la liberté. Nous croyons que ce geste est indispensable pour pouvoir espérer vivre un jour dans un monde sans ségrégation ni apartheid.
Pour une Palestine libre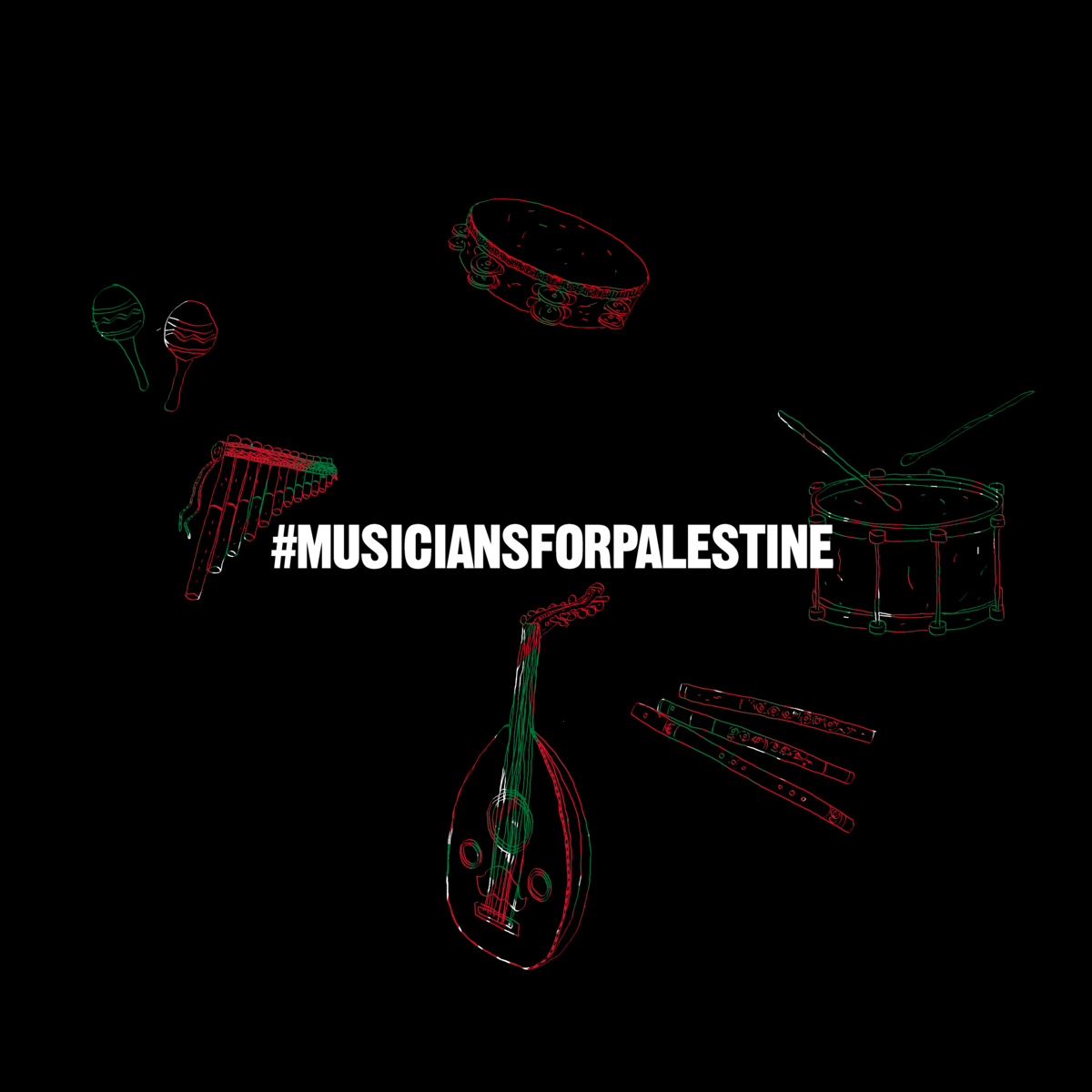 Signataires :
Allie
Ab Salyann Tha God
Abdul Dube
Abdul-Wahab Kayyali
Abdulisms
Abe Batshon
Abed Kobeissy
Adam Bergeron, Pechblende
Adam Kinner
Adam Saikaley
Adam Sturgeon, Status/Non-Status
Adam Waito
Agnaldo Mirage
Aidan Girt, Godspeed You! Black Emperor
Airick Asher Woodhead, Doldrums
Aisha Sasha John
Aja Monet
Alan Bishop, Sun City Girls, Invisible Hands, Dwarfs of East Agouza Alaska, Yamantaka // Sonic Titan
Alberto Azaharvich Paredes
Alejandra Tarud-Karkowska
Alex B Barcellos
Alex Pelchat
Alexander MacSween
Alexander Moskos, Drainolith
Alexei Perry Cox
Algiers
Ali Sethi
Allan Shark
Alsarah
Aluna
Álvaro Núñez Carbullanca
Amanda Harvey, IRL
Amanda Irarrázabal Elliott
Amber Coffman
Amir Abbey, Secret Pyramid
Amirtha Kidambi
Amy MacDonald, Nennen
An-Laurence Higgins
Ana Quiroga
Anas Rasta
Andrea Mercier, Bolduc Tout Croche Andrea-Jane Cornell
Andrew Woods, Legal Vertigo Anees The Rapper
Angel Simitchiev, AMEK collective Aníbal Vidal Astroza
Anna Atkinson, Linaire Annette D'Armata Anthony Sahyoun Anwar Hadid
Araz Salek
Ari Swan
Ariane Roy
Arielle Herman, QUALIATIK Asaël Richard-Robitaille, L'OEil nu Asem Tag
Asher Gamedze
Asian Dub Foundation
Asma Ahsan Khan
A-Trak
Aya Metwalli
Backxwash
Bára Hladík
Béa M.
Bella Cuts
Belly
Ben Grossman
Behnoud Mohammadi, IDFT
Bianca Casadi (cocorosie)
Bianca Palmer
Black Thought & Questlove of the Roots Blunt Chunks
Bob Ostertag
Bobby Boycott
Bocafloja
Bonnie Banane
Brendan Canning, Broken Social Scene
Bu Kolthoum
Bun B
Büşra Kayıkçı
Cabral Jacobs
Cam Maclean
Carmen Elle
Camila García Urtubia
Camille Hedouin Camilo Roca
Carola Elizabeth Jerez Berenguer Caroline Monnet
Casey Dienel, White Hinterland Casey Mecija
Catalina Menares Latorre
Caterina Barbieri
Catherine Debard,
YlangYlang Catherine Lamoureux, Valeda Cecile Believe
Charbel Haber
Charlene Dally, Le désert mauve
Charlotte Cornfield
Charly Buss
Che Kothari
Checkpoint 303
Chittakone Baccam, Hazy Montagne Mystique Chloe Lum
Chris Cohen
Chris Steward, Bodywash
Chronixx
Cicerone
Cindy Li, Ciel
Claire Abraham
Claude Maheu
Claudio Parra González
Cole Pulice
Colectivo LASTESIS
Collectif V.I.D.D.A
Colombina Parra
Corey Gulkin
Craig Pedersen
Cristian Morales Ossio
Cristian Parker
Cristóbal Montes Bustos
Cypress Hill
d'bi young
Dadalú
Damon Davis
Dan Fishback
Dana Gavanski
Danji Buck-Moore, anabasine
Daniel Áñez
Daniel Carter
Daniel Cartes Villalobos
Daniel Edmonds
Daniel Romano
Daniela Charles
Daniela Fugellie Videla
Daniele Mana
Daro Behroozi, Lucky Chops
Dave Bleakney
Dave 1, Chromeo
David Bryant, Godspeed You! Black Emperor
Dave Harrington
David Dugas Dion, Cuchabata Records
David Guillas, Agassiz
David Moore, Bing & Ruth
David Plowman
Deena Abdelwahed
Denise Chaila
Devin Brahja Waldman
Devon Welsh
Diego Noguera Berger
Digable Planets
Dina El Wedidi
Disc Jockeiy Naldo Silva
DJ Alquimix
Dj Budda Blaze
DJ Dolores
DJ Gug
DJ Halpo
DJ Kurts
DJ pgz
DJ Snake
Doc McKinney
Dominique Grange
Don Wilkie, Constellation Records Dramatik, Muzion
Drew Gragg
Drew McDowall
DRMNGNOW (Neil Morris)
Dugueto Shabazz
Drumspeak
Dustin Finer
Duygu Demir
Dylan Scheer, Via App
Eduardo Astudillo Tapia
Efrén López
Efrim Manuel Menuck, Godspeed You! Black Emperor Elaine Mai
El Tipo Este
Elias Ravin
Eliza Kavtion
Eliza-Jane Barnes
Elli Medeiros
Elliott Sharp
Elyze Venne-Deshaies
Emel Mathlouthi
Emiddio Vasquez
Emile YX?, Black Noise
Emilie Mouchous
Emma Daman Thomas, Islet
Ernie Tollar
Eric Blitz, Astral Knife
Eric Boivin
Eric Gingras, Enfant magique
Eric Quach, thisquietarmy
Erico Reis, Mickey Junkies
Erin Weisgerber, Jerusalem in my Heart
Eryn Allen Kane
Esteban Correa Astudillo
Estelle Schorpp
Esther Bourdages
Etien Slavchev, EVITCELES
Evan Tighe
Eve Parker Finley
Ewelina Vlcek-Chiu
Fabio Hataka
Faten Kanaan
Felipe Araya Muñoz
Felix Del Tredici
Fjolá Evans
Fousey
Francesco Cavaliere
Francisca Benítez
Freak Heat Waves
Fred Wreck
Frédérique Roy
Funk Buia, Z'Africa Brasil
Gabriel Holzapfel Mancini
Gabriel Jiménez O.
Gabriel Levine, Black Ox Orkestar
Gabriel Sasseville-Jolicoeur, Chabanel
Gabriel Teodros, Abyssinian Creole Gaidaa
Gang Of Ducks
Gaspar, Z'africa Brasil
Gayance
Geneviève Heistek, Hangedup
Gianna Lauren
Godspeed You! Black Emperor
Graham Beverley, grhmbvrl
Graham Van Pelt
Guillermo Martinez, Climate Collapse Guy Picciotto, Fugazi
Gyslain Gaudet
Habibi Funk
Hamed Sinno, Mashrou' Leila
Hands in the Dark Records
Hassan El Hadi
Heba Kadry
Hiro Kone
HK (Kaddour Hadadi)
Hubert Gendron-Blais, ce qui nous traverse
Huda Asfour
Hugo Paredes Acevedo
Ian Hawgood, Home Normal
Ian Ilavsky, Constellation Records
Ian Kamau
Igo, Resistencia do gueto
Illangelo
Imed Rezgui
Imediato
Imhotep (IAM)
Inês Borges Coutinho
Italo Riffo
Ivan Bamford
Ivan Klipstein
J. Gonzalez-Blitz, Astral Knife
Jace Lasek, The Besnard Lakes
Jaclyn Blumas, Doomsquad
Jacob Wren
Jad Atoui
JADE
James Goddard, Skin Tone
James Milne, Lawrence Arabia
Jana Hunter, Lower Dens
Jaunt
Javier Moshila
Jayme RK
Jean Néant, Joni Void
Jean-Baptiste Fave
Jean Smith, Mecca Normal
Jeremy Young, Sontag Shogun
Jerry Quickley
Jesse Paris Smith
Jessica Moss
Jessie Stein, The Luyas
Jessika Khazrik
Jimmy Barnes
Jimmy Tamborello, Dntel / The Postal Service
Joel Herman
Joël Lavoie
John Triangles Stuart
Jordan Christoff
Jordan Lee, Mutual Benefit
Jordan Torres-Bussière, Chabanel
Jordan Ullman
José Miguel Contreras, By Divine Right Joseph Kamaru, KMRU
Joseph of Mercury
Joseph Sannicandro
Joshua Stefane, Endurance
Juan Pablo Abalo Cea
Juan-Pablo Villegas Delgado
Julia E Dyck
Julian Casablancas (The Strokes / The Voidz) Juliana Huxtable
Junia T
Justin Cober, YDR
Justin Kuritzkes
K-Salaam
Kabreet
Kam Franklin
Kamau
Karter Zaher
Kate Carr
Katie Lee, EEJUNGMI
Kelly Pratt
Ken Vandermark
Keny Arkana
Khyam Allami
King Britt
King Nino Brown, Zulu Nation Brasil
Kiva Stimac, Popolo Press
L. Alexis Emelianoff
L'Oqenz
Ladybug Mecca
Lamia Yared
Land of Talk
Lateef Martin
Laura Jeffery, Fountain Leandro Norbi
Leanne Betasamosake Simpson Léon Lo, Skinnybones
Léonie Pernet
Les Shirley
Liam Finn
Lila Borsali
Liliane Chlelam, Safala
Liliana Rodríguez Alvarado Lindomar 3L
Lori Goldston
Lou Piensa, Nomadic Massive Lourdes Pérez
Lousnak
Lowkey
LSDXOXO
Lucas Huang
Luke Kuplowsky
Luciano Taulis
Lucy Railton
Luis Alvarez Aránguiz
Lukax santana
Luke Loseth, Holobody
Luz, Room 4 Resistance
Lyra Pramuk
Ma-Au Leclerc, La Fièvre Machel Montano
Madison McFerrin
Magella Skerritt, MAGELLA Magia MC
Mahdi Saoula, Dr. MaD
Maiya Hershey
Majid Al Maskati
Malika Tirolien, Snarky Puppy Marc Codsi
Marcelo Troncoso
Marcia Bassett
María José Pando
Marie Davidson, Essaie Pas
Marie St-Jacques
Marija Balubdžić, Umbra
Mario Feito
Mark Aranha
Mark LeVine
Mark Molnar
Mark Porest
Markus Floats
Marshall Vaillancourt
Martín Rodríguez
Maryam Sirvan
Maryem Tollar
Marzio Zorio
Matías Escudero Queirolo
Mathieu Charbonneau, Avec Pas d'Casque, Organ Mood, Charbonneau/Amato Matt King, Absolutely Free
Matt Rogalsky
Matteo Uggeri
Matthew Lederman
Matthew "Matthewdavid" McQueen, Leaving Records
Matthew Progress
Matthew Shipp
Mathieu Ball and Robin Wattie of Big Brave
Matthieu Pageau
Maurice Louca
Mauro Pezzente, Godspeed You! Black Emperor
Mauro Remiddi, Porcelaine Raft
May Nasr
Mayakov+sky Platform
Maycom Mota
Mazzi Soul Purpose
Médine
Melissa Fundira, DJ GAJU
Mélodie Spear
MERNA
Meryem Saci
Michael Claxton, Absolutely Free
Michael Feuerstack
Michael Zerang
Miguel Conejeros
Miguel Hernández Aguirre Mike Chav
Mike Nelson
Mike Cooper
Mike Weis
Milad Bagheri
Mili Hong
Mina Girgis
Mochilla
Moe Clark
Moe Choucair
Mohamed Choucair, Bakisa
Molly Sweeney
Moshe Fisher-Rozenberg, Absolutely Free Mourad Musset (La Rue Ketanou)
Mouss et Hakim
Muqata'a
Mustafa The Poet
Nadah El Shazly
Nadia Moss
Nadim Maghzal, Wake Island
Nadine Altounji
Nadine Neema
Nai Barghouti
Naïssam Jalal
Naomie De Lorimier, N NAO
NARCY
Nasir Hasan
Nate Burley
Nathalie Raffray
Nathan Medema, H. de Heutz
Natik Awayez
Nawel Ben Kraiem
Nick Kuepfer
Nick Schofield
Nicolás Aguirre
Nicolás Fuentes Wilson
Nicolás Jaar
Nicolás Kiwadenko Mouat
Nicolás Letelier Saelzer
Niko IS
Nina Segalowitz
Nizar Tabcharani
NOA Records Artist collective Noname
Nonatony Montana
Nora Toutain
Norman Nawrocki
Norsola Johnson
Nour Mobarak
Object Blue
Ohal Grietzer
Olga Goreas, The Besnard Lakes Oliver Lewis
Omar Dewachi
Omar Offendum
Omig, Mental Absrtato
Owen Pallett
Ozomatli
P-Thugg, Chromeo
Pablo Flores Castillo
Pablo Zaninovic
Paed Conca, PRAED
Paloma Gómez
Pamela Reyes Herrera
Parker Mah, Rhythm & Hues Patricia Rojas
Patti Smith
Paul Cargnello
Paul Sara (Solpara)
Paulina Fagota
Paulina Ruiz Carballido
Paulina Suazo Hernández
Paulo Gallo
Pedro Vian
Peggy Hogan, Hua Li 化力
Peter Burton, Suoni per il Popolo festival
Peter Silberman, The Antlers Pharoahe Monch
Philippe Manasseh, Wake Island
Pierre Guerineau, Essaie Pas, Feu St-Antoine
Pierre Guy Blanchard, Pacha
Pietro Amato, Bell Orchestre, The Luyas, Charbonneau/Amato Pitcho from Z'Africa Brasil
Puffy L'z
Rabih Beaini
Rachel Weldon, Debaser
Radwan Ghazi Moumneh, Jerusalem in my Heart
Raed Yassin
Rael
Rage Against The Machine
Rahill Jamalifard
Raphaël Foisy-Couture, Small Scale Music
Raúl Díaz Ojeda
Ravish Momin
Raz Mesinai
Rebecca Foon
Rémi Cormier
Renato Reyes, Jr.
Ricardo Lamour, Emrical
Rickie Leach
Roberto Jaras Lira
Rodolfo Medinas de
Rodrigo Herrera Muñoz
Rodrigo Mardones
Rodrigo Sáez Chávez
Rodrigo Starz, Rebel Diaz
Rodrigo Torres Alvarado
Roger Tellier Craig
Roger Waters, Pink Floyd
Rojeh Khleif, Jazar Crew
Romy and Sari Lightman
Rosie Long Decter, Bodywash
Ross Daly
Rotana
Royce The 5'9
Rully Shabara, Senyawa
Ryan Nash, Agassiz
Propagandhi
Ruberval Oliveira
Reüel Ordoñez
Preach Ankobia
Run The Jewels
Salami Rose Joe Louis (Lindsay Olsen)
Sam Shalabi, Land of Kush, The Dwarfs of East Agouza Sama' Abdulhadi
Samara Alofa, Kuini Qontrol Samuel Bobony, Black Givre Sandhill
Sandriuska Theremin
Sarah Albu
Sarah Davachi
Sarah Haras
Sarah Mangle
Sarah Neufeld, mem. Arcade Fire, Bell Orchestre Sary Moussa
Sarvenaz, Kindly
SATE
Scott August
Scott Bevins, No Cosmos
Scott Howard
Sean Allison
Sebastián Astorga Ariztía
Sebastian Jatz Rawicz
Sebastian Román Correa
Serj Tankian from System of a Down
Sessa
Shadia Mansour
Shane Howard
Sharif Sehnaoui
Shaun Weadick
Shawn Cotton
Shigeto
Si-bemol Younes
Siavash Amini
Sidi Wacho
Silvio Paredes Fernández
Simi & Haze
Simón Cox Bordalí
Simon Labelle, Réservoir
Simone Schmitt, Fiver Sina Bathaie
Sinkane
Skalpel
Skyler Skjelset
Sloan Lucas
Sol Escobar
Sonny Singh, Red Baraat Sons Of Yusuf
Soul Khan
Soundz of the South (SOS)
Stars
Stefan Christoff
Stefan Schneider, The Luyas and Bell Orchestre Stéphanie Janaina
Steve Bates
Steve Eldon Kerr
Steven Lambke
Sunny Jain, Red Baraat
SUUNS
Synead Cydney Nichols
Talia Fuchs
Talib Kweli
Tamar-kali
Tanya Davis
Teresa Cos
Thaide
Thanks Joey
The Last Internationale
Thiago Duar
Thierry Amar, Godspeed You! Black Emperor Thurston Moore, Sonic Youth
Tif "Teddy" Lamson, GIVERS
Tim Hecker
Tim Lafontaine, copcarbonfire
Tim Rutili, Califone
Tim Six, Global Pattern / ΠΑΝΘΕΟΝ
Timothy Daisy
Titelo
Titi Robin
Tomás Brantmayer Espinosa Tomás Gubbins Correa
Toni Dimitrov, Post Global Trio Tony Elieh
tUnE-yArDs
Tyrin Kelly
Valentina Magaletti, Tomaga Valerie Curro Khayat
Vas Cranis
Vic Mensa
Vicky Mettler, Kee Avil Victoria Hunt
VTSS
Warren Manvelyan
Wassim Abou Malham
Wegz
Wil-Dog Abers, Ozomatli Will Eizlini
Will Epstein
William Aeron Lewis William Carrà
William Tyler
Xarope MC
XIII, Sabla
Yannick Desranleau
Yasmine Hamdan
Youmna Saba
Young Guru
Youssra El Hawary
Zachari Smith
Zaki Ibrahim
Ze de Riba
Zéa Beaulieu-April, La Fièvre Zeid Hamdan
Zeynab Ghandour, Thoom Ziad Nawfal, Ruptured Music ZULI
Version Anglaise :

In Solidarity and Empathy,
As musicians, we cannot be silent. Today it is essential that we stand with Palestine.
We are calling on our peers to publicly assert their solidarity with the Palestinian people. Complicity with Israeli war crimes is found in silence, and today silence is not an option.
Silence is not an option as the brutal Israeli bombardment of besieged Gaza claimed more than 245 lives in the last weeks.
Silence is not an option as residents of Sheikh Jarrah in occupied Jerusalem are continuously forced out of their homes.
Silence is not an option as millions of Palestinian refugees are denied their collective right of return.
The Israeli government operates a settler-colonial project committed to the ethnic cleansing of the Palestinian population. The legacies of systemic violence, racism and dispossession shaped by colonialism must stop. We call on all governments to stop funding all resources and technologies that back the Israeli state and their war crimes.
Today, we speak together and demand justice, dignity and the right to self- determination for the Palestinian people and all who are fighting colonial dispossession and violence across the planet.
We call for you to join us with your name in refusing to perform at Israel's complicit cultural institutions, and by standing firm in your support of the Palestinian people and their human right to sovereignty and freedom. We believe this is crucial to one day live in a world without segregation and apartheid.
FREE PALESTINE

Version Espagnole :
Como músicos, no podemos quedarnos callados. Hoy es fundamental que
apoyemos a Palestina. Hacemos un llamado a nuestros colegas para que afirmen
públicamente su solidaridad con el pueblo palestino. La complicidad con los
crímenes de guerra israelíes se encuentra en el silencio, y hoy el silencio no es una
opción.
El silencio no es una opción, ya que el brutal bombardeo israelí en la sitiada Gaza
ha cobrado más de 245 vidas en las últimas semanas.
El silencio no es una opción, mientras que los residentes de Sheikh Jarrah en la
Jerusalén ocupada están siendo violentamente forzados a abandonar sus hogares.
El silencio no es una opción, mientras a millones de refugiados palestinos se les
niega su derecho colectivo al retorno.
El gobierno israelí es un proyecto dedicado a la limpieza étnica de la población
palestina. Debe cesar el legado de la violencia sistémica, el racismo y el despojo
moldeados por el colonialismo. Hacemos un llamado a nuestros estados nacionales
a dejar de financiar la capacidad militar del gobierno israelí.
Hablamos juntos y exigimos justicia, dignidad y el derecho a la autodeterminación
del pueblo palestino y de todos los que luchan alrededor del planeta contra el
despojo colonial y la violencia.
Te pedimos que te sumes a nosotros con tu nombre, negándote a actuar en las
instituciones culturales cómplices de Israel, manteniéndote firme en tu apoyo al
pueblo palestino y su derecho humano a la soberanía y la libertad. Creemos que
esto es crucial para algún día poder vivir en un mundo sin segregación ni
apartheid.
En solidaridad y empatía,
Palestina libre.