Socialist Politician: Secularism used to Persecute Muslims, like Jews in Vichy France
Eugénie Bastié, reporting in leading right-wing newspaper Le Figaro, examines the controversial assertion made by would-be socialist presidential candidate, Vincent Peillon, that current mistreatment of Muslims in France, using secularism as a pretext, is similar to the persecution of Jews during the Nazi occupation.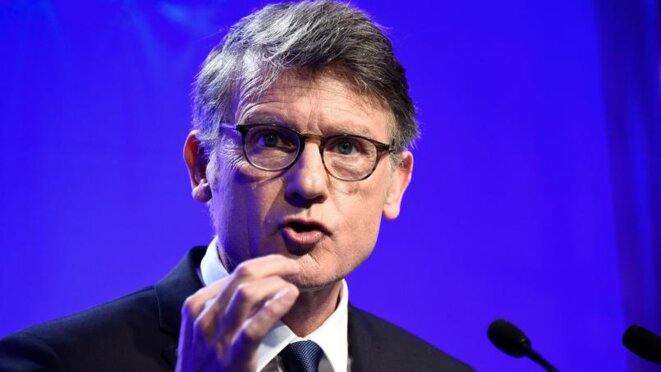 © Bertrand Buay, AFP
Article source: "Peillon compare le sort des musulmans français à celui des juifs sous Vichy", Eugénie Bastié, Le Figaro, 04/01/2017.
Vincent Peillon, candidate in the socialist primary ahead of the French presidential election in May, made a risky comparison on Tuesday night during a televised interview in a political talk-show on France 2. Condemning Marine Le Pen's 'creeping facism', he compared the situation of French muslims to that of Jews under the Vichy regime during the Nazi occupation.
"There are those who want to use French secularism against specific communities, as was the case in the past, forty years ago, when Jewish people were forced to wear a yellow star. And today it is some of our Muslim citizens who are too often being lumped in with Islamic extremists. It is intolerable," Peillon stated.
The former education minister got his dates wrong. Forty years ago was 1977, when Valéry Giscard d'Estaing was president. Jewish people didn't have to wear the yellow star back then. Peillon probably meant "in (19)40", under the Vichy regime.
It is not the first time that such a comparison has been made by a left-wing commentator. In his book For the Muslims: Islamophobia in France, Mediapart editor Edwy Plenel, alludes to one of Émile Zola's articles, "Pour les Juifs" (literally, "For the Jews") published in 1896, drawing a parallel between contemporary Islamophobia and historical antisemitism. During the regional elections in 2015, the Socialist Party's general secretary Jean-Christophe Cambadélis made the same questionable comparison, stating that "the National Front wants to bring back Vichy. There is the same willingness to stigmatise. Under Vichy, it was the Jews. Now, it's the Muslims," he claimed.
"Very serious attack on secularism"
Some are accusing Peillon, who is himself of Jewish ancestry, of electioneering and of pandering to Muslim voters by setting himself up as the natural alternative for those on the left turned off by Manuel Valls and the FN*. The man who drafted the charter of secularism ("charte de la laïcité") in 2013, which the Conseil Français du Culte Musulman - CFCM (French Council of the Muslim Faith) deemed "stigmatising" for Muslims, now claims to be the champion of a version of secularism that does not attack religions and is not "intolerant".
"Is secularism about one's freedom of conscience, the freedom to believe or – like me – not to believe? Or is it some sort of inverted orthodoxy with a dogma, which also establishes a kind of intolerance and, we should tread very carefully here, singles out certain communities?", he said on December 16 on BFMTV.
His statements have been met with anger on both the left and right, and even within the FN. An outraged Florian Philippot, the FN's vice-president, spoke of a "very serious attack on secularism". Journalist Caroline Fourest called into question the connection between secularism and the yellow star in a tweet:
"Fine to resist the exploitation of secularism, but why this link between secularism and the yellow star? How was Vichy secular? #peillon".
Jewish council demands correction
The Conseil représentatif des institutions juives de France (Representative Council for Jewish Institutions in France) issued a press release condemning Peillon's comments. "Crif condemns the comparison Vincent Peillon made yesterday during his interview on France 2 between the persecution of Jews during the Nazi occupation and the current situation of French Muslims. The history of the deportation of more than 75,000 Jews to concentration camps, the confiscation of their property, and discriminatory laws like the imposition of the yellow star should not be perverted or exploited like this in the name of a supposed parity of suffering. Such statements only serve those trying to rewrite history. Crif is requesting a clarification and an immediate correction from Vincent Peillon."
Peillon justified himself in a series of tweets. He stood by his comparison of antisemistism with Islamophobia but rejected the idea that secularism was responsible for the persecution of Jews.
"I would like to be clear about my views and convictions, as they got somewhat mixed up in my effort to be brief. Clearly, I did not mean to say that secularism was to blame for the antisemitism of Vichy France. The occupation regime did not align itself with secularism, quite the contrary. And what the Jews experienced under Vichy should never be trivialised in any way. I know all of this better than anyone, both intellectually and in my bones, because of my writing and my own family history. And also because of my unwavering political struggle against racism and antisemitism. I wanted to condemn the strategy of the far-right, which twists the words of the French Republic to turn them against the population."
* To lump former socialist prime minister Manuel Valls in with the Front national is tendentious, to put it mildly, but the editiorial line of Le Figaro is generally opposed to both the FN and the PS in equal measure. (ed.)
Translated by Marielle Artus, Stéphanie Miroux and Johanna Marques
Editing by Sam Trainor
Le Club est l'espace de libre expression des abonnés de Mediapart. Ses contenus n'engagent pas la rédaction.