French Government Plans to Introduce Specialised Environmental Judiciary
AFP reports on the government's announcement that it intends to create a network of judicial task forces specialising in the prosecution of environmental crimes; the article questions whether the project will receive sufficient funding and points out that it will not deal with major incidents, such as last year's controversial fire at the Lubrizol chemical plant in Rouen.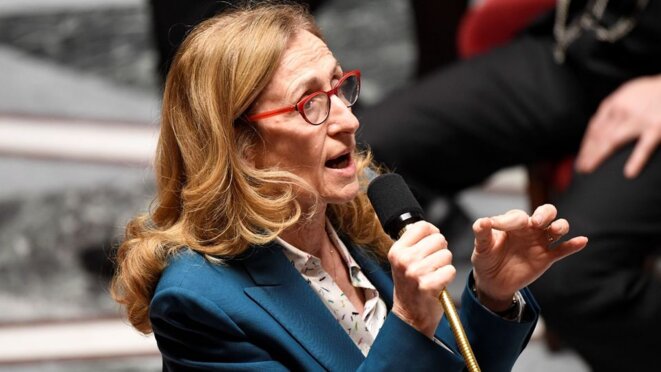 Nicole Belloubet, French justice minister, speaking in the National Assembly, 21 January 2020 © Bertrand GUAY, AFP
Article source: "Atteintes à l'environnement: Belloubet annonce des juridictions specialisées", AFP, 29/01/2020.
French justice minister Nicole Belloubet has announced her government's intention to introduce a new law to improve the country's judicial response to environmental crimes. The proposed law would create specific judicial working groups in each court of appeal and appoint specialised judges. "In (today's) cabinet meeting, we are going to present a bold step forward on this matter […] Justice must be delivered faster and by specialised judges, because these are very technical questions," the minister explained, speaking on radio station Europe 1.
"We are proposing a reform of our legal system's treatment of environmental cases, with courts that are specialised in this area; we are also proposing new sentencing guidelines which will speed up compensation awards, and introduce environmental community service orders," she added. The proposed law might be discussed in the French senate on 25th February, according to Le Figaro.
Major Disaster Investigations Unaffected
In practice, local magistrates' courts would carry on handling the simplest cases, such as illegal dumping or the violation of hunting or fishing licences. On the other hand, major environmental disasters, like the recent fire at the Lubrizol chemical plant in Rouen, would still fall under the jurisdiction of centralised judicial taskforces for the northern and southern regions of the country, based in Paris and Marseilles, which are responsible for public health and major accidents.
For everything else, the proposed law would establish, in each of the 36 French courts of appeal, specialised judicial working groups which would handle cases of criminal environmental damage, such as soil pollution and violations of protected species regulations. Specialised judges would be appointed to these judicial groups and would take part in both investigations and trials. The justice ministry is particularly keen to reduce processing times in these sorts of cases.
Do the Funds Exist?
When asked about the funds that might be allocated to this reform at a time of public spending cuts, Belloubet pointed to the financial boost provided to the justice ministry in the latest budget. "As it stands, in 2020, we will have 100 additional judges and magistrates. I can assure you of that, it is guaranteed in the budget. There is never enough finance available for justice, but it is very clear that we are making a real effort," she said.
Translated by Cyriel Méniel and Claire Brunin.
Editing by Sam Trainor.
Le Club est l'espace de libre expression des abonnés de Mediapart. Ses contenus n'engagent pas la rédaction.