Veggie school meals: a secular alternative with government backing
As this AFP article from 2015 shows, regular calls for a vegetarian option in French school dinners have long had the support of the government's secularism watchdog as a workable solution to the pork-free controversy stoked by Nicolas Sarkozy.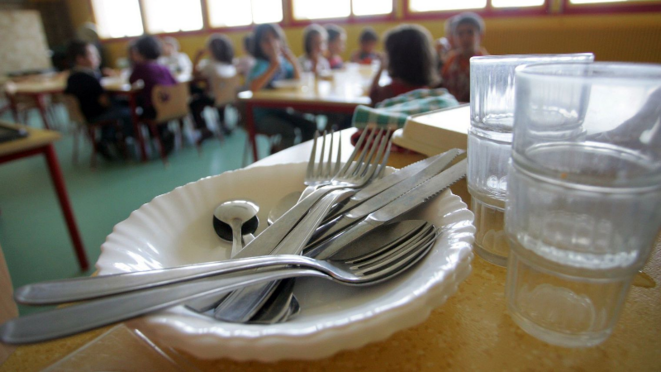 © afp.com/Romain Perrocheau
Article source: "Le menu végétarien à la cantine, solution à la polémique sur les menus sans porc?", by Sandrine Chesnel, with AFP, L'Express, 27/03/2015.
Are vegetarian meals "the most secular of all options"? They certainly are for French Buddhist monk and writer Matthieu Ricard, and for several other authors and animal rights activists. In response to the controversy stoked by former president Nicolas Sarkozy, they have published a collective open letter in Le Monde suggesting the introduction of a regular vegetarian menu in school canteens.
Nicolas Sarkozy demanded a single menu in school canteens a week after the mayor of Chalon-sur-Saône (Burgundy), a member of Sarkozy's party, announced the ban of substitute menus in schools "in the name of laïcité".
"What does secularism have to do with this?" was the question raised by Matthieu Richard, author of the compelling book, A Plea for the Animals, and the other French figures well-known for their animal rights campaigning and environmental activism: — Aymeric Caron, a vegetarian and author of No Steak, Sandrine Bélier, former Green MEP, Allain Bougrain-Dubourg, president of a French bird protection association, philosophers Florence Burgat and Jean-Baptiste Jeangène Vilmer, and well-known writer and columnist Franz-Olivier Giesbert.

 "A simple solution"
The open letter says: "Rather than using pork or secularism to fuel faith-based hatred and divide the French population, we are suggesting a simple solution, one that has in fact already been proposed by several associations in the past — the introduction of regular vegetarian alternatives to all animal-based meals, and not just when pork is served."
Defending their views, the authors explain: "Far from being dogmatic, our suggestion is primarily practical. Vegetarian meals are suitable for adherents of various religious faiths (Islam, Judaism, Christianity…) and atheists alike." In order to ensure "complete fairness and effectiveness", the writers even intend to expand the "no meat, no fish" proscription to include eggs and dairy products,  to make the alternatives suitable for vegans.
Government backing
In an interview with L'Express last week, Nicolas Cadène, a representative of the Observatoire de la laïcité, the government watchdog that falls under the aegis of the French Prime Minister's office and ensures compliance with the principles of republican secularism, said: "In the guidelines we published in 2013 for local authorities, it is explained that the best way to observe laïcité in school canteens would be to provide a choice of both meat and meat-free dishes to pupils. This solution, which complies with the 1905 law on the separation of church and state, does not follow any religious injunction per se, but allows all children, regardless of their religious beliefs and whether or not they are vegetarian, to eat in the canteens."
A few French local authorities have already made the move to introduce vegetarian alternatives. One example is Saint-Etienne in the Loire. Since January 2015, the town's mayor has been offering local schoolchildren the choice between a meal containing meat or fish , and a vegetarian meal. The local council has justified this decision by underlining its educative and "green" aspects, stressing the benefits of "vegetable proteins as being excellent for health,… and for the planet". Maybe they're good for laïcité too.
Translated by Ragini Sekhar and Véronique Leblanc.
Editing by Sam Trainor.
Le Club est l'espace de libre expression des abonnés de Mediapart. Ses contenus n'engagent pas la rédaction.