The Guerrero Unidos cartel and the killing of 43 Mexican students
In September 2014, 43 Ayotzinapa students were kidnapped in Iguala. Up to now investigations led by local police haven't been able to find out where the students were taken and what happened to them. Investigating Guerrero Unidos drug trafficking in Chicago, US officials wiretapped conversations about this plot. They appear to shed new light on the killings.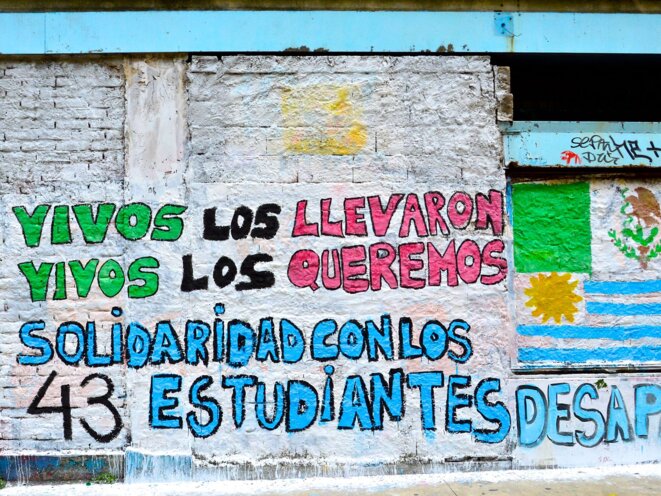 The students from Ayotzinapa college disappeared.
In a conversation wiretapped by US officials, an ex-leader of the Mexican drug cartel called Guerrero Unidos made some interesting statements in reference to the 43 male students from the Ayotzinapa College who disappeared in Iguala on September 26th, 2014.
The man, Pablo Vega Cuevas, is now detained in the Metropolitan Correctional Center in Chicago waiting to be sentenced by a federal court after being caught transporting heroin from Mexico to Chicago.
Vega was not himself involved in what seems to have been a huge massacre. Interceptions made by US officials during the time of the disappearance show how the killing was having negative consequences on the Guerrero Unidos business.
"It's fucking up, that's going to cost us business". This is what Vega said by phone to one of the Guerrero Unidos member in Mexico, in October 2014.
As we said, the 43 Ayotzinapa students were kidnapped in Iguala, in the Mexican state of Guerrero. Up to now investigation led by local police haven't been able to find out where the students were taken and what  happened to them.
The students were traveling to Mexico City to commemorate the anniversary of a 1968 massacre when they disappeared.
In his conversation Vega didn't explain exactly what happened but it appears as if the cartel might have killed them, supposing they were members from a rival cartel.
At the beginning Vega said: "the shootout was against Los Rojos, that's what they told me". But on September 28 he said: "Yeah, that's it, it's screwed up, they didn't know how to control their people. It's screwed up. It's gonna create a mess". Vega explains how the number of deaths was higher than the one previously reported: "50 young guys disappeared".
Vega, who's 43, was born with his brother Marco Vega Cuevas in Aurora. He started  trafficking heroin and cocaine into US territory at a very young age.
Marco funded, with others, the Guerrero Unidos cartel in the Mexican state of Guerrero.
When his brother died Pablo took his role.
Guerrero Unidos is one of the Mexican cartels which subdued the Sinaloa Cartel after Chapo Guzman's arrest. "El Chapo" was detained at the beginning of 2016 and Guerrero Unido, together with Jalisco New Generation, Los Zetas, Los Rojos and Colima, inherited Sinaloa's cartel cocaine and heroin market in Chicago.
According to some officials in Mexico the major of Iguala - in order to prevent protests against him and his wife - told the local police to arrest the 43 students and than to pass them to the cartel's members. According to this theory, Guerrero Unidos' cartel allegedly killed all of them and then burned their bodies in order to eliminate any trace.
The major of Iguala and his wife, including the local police chief and some cartel members, have been arrested. But what seems to be missing is a full reconstruction of the story. (cm)   
Le Club est l'espace de libre expression des abonnés de Mediapart. Ses contenus n'engagent pas la rédaction.
L'auteur a choisi de fermer cet article aux commentaires.