Kanabistan
Albania is the first European marijuana producer. From 2015 to 2017 the amount of the marijuana seized to smugglers has skyrocketed from 860 kg in 2015 to 34,9 tons seized in 2017. In the first half of 2018, it reached 10 tons seized. In 2013 prime minister Edi Rama announced a "war on drugs" but despite plantations destruction in 2017 marijuana production has still continued to grow.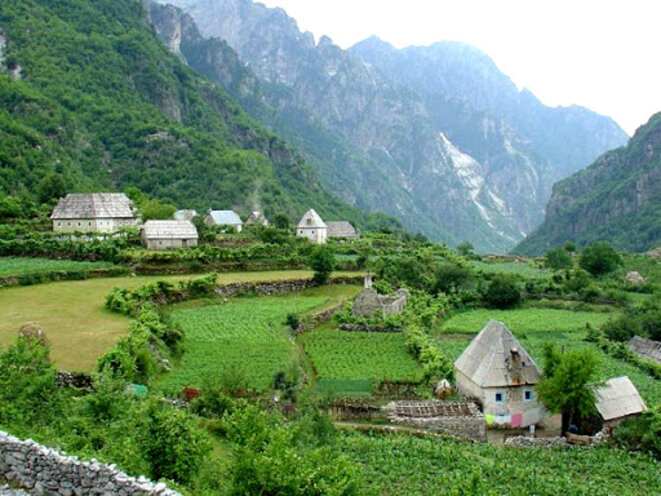 Dukagjin
Albanian Interior minister Fatmir Xhafay is clear: "we are no longer a marijuana-producing country", but the chief of the anti-narcotics Italian military corp Guardia di Finanza general Nicola Altiero is not of the same opinion. From 2015 to 2017 the amount of the marijuana seized to smugglers has skyrocketed from 860 kg in 2015 to 13,9 tons in 2016, closing with 34,9 tons seized in 2017. And nearly 10 tons seized in the first half of 2018. And all this drug was no more than six months old. 
Like the fields described by Alex Garland in the Thai island in his bestseller "The Beach" a great portion of marijuana produced in Albania is cultivated in a mountain region in the north central area called Dukagjin. Albania is the first European cannabis producer.
Flying over these fields with sighting aircraft the Guardia di Finanza normally take a photo to document their extent and in an approximate way also the trend production. In these recent years, cannabis production in Albania has constantly grown, and a great portion of it is destined to satisfy the Italian demand.
Political opposition in Albania is always ready to address this ambiguous situation to prime minister Edi Rama and to his government, who is supposed to allow this production to get a political return.
The opposition itself has been involved in various corruption allegations and has serious problems of credibility. 
But the whole picture is always more complex. It has been estimated that the business is worth 4 billion euros, about a third of the Gross Domestic Product of the country.
In 2013 the government of the prime minister Edi Rama (Socialist Party) announced a "war on drugs" but despite plantations destruction in 2017 marijuana production in Albania has still continued to grow.
According to the Italian national anti-mafia prosecutor it has been estimated that the whole production in Albania has grown almost three times in these recent years and that a relevant part of the profits is destined to finance the Islamic radicalism. 
Dealing about ties between drug lords and politicians the most famous affair involved the former interior minister of the first Rama government (2013-2017), Saimir Tahiri, actually under investigation for drug trafficking and corruption. The minister that Rama considered his most popular one is in fact involved since the end of 2017 in an investigation led by the Guardia di Finanza of Catania (Sicily), in an operation called "Rosa dei Venti" with which was dismantled a criminal network suspected to have illegally imported in Italy weapons and tons of cannabis from Albania for 20 millions euros.
Among people arrested figured also Moisi Habilaj, considered the head of the group and already known to the Albanian press. In his home country, Moisi Habilaj and his brothers have already faced allegations of drug trafficking to Greece and to Italy. This investigation started out with accusations from an Albanian policeman, Dritan Zagani, who first denounced collusions between politicians and traffickers and who in 2015 obtained political asylum in Switzerland. Moisi Habilaj is a Tahiri's cousin and in a phone conversation between them wiretapped by Italian GdF he talked about the debts Tahiri still has to pay to those who helped him. 
Prime minister Edi Rama, always defend his interior minister, accusing former policeman Zagani of being a criminal and a partner in crime of drug traffickers, denouncing a political plot against Tahiri.
Even when allegations against Tahiri became more evident Prime Minister avoid to take legal action on Tahiri only expelling him from the Socialist Party parliamentary group without depriving him of his immunity. Only at the beginning of May 2018 Saimir Tahiri resigned to face justice as a normal citizen.
He was taken into custody but after only one month he was set free again. At the eve of the court decision American Ambassador in Tirana Donald Lu denounced information about bribes offered to the judges. At the end of May, judges decide to interrupt house arrest for Tahiri.
The story of former interior minister Tahiri is not the only case of Albanian important person facing allegations of connections with drug traffickers. Another one is the Albanian businessman Klement Balili, in relation to whom Tirana received a request of arrest coming from the Greece government.
During Fall 2016 Athens authority published a report on Balili accusing him of being the kingpin of a drug cartel with connection with Italian criminal organizations. In addition to this Greeks authorities also issued an international arrest warrant against him. 
Balili, who is the owner of a luxury hotel on the Albanian coast, was named in 2014 by the Rama government director of transport of the border region of Saranda. In 2006 Balili has been already arrested with international drug trafficking allegation.
This nomination wasn't a casualty. His position was connected with drug trafficking in Greece.  According to some organized crime experts, some Albanian politicians are supposed to finance their campaign with drug money, so becoming inevitably tied with both hands to drug traffickers interests.
According to the report published in 2017 by Open Society Albania organized crime, business and, politics have become interconnected in a complex relation of common interests and exploitation for mutual benefits.
The question is: how deep is the infiltration of drug trafficking criminal organizations in Albanian politics? Is it just to a surface level with some politicians with both hands tied up to those of drug kingpin or is it at a deeper level?
According to the report some criminal organizations have managed to get directly into politics, and also business and media. Not only they control whole territories and huge amounts of money with which they control investments and influence Albanian politics, but they also have a large influence over Albanian society. (cm)
Le Club est l'espace de libre expression des abonnés de Mediapart. Ses contenus n'engagent pas la rédaction.