HAPPY NEW YEAR WITH THE GOBELINS BEAR IN PARIS
London has its famous Paddington Bear now Paris has its own Gobelins Bear. It speaks of love, poetry, humanity and fraternity
HAPPY NEW YEAR WITH THE GOBELINS BEAR IN PARIS
London has its famous Paddington Bear now Paris has its Gobelins Bear. It speaks of love, poetry, humanity and fraternity.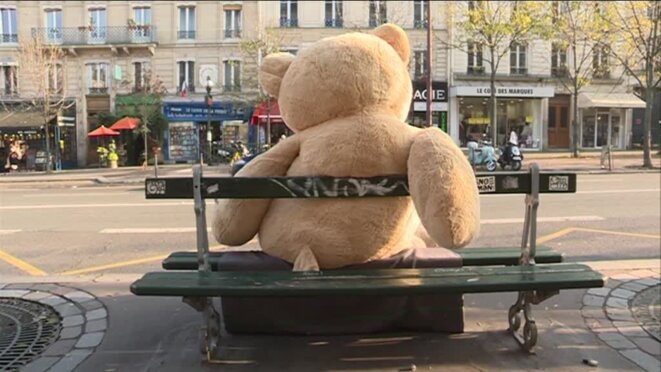 Lounging on the bench
In Paris last October a strange crowd appeared in the lower part of the 13e arrondissement, close to my own quartier in the 5e. In the avenue des Gobelins, opposite the famous tapestry manufacture created in 1601 by King Henri IV on the advice of his commercial counsellor, Barthélemy de Laffemas, a big furry teddy bear has set home with all its family in the bookshop Le Canon de la Presse. Its owner Philippe Labourel, welcomed them warmly and introduced them to the neighbourhood.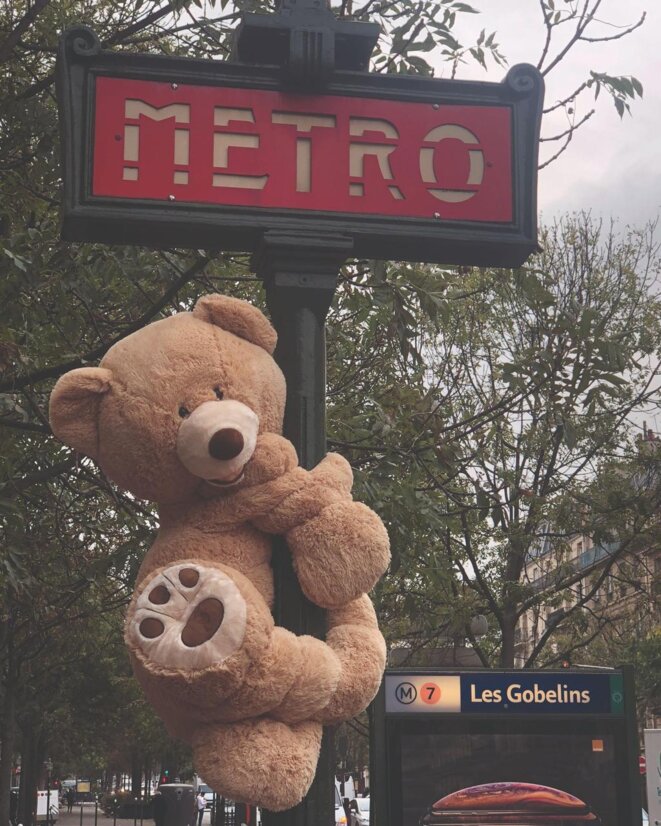 Climbing to catch the métro

Since the bears have been seen happily fooling around on the street, hanging on balconies, being invited at the   Mairie of the 13e arrondissement Place d'Italie, climbing the métro sign. They are in residence in the street shops and boutiques clad in various outfits. In the Club Med travel agency the Gobelins Bear lounges around with sun glasses on its nose wearing a blue waistcoat. In a nearby shop window another one proudly shows off its yellow waistcoat in sympathy with the protest movement of the Gilets Jaunes…
I catch a glimpse of him from the bua taking me on my weekly shopping spree Place d'Italie. On the bus people look up from their mobile phones to comment laughingly on the bears' mischief. Here they are all sitting down at a café terrace or lounging on a public bench on the pavement. Some American tourists are amazed to see one climbing on the roof terrace of the famous fish restaurant Marty. I explain the intent behind this invasion. They smile delighted as I show them a car with an oversize teddy bear tied to its roof, the patriarch, whose family sits inside crammed in as passengers.
Protesting in gilet jaune
 The Gobelins Bear's family parties at the café terraces while Uncle Jules wearing a big blue wine waiter apron presides beside a large wine barrel in front of the brasserie Le Canon des Gobelins From the bus 27's windows I see an elderly couple stops to greet it and the man bending to cuddle it … In the chocolate shop the Gobelins Bear has put on Father Christmas's white beard and red clothes. At the hairdresser he takes on the elegant guise of a British gentleman in Jermyn Street with a bowler hat and a rolled-up black brolly. Cosily settled in its den in Philippe's bookshop he reads in the window the Journal de Paris issue of November 21st 2018 featuring him on the front page.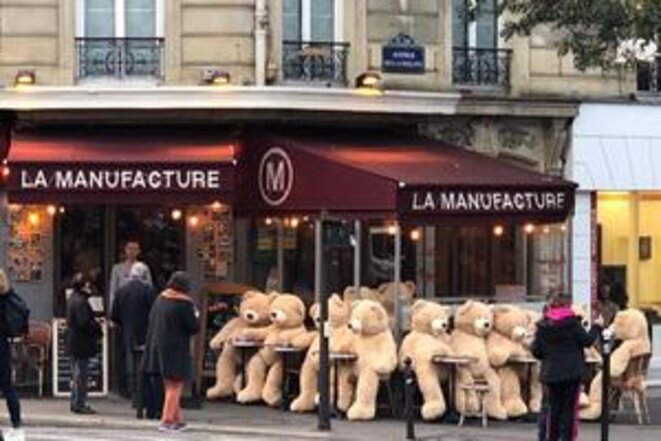 Paartying at the café terrace

 Philippe Labourel, the Gobelins bear 's godfather, can be proud of himself. At the end of this difficult chaotic and tempestuous year in France, he has created a haven of fantasy, poetry, smiling happiness. His teddies of various sizes, the patriarch is 2,40m high, are bearers of love and happiness, genuine and innocent as childhood's memories. They conjure them up for the onlookers who are brought back to happier times. Far from the ongoing disorder, violence, media manipulation and political corruption, the Gobelins Bear has succeeded where President Macron has failed, to unite and bring together French people, giving them joy and happiness. As in the Mairie, the police station has its two own furry guests, Starsky et Hutch. They do not threatened with truncheons or tear-gas bombs, they open welcoming comforting arms and speak of fraternity.
In this New Year the Gobelins Bear speaks of humanity, fraternity and hope. One can find him on his Facebook page or write him an email to enjoy his company until Twelth Night on January 6th. The day after in the Magi company he and his family will rejoin Wonderland, their homeland, to hibernate until their return to the Gobelins at the end of the year. But they will have left their mark on Paris. Perhaps next Christmas they could bring joy and happiness not only to those living in the district, to passers by or tourists visiting Paris ? In the shops where they are welcomed one could leave a small offering in a money box to bring this same joy and happiness to all deprived children without a home or a country, even on French soil, like the Gypsies and other displaced persons from the Balkans, the Middle East, Africa and other places. All those children emprisonned in refugees camps in Lebanon, Libya, Palestine, Jordan, Turkey, Greece, Italy. These forgotten children without the comfort of a teddy bear at Christmas, without mentionning the sweets and cakes usual in this festive season. It is a world away from their everyday bread, one cannot enjoin them as would have done Queen Marie-Antoinette to eat brioche instead…
The Gobelins Bear would then become an ambassador of Love and Humanity beyond French frontiers, and restore France's honour. It would be for him a very good future career and a beautiful example of fraternity in the French manner. Particularly so as the Macron government since its accession to power has distinguished itself for scorn, contempt, lack of generosity and humanity shown towards the needy, the most vulnerable, those who are forgotten by the world.
 Paddington Bear has been immortalized in London by a bronze statue placed in the eponymous station which gave it its name. Perhaps one day the Gobelins Bear will be thus honoured and its statue erected avenue des Gobelins as a homage to the French Republic's ethics of Humanity and Fraternity, at a time when its elected representatives, who are supposed to uphold them, show a dismal lack of any such principles.
https://www.facebook.com/nounours.gobelins.paris
 mailto : lesnounoursdesgobelins@gmail.com
HAPPY NEW YEAR TO ALL IN HUMANITY AND FRATERNITY
Monique Riccardi-Cubitt
Paris, January 1st 2019
Le Club est l'espace de libre expression des abonnés de Mediapart. Ses contenus n'engagent pas la rédaction.