THE ETERNAL FEMININE. ANGEL OR DEMON, VICTIM OR DOMINATRIX, PENELOPE OU CIRCE ?
In the wake of the Weinstein scandal and other disclosures on masculine harassment, when virulent Feminist demonstrations such as #MeToo et #Balancetonporc create an upsurge of hatred against men on the Internet and on the street, time has come to examine more closely and re-assess the Eternal Feminine and reach at an unbiased judgement and enlightened awareness of the male/female relationship.
THE ETERNAL FEMININE. ANGEL OR DEMON, VICTIM OR DOMINATRIX, PENELOPE OU CIRCE ?
In the wake of the Weinstein scandal and other disclosures on masculine harassment, when virulent Feminist demonstrations such as #MeToo et #Balancetonporc create an upsurge of hatred against men on the Internet and on the street, time has come to examine more closely and re-assess the Eternal Feminine and reach at an unbiased judgement and enlightened awareness of the male/female relationship. Society has always been based on a balanced interaction between men and women, its very survival rests on it. One cannot judge and condemn one without taking into consideration the role and responsibility of the other.
THE ETERNAL FEMININE IN ART AND LITERATURE
' Women's ordinary is detestable but a superior woman is superior to all men' according to Pythagoras who refused them entry to his initiatic School of Philosophy in Crotone, until Theano came to him. She became his wife and carried on his work and teaching after his death. She wrote on the Piety and Vertue of Women and supported the requests of the adepts' wives who asked Pythagoras to teach their husbands respect towards them.
Between the detestable ordinary of women and the superior woman there is an infinity of variations, from black to white they create a palette of an infinity of shades of grey. French writers of a more englightened time than the post-feminist contemporary world have dared explore the theme of the black mother, a tabou subject since all mothers are supposed to have the maternal instinct. Jules Renard's Poil de carotte in 1894 with an English stage adaptation Carrots, and Hervé Bazin's Vipère au poing, Viper in the Fist, in 1948 describe the devastating impact of a mother's hatred and emotional rejection of her child. While François Mauriac's Le Nœud de vipère, The Vipers'Nest in 1932 analyzes with great sensibility the emotional traumas caused by the stiffling love of a jealous and possessive mother in the soul of an older man, who at last opens his heart to the love of God.
 The physical and emotional link of a man to to his mother will determine his relationship with other women for the rest of his life. Consciously or not he will seek all his life to replicate or to flee from it according to his own particular experience. His attitude towards the Feminine element will determine his capacity of achieving full maturity or to remain at an immature emotional stage. He has to assimilate in himself the feminine aspect of his own emotions, just as woman has to make hers the masculine reasoning of her intellect. If men can fail in this endeavour through lack of sensitivity and generosity of heart and mind, women do so through lack of care and discipline. It is obvious that men depend more emotionally on women than women do on men. Hence the ambiguity of their relationships and the immense responsibility of a mother towards her sons.
 Symbolist poets and artists of the 19th century have illustrated the subject at the time when the clinical study of the human psyche was under way in particular in Paris. The neurologist Jean-Martin Charcot was conducting pionneering research on hypnosis and hysteria at the Salpêtrière Hospital which led to the theory of psychological traumas and influenced Freud, one of his students. The psychiatrist Pierre-Joseph Moreau de Tours had paved the way in his studies on the negative impacts of grief and emotional traumas on the human psyche rendering it vulnerable to émotional disorders. To demonstrate his theory of insanity, for him a state of delirium similar to a dreaming state, he researched and experimented with the effects of hashish and cannabis on the central nervous system during a journey to the Near and Middle East. Back in Paris he founded the Club des Hashischins, 1844-49, whose members counted artists, poets and writers such as Daumier, Delacroix, Théophile Gautier, Baudelaire, Gérard de Nerval, Flaubert, Balzac and Alexandre Dumas.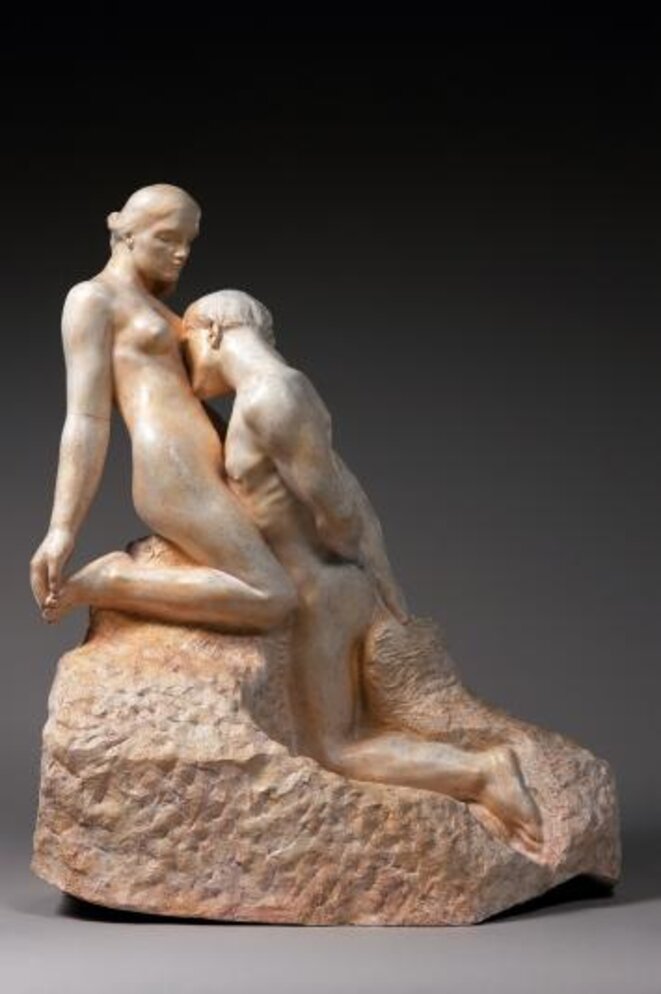 The Eternal Idol, plaster cast of a the marble original commissioned in 1893 by the Symbolist artist Eugène Carrière to Auguste Rodin. c.1890-3, Musée Rodin, Paris
The Eternal Idol, plaster cast of a the marble original commissioned in 1893 by the Symbolist artist Eugène Carrière to Auguste Rodin. c.1890-3, Musée Rodin, Paris
Rodin, the French Michelangelo, passionate, erotic and deeply humanist in his description of the suffering inherent to the human condition, used to name his works in consultation with his poets friends. The Austrian poet Rainer Maria Rilke was his secretary and he engraved Baudelaire's Fleurs du Mal, one of the sources of inspiration together with Dante's Divine Comedy, of his monumental sculpture the Gate of Hell. The group The Eternal Idol was realized in assembling two figures from the Gate of Hell. It enjoyed an immediate success and several versions were cast in bronze before the marble one commissioned by his friend the painter Eugène Carrière.
 Munch's painting Madonna treats the same theme of man's veneration towards woman albeit in a sombre and more ambiguous mood recalling the stifling atmosphere of the contemporary plays of the dramatists Henrik Ibsen and August Strindberg.His mother's and elder sister's early death, the latter from tuberculosis, deeply affected the young Munch and determined his relationship with women. He depicted them as domineering, emasculating, hermetic or haunted figures, one of his younger sisters suffered from psychological disorders at an early age, to which Munch himself was prey in middle age.
Madonna, colored lithography, Edvard Munch, 1895-1902, Musée Munch, Oslo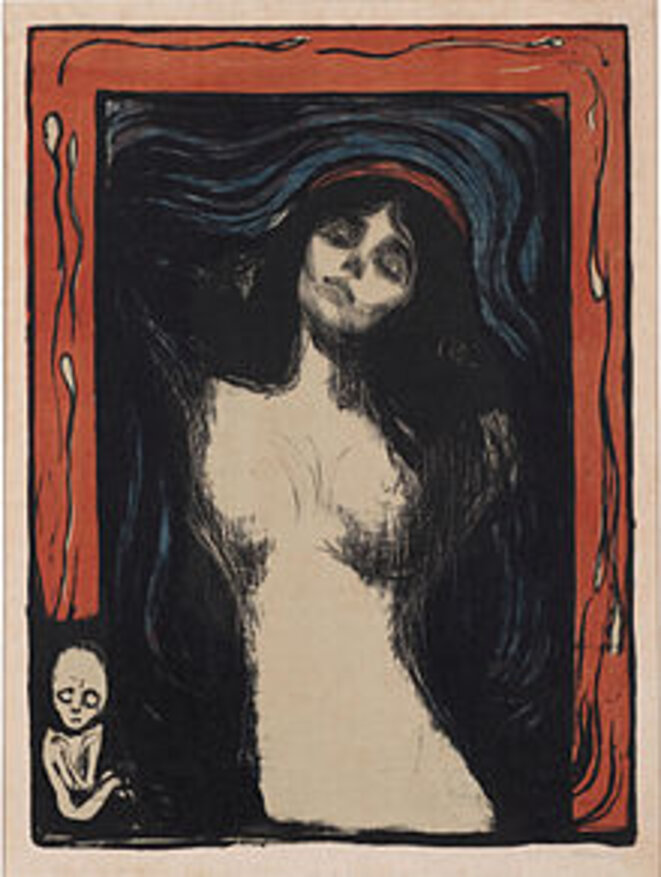 Madonna, coloured lithograph, Edvard Munch, 1895-1902, Musée Munch, Oslo
He realized several versions of the Madonna, but the colored lithography in the Munch Museum in Oslo is the most complex and disturbing one. It is the representation of a sacred and profane goddess, a woman in naked abandon, opened to man's desire suggested by the spermatozoids floating around her. Yet she is crowned with the Virgin's halo as the work's title evokes. The result of their union is not life but death as can be seen in the strange skeletal fœtus curled up in the left hand corner. It is as much a psychological as a physical death. All the mystery of the Feminine as Virgin, Mother and Femme Fatale is expressed in this image of a disturbing sexuality.
PERSONAL EXPERIENCE OF THE ETERNAL FEMININE
A superior voman's accomplishments as conceived by Pythagoras are not only to be found in intellectual achievements or other form of success. They are above all evident in the virtuous way of life of the Woman of worth, Proverbs 31.10-31 in the Bible : 'Who can find a woman of worth? for her price is far above rubies.… Strength and dignity are her clothing, and she laugheth [at] the coming day… She openeth her mouth with wisdom; and upon her tongue is the law of kindness… She stretcheth out her hand to the afflicted, and she reacheth forth her hands to the needy…'. My kind paternal grandmother gave me this life example. She made me aware of sacredness in teaching me piety and generosity of heart and spirit, everyday she would set at the family table la place du pauvre, the beggar's place. Above all she gave me her tender love, care and affection. After her death I poured it all out on my younger brothers and sisters, I could not do so with my parents. My mother's hatred paralyzed me, her violence and sadism terrorized me, her rampant jealousy prevented me from any relationship with my father. All the love in me could only find expression in the family circle through the care and affection the elder daughter gives to her younger siblings, I was already assuming with them my future role as a teacher. My mother tolerated it so long as I remained docile and obedient to her will. She used me as a surrogate mother and I did happily contribute for two years to my younger sisters and brothers's care and education with my first salary as a teacher.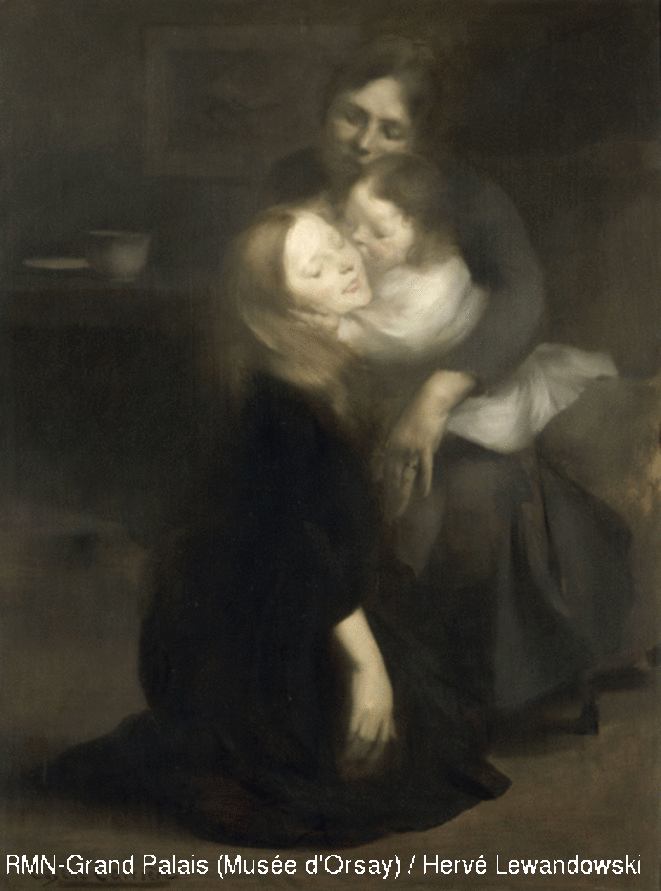 The Elder Daughter. Intimacy. c.1889, Eugène Carrière. Musée d'Orsay, Paris
The Elder Daughter. Intimacy. c.1889, Eugène Carrière. Musée d'Orsay, Paris
Rodin's friend Eugène Carrière who painted his poets friends, among others Verlaine and Mallarmé, often depicted those scenes of feminine intimacy imbued with tender love. Gauguin described them : 'His young girls are full of love and express tenderness. With him caressing hands are held out'. My German Jewish friend, another superior woman, gave me all her love, care and tenderness. She taught me the art of loving at the crucial moment in life of the adolescence when a child becomes conscious of his own self and, in search of a role model, strives to build up his autonomy in distancing itself from the family circle. My mother did not accept well my emancipation. She wished for me an early death which she programmed and predicted because, according to her, of my 'delicate health' which was only the psychosomatic reaction of a highly sensitive and gifted child to her rule of terror. Even more so when as a teenager growing in grace and beauty, I looked more and more like my father's first cousin who had been engaged to him before my mother destroyed their relationship. She prevented me going to university in refusing, without my consent, the grant and advice of the director of the Sainte Marie College of Blois and of my philosophy professor who had become my guide and mentor. When I came of age and told her I was leaving to study, she cursed me in such a way that revealed all her hatred towards me and the darkness of her heart. As a child I would stand up to her in anger at her abusive behaviour she would then threatened me 'I'll break you'. This time the venom of her words turned my blood to ice 'Wherever you are, whatever you do, if you are happy I will come and destroy you'. The message could not be clearer, in one instant I became aware of the darkest depths of the feminine psyche, I was to face them repeatedly on my path.
The darkness of women's ordinary comes from envy and jealousy. Despite the Feminists' eager declaration of sisterhood and solidarity, women are much more competitive than men. It is a primeval deep-rooted instinct bound to the survival of the race in procreation : the most beautiful and seductive women attract the most virile of men, the others are left out. The more spiritually evolved is the woman the better she will control this basic instinct. However, in my experience, jealousy is a sickness of the soul, and some people, men or women, have to fight against it more than others. My love of life and altruism has protected me from this flaw. I have always had the overwhelming sense of the wealth in me I wanted to give to others in a sharing that is also a source of joy. And God has granted me the grace of being able in all circumstances, even the most contrary, to find the gold nuggets that enable me to bring about the order, the harmony, the beauty of Love. It is agape as much as caritas which touch the heart of men and change the course of things.
 Yet maternal rejection is a profound wound which must heal. In time I came to see it as an asset, even if depriving me of a family love and support, it opened me to the world and the others. My life path became a succession of meetings, at first of 'superior women' who gave me love, support and advice guiding me on my way. The encounter with my husband occurred under those feminine auspices : a woman allowed me to live and work in England, another one opened for me the doors of British society. She introduced me to a barrister with whom I had a relationship for a while. It then led me to the man my destiny had prepared me for.
My long practice of yoga and personal experience of reincarnation gives me a karmic sense of the human path of life. As did Dante, whose Divine Comedy was inspired by the theories of the Quran's heavenly spheres as much as the Gospels' Communion of Saints, I believe that souls live in distinct groups in the other world. When they are reincarnated they are instinctively drawn to other souls through the pull of Love, so as to accomplish the task they have already conducted together in other lifetimes. It was so with my husband, I recognized him as a sister soul from the very first instant. And I agreed to marry him not only because of our numerous affinities, of the intensity of the feeling that drew us together, but above all because he had listened with attention and respect to the young student I was when I told him of this mission I felt I had in life. He had understood my dedication to an altruist ideal, he himself had the dream of 'being a bridge between East and West'. From the very first instant we had entered into a soul dialogue that belongs to the realm of the Spirit. I had also seen in his eyes of a changing blue, in the heart of a mature man with an athletic physique and a kind seductive smile, the sorrow of of a little boy in tears.On that instant my heart had opened, I wanted to take him in my arms, to cuddle him, protect him, help him with my love as much as receive his love, which is for me a sharing between peers in a couple.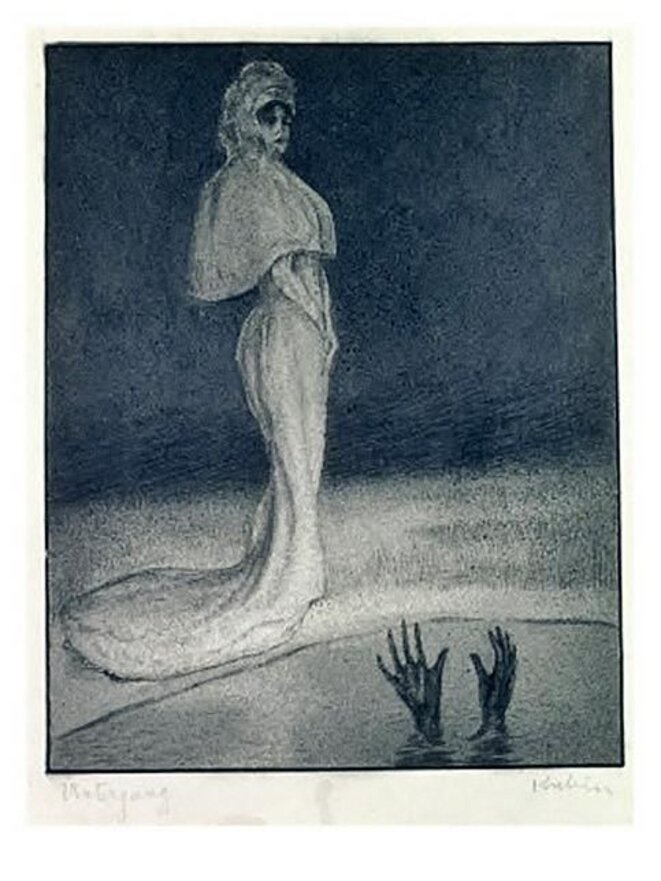 The Fall, engraving, pen, ink and wash, Alfred Kubin, 1903, Kubin-Kabinett der Landesgalerie Linz
The Fall, engraving, pen, ink and wash, Alfred Kubin, 1903, Kubin-Kabinett der Landesgalerie Linz                                                                                                                                                                 
When I met him my husband endured the same inexpressible suffering towards the Feminine element as shown in Kubin's drawing, The Fall. He was drowning in the bottomless lake of his ambivalent emotions, a state eloquently represented by the Austrian artist and author in the two hand desperately held out towards towards the hieratic, unattainable woman with blazing eyes. Kubin hated his father, he had lost his beloved mother at the age of ten. He was then sexually abused a year later by a family friend who was pregnant. Aged nineteen he attempted suicide on his mother's grave. Suicide is the ultimate act of rejection of the mother figure. It is the action of regaining control over the life she had given, which is also regaining control over the Feminine element from which one has become estranged.
If my husband's family story was not as extreme as Kubin's, he too did not have any real emotional bonds with his father who was a cold, jealous sadistic man. The relationship with his mother was also very ambivalent. She was an egocentric, flirtatious, superficial woman who treated her children, my husband was the oldest of five as I was, not as sons but as admirers. His mother, like mine, was too young at his birth, and had not wanted him. He was abandoned without motherly love to the care of nannies and governesses before being sent at the age of seven to a boarding-school where the sadistic director used to beat regularly his small charges before being dismissed for abuse. My husband had been a loving and sentitive child, he tried to run away and entertained the idea of suicide since teenage. The youngest officer in the British Army during the Second World War his capture and subsequent internment in the Brunswick prison of war camp deeply affected him both physically and mentally. Particularly so since back in England he had to face the trauma of learning the sale of his inheritance, his family home and estate in England and the villa in Italy, all memories which had kept him alive during his two years as a prisoner of war. He also had to face the sorrow of seeing his beloved grandparents stripped from their possessions by their own children and put away in a convent where they died of grief soon after. With them the witnesses of his Italian heritage disappeared. During the War with Mussolini's alliance with Hitler, the family had to suffer the stigma of being seen as enemies of the nation. They never recovered from it and wanted to become more English than the English, severing all links with their Italian roots. His father was born in Florence but became ashamed of his Italian nationality. Whereas my husband who had discovered Rome with his grandfather to whom he was deeply attached, was fluent in Italian and felt himself Romano di Roma.
In some families burdened with dark secrets, a sacrificial victim has to be laden with all the family's sins so that the other members are relieved of guilt and assume a role in society based on lies, dissimulation and imposture. Such was my fate in circumstances worthy of a Flaubert or Maupassant's novel. My mother was born illegitimate, her father, a wealthy Normand miller, refused to recognize her following the numerous infidelities of his wife. Contrary to the pious, virtuous and dignified way of life of my paternal grandmother, my maternal grandmother lived the modernity of a dissolute life, all her children had different fathers. As a child I felt instinctively in her an egocentricity, a perverse narcissism and a darkness of soul expressed in her words. She used to pour out venom to hurt, corrupt and destroy all good : her proximity was hateful to me. My mother who is like her has transmitted this fateful inheritance to one of my sisters. She has inherited her nature and followed the example of this unworthy grandmother, emulating her chaotic way of life since teenage. My mother, whos sees in her an alter ego, made her an accomplice as a child, she admires her and from the very beginning she has always encouraged all her whims. They both derive a destructive energy from entering into violent conflicts when they give way to their common sadism, making of their alliance a redoubtable force. At her request she emancipated her after she had completed a secretarial course so that she could take a chance in America. From there she lived in Australia for many years, a country where she is now banned for some reason. But in getting interested in anthropology she succeeded in getting married to a renowned French anthropologist, to whom she presented herself in a flattering light. No doubt he was touched by her invented tale of not having been allowed by my mother to study at university, which was my case but not hers, since having neither the inclination nor the discipline to study, she never by choice went beyond the Brevet Élémentaire, O'Levels. For the love of her he wrote her thesis at the Australian university where she was registered by some convoluted ways. To show off she used to boast about it, at the same time complaining that he would not allow her to publish it. At our last encounter she assured me that she had recently met one of his academic friends who would help her to do so. I then knew that her marriage would not last. Her husband died of cancer and only kept her at his side through financial interest. The thesis he had written was eventually published under her own name ensuring her a teaching post in a French university and leading her to a Buddhist guru. She now claims to be a philosopher after having published in French some commentaries drawn from the English publications of an ancient Buddhist text, boasting about a false spirituality and a fabricated study and career history. This imposture is particularly impressive since for years now she has usurped my place in appropriating herself my own path of life, as well as my birthright, sullying my name with my mother's support. They joined forces to destroy my reputation not only within the family but with all those who had known me. She even tried to turn my husband against me when she spent Christmas once with us in London.
My husband was also the scapegoat of his family. If my own family experience was similar to Hervé Bazin's Vipère au poing for the violent hatred of my mother whose cruel treatment was like his own Folcoche, my husband's was in many ways similar to that of Mauriac's novel, Le nœud de vipères, although this Vipers'nest was not within him but surrounded him. He was very pious, his faith and devotion were his strength, but the family intrigues around their inheritance and their social rank belonged to the same scenario as Mauriac's plot. Its inherent violence was just as effective as the one I had lived in my own family. When I met him my husband had divorced two years before a woman his family had pushed him to marry to get rid of him during one of his nervous breakdown. One of his closest friends, the former Chief of Police and ambassador Emir Farid Chehab, recalled for me with emotion the wedding ceremony. He described how my husband heavily sedated was led to the altar, in his onw words, like an animal to the slaughter, adding : 'Mais vous ma chère Monique, vous êtes une femme de cœur. But you my dear Monique you are a loving woman'. In those aggravated circumstances of a forced marriage, an annulment had been granted by the Vatican on the grounds of the non-consummation of the union. A sincere, sensitive, genuine man cannot lie with his body.
'Hell hath not fury like a woman scorned, William Congreve, The Mourning Bride, 1697. The repudiated wife avenged herself in a spectacular manner in destroying the reputation of her estranged husband on the London place and Homes Counties'. In so doing she not only sullied the honour of his name but also harmed his business, spreading her own views of their failed union. Standing as a victim she sent a circular letter to all his close friends. Whereas in using his temporary vulnerability, she had been the instigator of this ill-assorted marriage as a forty five years old spinster. She benefited from it all in getting married again soon after, but she never forgave my husband who feared her venom and hatred. Particularly as his own family had betrayed him and sided with her, a wealthy heiress. In this mockery of a marriage she even kept the family jewels after the divorce. She subjected a brilliant, cosmopolite, cultured and attractive man who loved women and had been a play-boy, who had been several times engaged without ever being able to reach the final stage, to the public humiliation of being branded as impotent. Our love was for us both, but especially for him, a healing process, I gave him back his pride and his self-confidence. I also gave him the necessary help and support to attend to his business again and face up to his enemies, the first ones being members of his family. 'Tu as rafraîchis mon cœur, You have refreshed my heart', he told me in his fluent French.
It is more difficult for a man to sever the umbilical cord than for a woman, and my husband's sufferings and psychological disorders came from this. He had made me meet his recently widowed mother who saw me immediately as a rival : I was too young, too beautiful, too intelligent, furthermore a French penniless student. But above all, I was too much in love with the son she had rejected, her jealousy was aroused. The news spread like wildfire in London society. Invitations flooded in where I was the centre of all curiosity while remaining unaware of the dark secrets of my husband's past. I had left the English convent where I had been teaching and studying only two years before, I was too young and inexperienced to understand society's deadly games. Beside I was still too much of a foreigner in a culture I had not yet fully assimilated to perceive all the subtleties of my husband's family social status, whose name meant nothing to me. My husband was shrewd and cautious, he only slowly disclosed his past to me as needs be thus leaving me defenceless. He forbade me to become too closely involved with the female members of the family, 'They will tell you lies about me'. He was right, but his ambivalent behaviour was putting me in a dangerously awkward situation. His jealousy cut me off my own English friends who did not approve of our marriage because of his age and depressive illness, 'You need someone to look after you', they told me. They could not understand that I needed to love as much as to be loved, and in the union of our solitary hearts I had found plenitude with a sister soul. My husband had a beautiful soul, a man whose bedside reading is The Imitation of Jesus, Marcus Aurelius's Meditations , Rudolf Steiner, Carl Jung, Jacques Maritain and Teilhard de Chardin shows stoicism and high-mindedness in adversity. His devotion and intense inner life were attuned to mine. One of his aunts sensed our harmony, Sister Gabriel was a Saint Vincent de Paul Sister of Charity who had dedicated her life to the lepers in Ethiopia for which she was decorated by the Emperor Haïle Sélassie and the Queen. Praising our love and harmony she was the only one to bless our union, glad of her nephew's newly-found happiness. He had told her that he had found in me the wife his grandfather had wished for him, able to make him as happy as he had been with his Italian wife.
Mario Praz in Fiori Freschi described with a sensitive poetic vision a watercolour in his collection by the Viennese artist J.N Ender. He saw it as the double portrait of the Talbot Sisters, both wives of Roman aristocrats. He pondered on what they may have had in common and what made them different : ' … a mysterious quality…two different notes coming from a same chord …What if one showed vertue and the other one showed vice ?...Thus they appeared to me as the same landscape in different climates, the most tangible proof of those secret correspondences perceived by mystics, which link all earthly things on our small planet'. Sometimes it so happens that in the midst of the same family, as if on the stage of a Greek tragedy, the forces of Good and Evil are at work, acting most often through women. In my husband's family the youngest aunt, the black one, hated him for being the heir to the family name, title and estate, and not her own son. She pushed her older brother at the time suffering from depression, to sell the family estate in England and in Italy. She encouraged him to illegally break a Family Trust in the name of his own sons, thus twice dispossessing my husband of his rightful inheritance. She wanted to eradicate everything that could recall their Italian origins and she also pushed her brother to renounce his family name and title. After our marriage my husband took it on again against his family's wishes. My mother-in-law's cancer gave this malevolent aunt the opportunity to re-assume her power over her hated nephew. Our shared love had so far protected him despite all the intrigues woven around us, but it proved powerless in the thick of family affairs. After years of remission in the happiness of our marriage, the depressive cycle set in again and the fateful family story led him to suicide. Full of perfidy and dissimulation, his aunt worked hand in hand with the first wife. After my husband's death she turned her attacks towards me, seeking to push me to despair through her wicked schemes as she had done with him. I saw through her and faced her, she then revealed her evil intents in those words : 'Michael protects you !'. In life as in death Omnia vincit amor, Love conquers all, I had seen my husband's suicide as the last proof of his love for me. He was weakened by his recurring illness, his strength was diminishing, he was better able to protect me in death than in life. Furious at seeing her prey escape her, she had ordered a cremation against his will and my own. She had his ashes scattered in a last spiteful act of rejection, refusing to have them buried in the family vault, his own by birthright.
As I was trying to make a new start, the infernal feminine family circle closed on me. The aunt and my sister-in-law spread evil rumours about me, sullying my name and reputation in a systematic character assassination. My husband's brother and his wife had tried to destroy our marriage from the very beginning. They were notorious for the wife-swapping parties they used to give in their Berkshire home. They tried to get us involved in those exclusive gatherings, where photographs of them both naked offered to their guests the full disclosure of their physical advantages. Both women were conniving with the first wife whom I had in no way wronged, but she irrationally reported on me all the hatred she had nurtured for my husband.
Such duplicity and hatred is for me madness, and if some men did behave badly towards me at that time, my brother-in-law in particular, I know that it was always at the prompting of jealous perfidious women who wished me ill. In my experience, a man does not attack a woman without the consent and support of another woman, unless he is in some ways disturbed or a sombre brute, and they are not legions of them. I understood this when I met a French woman who had been raped by her half-brother and whose mother accused her and not him. What to think of those women who throw their daughters in men's arms as did the mother of the French TV presenter Flavie Flament raped aged thirteen by the British photographer David Hamilton as she wrote in her book La consolation ? What to think of those mothers who deny their own daughters such as my own mother who used to say : ' You don't count, you are a girl, your brother is the eldest of the family', the third of the siblings ? What to think of those mothers in love with their own sons, who harm them with their boundless adulation, creating inveterate Don Juans playing with women's feelings or eunuchs ? In recent time France seems to have been under the influence of that type of men spoilt rotten by their mothers or mother-figure. They are perversely narcissist immature men suffering from a Peter Pan syndrome who are a real danger to society if at all involved in public life, particularly in the exercise of supreme power. Nicolas Sarkozy was a striking example and his maffioso type of government has lowered French political practices and brought down the country's standards. Emmanuel Macron is the ultimate incarnation with his arrogant and perverse narcissism and vulgar seduction. He faithfully reflects the cunning ways and manipulations of the older woman who has abused him as an adolescent and has become his wife, he has forever remained at this immature stage.
THE BRIGITTE TROGNEUX/AUZIÈRE/MACRON CASE
The last French presidential campaign assumed a homeric dimension without the nation being aware of it. On the one hand a professional woman was sacrificied on the altar of her husband's political career, Penelope had been patiently weaving the threads of her life in his shadow. On the other hand a Circe, a redoubtable seducer, was quenching her thirst for power in her teaching career by fanning the flames of desire in her male pupils to better control them. Her last biography Brigitte Macron. L'Affranchie, The Emancipated, contains some revealing testimonies about her professional conduct as a French teacher in a private provincial college. Devoid of all professional ethics, she used her French lessons to whip up sexual excitment in her pupils who certainly did not need her good advice ' to indulge oneself is good from time to time…' to discover the pleasure of masturbation. In full control of ambiguous posture as much as of vocabulary, she cultivates the art of evasion, using the double-entendre of a seemingly anodyne meaning to conceal a salacious one 'Emmanuel is good in every way…' . She thus creates doubt and confusion in her public's mind and escapes disgrace. With her poison Circe used to turn men into swines, which is the very pleasure advocated by Brigitte Macron, The Emancipated. This is the true face of the spoilt petite-bourgeoise protected by a family of tradesmen influential in their provincial town . She is an older version of the Sixties' kitten who thought that 'Il est interdit d'interdire, It is forbidden to forbid' . She has kept the anorexique figure, the overly sexy flighty manners and the immature ego of a teenager. Like a black spider weaving a web of dark schemes, she conceals immoderate ambitions of power and domination under a sweet little face mummified by recurring facelifts, permanent suntan, lit up by a smile she wants devastating.
According to tradition in the Antiquity Circe's domain was situated at Monte Circeo in the Latium. Further down in nearby marshlands, an Etruscan goddess Feronia, associated with wildlife and agriculture, was worshipped. As the goddess who granted freedom to slaves and civil rights to the most humble, she had a temple where the rituals were similar to the spells cast by the sorceress. Myths speak of themselves in their symbolism, they are the keys to the Gods' mysteries. They are also with their secret correspondences signs sent to mankind as a warning. It is not by chance that the collective imagination sees Brigitte Macron as affranchie, emancipated . In the parallel world of poetic imagination where psychic thruth is revealed, this woman is involved with slavery. Here is the essence of Circe's myth, who according to Ovid used to cast spells linked to men's sexuality and metamorphose them into swines. Either they yielded to bestiality and became the slaves of their own pleasure, or they were emasculated by the sorceress's domination. The myth of Circe stands for the two negative aspects of woman sexual power over man. Although apparently contradictory are in fact complementary : in both cases man is enslaved to woman's power.
Brigitte, the hypocrite expert teaser and story teller aged thirty nine used to play with her male pupils' feelings with her flirtatious behaviour, her way of dressing and her words, exchanging with them love letters. A modern Circe, she seduced the fifteen years old Macron. She changed him metaphorically into a swine, yet according to him waxing lyrical in hyperbolic statements about her, she is ' the face of modernity'. Under the excuse of a compelling and exclusive love, she has emasculated a teenager she wanted to control to use his talents and further her own ambitions. They are becoming obvious in her imperious desire to change the French protocol so that she can enjoy an official status as the wife of the President.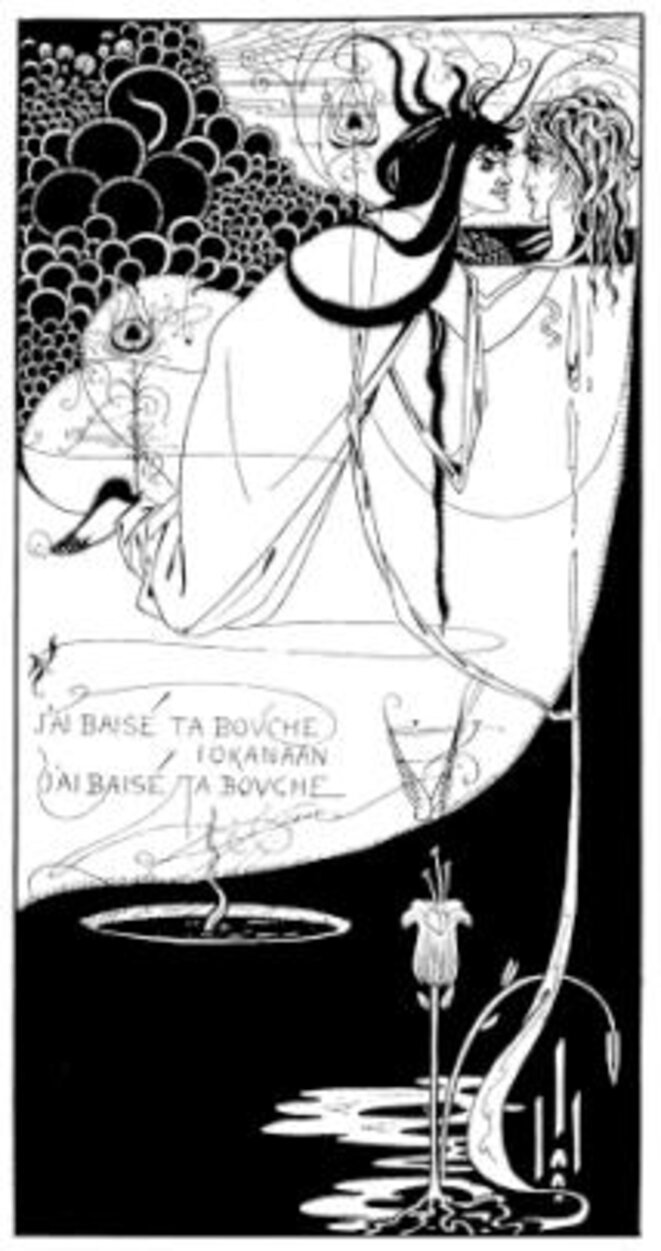 J'ai baisé ta bouche, Iokanaan. J'ai baisé ta bouche. Aubrey Beardsley, 1892, Salomé by Oscar Wilde, a play written in French for Sarah Bernhardt, 1891

J'ai baisé ta bouche, Iokanaan. J'ai baisé ta bouche. Aubrey Beardsley, 1892, Salomé by Oscar Wilde, a play written in French for Sarah Bernhardt, 1891
The myth of Salome, the Femme Fatale, is another incarnation of female domination of man through seduction, Symbolist artists such as Gustave Moreau and Aubrey Beardsley often depicted her. The decapitation of a man by a woman is the symbol of the feminine emasculation by a dominatrix of which Brigitte Macron is a blatant incarnation. She has the audacity to speak for women victims of harassment whereas she should have been judged and condemned for sexual abuse on a minor in her care as a teacher. It is a a serious professional misdemeanour for which she should have been dismissed from the Éducation Nationale. She only escaped the disgrace through the protection of her family's social status in a provincial town. Nowadays she self-confidently declares speaking of women's harassment ' Tongues are starting to wag, and it's a good thing'. In so doing she runs the risk that all the dark secrets of her personal life, so carefully hidden away, be in time exposed to public knowledge. The partisan Feminist voice clamours, ' It was not a rape'. Nothing is less certain and cannot be proven, if not in the physical sense there definitely was a psychological sexual abuse on a minor, an infraction under the Law. She has made an inexperienced youngster totally dependent of her emotionally and turned him away from his own family. He has become the slave of a woman old enough to be his mother, who in turn left husband and children to satisfy her own desires and ambitions in becoming his wife. Their unhealthy couple is acclaimed and the seducer praised as an example by the Feminists : ' If she were a man nobody would criticize' adding ' With you we have our revenge !' What of this revenge? How can it be that the relationship between men and women has become so degraded ? How can it be that an intelligent woman like the former Justice Minister Mme Taubira asks that ' Men should know humiliation', that daily women pour out the venom of their hatred against men in the medias ?
Women have to assume their dark side and their part of responsibility in the decline of moral standards and in the decadence of society. Men are inflammable and vulnerable in their virility. Certain clothes and certain behaviours are inappropriate in a social or professional context. It is to respect men as much as to show self-respect not to try for a woman to provoke in vain a man's desire. To visit a man in his hotel room is to put oneself at the level of a prostitute, there are public places to meet without ambiguity. To wear tiny mini skirts, deep revealing decolletes, slim jeans so tights and shorts so short that they leave nothing to imagination is a blatant provocation. As is also lewd language, losing control under the effect of drug or alcohol and sexual promiscuity. Women who willfully forget they own nature, who claim the freedom to act as men do, who use them and their power, who enslave them physically and mentally, harm the feminine cause. How can they think that their sons, whom they do not have the wish nor the time to bring up any longer so taken are they by their career and personal ambitions, will grow up to respect the Feminine element they often discover watching pornography on the Internet ? In wanting to take man's place modern woman has abdicated her own invaluable feminine power on men, she has to assume the consequences. No law will guarantee her respect if she does not show herself worthy of it in assuming the privileges but also the limits of her feminine condition. Women are responsible for the moral health of society and of its continuity. Women are the guardians of the collective memory, their role is to transmit it. It is a major responsibilty in a world where grace and civil manners are fast disappearing to leave place to violence, ignorance and bararism, denying humanism to the profit of greed, money and technology.
Monique Riccardi-Cubitt 
Paris, le 4 février 2018
Translated August 2018
Le Club est l'espace de libre expression des abonnés de Mediapart. Ses contenus n'engagent pas la rédaction.