HOMAGE TO HER MAJESTY QUEEN ELIZABETH II
Elizabeth II, by the Grace of God, Queen of the United Kingdom of Great Britain and Northern Ireland and of Her other Realms and Territories, Head of the Commonwealth, Defender of the Faith, left bereft Her Kingdom on earth, and loving subjects, on the 8th of September 2022, to re-join in death her Beloved husband,  Prince Philip, Duke of Edinburgh, Prince of Greece and Denmark, awaiting Her in the Royal Family vault in the  King George VI Memorial Chapel, within St. Georges Chapel at Windsor Castle, on the 19th of September 2022.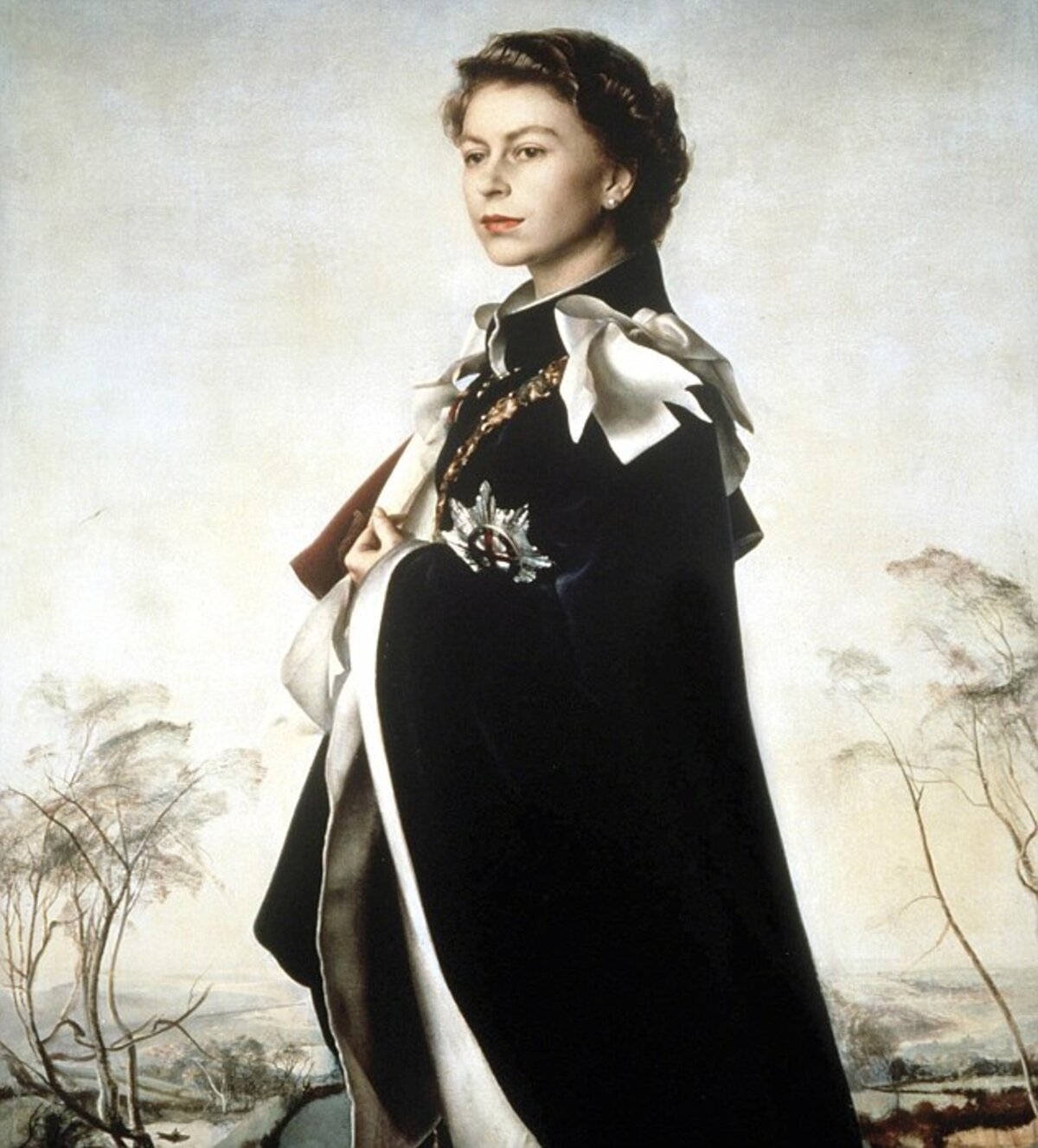 Of all the countless homages arising from all over the world, praising Her Majesty's long life and exceptional reign, the words of the Archbishop of Canterbury, His Grace Justin Welby, delivered at Her State Funeral in Westminster Abbey on September 19th, as Head of the Church of England, seem the most poignant and revelatory of the Queen's true nature, of her shining spirit, of her faith as a guiding principle ruling all aspects of her life of duty. "The pattern for many leaders is to be exalted in life and forgotten after death. The pattern for all who serve God – famous or obscure, respected or ignored – is that death is the door to glory…Her Late Majesty famously declared on a 21st birthday broadcast that her whole life would be dedicated to serving the Nation and Commonwealth. Rarely has such a promise been so well kept! Few leaders receive the outpouring of love that we have seen. Jesus – who in our reading does not tell his disciples how to follow, but who to follow – said: 'I am the way, the truth and the life'. Her Late Majesty's example was not set through her position or her ambition, but through whom she followed…People of loving service are rare in any walk of life. Leaders of loving service are still rarer. But in all cases, those who serve will be loved and remembered, when those who cling to power and privileges are long forgotten. The grief of this day – felt not only by the late Queen's family but all round the nation, Commonwealth, and the world – arises from her abundant life and loving service, now gone from us. She was joyful, present to so many, touching a multitude of lives."
Throughout Her long reign, the longest of any English monarch, and of any female sovereign in history, the Queen brought her unfailing grace, warm personality, and innate diplomatic sense with her shining presence all over the world, in State Visits celebrating England's glorious past and unique continuity of European traditions. Shakespeare described in poetic terms England's particular destiny in the words of the dying John of Gaunt in The Tragedy of King Richard II (1594), Act 2, Scene 1:
This royal throne of kings, this scepter'd isle,
This earth of majesty, this seat of Mars,
This other Eden, demi-paradise;
This fortress built by Nature for herself
Against infection and the hand of war;
This happy breed of men, this little world,
This precious stone set in the silver sea..
… This blessed plot, this earth, this realm, this England,
This nurse, this teeming womb of royal kings,
Fear'd by their breed and famous by their birth,
Renowned for their deeds as far from home,
For Christian service and true chivalry,..
England seems to have preserved better than any other European countries the tradition of chivalry, with its inherent values and principles, which both the Queen and Prince Philip upheld with shining honour. Much of it is of French origin and shows the strong historical and cultural links between the two countries, from England's Royal Motto, Dieu et mon Droit, used as a war cry since the reign of King Henry V in the 15th century. To the Order of the Garter's motto, Honni soit qui mal y pense, or the sacred ritual of the Royal Coronation ceremony harking back to Charlemagne's own coronation as Holy Roman Emperor and perpetuated by the French Kings in Reims Cathedral. Even the national anthem, God save the King, sung since 1745, comes from a hymn composed by Lully on words by the Duchess of Brinon to celebrate Louis XV's return to health. It was sung by the Demoiselles de Saint-Cyr on the King's visit:
Grand Dieu sauvez le Roy!
Grand Dieu vengez le Roy!
Vive le Roy
Qu'à jamais glorieux,
Louis victorieux
Voyez ses ennemis
Toujours soumis!
This motet by Jean-Baptiste Lully, was translated in latin, Domine salvum fac Regem, and became the French royal hymn until 1792. It survives exalted in England to celebrate the British Royal family in its continuity. The Royal family are all lovers of France and fluent in French, the Queen and her sister Margaret were instructed in the language by a Belgian aristocrat, Lady de Bellaigue, whose family was close to my late husband's when they lived in Windsor, and when he was dancing with the two young princesses at the Castle. King Georges VI and Queen Elizabeth welcomed the General de Gaulle in England in 1940, and he said that their friendship and support, together with Winston Churchill's, enabled him to be recognized as the leader of the Free French Forces, and deliver his famous speech on the 18th of June 1940 on the BBC, appealing to his countrymen to stand up and fight in the Résistance. And paradoxically English monarchs still bear the title bestowed in 1521 by Pope Leo X to Henry VIII as Defender of the Faith (Fidei Defensor) for his defence of the Roman Catholic Church against the threat of Martin Luther, in his assertion of the Seven Sacraments written together with his secretary, Sir Thomas More, who became a Catholic saint. The break with Rome came through various reasons, the main one being the crisis over the succession to the throne, yet to this day, Anglican Britain celebrates the Pope's pronouncement by inscribing Fid Def or F.D.on every coin issued.
The biblical verses to the Woman of worth, the words of the mother of Lemuel, King of Massa, to her son, describes most aptly the Queen's life and virtues, Proverbs, 31, IX :  
 Who can find a woman of worth?
 Far beyond jewels is her value..
Her husband trusts her judgment;
he does not lack income.
She brings him profit, not loss,
all the days of her life…
She girds herself with strength;
she exerts her arms with vigor...
She reaches out her hands to the poor,
and extends her arms to the needy…
Her husband is prominent at the city gates
as he sits with the elders of the land…
She is clothed with strength and dignity,
and laughs at the days to come.
She opens her mouth in wisdom; kindly instruction is on her tongue.
She watches over the affairs of her household,
and does not eat the bread of idleness.
Her children rise up and call her blessed;
her husband, too, praises her:
"Many are the women of proven worth, but you have excelled them all."
Charm is deceptive and beauty fleeting;
the woman who fears the Lord is to be praised.
Acclaim her for the work of her hands,
and let her deeds praise her at the city gates.
 In a life of discipline and devotion to God and duty, the Queen excelled in all she did, guided by the shining example of her own mother who stood for those values in a true Scottish tradition of stoicism, bravery, and grace in adversity. The Queen Mother was a tower of strength to her husband and daughters, she showed a sense of duty and sacrifice during the Second World War, refusing to be evacuated to Canada in declaring: "The children won't go without me. I won't leave without the King. And the King will never leave."  The Queen's life of service started early, and she was groomed to assume her position and power with fortitude and stoic dignity under the trappings of pageantry and the heavy duties her rank and destiny bestowed upon Her. The strong family bonds allowed Her to assume at an early age the rigid protocol of life at Court, while retaining the innate simplicity of a Scottish landowner happy on her estate at Balmoral with her dogs and horses, mingling with the locals. She shared with her mother high-mindedness and total dedication to duty, and the rare quality of being altogether regal yet gracious and warmly open and accessible to those she met. They both had a genuine empathy and care for others, they knew how to put them at ease with elegance and kindness, a truly royal trait coming from the heart. They both exuded charm with their sparkling blue eyes and winning smile, and despite their small size they had a charismatic presence coming from their regal bearing. I felt this magnetic aura around them, with the Queen at a reception at St. James's Palace, and with the Queen Mother at a chance encounter at the preview of a Continental Furniture sale at Sotheby's. I was then viewing the sale with my students and was totally absorbed in the description of a Carlin Bonheur-du-Jour, when I suddenly felt I was losing my audience's attention. I turned away from the piece of furniture I had opened to find myself confronted with a small white-haired lady with shining blue eyes and a benevolent smile, who had been listening to my talk, while my students were totally enraptured by her presence. She smiled at me and quietly made her way alone through the crowd in the salesroom. She was a great connoisseur and avid collector of works of art, and a regular visitor at Christie's and Sotheby's. Both the Queen and the Queen Mother embodied the precept of the motto Noblesse oblige one of my students had asked me to explain, and I had replied: "It means that the more you have, the more you must give." In a changing world when women, keen to assert themselves, seem for better or for worse, to assume men's ways, the Queen and the Queen Mother showed that a woman can retain all her seductive charm and yet assume power and authority without departing from her femininity, indeed it enhances and increases her own power.       
Of the many artists who depicted Elizabeth II, the Italian painter Pietro Annigoni seems to have been able to capture her true spirit through her youthful beauty, and to convey in two portraits the heavy burden of power and responsibility carried by the frail shoulders of a very young woman at her accession to the throne, singling her out and isolating her, while endowing her with regal dignity. In the first one in 1955, he represented her clad with the Order of the Garter Robes and insignia, standing above a poetic arcadian landscape, as becoming to such a young queen, and showing her love of nature. Yet her bearing and countenance exude authority and self-mastery. She was born to rule, and she did it with an impressive grandeur in her inherent kindness, and simplicity of heart and manners. This portrait became an all-favourite, it was depicted on coins, banknotes, and stamps, making the Queen a true national icon.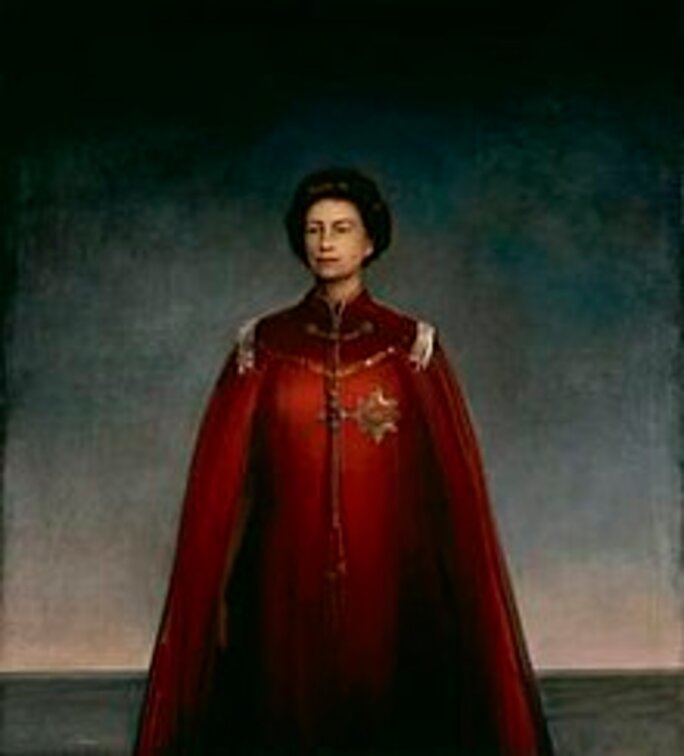 In the second one in 1969, Annigoni showed her clad in the Robes of the British Empire. A hieratic figure in imperial purple, like some Byzantine Empress, she stands over a low horizon lit by a faint pink glow. It is a stark and austere image, the painter said it represented the Queen "as a monarch, alone in the problems of her responsibility." This symbolic depiction befitted the unique position of a monarch reigning over 32 sovereign states during her lifetime and 15 at her death, and it proclaimed, without pomp and trappings, the grandeur and glory of the British Empire embodied by one exceptional woman. Her Majesty will be remembered and missed by all, an inspirational example of principles and virtues rarely encountered in any given time, and Her memory will forever shine at the pantheon of some of the most important figures in history. May She rest at peace reunited with her beloved departed family, and may those left on earth to grieve and mourn Her be assured that Her love and benevolence still shine upon them and protect them, as it does to all subjects of Her realm. 
OMNIA VINCIT AMOR,  Love conquers all, it even conquers Death. And in the words of Dante in Canto XXXIII of the Paradiso, God is Love, : L'amor che move il sole e l'altre stelle. Love which moves the sun and the stars. 
Monique Riccardi-Cubitt
September 27th, 2022