Railroad tracks divide the city in two, with the center engulfed by the growing business district on one side and the North End on the other. Winnipeg was built around the rails, and low-cost housing multiplied in the north of the city to successively accommodate white settlers, immigrants from Eastern Europe in the early 1900s and then, in the sixties, families from Indigenous lands of the province. The neighborhood gradually sank into poverty under the influence of institutionalized colonialism. These rails which once symbolized the commercial crossroads of the region now depict a limit not to be crossed for most of Winnipeggers. Like a scar on a land that the Whites have appropriated for the signing of treaties, hundred-year-old pieces of paper which still govern a large part of Canadian territory today.
In the absence of backup, the bus driver seeks to make eye contact as each passenger boards the bus, failing to check their tickets. Coming from the south end of the city heading towards the northern districts, bus line no. 16 is crowded, windows are foggy and the ground is covered with melted snow. A few workers glued to their phones eagerly await the descent into the downtown business district. Overwhelmed moms try to shove their strollers into the front of the bus while strayed souls, clad in simple T-shirts, melt in the warmth of their seats. The entrances and exits intensifies before the few stops that separate us from the North End. Following this tunnel, onboardings do not really take place at official stops, descents are sometimes forced, and eyes no longer meet.
Currently, the city of Winnipeg (in Cree, is translated as muddy water) is experiencing an unprecedented methamphetamine crisis. The homicide rate has doubled in the course of a year and is consistent with the mounting violence within the gangs that crisscross the territory. Created in the 90s, Bear Clan patrol restructured five years ago following the discovery of the body of young Tina Fontaine on the banks of the Red River which borders the neighborhood. The Bear Clan is essentially made up of local volunteers who meet five evenings a week to patrol the streets of the North End. If the number of volunteers increases over the years, so do the needles collected. Each foray has its share of surprises and new members are briefed on possible encounters on the asphalt. For safety, a man-woman parity is applied within each group and the route of the surveyed streets changes every evening. On the way, we check specific places. " No one under the bridge ? " Behind this bush, a syringe is immediately picked up, at the risk of seeing it multiply faster than dandelions. In an area where methamphetamine was easier to find than fresh vegetables, a local food bank also opened last year and serves more than 100 people daily.
"And there my mindset started to change ..."
Little ghosts rushed down a dimly lit Main Street crosswalk, zigzagging through the snowflakes. The car headlights reveal the threads of torn white sheets. The courageous few, braving the cold and flying bullets. Halloween puts an end to a haunted week of extreme violence for the city which counts, over a weekend period, three murders and a shotgun attack. In the beautiful residential districts, some gardens are decorated with black and yellow banners typically seen at crime scenes, as if the local channels were only broadcasting images from a distant world, and not twenty minutes from the family living room.
Vanda was born and raised in the North End. Dressed in black from head to toe and standing with a faded smile, she attended today the mediation ceremony of the young Hunter Haze Straight-Smith. At the prime age of three, Hunter was stabbed in his sleep a few blocks away, revenge of an angry ex boyfriend. The drama made the headlines for consecutive days and irreparably reinforces the harsh reality of the neighborhood nationwide.
Surrounded by Darcy, Lloyd and Chris, her brothers of the heart, Vanda 28 years of age, is like the little sister. She has known Darcy since they were kids. They grew up in the Developments, low-income housing project decorated with surveillance cameras, in the heart of the North End red zone. Territory of the Indian Posse at the time, Vanda's world was made of parties and gangsters. She loved some of them and took a hit for one of them. Now a student at the University of Winnipeg, she is entering her third year in political science. First of the line to embark on graduate studies, she is passionate about her classes and gets gradually involved in her community, trying to picture her past as her biggest asset. Dreaming of being a lawyer one day, she is empowering her Cree culture through the learnings and history : " I honestly never knew the story behind residential schools. I heard about it but I didn't know exactly what they were. It was when I entered university that I learnt about my whole history, the history of my people, of my Cree culture. And there my mindset started to change..."
Close to 150 000 children, from First Nations, Inuit and Métis communities were forcibly sent to these government-created and church-run residential schools. This painful but recent episode in Canadian history has long been taboo, the last school having closed in 1996. In Winnipeg, the cultural genocide suffered by entire generations was more revealed in the murals artworks that devour the city walls than in schoolbooks. If today the programs have been updated and consciences have been awakened, the faces of young adolescent girls missing are still emerging under the bridges, and emergency reception centers continue to be named after them.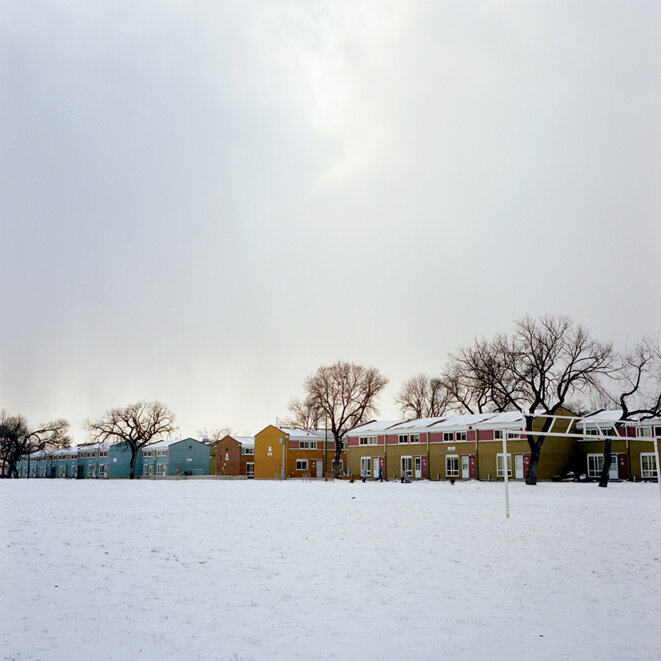 " If I had these opportunities as a kid ..."
Darcy grew up in the system. Separated from his parents at a young age, brothers and sisters dispatched by social services, he had to grow up quickly. Foster homes succeeded one another, and hotel rooms sometimes took over with accommodation centers packed to the brim. Lost in the middle of this administrative machine, Darcy runs away on several occasions and finds in the streets of the North End a substitute family that the system refuses to give him. He was ten years old when he joined the Indian Posse in 1998. The gang which was founded ten years earlier in a neighborhood basement by the Wolfe brothers, was then at its peak. Renowned for its violence and with connections across the country, the network's fame attracted the youngest and influenced the emergence of many other gangs, placing Winnipeg at the center of the web. The tables turned for Darcy, he is no longer the victim, and power becomes addictive. Convicted of murder, he spent a total of 12 years in Stony Mountain Federal Penitentiary, north of Winnipeg. His sentence was extended by two years due to poor reintegration: " Growing up in institutions like CFS (Child and Family Services), everything is done for you. So after ten years of being locked up, I find myself released in this adult world, where I don't know how to be an adult in this society, all I knew was violence, selling drugs and hurting people. "
Back in the penitentiary, Darcy learns that he is going to be a father and decides to take charge of his life. His attendance to the programs offered within the prison will allow him to shorten his sentence. Today at age 32, he is still in this long process of rehabilitation. He discovered the world of work through community service and been supported by the O.P.K * program set up by the legendary Mitch Bourbonnière, a father figure who came to the aid of young people at risk. License in his pocket and OPK blazed on his back, he no longer counts the hours and the cumulative days spent with young people in his neighborhood, seeing himself at their age " If I had these opportunities as a kid, things would have been different for me, life choices would had been different. Now I have a good group of core individuals around me. I did time with some of them and we tried to kill each other multiple times. Today we are working together. To see old friends, who were at the rock bottom just as I was, becoming community leaders, taking school courses... it's rewarding."
The creation of Indigenous gangs was a result of extreme poverty. Fed by racism and intergenerational trauma, these organizations demonstrate a collective determination to rebel against a colonial system. Many young people who grew up in the North End find themselves caught up in this great urban chessboard. Normality comes down to a disproportionate adaptation to violence, and the passage through the prison system is seen as a simple step in the hierarchy imposed by the gangs. According to a study conducted by correctional investigator Ivan Zinger, "within three years and without restructuring the prison system, one in three inmates will be Indigenous, even though Indigenous people comprise only 5% of the Canadian population." The juvenile detention centers and the federal prisons have become for many young people today the equivalent of what residential schools were for their parents.
" We need to hear more often the stories of these former gang members… "
Calm and charismatic, Lloyd chose the right words, sitting in his large empty living room. The curtains are drawn and the slides are on. "Prisoners habit," he jokes. It was in this same room that a SWAT team landed on a September night eight years earlier. Lloyd was already thinking about leaving The Native Syndicates without quite knowing how. Top ranking officer in the gang, he had dedicated fifteen years of his life to it and financially supported entire families. The exit process is far from easy. But it was during his last stint in prison that he gradually began the transition to a healthier life. He had his tattoos erased, the ones he gains over crimes and which confirmed his association with the gang and asks to be transferred to Stony Mountain's general population. On neutral ground, or almost. His request accepted, he reconnects with the spirituality and traditions of his ancestors while avoiding getting involved in the affairs of other inmates. " Spirituality in prison helps prisoners if they are not gang members. If they are in a gang, it's more complicated, they got duties."
Through his recovering process, Lloyd has been trying to reason with his brother Canon, who is doing time by his side but who cannot bring himself to quit. Caught up again in the business when he left, he was murdered a few years later in a house in the North End. Seven years after leaving the gang life, Lloyd now helps young people at risk and ex-inmates to get out of this infernal cycle through traditional ceremonies, also supported by the O.P.K program. Seen as a real mentor for the young people, he would like to multiply the interventions in schools and youth centers, but his ambition gets hampered by his criminal record. " We need to hear more often the stories of these former gang members that devote themselves to it. It would have a big impact on street life. If I can stop two young people from joining a gang and save several from suicide in just a few months, imagine the change that can be made together in the long term."
" If we see them less outside, it's because the Trap Houses have taken over "
Three years have passed since we last met. Today Charlotte is radiant. Following her two successful surgeries, she feels relived again at the age of sixty-nine, not denying Roberts past, this young Métis boy that she was once, traumatized by the abuses of his childhood. Charlotte was born spontaneously during a police control in a West End park in 1972. Since then, this name stuck to her skin and discreetly accompanied her in her various lives, from cook for Junior's to construction worker, or even during her meeting with the Dalai Lama. She now works at the Mount Carmel clinic, a neighborhood institution that provides accessible healthcare to neighborhood families, isolated residents and sex workers. Her phone is never switched off, messages pile up on her screen. Without a cell phone, some women working in the streets call during medical appointments, rare moments of respite. Charlotte picks up all the time, all the numbers. She has been there, fighting against addictions that have led her successively to the streets and to rehab. Sober for years now, she lives with her son and would like to settle in the countryside. Plant sage and heal the earth. But in the meantime, she goes on marauding.
Hoisted in her pick-up, we go down Main Street, the main artery of the North End. Decrepit hotels and pawn shops succeed one another, punctuated by obscure religious centers that are now condemned. We can still see a few washed-out Ukrainian and Hungarian signs, forgotten witnesses to the dazzling immigration that Winnipeg experienced at the beginning of the last century. For Charlotte, stories resurface at every corners. Before turning, one last glance towards the tunnel which seems to engulf cars and buses speeding towards the city center. The road along the rails seems endless. The sidewalks are covered with a thin layer of snow, the footprints gradually disappear. Vehicles are also becoming rarer, but their systematic slowing down and the insistent glances of drivers behind the windows remind us of all these disappeared faces and research notices posted daily on the pages of social networks. The buildings are now abandoned, the facades toothless, the windows and doors barricaded with wooden panels. In summertime, the area is particularly crisscrossed by the Bear Clan patrol. It is along this road line that every summer, young women, some minors, get into the strangers cars. But in recent years, there have been fewer, not necessarily good news according to Charlotte... "If we see them less outside, it's because the trap houses have taken over." Invisible, they are then forgotten. We walk past the stairs of the German community center, also closed. Charlotte sat on these steps for years, that was her spot, facing The Developments. She was gravitating around gangs but always been working on her own. Today stronger than ever, she gets up every morning to go to her workplace on the street next door to help those who have replaced her. Back on Main Street, at a red light, she opens her window and hands a cigarette to a frozen silhouette. A hand grabs the but end followed by a "Miigwetch". " You have no idea how good it feels at times like these. We are all so close to being homeless. "
Last April in full lockdown, three people were killed by Winnipeg police within the space of ten days, including a 16-year-old girl. Stewart Andrews, Jason Collins and Eishia Hudson were Indigenous. Messages of support to the call of hatred, the reactions on social media rekindle tensions. Born in the North End, Michael Redhead Champagne, young activist within his community, then raises a key question on his blog :  " When traumatized people over react, and are faced with traumatized police who over react, people get shot. How do we prevent these things from a system level ? " His neighborhood seems to be at the heart of the solution.
Sarah Le Quéré
project photos visible HERE
Links and references : 
Macleans // Welcome to Winnipeg: Where Canada's racism problem is at its worst
The Guardian // Bear Clan: model of indigenous activism that has swept across Canada
* O.P.K : Ogijiita Pimatiswin Kinamatwin in Ojibwe means " The spirit of both a warrior and a provider of the community walking into the good life"
* Miigwetch : " Thank you " in Ojibwe