Dear Adèle Haenel, thank you from Mexico City
Next Sunday, March 8th, in Mexico City, there will be a huge strike by women to protest against femicides and gender violence towards us. I wanted you to know that I'll be marching on Sunday with a sign that says "Merci Adèle Haenel" because what she has done means really so much for us, and it won't be forgotten.
Dear Adèle,
I'm writing you this letter because I feel the need to thank you: I am really grateful for you, for your enormous courage and boldness. I'm 29 years old and I live in Mexico City, and right now things for women in my country are worse than hell.
I wanted to thank you because through your actions you dignify women around the world. When we know there are people with your courage, you enable us to feel stronger and braver, and so we can achieve more things. 
I know that by now, specially this week, you might be receiving tons of messages from people and media around the world, so I'm kinda hopeful you will receive this text from me.
As a woman, I've been object to many types of harassment since being a teenager. Things that I didn't know were abuse until I grew older and more aware of life and things. It's because of people like you that me and many, many women in the world feel braver. Sorry for not being able to write in French. Although I lived in France when I was younger, I'm not quite able to write fluidly in French.
I have a girlfriend and we've been together for almost six years now. We love each other very much, but I can't say that having a homosexual relationship in Mexico is easy. You're practically fighting for your existence everyday; probably living a double life, having to hide some things from others: from family or people that might react negatively because they're ignorant.
So I want to thank you because getting to know someone like you, that stands up for the truth, for justice, for accountability and equality in the world, is so so refreshing because it gives us hope. And there is nothing more valuable these days than hope. Sometimes I think that's all we have left. 
I had the chance to watch Portrait de la jeune fille en feu when it recently opened in Washington, DC (my girlfriend moved to DC and so I have to travel a lot), and the movie changed my life. It made me feel so identified with the characters, the situations, the gazes, and love in the purest form. The movie and the work you do in the movie made something for me that I hardly had felt before: it made me feel deeply happy to exist and be who I am. I felt happy and proud of being me and of whom I love. And there's no price for that.
I identified some statements that now have helped me in my life, because I'm kin to them and because my own relationship has been based like that, hence I've been with my partner for such a long time:the notion of being in a relationship with someone as if we were on the same team, on the same level, being together to create, collaborate and grow together, lifting each other up.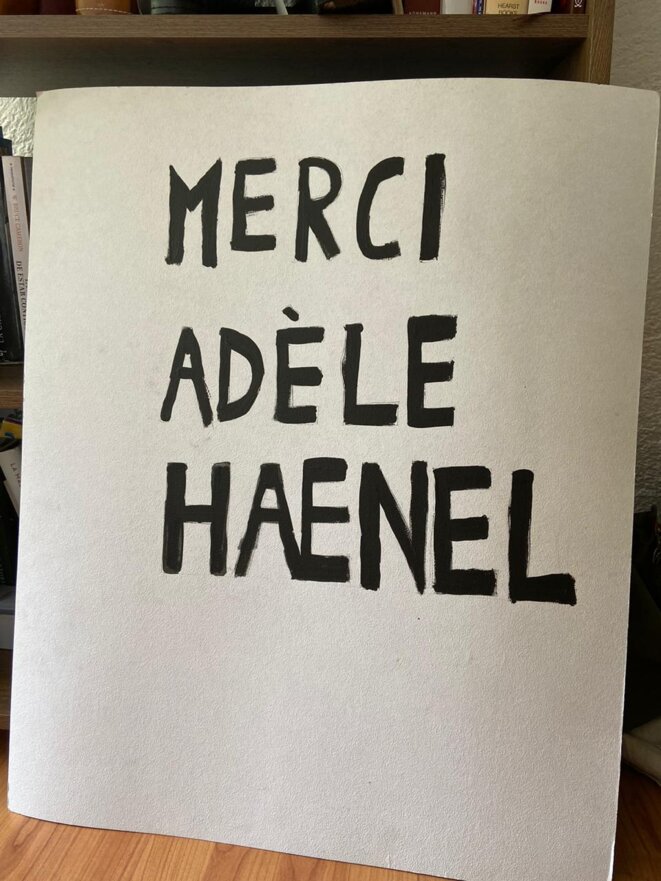 I have to say that of course I've never written a letter to an actor before, and that's because no movie and no social movement, no boldness, no bravery, has moved me like what you've done. Thank you so much for being so brave, and rest assured that there are so many people around the world that have been feeling better thanks to you and your courage. You've inspired a whole generation of brave girls that might have a really big impact in the future, giving us hope that things might get better. I really never thought about having a hero, but you are pretty close to being one.
I don't know if it is in the news in France but next Sunday, March 8th, in Mexico City, there will be a huge strike from women to protest against femicides and genre violence towards us. I saw that in Paris, women post cartels thanking different personalities, and I saw a couple of signs thanking Adèle. I wanted you to know that I'll be marching on Sunday with a sign that says "Merci Adèle Haenel" because what she has done means really so much for us and it won't be forgotten.
Au revoir!
Sofía  
French version here 
Le Club est l'espace de libre expression des abonnés de Mediapart. Ses contenus n'engagent pas la rédaction.