The Cost of Deportations: Behind the Figures, Violated Rights and Useless Suffering
The U.S.A. does not have exclusive rights over inhumane detention of migrants seeking asylum. How about in France? Here is my translation of an article published by the La Cimade* Communication Service. It sheds light on just one aspect of the current migration policy, the cost of detention, and the French government's move to "externalize" much of this cost to the private sector.
June 26, 2019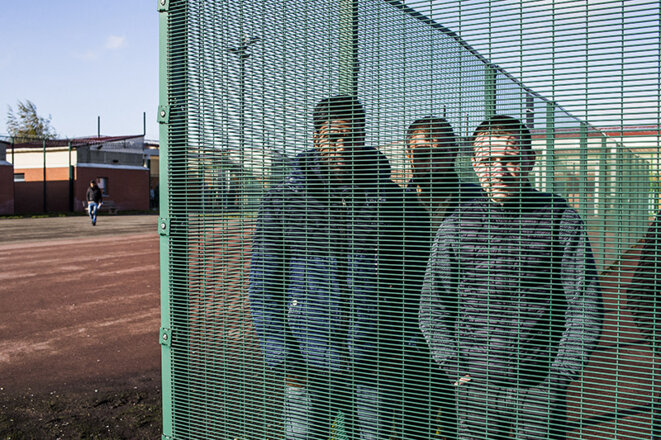 Detention center at Mesnil-Amelot, November 2007 © Yann Castanier / Hans Lucas

For the first time in ten years, two Members of Parliament looked at the cost of deportations, confirming what La Cimade has been denouncing for years, namely that the government's priority has been to implement massive surveillance and detention, when it knows that the administration will probably not increase its deportation rate.  A policy conducted with no real evaluation and no consideration of how migrants' rights are being violated or of the suffering inflicted on them, jeopardizing their lives.
 In 2018, 15,677 persons were deported from France and 18,283 from France's overseas territories and departments, or a total of 33,960. According to a report presented by MPs Jean-Noël Barrot (MoDem party) and Alexandre Holroyd (LREM party), the cost of these deportations in 2018 amounted to 500 million euros. Deporting one person therefor costs and average of 14,723 euros. Behind these figures, there are broken human lives and rights violated through institutional violence, the inefficiency of which is blatant.
An unabashed repressive policy
In 2018, out of the 24,531 persons held in France in an administrative detention center, 9,782 were deported, or approximately 40%. A number of prefectures attempted to explain and justify the gap by indicating that "custody orders take less account of effective deportation possibilities and are largely based on the will to maintain public order and dissipate any feeling of impunity within the least easily 'deportable' foreign communities."
The truth is that detention is authorized by law only for the period strictly necessary for organizing departure. If deportation is impossible, keeping these people in detention centers "becomes" unjustified. The administration thus acknowledges its punitive view of detention.
In this light, considering that detention will never be harmless, lengthening detention to 90 days and increasing the number of detainees in these centers, which only former president Sarkozy had initiated, seems even more cynical. A supposedly sought-for efficiency had never been the main goal. This policy is in fact driven by the will to dissuade and "make examples."
The report additionally reveals that the number of house arrests has increased by a factor of 20; from 904 in 2012, it rose to nearly 18,500 in 2018. But here too, this massive surveillance does not produce the expected results, as only 10.5% of those under house arrest were deported in 2018.
Disturbing recommendations
To make the system more efficient and less costly, the rapporteurs advocate, among others, "externalizing, on an experimental basis, certain tasks in the detention centers not directly related to core police competences, such as reception of those coming to visit the detainees, guarding the periphery of the centers, managing the fire-security systems, video surveillance, or driving the escort vehicles."
This is an extremely dangerous recommendation. It opens the door to privatizing deportation in France. Externalizing is a short-term view already being applied to prisons. It ignores the disastrous consequences for the detainees as well as for their families.
Nor is there any proof that such "externalizing" will allow the government to save on costs. The British system, fully privatized, still costs the authorities 500 million euros a year. Whether publicly run or privatized, massive deportation is still tantamount to mismanagement compared to what the costs would be for a dignified and broad reception.
Instead, "the rapporteurs see the functioning of delocalized courtrooms as very favorable" and propose to continue their development, as well as to resort to video hearings for evaluation before considering generalizing them, admitting nonetheless that "video hearings raise genuine questions regarding the unfolding of court procedures."
Putting an end to obsessing over figures
Looking the other way while opening part of the deportation policy to the private sector, and at the same time pursuing the marginalization of justice as a public service: these two proposals alone are a perfect illustration of the short-term view currently governing migration policies, which are locked into a repressive and punitive logic.
The logic is also a technocratic, sacrificing the most basic rights and aggravating discrimination against foreigners. The principles guaranteeing equitable justice, or more broadly basic rights, are thus violated, relegated to the vulgar rank of supposed obstacles to the execution of deportations.
Once again, it is urgent to put an end to obsession over figures in the areas of detention and deportation deprived of any evaluation and inhuman. And basically, a radical change of course is urgent, directed at migration policies finally turned toward welcoming and integrating people, and toward their freedom to circulate, settle, and work.
* La Cimade is an organization founded in 1938 by Protestant leaders to express solidarity with the exploited and the oppressed, and to defend the dignity and rights of refugees and migrants, whatever their origins, political opinions, or convictions. It has been active before, during (organizing, among other actions, evacuations to Switzerland of Jews), and since World War II in protecting those placed in "administrative detention centers," first by the Nazis to the present-day governments of the French Republic. Read a summary of their history (in French).
Original French version of this article. Translated by Marina Urquidi
Le Club est l'espace de libre expression des abonnés de Mediapart. Ses contenus n'engagent pas la rédaction.