A (Subjective) Chronology of May 68 in France, by Tomás Ibáñez
In France, for the 50th anniversary of "mai 68," memories are flowing in numbers, all the more as today's multiple movements involving students and other activists are being savagely repressed and railway workers are actively bringing their right to strike into the equation. I've chosen to offer my translation of a day-by-day account by a young anarchist swept into the movement.
Monday April 2, 2018, by Tomás Ibáñez*, translated by Marina Urquidi**
*Tomás Ibáñez, whose parents were Spanish exiles in France, was very actively involved in the anarchist movement, both in France in the 1960s and in Spain starting in 1973. Author of many articles and several books, including Fragments épars pour un anarchisme sans dogmes (Rue des Cascades, 2009) and Anarchisme en mouvement (Nada, 2014), he is a member of the editorial collectives at Réfractions and Libre Pensamiento. His Nouveaux fragments épars pour un anarchisme sans dogmes (Rue des Cascades) was published in 2017.
** Throughout the translation I've placed explanations between square brackets.
[Those of us who were young in 1968 in the U.S., Germany, France, Algeria, Senegal, Czechoslovakia, Sweden, Spain, Italy, Brazil, Great Britain, Jamaica, Argentina, or Mexico, among other countries, may have been swept into a social and political movement that we called "revolutionary" with no time to think about just how much was happening in what may have sometimes amounted to a mere month or two. Each rebellion played out in its history- and country-specific way—Mexicans will have been traumatized by the October 2nd massacre, Czechs will have had to surrender to Soviet repression, the U.S. political landscape may have been deeply changed for good, and the French, against the backdrop of a general strike, may have believed that the revolutionary "grand soir" had come to fulfill their hopes for a fair society. Paul Auster, in his latest novel, 4 3 2 1, offers his readers a lively account of the events at Columbia University (a fascinating refresher) with literary panache (pp. 790–812 of U.K. edition, Faber & Faber, 2017). In France, for the fiftieth anniversary of "mai 68," memories are flowing in numbers, all the more as today's multiple movements involving students and "climate transition" activists are being savagely repressed and that railway workers are actively bringing their right to strike into the equation. I've chosen to use the skills of my trade to offer this translation of a day-by-day account, the author of which was taken by surprise as a young anarchist in Paris in 1698.]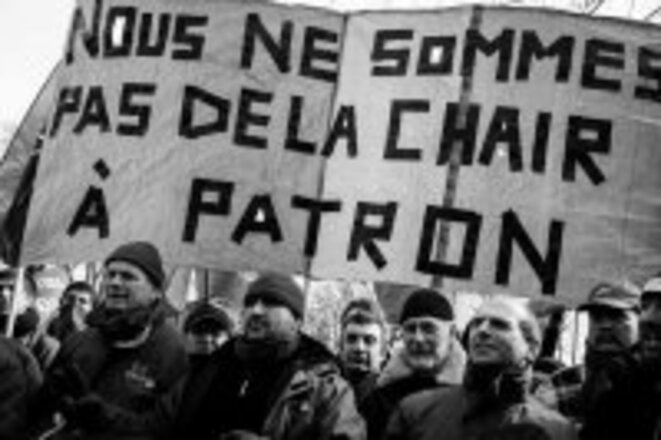 "We are not boss fodder" © La voie du jaguar
 "It's been forty years!" This is how I started the text I wrote in 2008 to introduce a brief chronology of the May 68 events.
1
At the time, I stressed that a cold report that might have been produced by a computer simply listing dates and facts was not necessarily the best way to learn about a historical event, and that including subjective takes, experiences, and memories could help provide a better grasp of the event without any damage to the facts. So I'm offering a chronology supplemented, crossed, or unhinged with fragments of a May '68 "experience chronicle."
Before long we'll all be hearing "It's been fifty years!" since '68, and I felt it would be a good time to reproduce this particular chronology.
Wednesday May 1st.  Responding to the call of the CLJA (young anarchists liaison committee), a few dozen comrades, including Daniel Cohn-Bendit (we will immediately understand why I mention his attendance), joins the traditional May 1st trade-union demonstration with black flags and leaflets. Violent clashes with the CGT [powerful trade union in those days, informally affiliated with the Communist Party] security wing, who grab our flags, tear up our leaflets, and within a few minutes expel us from the demonstration (only the UJCML [union of Marxist-Leninist Maoist communist youth], manage to stay in it because they are many more than we are and have a solid security wing). I still remember a CGT security-wing behemoth tearing a thick bundle of leaflets out of my hands and ripping it up in one blow as if that were the easiest thing to do.
Just barely a dozen days later (on May 13th), CGT leaders will have no other option than to accept the presence of Daniel Cohn-Bendit (henceforth "Dany") in the front line of the enormous demonstration marching down the streets of Paris. This radical turnaround in so few days clearly reflects the intensity and speed with which the May events unfolded.
Thursday May 2nd. An "anti-imperialist" day at Nanterre University, where groups of students are "equipped" to push back a possible incursion by fascists. That same evening, the Dean of Nanterre has the university shut down. The "March 22 movement" (henceforth "M22") and the other left-wing organizations (except the Maoists) call for a rally the next day in the Sorbonne courtyard to protest against the closing of Nanterre and against the disciplinary measures that the university authorities are planning to take on Monday May 6th against eight Nanterre students.2
Friday May 3rd. Early in the morning, between three and four hundred students, many of them wearing helmets and carrying clubs (because a raid by the fascists of Occident [far-right militant political group] is expected), occupy the courtyard of the Sorbonne's Faculty of Social Sciences and Humanities. Hours go by without the fascists' showing up. I'm working in a university laboratory located just opposite the entrance to the faculty, so I constantly come and go to talk with the occupiers. At about 5 p.m., in lieu of the fascists, lots of police vans turn up, called in by Superintendent Roche, and begin taking students to the police station. Only male students, because coeds are ordered to leave the Sorbonne.
While this is happening, I leave my work and hightail it to the place de la Sorbonne where, with the coeds forced by the police to leave the courtyard, groups are forming—of young people, students, and passersby. A clamor spreads, "Free our comrades," "CRS-SS," various objects begin to fly toward the police, chasing, charging, and throwing the first teargas grenades, the windshield of a police van explodes into a thousand pieces, the tree-protection grids are torn up and thrown onto the pavement of boulevard Saint-Michel. At place de la Sorbonne, a (Lambertist) Trotskyist leader who has not been arrested because he's just left the Sorbonne courtyard shouts: "Don't screw things up, no provocation…" The skirmishes will last about four hours, till after 8 p.m. Some six hundred people are picked up, twenty-seven are placed under arrest, seven will be sentenced on Saturday and seven more on Sunday.
In my opinion, it was lucky that the most well-known student organization leaders and militants were not in the street because they most probably would have put an end to the spontaneous revolt.
This was the day that the May fuse began to burn, set on fire by spontaneous actors in the absence of student leaders…
In the afternoon, the superintendent declares the Sorbonne closed indefinitely.
A few hours later, [the student unions] UNEF and SNESup call an unlimited general strike in higher education. At 1 a.m., M22, MAU, JCR, FEE, ESU, SNESup, and UNEF meet and agree on a joint call for a demonstration on Monday May 6th at 6:30 p.m. at place Denfert-Rochereau.3
Saturday May 4th. With unusual speed, the courts hand down sentences against the "rioters" arrested the previous day. The same day, an MAU leaflet calls for "action committees" to be formed. One is formed that very afternoon for the 13th arrondissement [Paris city district].
Sunday May 5th. Either LEA or M22 probably holds a meeting, but I don't remember.4
Monday May 6th.  At 9 a.m., Daniel Cohn-Bendit, Jean-Pierre Duteuil (both of them LEA and M22 members), and six other Nanterre students appear before the Disciplinary Board at the Sorbonne, but they leave a few hours later because the "trial" is rescheduled to next Friday. While they are appearing before the Sorbonne authorities, a demonstration of about two thousand students takes off at about noon from the Faculty of Science ("the Halle aux Vins"), crosses over to right bank after a long march during which it swells, then we finally manage to cross back over to the left bank moving in the direction of the Sorbonne. Harsh clashes with the police prevent us from advancing toward the Sorbonne, then we regroup close to place Maubert, where the fighting, involving some five thousand students, is very violent (I had never seen that much violence) and lasts until we fall back to join the Denfert-Rochereau demonstration.
Many people at Denfert, maybe ten thousand demonstrators, the disciplined FER militants wave their flags, but they are booed by the demonstrators and are forced to fold them up: the agreement reached in the morning of the 4th was that no organization was to have flags. Surprised and euphoric over the magnitude of the demonstration, the demonstrators shout ironically, "We are a groupuscule." Feeling powerful, we move forward on boulevard Raspail, rue de Rennes, and boulevard Saint-Germain toward the Sorbonne, but at place de l'Odéon, a heavy-duty police deployment prevents the demonstration from continuing to the Sorbonne. Several hours of violent clashes, a lot of teargas, more than eight hundred demonstrators and police officers injured, about four hundred arrested, the clashes will not stop until after 1 a.m. I still remember the long series of repeated sneezes, exhausting and irrepressible, which made us think that chlorine bombs were probably being used.
In all of France, universities are massively following the call for a general strike while CALs (high-school action committees) have already been formed and district action committees are about to proliferate.
Tuesday May 7th. A huge demonstration (of between thirty and fifty thousand people) starts from Denfert-Rochereau at about 6:30 p.m., crosses over to right bank and marches up the Champs-Elysées to the Arc of Triumph before going back to the Latin Quarter, where the demonstration breaks up at about midnight. The invasion of the Champs-Elysées by a crowd waving red flags and black flags leaves us, of course, with a feeling of great satisfaction.
The first issue of Action is already in the streets being massively sold by militants.
Wednesday May 8th.  Inter-union meeting at the Halle aux Vins (Faculty of Science), a small demonstration (UNEF, SNESup) leaves the Faculty of Science toward 6:30 p.m. and breaks up without any incident following an order by Claude Chisserey, an FER student leader. Alain Geismar (SNESup secretary general) and Alain Sauvageot (UNEF president) have negotiated conditions for a return to normal, which include lifting the sanctions against students and setting them free (except for foreigners!!!).
That night, M22 meets in some premises on avenue Verzy (17th arrondissement). The anger caused by the day's events is intense. At about 3 a.m., Alain Geismar shows up, broken, with tears in his eyes, and gives a self-critical account of the negotiations he was involved in,  which are likely to terminate the May movement, and to make things worse, by sacrificing the foreigners who have been arrested.
The next day, M22 decides to put all its chips on the table by announcing that it is determined to call, even on its own, for a big demonstration at Denfert on Friday May 10th at 6:30 p.m. and that it has already printed the leaflets. As we shall see, this determination will be absolutely crucial.
Thursday May 9th. The Latin Quarter is occupied by a gigantic sit-in, countless groups are having discussions on boulevard Saint-Michel and around the Sorbonne. Louis Aragon tries to take part in one of the debates, but gets insulted because of his ties with the Communist Party. That evening, JCR, which had convened a meeting in the large hall of the Mutualité theater, opens it to the whole of the "movement" and the assembly is used among others to spread the call to next day's demonstration, supported in the end by UNEF and SNESup alongside M22.
Friday May 10th. When the demonstration kicks off around 7 p.m., there is a huge crowd at Denfert. About thirty thousand demonstrators march down rue Monge to boulevard Saint-Germain and turn on boulevard Saint-Michel, but at about 8:30 p.m., at the level of the Luxembourg gardens, the demonstration comes to a standstill so as not to be too far away from the Sorbonne. The order is to occupy the Latin Quarter as long a time as needed, until the authorities yield. The atmosphere is tense, the waiting quickly changes into intense spontaneous activity consisting in tearing out cobblestones and building barricades (there will be more than fifty in a fairly limited area…).
LEA and M22 comrades are among the first to start unpaving the streets while some UNEF and FER honchos call them "agitators" and try to prevent them from doing that. Seeing how things were going, the FER members raise their flags and march away from the Latin Quarter in tight formation shouting "No to provocation."
Like almost every Friday we have our local FIJL (Fédération ibérique des jeunesses libertaires [Iberian anarchist youth federation]) chapter meeting at the head office of the Spanish CNT in exile, on rue Sainte-Marthe. I run over to tell what's happening at the Latin Quarter, the reception is cold, "this is just student agitation, it's more important to continue with our meeting," I am sorely disappointed, but I should add that the feeling will disappear the next day when I see that almost all my FIJL comrades and many of the old CNT militants are there in action. I immediately return to the rue Gay-Lussac barricades, the engagements have yet to begin.
A thousand rumors spread during a wait that is at the very least feverish. Some are encouraging: "workers from the suburbs are marching toward the Latin Quarter"; others, worrisome: "they already have tanks at such or such Paris bridge"… I almost knock over Pierre B., who is sketching artifacts on a notebook to stop the tanks. Transistor radios play a big information role, the police attack is imminent and we all know that it will happen at a moment's notice but nobody wants to miss this confrontation, believed to be decisive.
The attack is launched shortly after 2 a.m., extraordinarily brutal, the police will need two long hours to take control of rue Gay-Lussac. Conxita, my partner, takes refuge with other demonstrators in an apartment on the street, the cops climb up the stairs and knock on doors, the demonstrators pile up in apartments where they are sheltered, some are injured. Slowly, we retreat, barricade by barricade, until at about 5 a.m. we regroup at the Halle aux Vins, exhausted. I decide to go home to get some rest for a while and to try to gather information. The outcome: about four hundred injured; about five hundred arrested (including sixty foreigners); sixty-three are to face trial, half of whom are not students.
Saturday May 11th. The spectacle of rue Gay-Lussac and the Latin Quarter is amazing… All the trade unions have called a general strike on Monday May 13th and for a joint demonstration which is to take off from place de la République.
At 11 p.m., the prime minister, Georges Pompidou, who has just returned from Afghanistan, announces in a televised speech: first, that as of next Monday May 13th the Sorbonne will be reopened, and second, that the three students' demands have been accepted (release of all remanded students, the police will leave all the campuses, all faculties will be reopened).
Sunday May 12th. Long M22 meeting, I seem to remember that it was held in the Protestant premises at parc Montsouris (14th arrondissement), it's for discussing a strategy for May 13th and preparing leaflets and banners for the demonstration. Manuel C., a.k.a. "Carlos," proposes that a large group of well-equipped militants build barricades along the demonstration route and try to resist assaults by the police. A large part of the tens of thousands of young workers who will take part in the trade-union demonstration can be expected to go to where the fighting is happening and join them. As of this moment, Paris is burning and everything is possible… The revolution is on…!!! I'm attracted by the approach, but the majority of speakers reject the proposal and it is ultimately decided that M22 will take part, and no more, in the joint demonstration.
At around 6 p.m. some students, led by Kravetz and Peninou, leaders of MAU, which was dissolved the previous day to merge with the action committees, occupy the Censier branch of Paris University:  a permanent general meeting open to all, committees are elected to deal with each issue and to organize necessary services (clean-up, graphic reproduction, etc.). M22's direct democracy is adopted, and self-organization becomes the priority issue. We are breathing a huge thirst [sic] for freedom at every level, and the students have an exciting dream: that the workers will finally wake up and take over.
Monday May 13th.  Manuel C. and I go to the home in the vicinity of Montparnasse of a Nanterre professor, Anne Querrien, to collect banners. Manuel drives at full speed toward the demonstration, avoiding places most filled by the police, when I say to him that he drives like a champion he answers: "I learned how to drive for the revolution." The students (convened by M22) meet at the Gare de l'Est station to march toward place de la République. The general strike is on, though not massively, but a huge demonstration (there is talk of eight hundred thousand people, there may be in the neighborhood of five hundred thousand) takes off from République around 4 p.m.
The contrast with the May 1st demonstration is impressive, Dany is in the front line and there is a multitude of black flags among thousands of people, no security wing could remedy this situation. The demonstration ends at Denfert where at 5:30 p.m. the trade unions give the order to disperse, but part of the demonstration, mainly students (about ten thousand people), refuses to disperse and moves toward the esplanade du Champ-de-Mars where debates are taking place before going on to the Sorbonne to occupy it at about 10 p.m. An occupation committee is elected.
The second issue of Action is already in the streets while inside the Sorbonne the occupation is being feverishly organized late into the night…
An action-committee coordinating committee sets up on rue Serpente (ex-MAU militants are running it), an "occupation committee" is formed in the Sorbonne, where "worker-student action committees" are set up, and another occupation committee is set up at Censier, where "worker-student action committees" are also formed, and later the "inter-enterprise committee," partly by the GLAT, Groupe de liaison pour l'action des travailleurs [liaison group for workers' actions].
Tuesday May 14th. The Sorbonne is bustling with a plethora of activities and agitation, suddenly a clamor fills the courtyard: the Sud-Aviation factory, near Nantes, with two thousand workers, has just been occupied and its director has been locked up by the workers, we are drunk on euphoria.
Wednesday May 15th.  The School of Fine Arts is occupied and screen-printing of famous posters has begun, but what is most drawing attention is the occupation of the Odéon theater. At the Sorbonne, the occupation committee is elected every evening, the various commissions are working non-stop, rumor has it that former resistance fighters have unearthed the weapons they had hidden after the war and taken them to the Sorbonne for possible defense. The Renault factory in Cléon, close to Rouen, is occupied and, like at Sud-Aviation, its director has been locked up. The Cléon workers are sending delegations to the Renault-Flins and Renault-Billancourt factories.
The fuse lit in the streets of Paris ten days ago, which has since been rekindled without a moment of respite is causing big explosions in the world of labor and is changing the dimensions of the conflict. We may be at the zenith of May, all kinds of irrepressible feelings are running through me and I'm randomly writing them down. The feeling of belonging to a community built at great speed, a place of intense bonding, which paradoxically seems to come from a distant past, being part of a "we" made of countless strangers that somehow feel very close, like accomplices, birth of new social relations, and new friends. The need to always be available, at every moment, always on the alert facing an immediate future being built progressively on no predetermined model.
We are taken into an unchained, vertiginous pace with a mixture of exaltation and exhaustion, we have a sharp feeling that we're writing a page of history, that we're protagonists, the feeling of finally having effects on reality, of constantly having to face unforeseen developments transcending their actors and, for a while, the impression that we're making a little headway each day, that our actions are always successful.
Happiness and enthusiasm, a pleasure born out of the very action we've dived into. An intense desire that this will never end. The feeling that we're doing collectively things not supposed to be done, that were unthinkable before this very moment. The impression that we're challenging established power, the untouchable. The feeling that we've put the machine "out of control," that we've started a process of unstoppable, unforeseeable chain reactions…
Thursday May 16th. The strike spreads, trains, subways, buses… A big demonstration leaves toward the studios of the official radio and television authority, ORTF [a state monopoly on television and radio broadcasting], to protest against its information policy. Workers occupy the Renault-Flins and Renault-Billancourt factories, but in the latter the CGT itself is organizing the occupation so they can control the situation.
Friday May 17th. A student march moves toward Renault-Billancourt, which went on strike today, but the CGT, strongly established in the factory, prevents students and workers from sharing and mixing.
By the evening, there are about five hundred thousand people on strike. There will be two million the next day.
Saturday May 18th. France is virtually paralyzed, students are organizing assistance to those on strike, which means buying food directly from producers and taking it to the factories. The "double power" idea is making headway, we need to go a little further, beyond support and solidarity, and connect industrial workers directly with food producers to set up a parallel channel. Dany is going to Saint-Nazaire where his brother lives, then, having been convinced to do so by the magazine Paris Match, he is going to Germany to take part in a protest event.
Sunday May 19th. At the Sorbonne, the first general meeting of the action committees is attended by 148 action committees and 200 delegates. De Gaulle makes his famous "chienlit" (havoc, chaos, mayhem…) declaration on television.
Monday May 20th.  Jean-Paul Sartre speaks at the Sorbonne. France is paralyzed, six million people are on strike. The goal of the May movement is to change passive strikes into active strikes and to get those on strike to manage their own strike, take it out of the hands of union bureaucracies. Dozens of cars filled with delegations of Paris students leave for various cities on an information and agitation mission.
Tuesday May 21st. Garbage is no longer being collected in the streets of Paris, some items are becoming scarce, there are interminable lines at gas stations.
Wednesday May 22nd.  The motion of no confidence filed by the left at Parliament is rejected. Gas stations are closed. Using the carrot and stick approach, amnesty for the imprisoned demonstrators is announced at the same time that Dany is given a "banning order" preventing him from returning to France. The same day, a spontaneous demonstration protests against this measure while a big demonstration is called for Friday 24th.
Thursday May 23rd. Radio stations are prohibited from broadcasting information live during the demonstrations.
Friday May 24th. UNEF, SNESup, M22 and the CALs have called to demonstrate in support of Dany with several starting points, all located in right-bank working-class districts: Clichy, porte des Lilas, Stalingrad. We have a secret, Leninist-type goal, which is to occupy the Town Hall, and if that turns out to be impossible, M22 has made the Bourse de Paris [stock-exchange building] the second goal. Many people (about fifty thousand demonstrators), many young people who are not students, the junction of the various demonstrations takes place opposite the Gare de Lyon station, but the police block the way and clashes, very violent ones, including an attempt to take an armory by storm, extend to the whole area. That afternoon Georges B. had prepared small masks to protect us from the teargas.
De Gaulle's speech is scheduled at 8 p.m. (he will announce a referendum), rumor has it that the trade unions will start to negotiate, the atmosphere is very tense. Given the impossibility of occupying the Town Hall, M22 leads part of the demonstration toward the Bourse de Paris, which is set on fire at around 10 p.m. Then, through place de l'Opéra, we converge toward the Latin Quarter where another night of barricades and attacks against police stations begins (that of the 5th arrondissement, etc.). We no longer have live information through the radio, which generates some confusion among the demonstrators, who organize in small groups for urban guerrilla warfare. Extreme violence, probably the most violent night of all since the beginning of May. In Lyon, death of a police officer, in Paris eight hundred arrests, hundreds injured…
Late at night, at the beginning of boulevard Saint-Michel, Pierre Goldman, fascinated by the guerrilla in Latin America and very skeptical about the "small May confrontations," gives me advice, a razor blade stuck in a potato changes it into a most effective projectile.
Saturday May 25th. Early afternoon, chaired by Pompidou, negotiations begin at rue de Grenelle between the government and the trade-union organizations.
The ORTF finally goes on strike.
CLEOP, a student-worker-farmer liaison committee, is formed to try to set up a direct supply channel between farmers and strikers.
Sunday May 26th. Meeting at the Cité universitaire [student residence area] where M22 criticizes UNEF.
Monday May 27th.  The Grenelle agreements are signed In the morning. In the afternoon, about fifty thousand people converge for the meeting at Charlety Stadium. The same day, Alain Geismar resigns from the SNESup secretariat. A rumor spreads that in spite of the CGT's influence in the Renault-Billancourt factory, the Grenelle agreements were rejected by the workers' meeting.
Tuesday May 28th. Alain Peyrefitte, Minister of Education, resigns. In the late afternoon, Dany, who has secretly returned from Germany, makes an appearance at the Sorbonne's big auditorium, where he is greeted with an enormous ovation when he says who he is. I can still see Dany going down from the last floor of the Sorbonne, where the security wing meets, to the big auditorium with Jacques Remy as a bodyguard and a few "Katanguese" waving iron chains around to open the way for us by rather harsh means.5 At about midnight, Dany gives a press conference and calls another one for the next day at the same place.
I vaguely remember that someone asked me to find a refuge not too far from the Sorbonne where Dany could spend the night. I contact P. and his partner A., comrades who are close relations and live precisely in the street that runs along the Sorbonne (rue Saint-Jacques) and they naturally accept to accommodate him. Early in the morning, a car is waiting for us on rue Saint-Jacques at the level of the university, and Janin, riding a large motorcycle, opens the way for us to get to P. and A.'s apartment.
Wednesday May 29th.  Dany doesn't show up at the press conference he called the previous day because to fight against media stardom, M22 decided that other comrades would be there in his place ("We all are Dany," they say to the offended journalists…). De Gaulle has disappeared, nobody knows where he's gone. The CGT calls for a big demonstration to which several hundred thousand workers come; it marches from Bastille to Saint-Lazare without an incident.
At 6:25 p.m. de Gaulle reappears at his residence in Colombey.
Thursday May 30th. At 4:30 p.m., the general makes a speech to announce elections and the dissolution of the French National Assembly. The Champs-Elysées are swamped with a flood of people supporting de Gaulle, about a million demonstrators, they say.
Friday May 31st. It's the beginning of the Pentecost weekend, gas is on sale again so Parisians can return to normal and leave Paris for a few days.
Saturday June 1st. UNEF is the only union calling to demonstrate as a response to de Gaulle. Some thirty thousand demonstrators go from Montparnasse to Austerlitz through the Latin Quarter shouting "Élections piège à cons" [elections are a con job]. My memories are vague, Dany is supposed to make an appearance at the demonstration, which is to go down rue Saint-Jacques. We are in the Sorbonne and we leave to slip into the procession when it's marching nearby. After having marched for a while, we walk along it in the opposite direction to get closer to P. and A.'s apartment, when we suddenly find ourselves facing the FER's tight security wing barring our way. Our requests to let us go through have no effect until the Lambertist leader Charles Berg shouts at the top of his lungs: "Can't you see who it is! … Let them through, you bunch of idiots!" Without reacting to the insult, the militants all obey immediately and the barrier opens to let us through.
Sunday June 2nd. General meeting of the action committees at the Sorbonne, the coordination of which has fallen under the JCR's control, the meeting goes sideways. The UJCML, M22 and the (Maoist) Movement of support for the people's struggles fall back to the School of Fine Arts where they form the Standing mobilization committee, which will take on actions against the Renault-Flins factory outside Paris.
Monday June 3rd, Tuesday 4th, Wednesday 5th, and Thursday 6th. Little by little, people are going back to work, the subway, train, and post-office strikes end on Thursday June 6th. With Parisian public transportation now running, the few persons still on strike are seeing their days numbered. This same Thursday, Renault-Flins wakes up to find itself under police occupation.
Friday June 7th. There are fewer and fewer workers' pockets of resistance while very violent clashes burst out between the police and the Renault-Flins workers. The M22 movement is convinced that after the weekend, that is, on Monday June 10th, everyone will have to do whatever it takes to help the strikers at Flins. Clashes proliferate throughout the area.
Saturday June 8th. From Paris, M22 militants drive to Flins to talk with the workers and prepare Monday's resistance.
Sunday June 9th. The watchword is to go to Flins by any means. In the afternoon, we leave the School of Fine Arts in Pierre B.'s car to meet up in Flins with the other comrades who managed to get around the police roadblocks, and we meet with the Renault workers to discuss the situation. Later, we sleep for a few hours, piled up on the floor of the hallways of their apartments.
Monday June 10th. Up at dawn… The meeting was set at daybreak in the gardens of the CFDT premises located in the village called Mureaux, very close to Flins. There are about a hundred of us militants in the gardens of the CFDT's local union (Serge July, Manuel Castells, etc.) when at 6 a.m. we see emerging from behind the grids of the garden some highly excited riot-squad policemen waving their billy clubs as if they were drunk, and we fear the worst. "Luckily," members of the flying police squad [gendarmes mobiles] appear shortly thereafter and get between them and us, then they load us into their paddy wagons to take us to a large open space where they check our IDs thoroughly (I don't remember whether this was in the near vicinity of the factory).
They separate the foreigners out and take us to the dungeons of the Paris Courthouse. I don't know how long we are locked up, Castells tells me that Alain Touraine will testify that he was in Flins for sociological research, this gives me the idea to ask Robert Pagès, director of the Sorbonne laboratory where I work, to do the same.
I am notified of an order to be deported from the French territory, the order is commuted to house arrest in the Corrèze département thanks to my status as political refugee. The police are probably snowed under these days because they let me go free and tell me that I just have to report within twenty-four hours to the prefecture of Tulle, the capital of the département. (If the police were not snowed under, another explanation is that they left a door open for me to leave France—one less problem—or go underground—stronger repression in the future…)
From Tulles I go to the nearby city Brive-la-Gaillarde, where I'm put up by left-wing comrades. I am to report to the police station every day, but within less than week the police notifies me as follows: "We know you've met with groups of young leftists, we warn you that we do not want barricades in our city, so starting now, all cities in the département with a population of more than… (I am not sure of the number, but it was very low) are off limits to you." A couple of teachers of the PSU welcome me in their apartment at the primary school of Lissac, a very small village with a tiny population. My subsistence is covered because Robert Pagès has not terminated my contract with the laboratory. In the summer, my friends from Paris come visit me and I even make a few brief and discrete getaways to the capital.
The measure, against which there is no possible recourse because it is administrative, will be revoked at the end of the year thanks to Pagès's efforts with the president of his university (Michel Alliot) who had become a member of the staff of Edgar Faure, the new minister of education. I'm back home for Christmas… but for me, May came to a sudden end on June 10th, two days before the JCR, M22, etc. were dissolved and six days before the police took control of the Sorbonne.
Tuesday June 11th. Violent clashes in Paris, while two Peugeot workers are killed in Montbéliard.
Wednesday June 12th. Dissolution of eleven far-left organizations.
Thursday June 13th. The Sorbonne occupation committee decides to expel the Katanguese, they leave the premises on the morning of Friday 14th.
Friday June 14th. The police evacuate the Odéon theater.
Saturday June 15th. Fifty members of the OAS [Secret Army Organization, a short-lived right-wing French dissident paramilitary organization, which had attempted to assassinate Charles de Gaulle in 1962], including General Salan, are pardoned.
Around five thousand people gather for the burial of the young Maoist high-school student Gilles Tautin, seventeen years old, who died on June 10th during the Flins clashes.
Sunday June 16th. The police "clean up" the Sorbonne and wash off all the graffiti.
Sunday June 23rd. First round of the parliamentary elections.
Thursday June 27th. Eviction from the School of Fine Arts by the police.
Sunday June 30th. Second round of the elections: a crushing majority for the UDR Gaullists.
July 12th. End of the strike at ORTF.
Author's own translation into French published in 2017 in Nouveaux fragments épars pour un anarchisme sans dogmes (Éditions Rue des Cascades, Paris).
French version of the text, the author's translation from his Spanish original, used for this translation into English.
End notes
Published in 2008, "Cronología subjetiva de Mayo del 68", Archipiélago, No. 80–81.
The March 22 Movement, formed on this date in 1968 during the occupation of the administrative building of Nanterre University by about a hundred and fifty students, was one of the main drivers of May 68.
MAU: Mouvement d'action universitaire [university action movement], recently formed by a revolutionary self-management current of UNEF; JCR: Jeunesses communistes révolutionnaires [revolutionary communist youth], a Trotskyist organization, Fourth International; FER: Fédération des étudiants révolutionnaires [federation of revolutionary students], Lambertist Trotskyists; ESU: Étudiants socialistes unifiés [unified socialist students] of the PSU, Parti socialiste unifié [unified socialist party], Socialist left.
LEA: Liaison des étudiants anarchistes [anarchist student liaison], a tiny anarchist organization formed in 1964 but which grew in Nanterre in 1965–1966 and played an important role in M22.
Some young people from the Paris suburbs had settled into the Sorbonne and put their martial arts at the service of the occupation committee. Their name came from a rumor according to which there were mercenaries among them who had fought in Katanga.
Le Club est l'espace de libre expression des abonnés de Mediapart. Ses contenus n'engagent pas la rédaction.