A New Syrian Radio: Hawa Smart, a message of peace and of tolerance (1)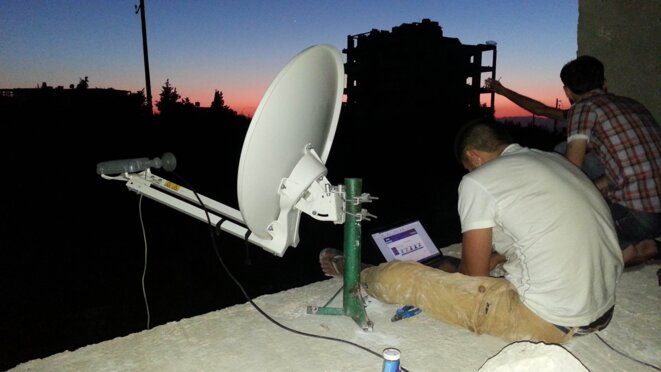 Night broadcast in Syria
This article was originally published in Paroles Syriennes (Syrian Stories) on the 22nd of January 2014. 
In this article, we present an entirely new Syrian radio. It emerged with the new year on the 1st of January 2014, in Gaziantep, in southern Turkey, 50 km from the Syrian border.
Hawa Smart is the only opposition-driven Syrian radio that successfully broadcasts on FM across the entire country. Syrians can listen in Damascus, Aleppo, Homs, Hama, Idleb, and Deir Ez Zor.
This radio is the result of collaboration between SMART and the French organisation ASML (Association de Soutien aux Médias Libres, medialibre.fr). We are off to a good start so far, and are very happy to present the project here. You can listen to the radio itself by following this link: http://tunein.com/radio/Hawa-SMART-1032-s204859/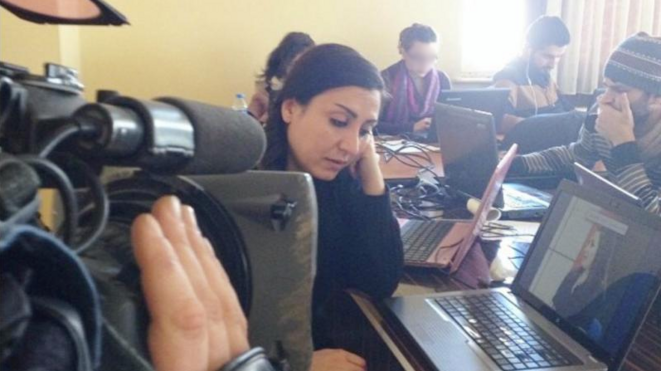 Photograph taken by Nieuwsuur – Dutch National Television, during their report on Hawa Smart, broadcast 21/01/2014
Syria is increasingly divided. It is split into many political alliances, resurgences of ethnic and religious foreign interventions, frontlines, checkpoints, sieges on entire cities, and so on. A message of peace and unity across the country has been sorely lacking. We hope this radio will do so.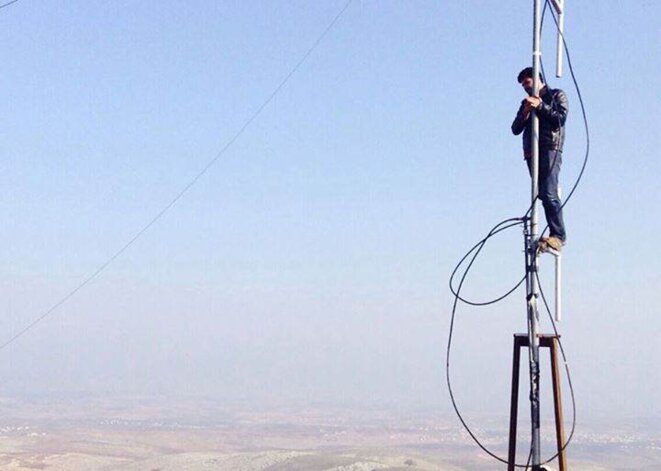 Installation inside Syria of a tower and antenna for FM broadcasting
A NEW RADIO: HAWA SMART 
In the heart of Gaziantep, an industrial city in the south of Turkey, there is a tightly-knight group of Syrians who have been forced to leave their country. Some have fled abuses by the Bashar al-Assad regime. For others, it was ISI, the radical Islamists close to al-Qaeda, which drove them out. In this city, a new Syrian radio has emerged, installed in a discreet residential apartment undetectable to those who don't know. Passing unnoticed in the neighborhood, its birth is an important event for those Syrians still living inside.
At 7 am, the team is nervously getting ready for the morning program: three and a half hours of live production from Turkey, listened to across Syria. It is named "Hawa SMART"; SMART is the group of volunteers who have launched the project, while Hawa means "radio airwaves" in Arabic. Strongly tied to those inside the country with 14 correspondents there on the ground, Hawa SMART has been broadcasting for 18 hours per day since the first of the year.
Hawa SMART 103 2 FM Homs © Armand Medialibre
A SYNTHESIS BETWEEN CITIZEN JOURNALISM AND PROFESSIONAL RIGOR
Hawa SMART is different from most other opposition-driven media. When speaking with the team, they have surprisingly professional ambitions. The positions of Ali Safar and his wife Zoya Bostan, both former star presenters for Syrian national television, is that they left the country in 2011 after the state's brutal repression of demonstrations. Today they are, respectively, director of the radio and the head of news service. They are the two pillars of the radio, with experience they draw on to train newer members of the radio and catalyze their youthful energy.
 This mix of experience and novice journalists is part of the project since it's beginning. Ali explains:
"Citizen journalism permitted great things in Syria since 2011. All of these young people who suddenly became journalists made the Syrian crisis into the most well documented event in history, with hundreds of thousands of videos recording events. However, due to inaccuracies of some and even the lies of a small minority, these citizen journalists never gained the recognition of the international media, who stayed wary of these amateur sources. At Hawa Smart, we want to achieve a synthesis between citizen and professional journalism. That is to say, to associate professional rigor with the courage and determination of citizen journalists, while relying on the networks they have been building since 2011."
 The structure of the organisation is thus built around experienced journalists with a long career behind them, and a team of young men and women who are determined to make their own contributions to the reconstruction of their country. Even if they have had to leave in order to do so.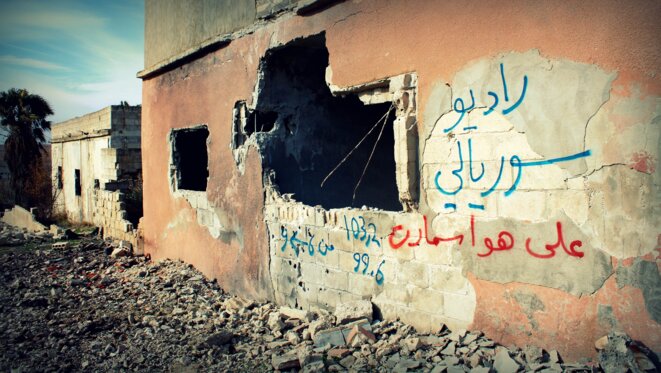 Radio publicity by grafitti
"THE LABORARTORY FOR A NEW SYRIA"
Mostly comprised of women, the team members hail from many different Syrian communities. Working together regardless of religious or political beliefs, the team aims to "repair the Syrian social fabric destroyed by the war."
 Zoya confirms:
"Its here that the new Syria is being constructed. Everyone here is working hand in hand towards a common goal. It doesn't matter where we come from. We hope that someday Syria will be like this… In fact… we are the laboratory for a new Syria."
The sound engineer of Hawa Smart. His tattoo reads: it is in the darkest of night that we see the break of day
Article by Armand Hurault
Translation by Laura Morris
Le Club est l'espace de libre expression des abonnés de Mediapart. Ses contenus n'engagent pas la rédaction.