The ghost lawyers of Julian Assange - Long version
Assange's defense is Bérézina personified and Hécatombe combined to the Arlésienne. It misses the point, it disappears as soon as it appears. It would be funny if there weren't dead people on the pavement, and underneath. If the life of Julian Assange was not at stake. And if his fate was not the mirror of what near and far expects us all.
Ghosts, ghosts, we said ghosts? We exaggerate, a little. There exists a one, real for sure, who even enjoys cameras. The Australian Jennifer Robinson fills in the space since the kidnapping of Assange at the Embassy of Ecuador; well, the politicly correct London lawyer would rather say "arrest". That is better option to get the doors of the NBC or the BBC wide open. Clean on her, indeed she is, in front of the photographer of dressmaker Johanna Johnson here in 2014, while defending Julian Assange for three or four years.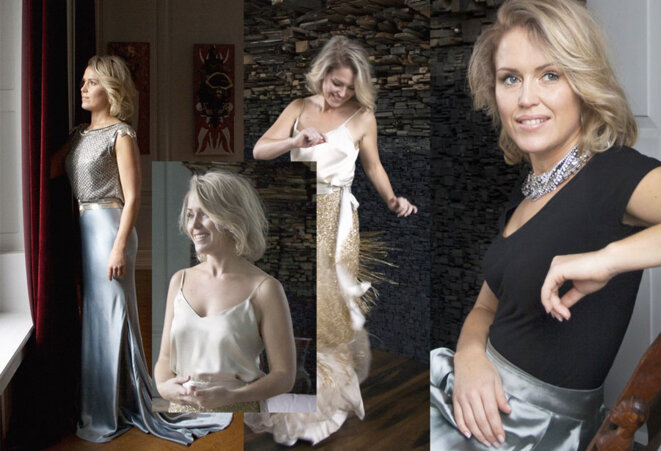 Nikoo Hamzavi shoots of Jennifer robinson. Photos assembled for our article. © Nikoo Hamzavi
As to whether she shines equally throught her barrister battles, the answer is less clear. Her quality as a human rights lawyer is being built when she visits the New West Papuan separatist Benny Wenda accused of leading a bloody rebellion. He escaped from prison in 2002 and in 2003 he obtained political asylum in Great Britain. At conferences, Jennifer Robinson leaves implicitely the impression that he is the main separatist Papuan, appearing innocuous with his traditional dressing, fighting against Indonesian military occupation. The reality is that his radical separatism is far to be unanimous, and the exiled papuan is gradually cut off from the reality of his territory. In 2008, the local blog West Papua Free asked Benny Wenda "to stop telling lies to English people". Multiple testimonies warn about the hatred climate that Benny Wenda exports from the depths of his exile, while the local situation was said to be progressively improving. In 2013, he launched the Free West Papua Campaign with the aim to trigger a referendum for independence, a campaign backed by Andrew Smith, an active Secretary of State during Tony Blair ruling period. In 2017, he creates the United Liberation Movement for West Papua, and claims that 1.8 million Papuans signed a "secret petition" for independence. Such effectiveness in a hostile environment should inspire French citizens who support the yellow vests demand for a referendum against privatization of the Paris Airports network (4,7 million signatures are constitutionally required). Benny Wenda finally creates the West Papua Army (WPA), financed by the hell knows who in this area deemed poor, although very rich in mineral resources. WPA is accused by English citizens of enlisting children in war, as well as local newspapers.
For not less than 16 years, Jennifer Robinson has been portraying the nice papoo Benny Wenda against the wicked Indonesia. Geopolitics is simple as a mediatical enterprise.
For the rest, traces of her arguments coming out of trial audiences are hardly heard of. In the rare transcripts of the Assange case after his arrestation, the chosen words are banal : "[He is] in a health service in the prison of Belmarsh because of his poor health" . The very poor reporting of the media and the closed sessions held hearings only partially explain this observation. But the lawyer gives little convincing details of what happened or was said, and by whom, during the hearings. On her account @suigenerisjen, the state of health of Julian Assange is left uncommented since July, while his health is deteriorating. That is quite annoying, while the hottest of the on-going scandal lies precisely here : authorities imposing on a forced march the judgment of a man who has been made incapable of defending himself by the very authorities who judge him. No sign of indignation appears in the few tweets where she writes her own words ; the defense of "journalism" remains her main preoccupation. When listening to the media talks of the lawyer, what remains in our minds from Julian Assange a disembodied abstraction, a symbol for freedom. And the political side is not brighter : among the repetitive free speech matters, Jennifer Johnson passes on the denial expressed by the United States regarding the diagnosis of psychological torture asserted by the UN fellow Niels Melzer. Paralellizing too many tasks ?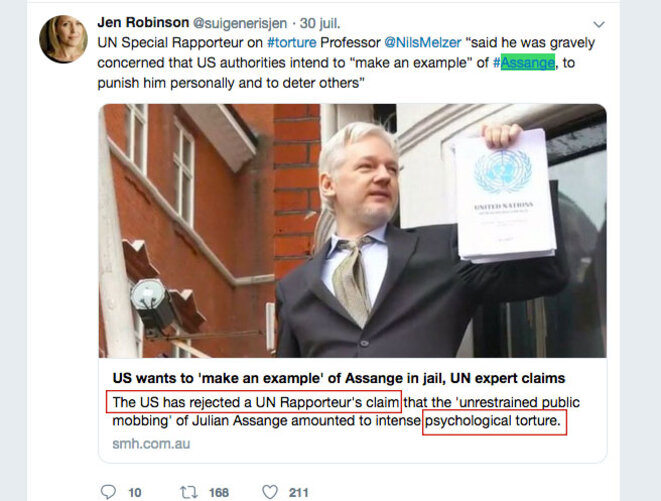 Screen copy, Jennifer Robinson tweet © basicblog
        Assange's supporters against the Wailing Wall

On May 30, 2019, Julian Assange has spent six weeks in Belmarsh prison. His health state prevents him to appear at the Westminster Court, which sentences him to 50 weeks for « violating the conditions of his provisional release »  by taking refuge at the Embassy of Ecuador. The press suggests that the experienced lawyer Gareth Peirce is present at the hearing. The woman reknowned for having defended many Irish people wrongly accused of being IRA bomb attacks responsible (cf note 2), declares that Julian Assange « is not very well » . The same day, Swedish lawyer Per Samuelson (assisting to the hearing ?) is said to have spoken to Assange ; Samuelson is echoed by BBC news: « ... it was not possible to conduct a normal conversation with him » ; the channel relays an anonymous WikiLeaks « spokesperson »  expressing « serious concerns »  about Assange's health. At the beginning of August, the water flowed under the bridges since the UN fellow Niels Melzer recognized the « psychological torture »  undergone by Assange. The highly engaged Australian journalist John Pilger tweeted: « Treated worse than a murderer » ; he « saw him in Belmarsh »  and suggests not to « forget Julian #Assange » .

In the courts, the media, on twitter often, pours a litany of uninterrupted laments; parallel flows that never intercept, such as a rain of tears on a night without wind. Lawyers do not seem to engage in frontal legal proceedings related to the health of Assange, they do not shout out collectively in public places how unacceptable this is. The indignation is dampered through the thick walls. Everything stays smooth, the critical spirit about the lawyers action and communication is locked inside the relique chest.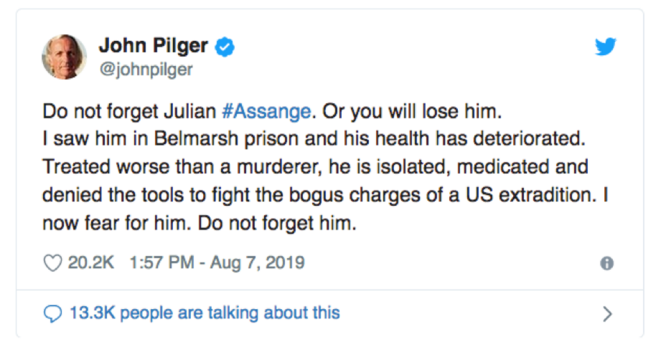 Journalist John Pilger's twitt. © Screen copy
But citizens have a scoop. In court, there are procedures. Recourse. Jurisprudence. I swear, I swear ! There are even procedural defects; illegal acts committed by prosecutors, Parquet, Crown Prosecution Services. We would never dare thinking that the Daughty Street Chambers, a venerable human rights institution, an unfathomable reserve of lawyers who delivered to Assange Geoffrey Robertson, one of its founders, Jennifer Robinson, Amal Clooney, Gareth Peirce, John Jones, do not know enough international law, national laws, jurisprudence? The barristors of Daughty Street Chambers and their international reinforcement would have forgotten the dictator, criminal and torturer Augusto Pinochet, escaping prison for reasons .... of health condition ? Remember, it was happening in a well-known western city ; in an island separated from a continent by an arm of the sea; a continent that contains Sweden. Bingo! It was in London, in the year 2000.

Barely 20 years old, a bygone era? Gosh how fast vanishes the new millennium.

  Is this a defense ? - No sire, it is an ominous specter.

On July 18, the Associated Press or The Independent, the New York Times, or Yahoo News who knows, publish a repeating title: « Julian Assange drops appeal »  against 50 weeks jail term for skipping bail and hiding in the Ecuadorian embassy . WikiLeaks'publisher Kristin Hrafnsson confirms two days later. It is lawyer's duty to announce and justify such a decision, but they let the job be done and they remain silent in the meantime. But overall this is non-sense. How can Assange drop appeal if, as everyone testifies, his mental and physical health deteriorates day by day, preventing him from attending the hearings, and if prison deprives him of the necessary conditions for him to exchange serenely with his lawyers and relatives ? He is incapable of deciding anything by himself nor in association, and his defense lets him claim that he « drops the appeal »  ? No lawyer has confirmed or denied. They therefore all confirm by default something in total contradiction with their own statements. Worse : they do not justify nor explain the decision. They do not question the existence of the letter in which Julian Assange would apologize to the judges, nor do they question the validity of a letter written in an off control mental situation, since he is incapable to  « conduct a normal conversation » , words pronounced in court by lawyer Per Samuelson. But if Assange apologizes, he is guilty... guilty of what ?! The potential impact on public opinion is disastrous, and lawyers are cooking behind the scenes. Journalists do not raise sparkling inconsistencies.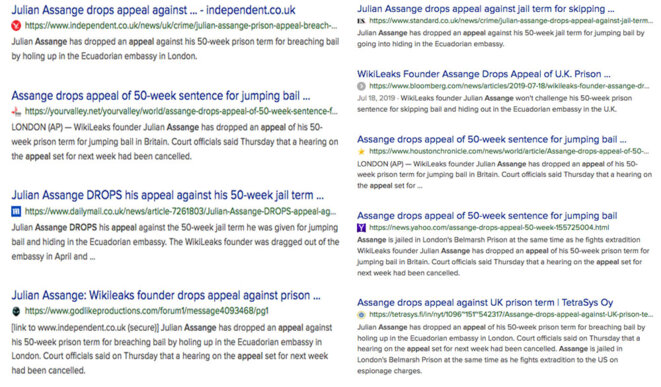 Web search. Julian Assange drops appeal against 50 weeks jail sentence. © Screen copies
Besides Jennifer Robinson's lenient words on freedom of expression and besides snippets of sentences that lawyers allow to dilute in the press, lies a ghostly defense. First we have just a vague idea of ​​who is present at jurisdictional hearings and of what is discussed inside, second we simply don't know who precisely constitutes the active team of lawyers paid by WikiLeaks today. The French lawyer Juan Branco participated to the legal circle around Julian Assange. Unfortunately, neither in his interviews, nor in his article for Le Monde Diplomatique, he dwells on the composition of the « legal team »  or on the details that make all the difference ; his interview of 23 June at comptoir.org raises astonishingly naïve political considerations : « It is now up to the US authorities to explain themselves, and in the United Kingdom to justify the detention of the only political prisoner withinWestern Europe recognized as such by the UN » . Do you recall the time when the biggest military powers felt obliged to « explain » or « justify » oneself ? Before anything starts to happen, the lawyers together with resurrected (thus dis-disinformed) citizen forces need to put a huge pressure to the US and UK authorities.

The lawyers do not organize regular collective press conferences, drawing full landscape of what happens, forcing media to engage into a virtuous circle, exposing to the people their strategy to counter multi-state adversity, for everybody's sake. As a consequence, citizen or defense groups have no ground to follow suit, to support them, to pool. No, legal experts do not need us. Public opinion never had any impact on a court decision, right ? Justice is always objective and independent of powers, right ? The powers are at the service of the common good, free from any private or ideological interest, right ? That's what WikiLeaks revelations have shown….  did they ??

We use to say the best ones die first. Fully determined lawyers might exist in the team. Some did, surely. John Jones joined Assange's defense in 2015, with his extradition procedure related skills. However, having dealt in La Hague tribunal with complex cases plunged into territories at war, he is psychically fragile. The pressure of the WikiLeaks context worsens his condition ; psychiatrist Pereira advises him to stay at the Nightingale clinic in London, where he works. John Jones jumps under a train on April 18, 2016, in the early morning. The experienced Coroner Mary Hassell refuses to qualify the case as a suicide, and expresses strong critics, besides John's mother and wife's, with regard to medical and medical monitoring ; John's mother was shocked  by the celerity of the « bipolar disorder »  diagnosis made by Dr. Pereira, and quite astonished by conditions in which the facility hosted and followed her son. Against the advice of Mary Hassell, the investigation stops quickly. Is it related to the blame she receives in June 2016 for a less than minor pretext (see note 1) ? The extremely poor newspapers reporting regarding John Jones death prevents us from answering ; one serious inquiry though was done by the local online newspaper Ham & High (it was relayed by WikiLeaks, read it on https://archive.is/OKVbu to get the full picture). Logically, two hypotheses justified the continuation of the investigation : either the incompetence of the medical team having led to the death of John Jones, or the possible intention to neutralize a man who worked against the extradition of Assange towards Sweden (no need to aim at his death for this, prolounged illness is enough).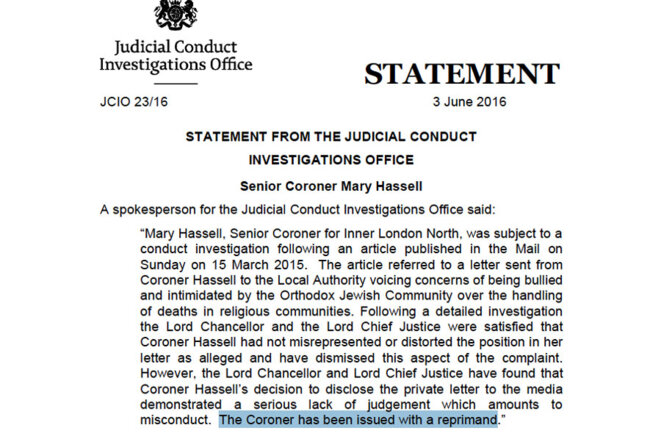 Document édité public, blâme du coroner Hassell
Daughty Street Chambers did publish a short but decent tribute. Defend.wikileaks.org for its part, just as the name of Anna Ardin is absent from the site (see our paper Is WikiLeaks still trustworthy?, discussing lawyers too ), does not mention in his TimeLine dating back to 2009, neither elsewhere, the name of John Jones. Nor did they instaure a synthetic follow-up of legal defense structure and members, by the way.
 So this is a structure? - No, sire, it's a destructuration

Flash back. In September 2010, the Swedish lawyer Leif Silbersky is dismissed by Julian Assange for his lack of availability. The lawyer firmly contests. He had assisted Assange during his testimony on August 30, 2010 to counter Anna Ardin's allegations of sexual offenses; the minutes show his professionalism and his relevance. This much reputable and combattive lawyer had defended and won high profile cases.
He was replaced on September 7th by the Swedish lawyer Björn Hurtig. His voluntarism is undeniable, but the main progress he brings to the file is due to the citizen Goran Rüdling, who reveals tweets that Anna Ardin tried to erase without success, messages that seriously discredit her victim story. At the same time, Assange is urgently planning the release of US, Afghan and Iraqi cables, for which he has scheduled meetings with Espresso and Der Spiegel. Björn Hurtig having made sure with the prosecutor Marianne Ny that his client is allowed to leave Sweden, so does Assange on September 27th. Björn Hurtig does not suspect the danger of this precarious authorization, and the prosecutor is quick to launch an international arrest warrant, while Assange has become temporarily unreachable.

Assange lands in England, where his situation deteriorates through several phases. The English lawyer Mark Stephens enters the game. He is not of the seraglio, defended the minor leaders of the big strike of 1985, he is considered defender of the lost causes. But at the trial of February 2011 in London, following the request for extradition in Sweden by the Swedish justice, Mark Stephens is absent, and Björn Hurtig is in a subaltern position. The leading defense lawyer is the Australian Geoffrey Robertson, founder of the legal institute Doughty Street Chambers in London (call the DSC), from which comes the Baroness Helena Kennedy, present but not talkative according to the minutes of the sessions . Assigned to residence, Julian Assange isolates himself little by little. He speaks on the sidelines of the hearing, difficult, wearing a tie that suits him badly, on the advice of the tenors of Daughty Street Chambers, perhaps? From now on, Julian Assange is defended by well established lawyers, well-off among the society elite ; not exactly the image we have from Julian Assange's spirit.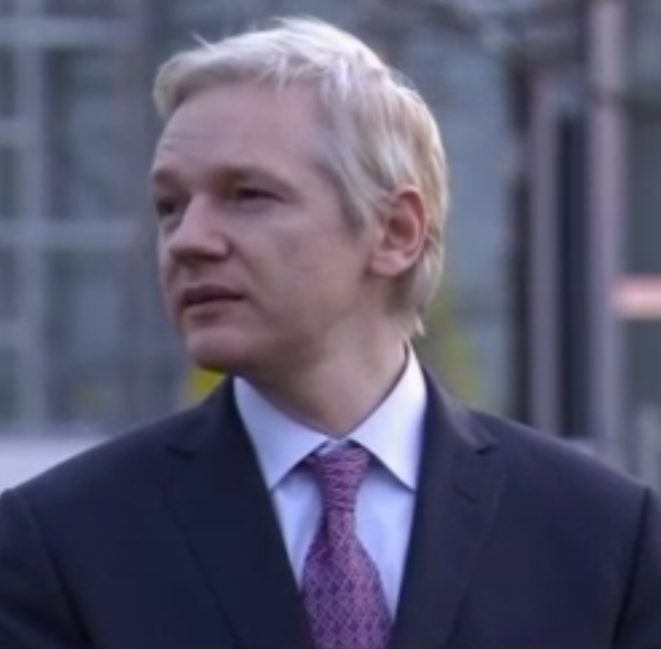 Julian Assange in a press conference during after a trial audience. © Screen copy
He launches in (on whose proposal?) the publication of an autobiography with a questionable publisher, probably with the idea of ​​financing his growing legal fees. It ends up with an "unauthorized biography", which was not the plan… WikiLeaks is certainly drained by the illegal blocking of Visa and other PayPal, but the financial management of WikiLeaks, which leaves his mentor out of money, deserves a thorough study.
During 2011, the Swedish Per Samuelson fits into the defense as a free electron, resulting in mitigated improvement ; he still appears today, commenting on the state of health of his client. From 2011 up to now, the well-installed Daughty Street Chambers appears central in Assange defence.

Approached by Geoffrey Robertson, Jennifer Robinson becomes visible starting 2010 among Assange defenders. His now famous colleague Amal Clooney of the DSC enters the dance, who exerces her imagination up to proposing the appointment of Assange as Minister of Technology of Ecuador ; aborted idea that will not take her customer out of the embassy hole. It is however enough to read the complete 2010 depositions (police interview of witnesses and protagonists of the so called agressions in Sweden), to get a strong impression of Assange as a victim rather than aggressor. Credibility of Ann Ardin is questionable from the start. Why then going for such convoluted solutions ? Would not a trial counter-attack have been possible ? Journalists are not enough curious, it seems, for us to answer.
                                   The nature of the defense
[ About Baltasar Garzon, Assange defender of prime importance, see "Last minute annex" area. Added on August 28th ]

If we exclude satellite lawyers, dead, or gagged by the press (the one that Jennifer Robinson wants "free"), the unconventional and combative profiles, likely to echo the internalized spirit of Assange, focused on crypto-codes lines writing and his ideals more than pomp and tinsel, remain the women and men orbiting around Daughty Street Chambers sphere. Its founder Geoffrey Robertson is a staunch supporter of independent journalists in the South, via the NGO Media Legal Defense Initiative, funded by the billionaire George Soros Open Society Institute ; we will come back to him, inevitably. Robertson is also a member of the World Bank's International Center for Settlement of Investment Disputes (ICSID), a position which highlights a CV. Helena Kennedy is a member of the World Bank Institute's External Advisory Board, journalist in her spare time, and a dedicated advocate for women. Jennifer Robinson's practice includes defense of the media, providing services to the New York Times, CNN, the Associated Press and Bloomberg News, no less.

All these human rights specialists are of course involved in a myriad of charitable organizations so varied that one wonders where they find the time to live, or to be photographed. Jennifer Robinson for example, is engaged since year 2011 in the Bertha Foundation, where she directs legal assistance. The Hungarian branch of Bertha is TASZ; Hungarian is one of the nationalities of the billionaire George Soros, who finances at great expense Tasz and Bertha. Bertha's mantra is the "social justice" advocated by the foundation in African or Latino countries. No doubt it hosts sincere activists. The arising question is (as for the Bill Gates's or Clinton's Foundations), to what extent it works for justice (or economical development), and to what extent it is a Trojan horse of the Western-managerial model in countries that still have a chance to guard against it.
South African Bertha foundation agenda, mounted screen copy elements. © Bertha web site Screen copy
Well. By distancing oneself from the myth of competence and human rights, what evidence shows on ? That Julian Assange has in front of him and not with him, a legal microcosm which is interleaved with the institutionnal logics from which he fought all his life the most deleterious effects. Daughty Street Chambers may represent a presentable face of the western nebula, but it remains deeply engulfed. The process of long-standing relations with the free prominent media ties DSC to these media, which are also money income sources; it is human, all too human.  Only the direct confrontation with the Institution and its vectors that are the media held by the major financiers can develop the power of a defense carried by the glaring realities that the man helped to reveal. Under the conditions mentioned above, "defense" can only be misled into abstraction ; imagine the Don Quixote of the legality fighting against windmills in the name of a "freedom of the press" of a press which for a long time disguises the embarrassing realities, and you get an idea of the expected efficiency. Behind the symbol of freedom brandished as a banner, however, stands a man. The lawyers seem to have forgotten him, they do not transparently or strongly trigger legal procedures to obtain the decent care that this human needs to survive and defend himself.
                                   All roads lead to Georges Soros

At the end of 2010 already, the German autodidact historian and political analyst Alex Benesch published this title: " George Soros, the globalist behind WikiLeaks ? ". Almost at the same time, Julian Assange was under house arrest with surveillance bracelet in the mansion of Vaughn Lockhart Smith, an aristocratic friend and journalist who had worked in immersion with NATO troops, and had founded the Frontline Club, supported by a certain George Soros via his Open Society Institute.

Alex Benesch recounts the experience of John Young, who has been an initiator since 1996 of the cryptome.org site, similar to WikiLeaks and still active: "When he criticized the [WikiLeaks] project to collect $ 5 million in donations in a single year he was quickly removed from the mailing list ... " He stops communicating with WikiLeaks, which does not prevent him from publishing WikiLeaks leaked emails (!), including this one: "We [WikiLeaks] are surprised by the very early interest of the press, which we would have been happy later on, but now it makes things difficult, as it interferes with our delicate negotiations with the Open Society Institute and other donors. "

Strong rumors have been raging for a while about the instrumentalisation of WikiLeaks by Georges Soros. Business-wise Revelations, such as the one harmful to the Swiss bank Julius Baer, ​​have hit George Soros' rivals. Were intended selection of business related leaks done ? By who ? Now that Julian Assange is neutralized, what will WikiLeaks become ? Other question is to know how far Julian Assange was aware of the context, and whether he could resist possible maneuvers. In an article dated Aug. 14, publisher and journalist Aymeric Monville reports that "Joseph Farell, qualified as an ambassador for Wikileaks, [...] has received support from the Open Society as well as the Ford Foundation," and that "Renata Ávila , spokesperson of the defense of Julian Assange "[we discover every day], is director of a foundation funded by the Open Society Georges Soros. He cites in addition our edition, and specifies that he was "able to cross-check the informations" contained in our paper about WikiLeaks ; no need to say we thank him, given the "support" we received so far from the French newspapers.

Following Soros, an old acquaintance appears once again, the Swedish complainant Anna Ardin. She recently raised young climate activist Greta Thunberg to the rank of "prophet of our era" carrying a message that "comes from God". Greta Thunberg is coached by Luisa-Marie Neubauer, a member of the One Foundation, which is funded by the Gates and George Soros' Open Society. But again: how did Assange's lawyers not attack and discredit such a woman, capable of such ridiculous remarks, not consistent in her police depositions, involved in a plethora of activities that cast huge doubt about her impartiality towards the claimed assailant Julian Assange activities ?
Anna Ardin showing her weird shoes. © Web
  Hide these conflicts of interest that people would never see
« The world is divided in two categories »  cynicly said Clint Eastwood in The good, the bad and the ugly ; there are people who exercise their free will the best they can, at the price it costs. And those who make confetti out of free will, cash convertible ones. Falling into the second category, some judges and prosecutors. Which obliges us to salute those who, like the Swedish prosecutor Éva Finné, opted for the first one.

As the world is not Manichean, we modestly attribute to the prosecutor Marianne Ny and the Chief Magistrate Emma Arbuthnot the quality of friendship's spirit.
Marianne Ny operated as part of an ideological family that we will call feminist or ultra-feminist, formed with the Swedish Democratic Party member Claës Bogström, along with the committee working to strengthen the laws on sexual offenses. At the moment when Claes Bogström asks him (as a lawyer, thus illegally it seems) to restart the preliminary investigation against Julian Assange, she pushes for the legalization of the preventive arrest of the male protagonists, whatever the nature of the complaint. That's good. As a member of the Christian branch of the Democratic Party, the complainant Anna Ardin knows Claes Bogstrom. Is Anna Ardin asking Bogström to ask the prosecutor to reactivate the investigation, or is it the idea of ​​Bogström or another, we do not know. On the other hand, we know that Anna Ardin and Irmeli Krans know each other, Krans being the police officer who takes the early testimony of Sophia Wilen and Anna Ardin, both of whom are members of the Democratic Party. Anna Ardin and Irmeli Krans might even have had sexual relationships. These are few elements among the multitude, but this is far enough. The interest convergences within this cemented microcosm of self-persuasion constitute more than a counter-attacking defense argumentation, which never really happened. The irregularities and the inconsistencies of the file are numerous, each element resumes its place inside the story-telling of the aggression. Pressure from the political authorities might complete the drawing.

With her tory husband, the judge Emma Arbuthnot seem to form an ideologicly mature family, in the most cordial agreement. Her husband was given his Baron title in 2015 by James Cameron, having the honor to be now called Baron James Norwich Arbuthnot of Edrom. Lawyer at the end of his studies, the Thatcherian period opens the way for a great career : Parliamentary, Secretary of State for Trade and Industry, Minister of Defense, he sits from 2005 to 2014 on the Restricted Committee of Defense, as well as on the advisory board of the armament industry Thales UK, and headed the private company SC Security, of which he remains a consultant according to The Canary on line.
Note 1 : In June 2016, the Coroner Mary Hasell was reproached her refusal (in 2015) to authorize specific autopsy and inhumation conditions related to some ethnico-religious origins. What she is blamed for is thus an exacerbated sense for equality.
Note 2 : Gareth Peirce defended irish people accused of bomb attacks in the 1970s (supposed to be triggered by IRA independantists), none of them being members of the IRA. They have often been intimidated by the British police to make them confess. The attacks have not been officially claimed by the IRA. These are politically motivated trials in the sense of defending the rule of law, but the defendants (who have spent many years in prison) were not held for their political convictions.
                              YOU ENTER THE ANNEX PART
Warning : against common perception, annex side is not less central than the body. Contact hydrogen atom and its electron for a more scientific approach on this matter.


  Annex 1 : The New West Guinea « Occupation » Jennifer Robinson's view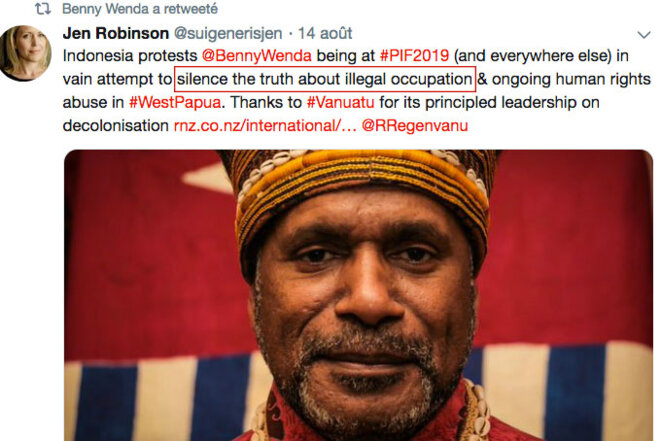 Screen copy of Jennifer Robinson twitt. © Web screen copy
August 14th 2019. In the here-above tweet, Mrs Robinson mentions the « illegal occupation » of West New Guinea by the Indonesian state, in a context of arising civil war in which the WPA army of the papua separatist, Benny Wenda, has a major role. OK, let's google that. Academicsforpapua site tells us that until 1962, West New Guinea was a Dutch colony. 12 years before, brand new state of Indonesia claimed that this region was historically a part of its territory ; the Dutch state contested. Cold-war issues pushed USA to force Dutch to accept the United Nations to exert authority to the region, temporarily. A referendum was then held under UN control, resulting in favor of Indonesian position. However, « The 1969 referendum, named the 'Act of Free Choice', is widely regarded to have been rigged. 1,022 hand-picked Papuans were bribed, cajoled and coerced into voting in favour Indonesian rule ». Against USA position, the British Ambassador at the time described the result as a 'foregone conclusion'. So, the legitimity of Indonesia to rule West Papua is strongly questionable, but due to British pressure, the region is legally under control of Indonesia, through the officially United Nations General Assembly Resolution 2504 (XXIV) 1969.
Now, half a century later, the main question is the actual situation and the willingness of the people living in West Papua, of course mixed with the way Indonesia handles the question.
Conclusion : No, West New Guinea is not illegally occupied. Yes, the « right of Peoples to Self-Determination »  inscribed in the Universal Declaration of Human Rights puts in balance the legal UN 2504 resolution. But the fact that Jennifer Robinson writes false statement, makes its tweet appear as an act of propaganda, in a context where it is very difficult to see from the outside what is happening precisely in the region, and what is the desire of the local populations. In addition, large amounts of money are spread from the outside towards some separatist units, through obscure means. This is not far from what is called interferences ("ingérence" in French), among which some have created devastating internal conflicts. And when it is facilitated by the proponents of the "Human Rights", this is not less harmful than situations where foreign armies are sent, either in Libya, in Iraq or elsewhere ; this is more insidious.
  Annex 2. Julian mother's Christine Assange twitter account, @AssangeMrs.
Intensified along the two last months, the anxiety about the health of Julian Assange is in everybody's Assange concerned minds. @AssangeMrs expresses this anxiety, echoing messages including John Pilger or Niels Melzer testimonies. after other twitter accounts did wonder if he is really still alive (as a reaction can we guess, to the absence of details and official communication about it through legal canals), @AssangeMrs contradicts them, exasperated: « I CONFIRM that my son Julin Assange is not dead!  » .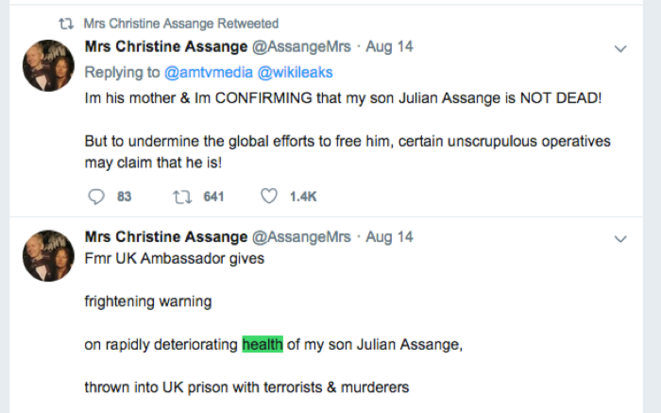 @AssangeMrs tweet © @AssangeMrs
Put yourself in the place of the mother or father of a persecuted child whom you have been sensing for months that everything will be done to silence him. The moment comes when all the clues agree to give you reason. Do you communicate on Twitter, or : would you assault the institutions to demand the reporting of the doctors supposed to follow him, go and see your son and testify of his health state by making it known in great detail, seeking to contact any independent journalist likely to make public your remarks with exactitude (we expressed our availability several times) ? See the lawyers finally, and make a solemn declaration by their side? And if you were not able to do it yourself, would you send a trustworthy family member or trustful friend, in order to act as described above, announcing publicly the mission you delegated ?
  Annex 3: Details about our collective process.

The publisher and political analyst Aymeric Monville wrote in his article linked above, that ours, dated August 9, is « unfortunately left unsigned » , which we can hardly not answer. Especially since his own references are very useful to legitimize our inquiries. Our relative non-signature signifies both an affirmation and a protection. The assertion is that the work is collective, citizen, voluntary, and in this case not subject to pecuniary requirements, thus free from external pressure, our only interest residing in our need to deliver trustful information and defend our own citizen rights, while practicing what we feel is our duty. In addition, prominent newspapers such as the British weekly The Economist, do not sign their articles, same as for the editorials of Le Monde. This is problematic, however, since obscure interests are potentially defended through its owners. The editor of a local independent newspaper Le Postillon has taught us that in the 18th century, it was commonplace for newspapers to not sign their articles, for reasons close to ours. We are perpetuating this tradition.
The collective edition Free Assange Ethics & Media, giftedly hosted (and formally authorized) by Mediapart, has two explicit names and BasicBlog who compiled the information collectively gathered in this article. Regarding responsibility, the authorities will have no trouble getting his civil references, if necessary, if they have not already done so. We try to get the agreement of all on the content of our articles before publication, which is not always easy given the urgency of the situation and the lack of availability and resources available to us. Many non-visible people contribute to the writing and validate it. They are part of different collectives and individuals invested in the defense of Julian Assange. Which brings us to the « protection »  aspect, which is an up-to-date question. Namely, the information and analysis written here (and much more, not published yet, some of which being stored for proof of anteriority if necessary), as well as our capacity for initiative, are shared by citizens of different European countries, and to a lesser extent, extra-European. We are solidaire and as far as possible, able to replace each other.
The biggest defence group we know from here is WikiJustice at wikijusticejulianassange@gmail.com, for sending information or signature ( their inaugural text is on facebook and several web sites).
Conclusive Annex
The wide range of domains treated here leads to synthetic writing, which may cause over-interpretation in some areas. For example concerning media versus lawyers, part our critics are focused on the lack of questions from journalists towards lawyers work. In a wider scope, there is fortunately positive things to say about independant or semi-independant media, or journalist individuals (as we did about Stefania Maurizi work with La Republicca for instance ; Consortium News papers much helped global understanding of Assange case...). There is no intention to "paint it black", there is just a black landscape surrounding Julian Assange that let us little space for bright colors. But Bob once sung that "times they are a changing", which may let a chance to "look from the bright side of life", one day.
                   Last minute Annex
The renowned Balatazar Garzon, involved in the defense of Julian Assange, a Spanish judge and human rights specialist, was not mentioned in our article. This is not strictly an oversight, as has not been heard of during court proceedings following the arrest. However, an involved citizen submitted us a more than interesting interview dated May 6, 2019. This judge known for having prosecuted Augusto Pinochet in year 2000 brings his international law knowledge, and points precise violations of law suffered by Julian Assange ; for instance, the case concerning the break-up of the asylum granted through the Embassy of Ecuador, following the action of President Lenin Moreno. Garzon says this decision is in conflict with the Geneva Convention of 1951 as well as that of Caracas 1954. Without going into details (it reads here), few remarks follow :
- We do not know his operational role in ongoing judicial processes.
- His personal influence and his skills constitute a strong potential for defense
- He is one of the only legal advisers who has recently expressed himself, to attack head-on the media responsability in Assange situation. Here are two excerpts :
   . « The objective reason for the withdrawal of asylum lies in and has come to point to, for a long time, the media and pressures from the North American administration. »
   . « It is interesting that a lot of the media, looking to prosecute someone in their trade, a journalist, are reporting that Mr Assange was riding a skateboard or that he met such people [allusion to a Guardian publication somewhat qualified as Fake news]. They must focus on the serious issue in this case, the prosecution of a journalist for doing his job and revealing to the world crimes committed by the powerful. »
This last cautious formulation is polysemic. On the one hand it is difficult for a defender to attack the media, while biased media treatment occurred without contradiction in the long term. Second, Baltasar Garzon attacks globally ("a lot of the media") and individually (The Guardian is targeted, it is obvious). Few things can be deduced :
-  If he allows himself such an attack, it means he does not fear the media personally ; he indicates it is necessary to address explicitely the media issue.
- The interpellation of the media by the defense is possible. The more time passes, the more difficult it is to do it without making media losing face. The Chinese know the importance of giving the adversary the chance no to lose face. Baltasar Garzon probably has the strength and subtlety to do it. He tells us we have to do it. This does not preclude the soft and complementary solution, that of properly informing the population, by all means of defense, legal and citizenwise, both.
Note 0 : This is a translation (with few add-ons) of French paper https://blogs.mediapart.fr/edition/liberez-assange-ethiques-et-medias/article/220819/les-avocats-fantomes-de-julian-assange
Le Club est l'espace de libre expression des abonnés de Mediapart. Ses contenus n'engagent pas la rédaction.