Mediapart invites you to celebrate its tenth anniversary on March 16th and 17th
There will be debates, films, shows, a chance to meet people, exhibitions, a thousand surprises and a public dance open to all; Mediapart's entire team invite you to come and celebrate our tenth anniversary over two days, March 16th and 17th, at the Centquatre arts and cultural centre in Paris. By Mediapart's publishing editor Edwy Plenel.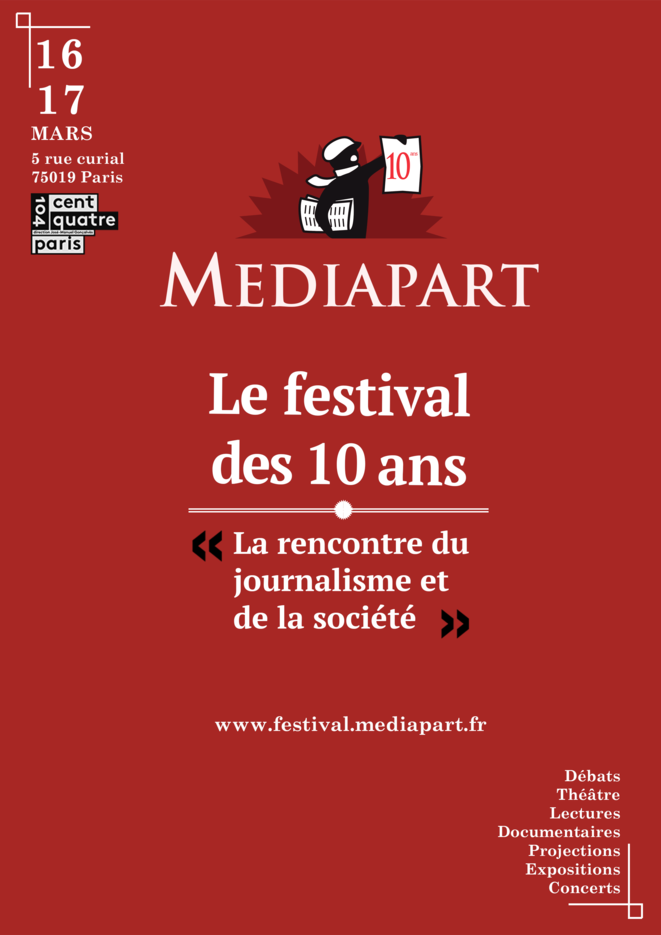 The poster for the anniversary event.
On March 16th, 2018, Mediapart will be ten years old. A decade of combat for a free press serving the public's right to know. Ten years of an unlikely gamble, launched amid general incredulity, namely that of a digital newspaper which existed only through the support of its readers, with no adverts or grants. Ten years to establish a payment model which, till then, had never been tried on the internet for a daily political and general news outlet.
Ten years to convince people that our profession, journalism, was not doomed to insecurity, redundancy plans, takeover after takeover, a loss of independence and vitality, lower quality and a race for audiences, but that it could be economically profitable in its demand for quality, and create value and jobs through being independent. That a news outlet could be made profitable by shielding it from all pressures, whether they be economic or political, advertising or partisan, financial or state-driven.
Today it is hard to imagine the extent to which we had to keep going in the face of mockery from supposed experts who spread the poison of doubt around us. Who still remembers this definitive verdict, delivered on October 10th, 2008, a few months after our launch, by someone who is not particularly known for his love of an irreverent press?
"If you consider the model of press independence to be Mediapart then in that case I'm quite worried for French democracy. Rest assured, Mediapart's financial accounts will sort this problem quite quickly as the model chosen by Edwy Plenel is an absurd model. The press on the Net can't be free. A paid-for press on the Net can't work." It was not the first time and it doubtless won't be the last that Alain Minc – a businessman and political advisor – got it wrong.
The 2008 Alain Minc interview in which he said Mediapart would not last...
It's too soon to write the history of these ten years of collective adventure where all the professions that bring Mediapart together – from the journalists in the editorial team to the IT technicians, the marketing, commercial, management, subscription, public relations and social network staff and so on, not forgetting our various partners and service providers – have worked together to establish this unprecedented newspaper. We all guard the memory of the battles that have bonded us together during testing times. Those battles in which, though we endeavoured to stand up for the best traditions of the printed press in the digital world, we were obliged to defend the self-evident and legitimate nature of our revelations, in the face of a suspicious media.
The Bettencourt affair, the downfall of budget minister Jérôme Cahuzac, the Nicolas Sarkozy-Gaddafi Libyan funding affair: in these three emblematic affairs alone, how many battles, judicial in particular, have we had to fight to put disturbing news into the public arena, revelations that went against the grain! If we seemed to pontificate, it was because of the misunderstanding that the impudence of freedom and the arrogance of joy can bring about. A singular freedom of doing our trade as we understood it, with no other constraints than those we gave ourselves as a group. An enthusiastic joy in committing oneself to a shared ideal, in this case a radically democratic conviction that without free, rigorous and pluralistic news, without respecting the right to be informed as a fundamental freedom, then our citizens are left blind and might vote for their worst enemy or their worst misfortune, as prisoners of propaganda or ideologies whose contemporary incarnations - alternative facts and post-truth - shamelessly seek to replace the truth with lies.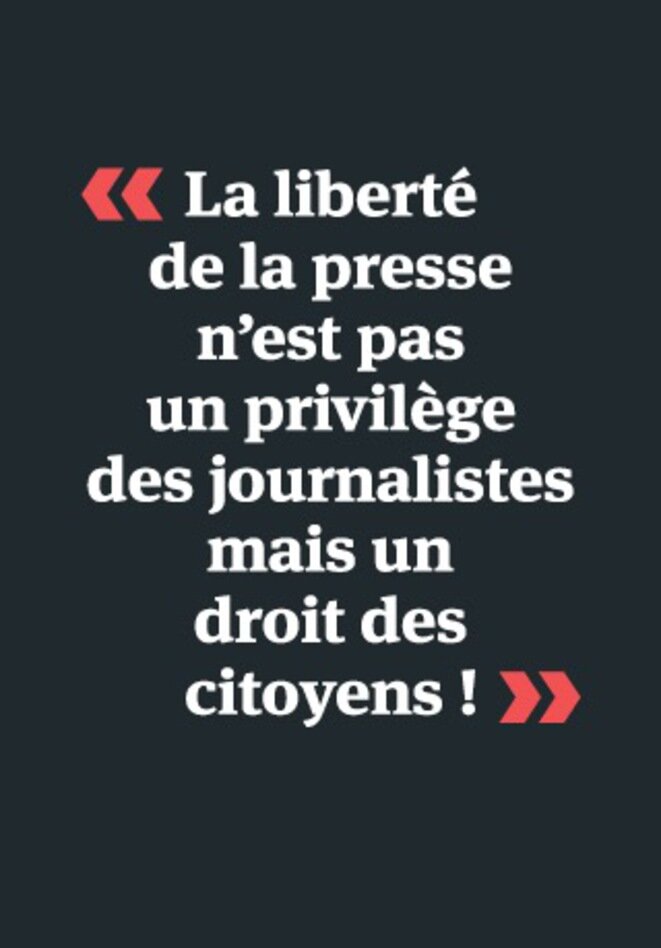 The poster reads: 'Freedom of the press isn't a privilege for journalists but a right for citizens!'
A collective joy, too, in setting hares running – and what hares! - in the persistent hope that society will take action to catch them.
But the greatest joy was meeting a public, in other words all of you: loyal, passionate, critical readers, free to admonish or encourage us, to argue with us or to alert us, to show us a thing or two or to shake us up.
As a newspaper born in the digital revolution, Mediapart would never have succeeded without this participative dimension which it bears in its own name: Mediapart is indeed a media 'à part' or set apart from others, but it is above all a participative media. No online political and general news outlet today enjoys the particular relationship that reigns here - one that is not without its hitches sometimes like life itself – whether this is in our Club blog section or in readers' comments. There are no limits on the number of length of contributions, the moderation is managed retrospectively and internally by the Mediapart team and there is a diversity of opinion and a plurality of views which are also enriched by the sparks that they produce.
In short, the virtual has become real, and it is that which we want to celebrate at our tenth anniversary, which has been organised on the theme of the meeting point between journalism and society. Rather than give way to self-congratulation by talking about Mediapart, we've preferred to celebrate together everything that has been met, encountered, tried, searched for, found, invented, expressed and defended in that crossroads which our news outlet constitutes.
That is how we have designed the Festival de Mediapart which will take place on Saturday March 17th, from 11am to 11.30pm, within the walls of Centrequartre, an arts and cultural centre in Paris who are our partners for this public event, which will be free and open to all. The address is: 5, rue Curial, and it is in the 19th arrondissement or district of Paris.
The programme includes an uninterrupted chance to meet the Mediapart team, numerous debates taking place simultaneously in several locations, documentary screenings, theatre, readings, concerts, various exhibitions (including one on Mediapart's ten years), an exhibition area where our many partners will have stands and hold discussions, a bookshop with author signings, video games unlike any others, poetry performers, newspaper sellers everywhere, a few surprises too and, to top it all off, a grand public dance from 7.30pm.
In the coming days you will be able to discover the details of this programme, which will doubtless get even fuller right up to the last day, on a dedicated website. I want to emphasise again: the Saturday event is for everyone, all its activities, all its events are open to all and free. There will also be places to eat and drink. So please do come along with your family and friends! The complete reverse of those caricatured media swipes at us which focus personally on one of the founders and brush to one side the collective history of a newspaper, this will be an occasion to discover all those who have made Mediapart a success. Here is a glimpse of them, taken from our most recent brochure (the English version is here: Mediapart English):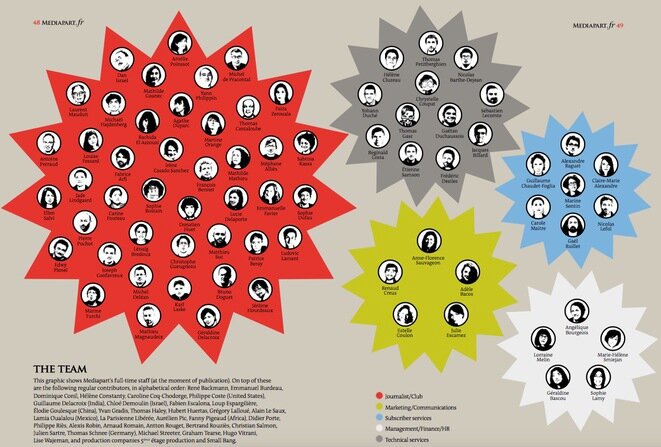 Meet the Mediapart team.
On
Friday March 16th
, the eve of the Festival itself, we are organising a major international symposium, again at Centquatre, from
2pm to 7pm
, on the theme of '
The right to know
'. Starting with that fundamental democratic requirement which is at the heart of the trade of keeping people informed - that of knowing everything that is in the public interest - we will be discussing the new possibilities and the new obstacles that it faces in our unprecedented and uncertain times.
Which truth? How do you find it? Who is the custodian of it? Who is threatening it? The discussion will also discuss the challenges facing investigative journalism, how to keep people informed in a hostile environment and how to deal with the new forms of lies in the digital age. All of these topics will be tackled.
With the aid of simultaneous translation, the symposium will bring together many participants from abroad, among them Katharine Viner, editor-in-chief of the British daily newspaper The Guardian; historian Robert Darnton, University Librarian Emeritus at Harvard University and a specialist in books from the Enlightenment; Roberto Scarpinato, an anti-Mafia judge and Attorney-General at the Court of Appeal in Palermo; Eyal Weizman, an architect and academic at Goldsmiths, University of London, and founder of the research agency Forensic Architecture; but also journalists from Egypt, Turkey, Colombia, Spain, Germany and Holland. The historian Patrick Boucheron, from the higher education and research establishment Collège de France, will introduce the symposium.
There will be room at the symposium for 600 people and admission is reserved for Mediapart subscribers – it's the least we can do to thank them for their support (if you're dying to attend but are not yet a subscriber all you have to do is sign up). To register for the symposium itself go to the 'Avantages' section of your account and click on 'je m'inscris' ('I'm registering').
For those who are unable to be there in person the symposium will be broadcast live (then repeated) on Mediapart, as well as on YouTube and Facebook. However, the Festival on Saturday March 17th will not be broadcast; it is impossible because of the variety of simultaneous events which are taking place there. That is one more good reason to come along in person to listen, speak, watch, meet, stroll around, debate, dance, have fun and party.
At the beginning of March, a few days before this anniversary Festival, Mediapart will, as it does every year, present its figures, annual financial results and prospects during a press conference held at our offices. A book reflecting on Mediapart's decade and the lessons to be learnt from this collective adventure will be published at the same time by publishers Don Quichotte.
These two days of open and free access are being organised by Mediapart in complete independence. In other words, they are being organised with no sponsorship or grant, just with our own funds. This is one reason more, if you still haven't or your friends still haven't, to become a subscriber or to sign someone up (you just have to click here). For here at Mediapart, only our readers can buy us...
A Mediapart video - only our readers can buy us.
-------------------------------------------------------------------------------
The French version of this blog can be found here.
English version by Michael Streeter
Le Club est l'espace de libre expression des abonnés de Mediapart. Ses contenus n'engagent pas la rédaction.