Mediapart, the only online news publication that is truly participative
Among the mainstream French press, Mediapart is now the only news site that offers a participative role to its readers. All our subscribers can freely comment on articles and contribute to content via their blogs, which is not the case elsewhere.
The participative character of the online mainstream French press is on a path of regression, even extinction. It is an indication of the counter reforms that attack hopes of democracy, of exchanging and sharing, that were born with the arrival of digital technology into our daily lives, with the generalisation of the internet, strengthened by the invention of mobile tools, phones and tablets.
On the websites of the print-based daily and weekly press – whether it be Libération, Le Monde or Le Figaro for the first, or L'Express, Le Point and L'Obs for the second – the offer of free blog spaces for subscribers has come to an end. Worse still, the lofty positioning of journalists above their readers, and news publications that cannot tolerate criticism, has returned to some of these sites which have decided either to close down the comments sections that follow articles, or to restrict the opportunity for readers to publish their opinions.
As of now, Mediapart is the only Francophone online news publication of reference and quality to include a space – our participative Club section – for free debate and widespread contributions from its subscribers. The right to comment on Mediapart's articles and to publish blog posts is unlimited, other than the agreement to respect the conditions set out in our participation Charter (in French, here). There is no prior moderation of comments, and if moderation of comments is necessary it is applied only after they are published and is carried out internally by Mediapart.
Our new "Participez" (Participate) guide, which can be accessed via the top right-hand tab on the main Mediapart homepage (and also those of the English and Spanish sections), details all of the activities you can enjoy on Mediapart. In the French media landscape, Mediapart is the only publication to uphold a participative dimension to reporting news, and to champion it as a part of our identity – along with our independence and our investigations. We are also alone in envisaging the development of this participative dimension into a social network, with, as always, no advertising traps nor hidden algorithm.

Above: the "Participez" tab on the Mediapart homepage.
It was a recent decision taken by Le Monde which revealed the retreat of the traditional French press, to a backdrop of mistrust of free public expression, as detailed in an article in the Revue des Médias, published by the French national audiovisual institute, the INA. On June 5th, Le Monde closed down all the blogs of its subscribers and erased all the contents that had been published on them. The only blogs that continue to exist are those of the daily's journalists and also contributors who are selected and invited by its editorial team.
As for readers' comments to articles, these are limited to "one contribution per article and up to three replies", and must not exceed 1,000 characters, equivalent to about 160 words, which drastically limits such interactivity. Comments are also subject to a new, more restrictive charter, and they are filtered by technology from Google. On top of this, and in common with most websites of the traditional press and audiovisual media, Le Monde has outsourced the moderation of comments to a company called Netino, a French-based firm which provides similar services for telecommunications group Orange, the French railways operator SNCF, Nutella, Renault and broadcasters BFM and Canal Plus. Its moderation personnel are based outside France, notably in Morocco and Madagascar.
Readers' comments have disappeared from the website of French daily Libération since last year, while around 40 blogs are reserved for journalists and invited contributors only. Thus, despite the technical potential of the digital revolution, it has not been taken up as an opportunity to revive the original democratic culture of the daily, and which was born amid the libertarian hopes in the immediate aftermath of the May 1968 uprising.
The same goes for the website of daily Le Figaro, whose subscribers cannot freely publish blogs. These are instead limited to the paper's editorial staff, invited contributors, and self-proclaimed experts. The same choice has been made across almost all of the French press, except in the case of weekly magazine Marianne where there is still a subscribers' forum but which is distinct from the space for blogs which are limited to contributions from hand-picked guest writers. Whether it be at the above mentioned dailies or at the news weeklies L'Obs, L'Express or Le Point, where only the journalists and editorialists have a say, none of them benefit from the contributions – opinions, criticisms, whistleblowing – of their readers.
Mediapart, on the contrary, is resolutely committed to its participative design, which featured at the heart of its original promise when it was created in 2008. It gave it its name – Mediapart/icipative – and is embodied in the existence of the Club alongside the contents of the journal. It is a Club in the original French republican sense of the term (Club des Jacobins, Club des Cordeliers, Club des Girondins, etc.), that of democratic and social invention, a place of reflection and discussion amid a mutual respect between citizens.
To summarise the spirit of this, we dug up, during our launch in 2008, Article 6 of the second Declaration of the Rights of Man and of the Citizen found in the post-French Revolution constitution of "Year 1", dated June 23rd 1793: "Liberty is the power that belongs to man to do whatever is not injurious to the rights of others; it has nature for its principle; justice for its rule; law for its defence; its moral limit is in this maxim: Do not do to another that which you do not wish should be done to you."
Not only do we have no intention of placing into question this participative ambition, but we are intent on developing and reinforcing it in the months and years to come. Along with the news reporting, investigations and analyses by the editorial team, Mediapart offers an agora that is as free and independent as the rest of our online journal.
The principles behind this are that every subscriber can freely comment on articles and publish posts on their own blog, while respecting the rules of our participation Charter; moderation, if required in the event that content does not respect the charter, is only potentially applied after publication and is carried out by Mediapart staff.
Apart from the new "Participez" (Participate) information page mentioned above, several new functions were recently added:

- To facilitate interactions between subscribers, a red button will appear alongside your login tab when you have received a message or request for contact from another user person on the site:

Above: the red button announcing you have a message waiting or a request for contact.
- A log of all published articles and blog posts appears on the site tracker, listed in chronological order, which allows you to follow every item of published content:

Above: the Mediapart content tracker, showing the publication details of every item of content.
- A tool for bloggers which allows them to close down further comments about the post from other subscribers, while leaving visible those comments already recorded: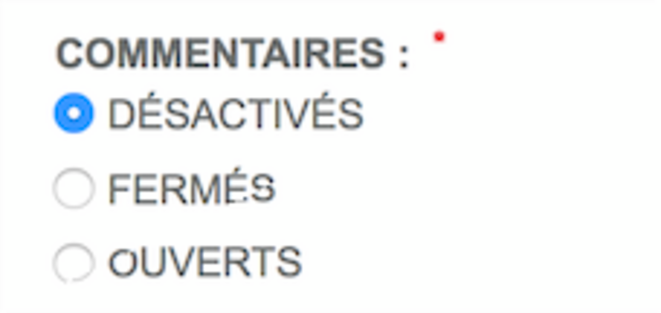 Above: the tool for managing comments access on a blog post page.
These are just small evolutions to a permanent 'work in progress'; Mediapart has collectively made one of its objectives over the coming years that of developing and enhancing its participative dimension, to make it an independent social network in which each subscriber can express their opinions, discuss ideas, suggest initiatives, propose meetings, share information on mobilisations, discover insights and form links with others.
A "Communities" group has been created to further all of this, in which I am involved as representative of Mediapart's management. It will soon be reinforced by a specialist in the coordination of innovative digital projects. Currently, the team is composed of Sabrina Kassa and Livia Garrigue, who co-manage the Club de Mediapart; Renaud Creus, Mediapart's communications manager; Gaëtan Le Feuvre, community manager; Ana Ferrer, web communities manager, and Guillaume Alexandre, moderator of our site.
Thus, very soon, a total of eight people will work together to justify, more than ever, the "part" behind the name Mediapart. A name which also signifies, in French, that Mediapart is a medium unlike any other – a "média à part" – and which progresses uniquely thanks to your support.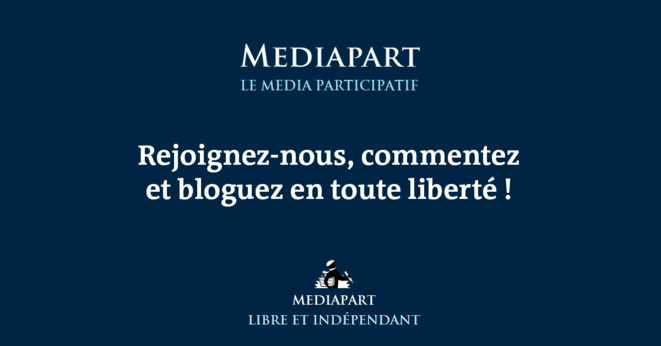 Rejoignez Mediapart, commentez et bloquez en liberté !
Le Club est l'espace de libre expression des abonnés de Mediapart. Ses contenus n'engagent pas la rédaction.