Julian Assange judiciary trouble started almost a decade ago. So long. So boring, from the point of view of certain people. It seems that Assange lawyers are from this side. Following their defeatist July 18th's decision and the hearings held on 13th and 20th of September, the media did not report any word from lawyers at court.
Not. Any. Word. Are they watching 4G videos, are they attending the hearings ? In between these crucial events, some of them are travelling a lot. Jennifer Robinson from Doughty Street Chambers was interviewed in Melbourne, Australia, on 9th of August. On 26th of September, Assange defense citizens visited her office in London ; assistants informed them that "for two weeks, she will be in New York". They promised an attorney would call back, " within the usual three days delay ", did they say. No news till then.
There is one thing they are always up to, though. Counting their precious working hours and minutes.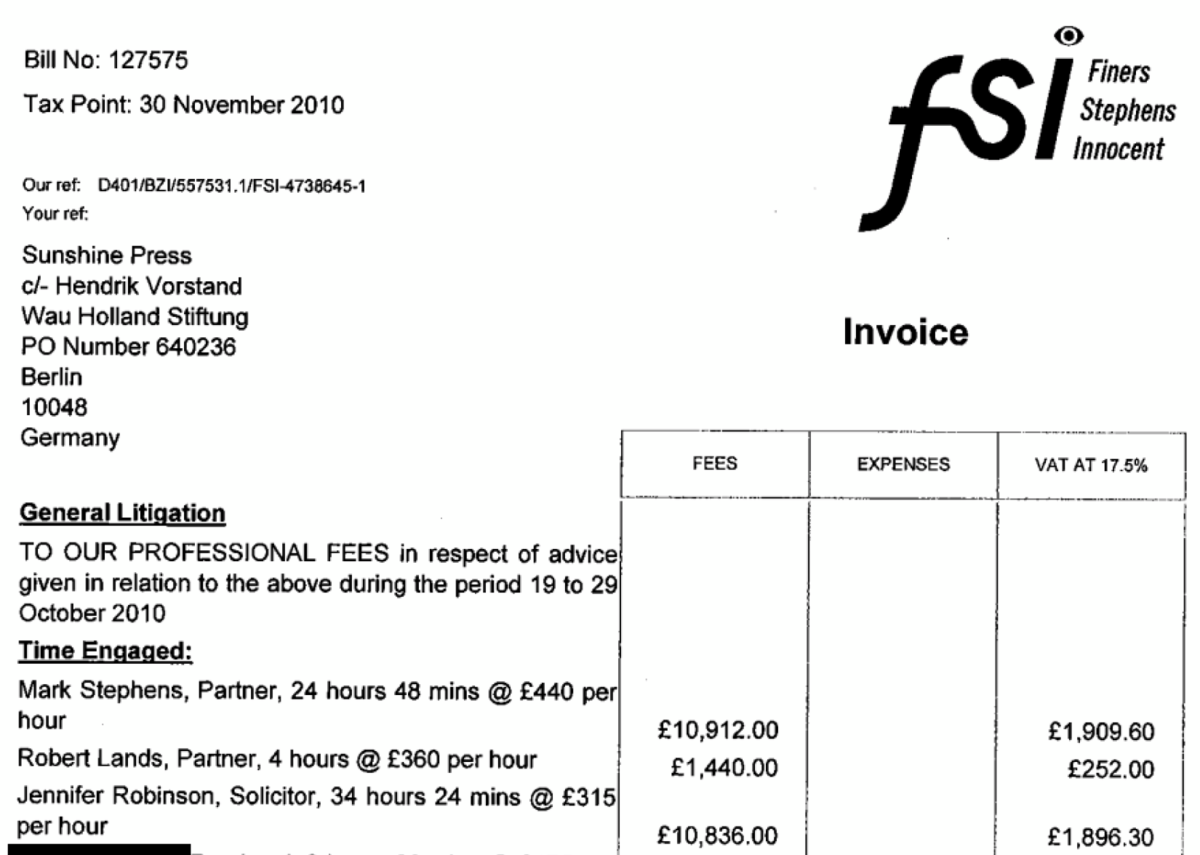 Summer times
The 14th of June hearing let a relative chance for a combative defense. A certain level of indignation was heard of from the lawyer Mark Summers, denouncing an "assault on journalistic rights…", but the media citations are too short to get a full idea of the interventions in Court. The 50 weeks jail sentence was at least contested, and a counter-attack from the legal team could have been thought being planned, without public exposure at first.
The 18th of July marked a sharp turn in public perception. The appeal drop from the defense was not understood, is still not understood, and never explained. The WikiLeaks's editor in chief Kristin Hrafnsson's arguments were not convincing and moreover, the main effect of his talk has been to barely provide a possibility for the instructed lawyers not to argument their own weird decision. Wrong mouth open, right mouths shut. The official site defend.wikileaks.org does not even report the appeal drop : do they consider this is a minor decision that involved citizens do not need to know ?
Worse than that, the excuse letter from Julian Assange (yes, we are repeating ourselves), null and invalid by definition considering the psychological torture he is being enduring, was not contested by his lawyers, by his siblings, by WikiLeaks ; and is still not ; not mentioned either in defend.wikileaks.org site. Supposed to be hand-written, the full text was not published nor shown. Among the more than 60 news sites which advertised the news, we found an Australian one citing the letter a little more (bold added by us) :
"I apologize unreservedly to those who consider that I have disrespected them by the way I have pursued my case,…"
"I did what I thought at the time was the best and perhaps the only thing that could be done, which I hoped might lead to a legal resolution being reached between Ecuador and Sweden that would protect me from the worst of my fears.
"I regret the course that this took.
"Whilst the difficulties I now face may have become even greater, nevertheless it is right for me to say this now."
These are contrition words of a guy standing on his knees in front of a priest in a church. People who defend him have read his books, listened to his media talks, viewed his movies, analyzed his publications. If among these citizens, one recognizes Julian Assange in these words and claims it, he will have to be extremely persuasive. No such person was met, yet. How comes that his lawyers let this letter cited in a tribunal without denying its validity ?
How
 Comes ?
Moreover, the letter opened room for free interpretation by the mainstream media united against Julian Assange in a shameful and anti-democratic gathering. The sentence "Assange wrote to the court to apologise for his actions" was paste-copied inside tenth of articles. Which actions ? Potentially all of them. Did any Assange lawyer twit or called media or use independent media to contradict this abusive affirmation ? Well, not at all.
As a matter of fact, judges are more talkative than lawyers. During the 13th of September hearing in Westminster Court, the judge Vanessa Baraitser reportedly stated : "You have been produced today because your sentence of imprisonment is about to come to an end. When that happens your remand status changes from a serving prisoner to a person facing extradition." In other words, Julian Assange would have spent 25 weeks in prison by September 22, which corresponds to half the 50 weeks jail sentence pronounced in May. And at this date, Assange release from Belmarsh would have been almost automatic, according to British Law, while Assange supposedly behaved correctly in prison. Did you hear or read any analyst (media hire many specialized journalists), any lawyer informing citizens of this crucial rule ?
Judge Baraitser concludes : "Therefore I have given your lawyer an opportunity to make an application for bail on your behalf and she has declined to do so. Perhaps not surprisingly in light of your history of absconding in these proceedings." At that point, please read twice this sentence, and ask yourself : "Did I read or hear anybody who was astonished and did comment these Vanessa Baraitser's words ?
Here are ours:
Not any Assange lawyer took "the opportunity" to demand their client's liberation, though it would have been more than easily achieved through normal legal ways.
The absence of denial of the judge declaration signifies that by default the lawyers endorse her moral judgement : with his "history of absconding", Assange would be a man who escapes authorities and responsibilities ; and as a consequence, the embassy period is not justified by lawyers as a legitimate choice made by a political prisoner persecuted by state powers. Lawyers' silence equates to approving guiltiness of a man who was never accused of any misconduct in any Court.
Given the Julian Assange's state of health as repeatedly witnessed and certified by UN torture Rapporteur Niels Melzer, and knowing that it is impossible to recover good health in isolation conditions and without free choice of proper medical care, the result of this inaction tends towards a "non assisting a person in danger" situation.
The "technical hearings" storytelling
While the lawyers silence and inaction is increasingly deafening, one assists to increasing implicit justification of lawyers behavior from those who hired them. Imagine yourself paying ten lawyers each paid 350£ an hour to get your friend out of prison, and you find out they missed the available slot to get him out. Do you angrily demand account to your lawyers, or do you spend time publishing yourself the rationale of it ? Well, that's what WikiLeaks did through their September 11+2 tweet :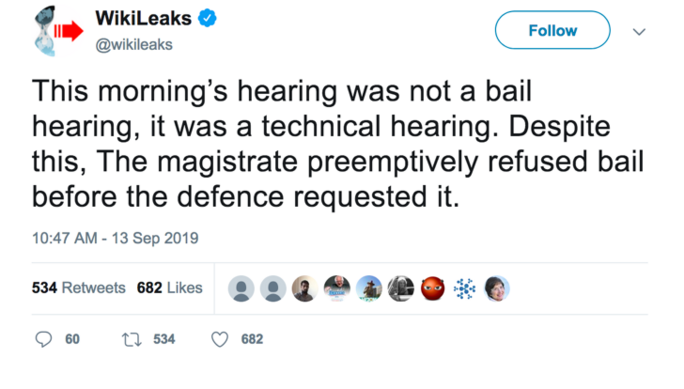 The skepticism of the until now trustful citizens can be read through the 60 interrogative related comments. As to the defense active members our edition is connected to, the skepticism peak occurred on July 19th, expressed on August 9 here, or on August 23 here. Since then, surprise effect is rather mitigated, better for health ; well, our health.
So, according to WikiLeaks, this problem comes from a judge, a moralist more than lawful judge indeed, who would not respect the technicality of a judicial hearing. We did not know "technical" hearings existed ; we thought there was a legal fight for which all battles were to be fought for. In the meantime, a first abdication occurred on July 18, without which there would not have been a "technical" hearing. There is no judge "preemptively" refusing bail, there are lawyers preemptively giving up a chance to free their client, and people from or close to WikiLeaks interfacing with lawyers who communicate themselves the rationale of mute lawyers.
Judge Baraitser said : "… I have given your lawyer an opportunity to make an application for bail on your behalf and she has declined to do so". "She" did not deny, thus this is true : Gareth Peirce or Jennifer Robinson or another woman lawyer unknown from us did not apply for bail to free Assange. The defend.wikileaks.org website brings a slight nuance : this was a "surprise "technical hearing"". Concerning the lawyers passivity, the official defenders site is neither skeptical, neither astonished, neither analyzing. They let Assange's father John Shipton, present at the courtroom (sitting in the chair of the lawyers ?), do the cold case analysis : "the judge decided on her own to discuss Julian's bail at what was supposed to be merely a "technical hearing."". Further on: "When asked who brought the bail application, he [Shipton] said, "She made it herself.""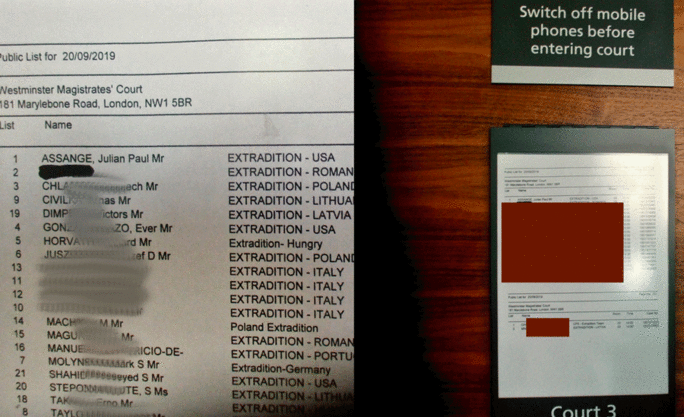 John Shipton's unpassionate description does not clearly clarify the situation. Let us try: the hearing supposed to be technical was finally not as much technical as the lawyers thought at the beginning, while this was the reason for which they did not attend the not so technical hearing. Is that more clear? Hope so, because there is more technical stuff. Beforehand, practical aspects need to be discussed. In such a complex situation, it is normal that lawyers do not unveil their whole strategy. "Ne pas abattre toutes ses cartes", as we say also in French.
The secrecy argument
We were told that Gareth Peirce was keen at keeping her approach secret; "Ne pas faire de vagues" also fits. This might be a smart negotiation strategy, especially when you want to avoid hurting a powerful adversary who could then hurt you badly in return. This is quite a common business-like strategy. However, in this rather war-like situation, the multiple Assange's adversaries have already been being deploying their harmful asymmetrical forces, big time. Let's go through them once more.
The amount of lies, deontological faults, misleading contextualization spread by mainstream media is incredible; this explains the poor citizen-wise mobilization around Julian Assange for one main reason : many, many have in mind the Swedish "rape" story which was titled again and again, including the last April salve. The shy lawyers never counter-attacked the Sweden protagonists all linked with personal or ideological or obscure interests they had to destroy Assange reputation. The ex-Minister of Justice Thomas Bodström was involved as a lawyer in the re-launch prosecution process against Julian Assange (year 2010); as a Minister, he had a more than questionable role in the illegal extradition process of two Egyptian opponents who were transferred from Sweden to Egypt through a plane furnished by CIA services. They were tortured in Egypt. But it is enough to read the deposition of Anna Ardin, the so-called victim in the "rape" story. She affirms to police that Julian Assange tore off her clothes before the sexual relationship. The details she gives sound like a harsh rape. But at the end, she does not complain for a rape. She complains for condoms misusage. Strange. Her Cuba-related activities are highly suspected to have been financed by NED agency, this "democratic" corporation financed by US State and CIA.
These are only two elements among a bunch of them which place Julian Assange as a pure victim rather than an assailant; even in the sexual relationship context. All known women and men not ideologically blinded who seriously studied this affair, came to this conclusion. The Assange lawyers inaction provided full space for media to maintain in citizen minds the image of Julian Assange the Immoral. More generally, the "pas de vagues" strategy consisted in a Pax Romana kindly granted by lawyers to media, while they had hundreds of arguments to file defamation sues against them.
In this context, the "freedom of the press" and "free speech" lawyer's defending mono-line, tirelessly put forward, is not only inefficient. It is ridiculous, and worse.
Recently the secrecy strategy went one step further. On September 20 another hearing was held in Westminster Court. Guess what? There was no Assange's lawyer. Guess why? It was "technical", said the BirnbergPeirce barristers office assistant to Jeanne (*), a citizen from WikiJustice committee. Lucky Jeanne, who was in London the right day, and entered the Court without listening to English Assange defenders gathered outside the Court building, who told her it was forbidden to enter. At room entrance, Julian Assange name was listed among other European citizens facing extradition process, the first being labelled USA. His case lasted few minutes, tough to understand. There was a judge, a clerk, a man seemingly representing Assange but who later answered Jeanne "I have nothing to do with Assange". The jury showed by hand the screen where Assange might have appeared, but screen remained black. Symbolic gesture, does it seem. Few days later, a citizen linked to WikiJustice came and question the relevant Westminster Court public servant; he answered the judge name was Lucie, and the object of September 20 hearing was to assess the agreement from Julian Assange to "adjourn" his public appearing until the next hearing planned on October 11.
This object was not published; thus we need to interpret it by ourselves. The 50 weeks jail sentence reached its half duration on September 22. As the prisoner enlargement is more or less automatic at this date, according to British law, we deduce that legally Julian Assange should have appeared publicly. His approval not to appear thus required a "technical hearing" prior to September 22 mid-term. The lack of publicity on this hearing has the effect of lowering the noise about the fact that lawyers did not ask the Court to free Julian Assange. In other words, the legal team secrecy strategy ends up in hiding from citizens a public information under the "technical" qualifier: in this case, the subject discussed along the September 20 Court hearing was obtained through foreign citizens visiting London in autumn.
The Lawyers and the Ethics
Our April 2019 started edition includes the term ethics, not for free; Julian Assange never talks about politics without mentioning ethics or philosophy, and his perceivable actions, publications and discourse are rather coherent with his ethics of transparency (would necessitate a detailed discussion, out of scope here). Jennifer Robinson has conflicts of interest which blatantly reduce her defense spectrum (see Ghost Layers...); same for the Doughty Street Chambers founder Geoffrey Robertson QC who hired her; even worse, concerning the American lawyer "brought in" by Geoffrey Robertson on February 2011, "as part of the team to advise on the US Attorney General's actions". Named Alan Dershowitz, this "distinguished Harvard Law Professor " made proposals to legalize torture " as part of the war on terror". For benevolent reasons, of course: torture is better controlled under scrutiny of a magistrate, isn't it? He was also close to Jeffrey Epstein the paedophile, whom he successfully defended; in 2008, Epstein spent 13 month in prison for child abuse, a soft prison which allowed this inoffensive man to go out on the day for "work" purposes.
This summer, the former judge Paul Cassell attended a hearing reported in detail (by a blogger, don't worry): "Epstein may have developed the perfect plan for a sex offender by implicating a long list of powerful men in his unlawful activities.[…] For Dershowitz, the hearing must have been discomforting, particularly when Judge Rosemary Pooler specifically asked Cassell "Are you saying Mr. Dershowitz [came up] in other documents." Cassell responded "Absolutely, absolutely."  It appears that the classified documents judge Cassell had in hand tie Dershowitz to Epstein at levels higher than lawyer to client level; the lawsuit related to sex trafficking complicity filed against Alan Dershowitz tends to reinforce the suspicions.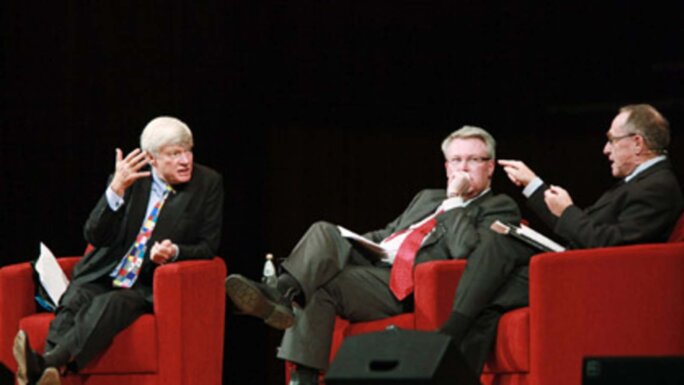 Knowing that the co-founder of WikiLeaks published material denouncing not only US army tortures (Abou Graïb…), but also many documents linked to paedophilia (here, there and there for instance) or children abuse (see note 1), it is an understatement to say that the Australian-British Geoffrey Robertson QC has a very little sense of ethics matching. It is difficult to choose a worse antithetical character to defend Julian Assange, and beyond, who would believe that a guy justifying USA torture would protect efficiently a man who is persecuted by the United States of America for opposite reasons? How far does his mind-set differ from US Attorney General's one? This leads to the question:
Does Alan Dershowitz still advise Assange legal team concerning the actual USA related extradition process?
Are they judges or lawyers?  –  Not sure Sire; but we got their structure
It was tough to understand, with these appearing-vanishing rarely-speaking lawyers. We found some keys thanks to co-defender citizens who came and see and ask direct questions to the protagonists. First in BirnbergPeirce office, where we learned that the Sunshine Press company founded by Julian Assange was central in the legal team process. "You did not receive the Sunshine Press e-mail?" asked the assistant to Jeanne; a message seemingly mentioning that no lawyer should attend the "technical" hearing. Who does actually manage the Sunshine Press entity now, who knows? Maybe one of the names mentioned in this inaugural contract, maybe not.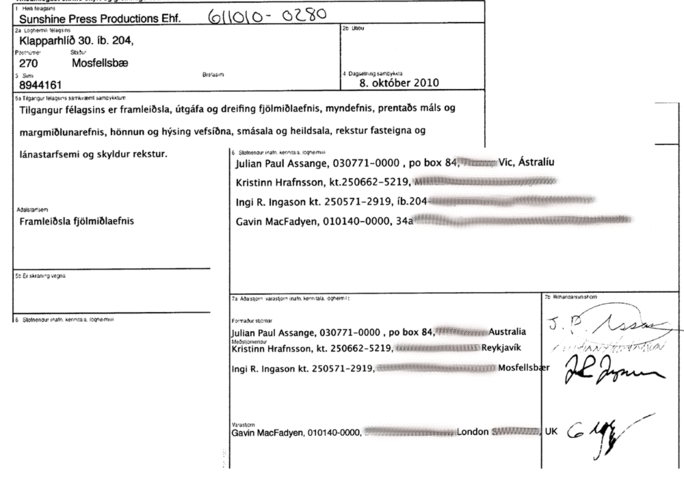 It seems that Sunshine Press Production manages contacts with the lawyers and their payment. Gareth Peirce, the BirnbergPeirce firm leading lawyer, has an important role in the defending strategy. Among the two other identified London entities, Doughty Street Chambers (DSC) is responsible for the communication with the external world, as was explained by Matrix Chambers managers who were not allowed to answer precise questions to WikiJustice visiting members. Is this an informal agreement between firms or a contractual agreement signed by Julian Assange, we do not know. Paradoxically, Matrix Chambers provides more information than the ones supposed to. They named Edward Fitzgerald from DSC as an active lawyer on the case, and Alistair Lyon from BirnbergPeirce, both unheard until now. None of the three entities did answer the letters garnished of motivated questions which were deposited to their secretaries. As a communicator, DSC talks exclusively to selected media, not to low level defense committees like ours, seemingly.
Outside Great Britain, Baltasar Garzon would lead a legal team focused on Ecuadorian and international issues, and if still involved, a US legal team including Alan Dershowitz would officiate. Considering the much opaque Assange legal team context from the start in 2010, these are vague guesses, as Garzon was unheard since May 2019, and Alan Dershowitz unheard for years.
Another guess is that the legal teams are as much expensive as inefficient, but the financial aspects are opaque too. We have no idea who took over WikiLeaks or Sunshine Press Production lead and financing following Julian Assange kidnapping in the embassy (neither before this, actually).
The role of the Magistrates
The silence of the lawyers leaves the judges with an ungrateful task: their work load is doubled. It would thus be unfair to reproach Vanessa Baraitser's moralist speech; she just jumps in the bandwagon started up by judge Michael Snow on April 11, while he affirmed that Julian Assange "behaviour is that of a narcissist who cannot get beyond his own selfish interest ", with a lawful arbitrary terminology which restores, if it was needed, the honour of his profession. The term "love" is not the best choice to express the feeling that some English citizens have about judge Michael Snow. One of these was brought in justice in front of this judge, for "using a tent in front of Parliament Square" in London; Neil Kerslake was challenging in 2012 the Police Reform and Social Responsibility Act 2011, a reform labelled with a now well-known newspeak language. A scary humourist caricature of Judge Snow is on line here; while no photography of this judge was posted on line, we feared a moment he was the real one. Any corresponding Robot profile drawn by any witness is welcome. As he was also involved in the blocking of Tony Blair prosecution process related to the forged MI6 report preceding Iraqi war involvement, witnesses should exist.
Is it worthwhile running into such "details", while the Westminster Court is headed by Chief Magistrate Lady Emma Arbuthnot, whom outstanding conflicts of interest versus Julian Assange case, through the MI5 and MI6 relationships of her husband (see our article), represent kind of a synthetic summary of the whole situation ? Our answer is yes, because as one says the devil hides in details. In a normal world, the mainstream media would race investigating on both Lady Arbuthnot and Michael Snow, in order to inform precisely on how democracy is handled through UK Justice institutions. But in today's world, does it seem, the media are too busy recycling the newspeak vocabulary.
Still the sincere Assange defenders might be grateful to judges for one thing: though their words towards Julian Assange end up with easy moral lessons with no explicit ground, i.e. arbitrary judgements of a man's morality, though they apparently forgot a number of fundamental law principles, their low-grade lessons are directed towards a human being, a real man, a person. Assange lawyers obsessed by the unique exclusive mono-maniac "freedom of the press" defense line, appear to have forgotten that "what" they defend at first is a man, a human being. Not an abstract symbol. Onto a fabricated symbol emptied from its incarnated source, one can attach any required or targeted attributes. In this paradoxical though symbiotic situation, the Assange lawyers treat their client as an abstraction, shaping a ghostly symbol, while the judges have no other choice than attacking the morality of a man  who has been disincarnated by his defenders. The reason why judges give ungrounded moral lessons is simple: they do not have any legal ground to attack Julian Assange : not any charge was ever retained against him, in other words he is lawfully innocent. Together with the legal terms, the Ethics principles are ignored.
Among the three main London law firms involved, Matrix Chambers appeared to us the more balanced, i.e. some hope was expected upon their action. Some important facts are tough to find for one reason: the justice hearings reported by the media are so poor that it is necessary to read ten of them to get the draft of a view on what happened, luckiness included. What we lately found out is that the excuse letter from Julian Assange was read to the judge by Mark Summers QC from Matrix Chambers at the May 2 Court hearing. No matter if he decided or not by himself to read it, or advised his client to write it, result is the same. He made public a writing which destroys the perception of the man he is supposed to defend. Whatever its impact, in terms of ethics this fact is from our point of view totally unacceptable. This hand written letter has to be shown publicly in its entirety.
For as the September 13 hearing, defend.wikileaks.org reports: "When explicitly asked by the court if he understood these developments, Assange responded, "Not really. I'm sure the lawyers will explain it.""
It is authorized to qualify this sentence as a bitter humoristic arrow thrown by a weakened but not fallen yet citizen known under the name of Assange Paul Julian.
Democracy
French people have good reasons to be jealous of Great Britain democracy. Ours is confiscated by a single man full power president elected by a dramatically low percentage of voters in spite of the support brought to him by a brainless media horde. Your democracy is the result of a revolution "à pas de velours" which started during the reign of a smart Queen long before French revolution. You still have a strong Parliament handling stormy democratic debates with some remnants of decision power. Right, your "MPs" elections occur within a similar media context, after a similar critical spirit defeat to be especially accounted for a similar family of academic "intellectuals". Your Constitution includes aspects which require to be fought for. The often enlightening FOIA process is probably a Rule of Law's child.
Your people invented this "Rule of Law" concept, which was put forward after the second world war disaster within the 1948 Universal Human Rights Declaration and as a basis of all international rulings, with a strong willingness to ensure the rights to Dignity for all Earth planet inhabitants. In his book "L' esprit de Philadelphie", the social rights specialist Alain Supiot explains the importance of this Rule of Law concept traduced "régime de Droit", fundamental ground for the U.N. chart but also the ILO (International Labour's Organization) Constitution. Yes, workers conditions from everywhere have a Constitution to defend their rights.
These concepts and laws and rulings still exist, our governments ratified them. In this context, if these rights and laws written to ensure the long living of Societies and their Culture and their citizens Freedom and Dignity are denied and buried under tons of irrelevant material, it can only be the consequence of a collusion between politicians, judges, lawyers, media, invisibles, generalized apathy or desperation. Men and women involved are one thing, the rotting of the structures supposed to enforce the "free" people's actions is another thing. These degenerated grounds can only be rebuilt through the joint action of honest insiders together with involved sincere citizens. This is precisely what is made impossible, considering Assange/WikiLeaks case, by the lawyers "strategy".
The amount of questions and uncertainties about the Julian Assange affair is growing up day after day. In these conditions, we can only be sure of what we see. The testimonies of Assange visitors in Belmarsh prison are numerous. None of them was followed by official prison document testifying the visit, with precise day, time, attendants, conditions, stamp. No recent health report was shown from any medical unit.
In the meantime, two crucial Assange extradition hearings are announced at 10 am Friday October 11th, and October 21th. The object or content of these hearings is opaque. We just know that these hearings are public and not technical. They are about the life of a person.
(*): Name has been changed.
Note 1: Julian Assange's specific care taken to abused children most probably comes from the time when he was trapped with his mother in the Family Cult sect during at least 5 years (due to her relationship with Leif Meynel or Leif Hamilton). In the Underground TV movie, Julian Assange is shown talking to a journalist who has been inquiring the Family Cult case during 8 years, reproaching him not having actually published on the subject. In spite of the heavy charges and proofs filed against the sect responsible adults in the late 80s, they faced no serious condemnation. The Family Cult is known in Australia to have been protected through "high level" society networks able to monitor the whole judiciary process. If this Assange fight against child abuse remained "underground", it does not mean this was not secretly one of his major fights. What do the Assange surroundings think (or act) in link with this subject is another important question.
For as to Julian Assange early life, the "non-authorized biography" is very interesting if read in between lines in relation with children persecution. The recurring difficulty to get biographies published in a proper way might not be explained by his willingness not to publish certain aspects of his life, but rather by the dangerousness-prudishness, or by secrecy required to protect himself against too harsh details of a by-nature never-ending horrific story (non exhaustive listing).
APPENDIX
James Alefantis to Tony Podesta "PIZZA for the PARTY" , "Do not forward" logo sending :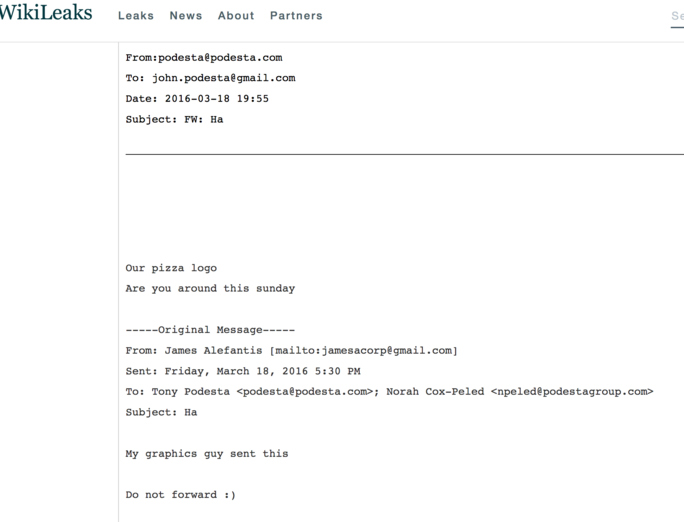 "PIZZA for the PARTY" logo.

The invitation logo sent by James Alefantis to Tony seems to combine paedophile and occult ceremonies symbols. Many independant US investigators work on the subject.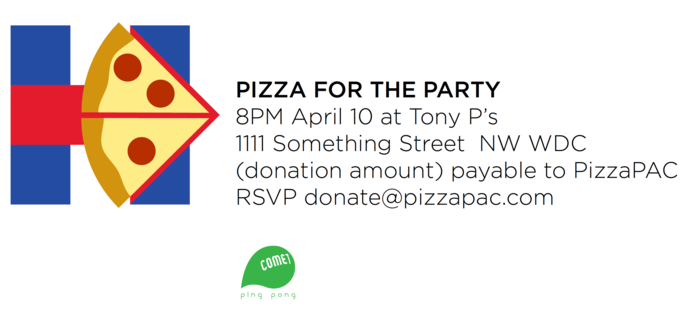 Vesica Piscis Occult symbolics: